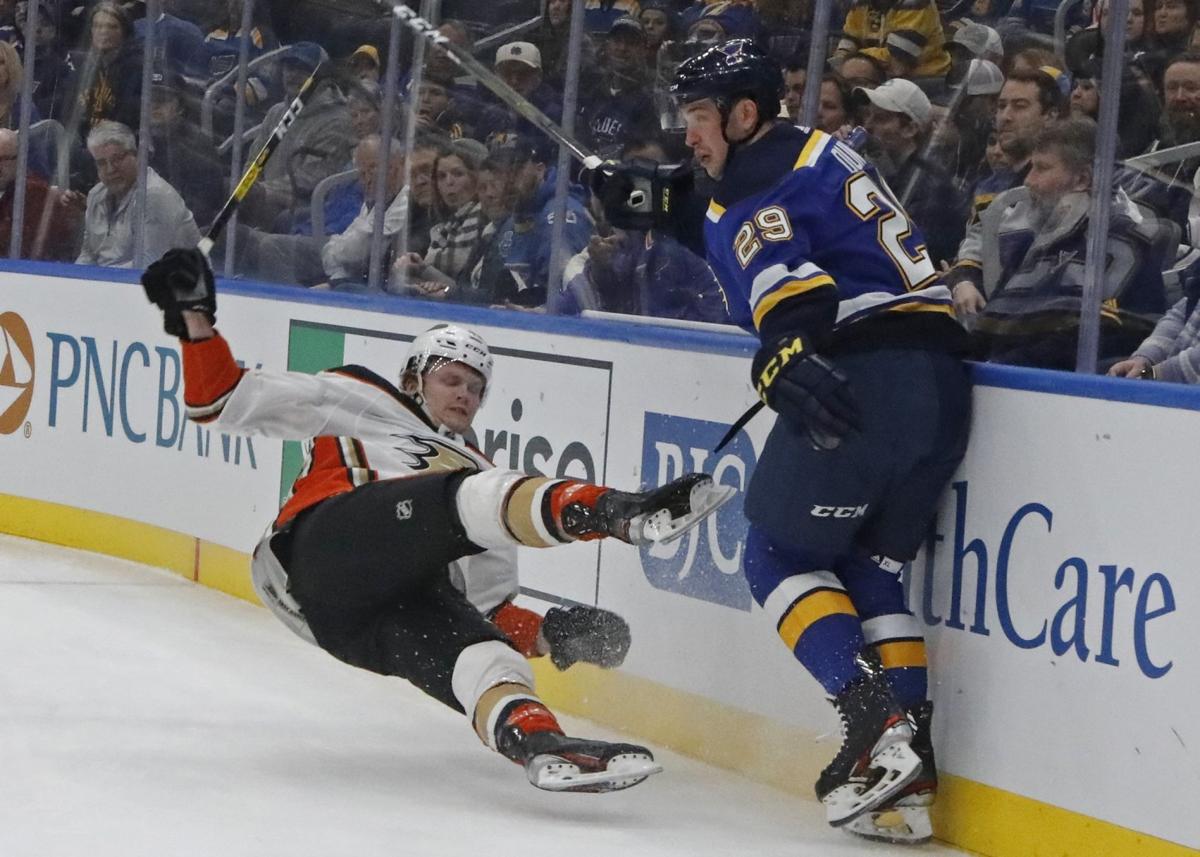 For the past couple of offseasons, trade rumors hounded Vince Dunn like a slick-skating forward. He dealt with them the best he could.
"You definitely feel like you're playing with a little something over your head," Dunn told the Post-Dispatch. "It seems like a lot of teams wanted me, which is a good feeling. But at the same time, it sucks to know that maybe you're that next guy out."
Turns out he was, but in a different fashion after getting selected Wednesday by Seattle in the expansion draft.
"It's still kind of the same situation," Dunn said. "You choose to protect guys that you want to keep, and you leave guys (exposed) that you're not necessarily afraid to lose.
"It's not something that I would say affected my play by any means but it definitely makes you feel a different way in the locker room and on the ice. But very understandable."
Such is the reality of the NHL, and professional sports in general.
"Your first year it flies by and everything's so sweet and pretty, and then you really start to understand how much of a business it is," Dunn said. "So I totally get it, and a team's gotta do what they gotta do.
"Nothing against the team for maybe considering trading me, or for leaving me unprotected. At the end of the day I get it. I'm just very excited for this next opportunity."
But make no mistake, the 24-year-old defenseman will miss St. Louis. Basically everything about it.
'I never wanted to leave'
His message to Blues fans?
"Obviously, thank you," Dunn said. "The support has been overwhelming. Just wanted to let them know from my own words that I never requested a trade. I never wanted to leave.
"St. Louis definitely will always hold a big place in my heart. I hope they don't turn on me because I'm just as much in love with the city as I always was. They've been great to me, and great to all the players that I played with."
But now, four years after breaking into the Blues' lineup, he's a Kraken. Once the Blues signed Torey Krug last October in free agency after it became apparent that Alex Pietrangelo was heading elsewhere, Dunn saw this coming.
"I figured I would be the one exposed," Dunn said.
There was a brief period of uncertainty when the Blues also exposed Vladimir Tarasenko. Maybe the Kraken would pick Tarasenko.
But on Wednesday morning, Dunn got a brief call from general manager Doug Armstrong telling him it was official: the Kraken had selected him. In short order, Seattle general manager Ron Francis and coach Dave Hakstol also called.
The Kraken are expected to do plenty of roster shaping between now and their season opener Oct. 12 at Vegas. It's possible Seattle could move Dunn at some point. But based on his conversations with Francis and Hakstol, Dunn thinks he has a future in Seattle.
"The way they talked about the organization from top to bottom with management and ownership, it seems like they're taking no shortcuts or trying to 'cheap out' on anything whether it's the practice facility, or (spending to) the cap," Dunn said. "So there's a comfort level just to know that everyone's all in."
A restricted free agent, Dunn wants to get a multi-year deal signed with Seattle in the near future. Francis said Wednesday night that that was the hope of the Kraken as well.
For now, Dunn continues his usual summer training in Toronto. Eventually, he'll clear his things from his townhouse in the Central West End.
'Pretty tough year'
He missed the Blues' final 11 regular-season games as well as all four playoff games with a concussion, but he says he's healthy now.
"Doing great. Everything is on track," he said. "It shouldn't be an issue moving forward. I've got everything under control now. It was pretty (bad) timing for me to get injured. It was a pretty tough year for our team with injuries and things like that."
In part because of all the Blues' injuries on defense, Dunn averaged a career-high 19 minutes 15 seconds of ice time last season. But overall, he had been frustrated with his ice time and role with the Blues, particularly during the 2019-20 campaign when his ice time was a career-low 16:16.
"Everyone wants more, no matter what line you're on, no matter whether it's minutes, whether it's money," he said. "It's a hungry league. That's what makes it so good and so hard.
"You just have to be able to cope with it. I tried to take advantage of everything that I was given."
Overall, through four seasons, 267 regular season games and a Stanley Cup in 2018-19, Dunn has no regrets.
For the Blues as a whole, something has been different since they entered the Edmonton bubble one year ago for the 2019-20 postseason. They're below .500 — 29-30-10 — since then.
"I'm not sure what it is," Dunn said. "I think maybe with the very different personnel that we had on our team, we were I would say a 'lighter' team. We kind of lost those guys that could do a lot of dirty work.
"Injuries played an impact in that. Cap space. Just losing certain players. And I think we changed the way our team played a little bit. We didn't really have that Blues identity that everyone talks about. And I'm not saying that because I'm not a Blue anymore. I think a lot of guys would agree with that.
"I can't really necessarily say it's on someone, or it's on something specific. I think as a group we weren't as gelled together and as sacrificial as we have been in the past."
"Like just doing the little things," he said. "Like blocking shots. Little stuff like that. Like hits and playing a very grinding type game. I think this year you could say we were a little bit more skill-based. But it's hard to say. I can't really say why."
But after that Wednesday morning phone call, it's no longer his problem.