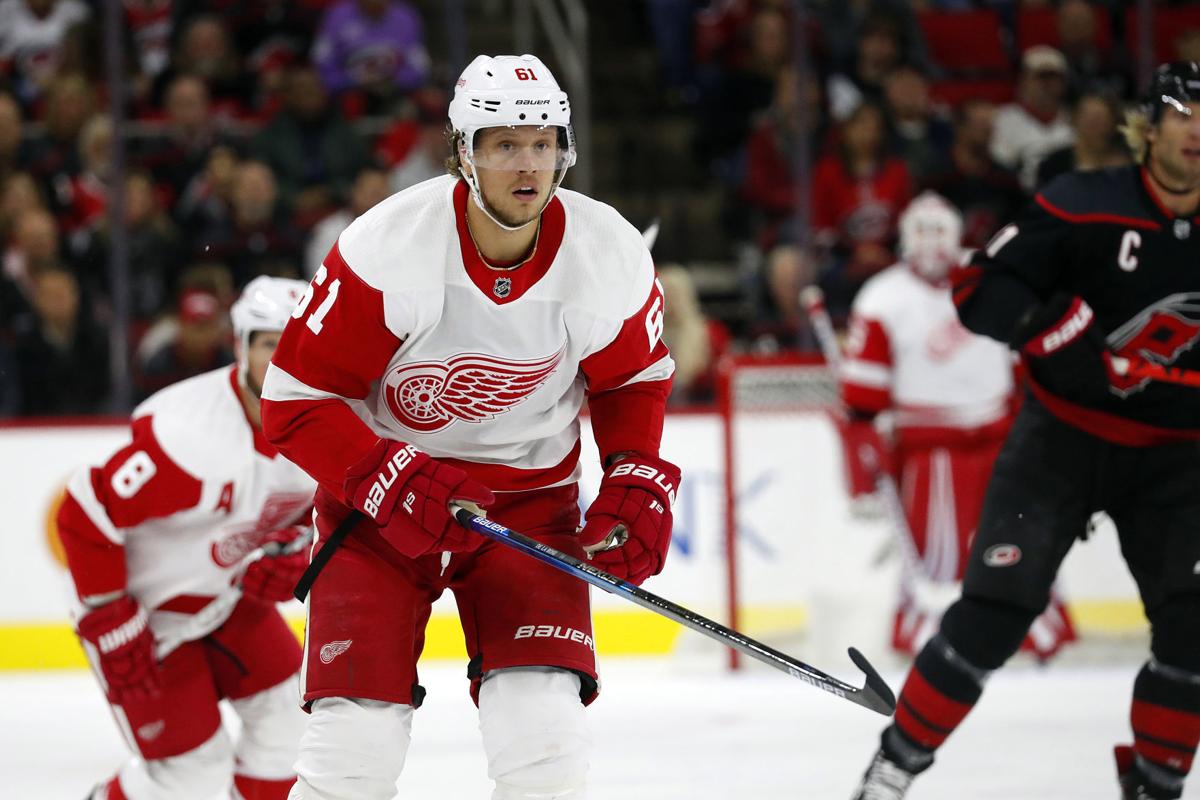 CALGARY, Alberta — A few years back on the Swedish national junior team, Oskar Sundqvist, Jacob de la Rose — and oddly enough, Calgary's Elias Lindholm — were a trio of sorts. Buds. Bros. You know.
"We had a little group there," Sundqvist said. "We were always way in the back of the bus together, listening to music. So we were hanging out quite a bit. We got to know each other there when we played some more games on the national team together."
De la Rose will renew acquaintances with Lindholm in Saturday's 9 p.m. contest with the Calgary Flames. As for Sundqvist, well, de la Rose will be seeing quite a bit of his countryman as the newest member of the Blues.
De la Rose arrived Thursday night in Calgary following the Wednesday night trade that sent Robby Fabbri to the Detroit Red Wings. Sundqvist took de la Rose out to breakfast Friday morning where he met many of his new teammates before practice.
Sundqvist's hospitality will continue back in St. Louis.
"He's welcome to stay at my place," Sundqvist said. "I asked him this morning and it looks like he wants to crash for a couple nights. That's fine. Just make settling in a little easier."
As for what's happening on the ice, there will be no orientation period for de la Rose. He's going right into the fire Saturday against the Flames. In a surprise, he will be on the third line centered by Tyler Bozak. He's also expected to see penalty kill duty right away.
"Oh yeah, he's gonna kill," coach Craig Berube said.
For Bozak, it's yet another new face. The veteran center may set a record for most linemates in one season if this keeps up.
Bozak laughed at the thought, then provided a thumbnail of his new winger.
"Just from playing against him, ton of skill, big guy, works extremely hard," Bozak said. "So that's perfect for our wing. He's good around the net. Can take faceoffs on my off side if I'm not doing well that night on that side.
"He can play center, so we got two guys that can play down low in the defensive zone. Hopefully he can gain some chemistry right off the bat here."
That's one of the reasons why Berube put de la Rose on the third line instead of Sundqvist — Bozak is easy to play with.
"Bozak's really good with people and making people feel comfortable as a player," Berube said. "And he does so many good things that he's easy to play with. So that's part of it.
"And the other part of it, I didn't want to mess with that fourth line right now. They're going good."
So Sundqvist will remain with Ivan Barbashev and Mackenzie MacEachern, a line that has taken the first shift in every contest during the Blues' six-game winning streak.
"It doesn't matter for me," Sundqvist said. "I'll just play wherever. Wherever my name is on the line. We're moving around quite a bit during the games, too, so you kind of never know who you're gonna play with."
De la Rose is a left-handed shooter, as is Sammy Blais. So who plays left wing and who plays right on the Bozak line?
"I think they're kinda just ironing that out still," Bozak said following Friday's practice at the Scotiabank Saddledome. "We'll figure out who's more comfortable in what position. I think Blaiser can play on the right a little bit. So I think (de la Rose) is starting on the left but don't quote me on that."
De la Rose, 24, was drafted by Montreal in the second round of the 2013 draft. He played 119 games in a period that spanned four seasons with the Canadiens, scoring eight goals and picking up 11 assists.
He began last season on injured reserve after suffering a cardiac episode during a preseason game with Montreal. Once he was cleared to play, the Canadiens placed him on waivers and he was claimed by Detroit on Oct. 17, 2018.
But later in the season (March 19), playing for the Red Wings at the New York Rangers, de la Rose had to leave the game because of an accelerated heartbeat. He was hospitalized overnight and underwent surgery early last April.
"I've had no issues since I had the surgery or the operation there," de la Rose told the Post-Dispatch. "That was obviously scary when it happened, but I had a good summer and I haven't felt it ever since."
De la Rose was cleared for play this season and appeared in the first 16 games for Detroit, registering one goal with three assists as the team's fourth-line center.
"I just rested a few weeks after the surgery and I was able to start working out and kind of ramp it up as the summer went on," he said. "I don't even think about it anymore."
As fate would have it, de la Rose was in New York again on Wednesday with the Wings playing the Rangers, when another life-altering experience took place — although nothing as serious as heart issues. That's where he found out he was traded.
"I didn't really see it coming," de la Rose said. "Coach (Jeff Blaishill) called me like a half-hour before we were leaving for the game and told me I wasn't playing. He didn't really say why, so I figured something was up. And then eventually after the game I got the call that I was traded here," he said.
After the Red Wings' 5-1 loss to the Rangers, de la Rose flew back to Detroit on the team charter with his now-former teammates, grabbed some things, and it was off to Calgary and the next phase.
"I'm just excited to be here, and I'm gonna do my best to bring my game and see what I can bring to this team," he said.