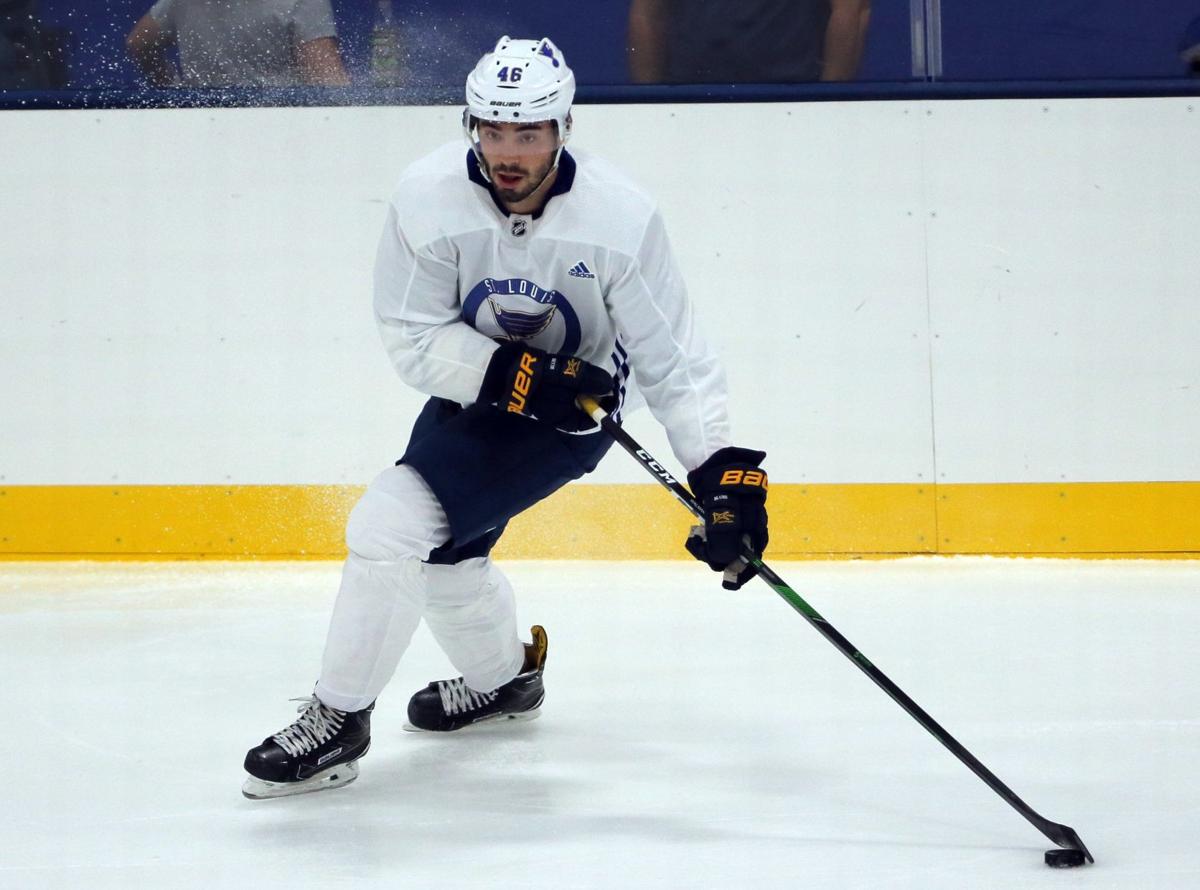 When Colton Parayko didn't practice Friday for the Blues because of an undisclosed injury, defenseman Jake Walman knew he had a chance to make his NHL debut Saturday.
He immediately phoned his family. Mother Marianne, father Glenn and brother Noah caught a quick flight to Las Vegas just in case.
On game day, Parayko and Walman were on the ice for pregame warmups.
"Colton told me to take a rep in the warmups," Walman said. "So there, I kinda had a hint. And then he told me (with) five minutes left in warmups."
Parayko told Walman he would be unable to go against the Vegas Golden Knights on Saturday afternoon.
"So I got the jitters there," Walman said.
The game might have been disastrous for the Blues, who squandered a 3-0 lead in what became a 5-4 overtime loss. But it was monumental for Walman, who played in his first NHL game after more than 2½ seasons and 164 games in the American Hockey League.
"That was a dream come true," Walman said. "It's something I've been looking forward to since I started my skating at 3 years old. It was great to be out there, especially with this team. It was a lot of fun."
Walman, 23, is a Toronto native who was selected in the third round of the NHL draft by the Blues in 2014. After getting drafted, Walman played three seasons at Providence College before turning pro.
There was a college hockey tournament in Vegas over the weekend, and the Friars just happened to be one of teams. Walman watched their game on Friday and spoke with his former coach, Nate Leaman, who still coaches the Friars.
Providence won the tournament, defeating Cornell in a shootout, in a game played Saturday at T-Mobile Arena just after the Blues-Golden Knights contest.
As for Walman, once the initial jolt passed of learning he was playing Saturday, he wasn't nervous in the game.
"I've been here for a week and a bit now, so I'm starting to fit in," Walman said. "Being on the ice is my thing. And it was fun. It's a great group of guys to play with."
Walman was called up from San Antonio on Dec. 27, but had been a healthy scratch for four games before Saturday. He played a little over 11 minutes against the Golden Knights, and played pretty well.
"It was good," he said. "I was just fitting in, trying to stick with the flow of the game and be a part and help the team as best I can."
Walman may have to wait a bit for his second NHL game: He was sent back to San Antonio on Monday by the Blues, with defefnseman Niko Mikkola called up.
Blues goalie prospect Joel Hofer stopped 35 of 38 shots, helping Canada win the goal medal game 4-3 Sunday over Russia in the World Junior Championship played this year in the Czech Republic. Hofer, a fourth-round pick by the Blues in 2018, went 5-0 with the best goals-against average (1.60) and best save percentage (.932) of any goalie in the tournament.
He was named best goalie in the tournament and made the tournament all-star team.
Another Blues prospect, forward Nikita Alexandrov of Russia, scored the game's first goal on a tip-in against Hofer. Alexandrov finished with two points and six assists, with at least one point in all seven tournament games. He was drafted in the second round by the Blues this past June.
Nolan Stevens scored twice, including the game-winner with 3:55 left, giving the San Antonio Rampage (13-14-9) a 5-4 victory over Sunday over the Grand Rapids Griffins in the AHL. Also scoring for the Rampage were Klim Kostin, Andreas Borgman and Dakota Joshua.
For Kostin, it was his seventh goal of the season and extended his career-high goal streak to four consecutive games. Goalie Ville Husso stopped 24 of 28 shots.
The latest STL Blues hockey news, NHL headlines, scores, standings and rosters.