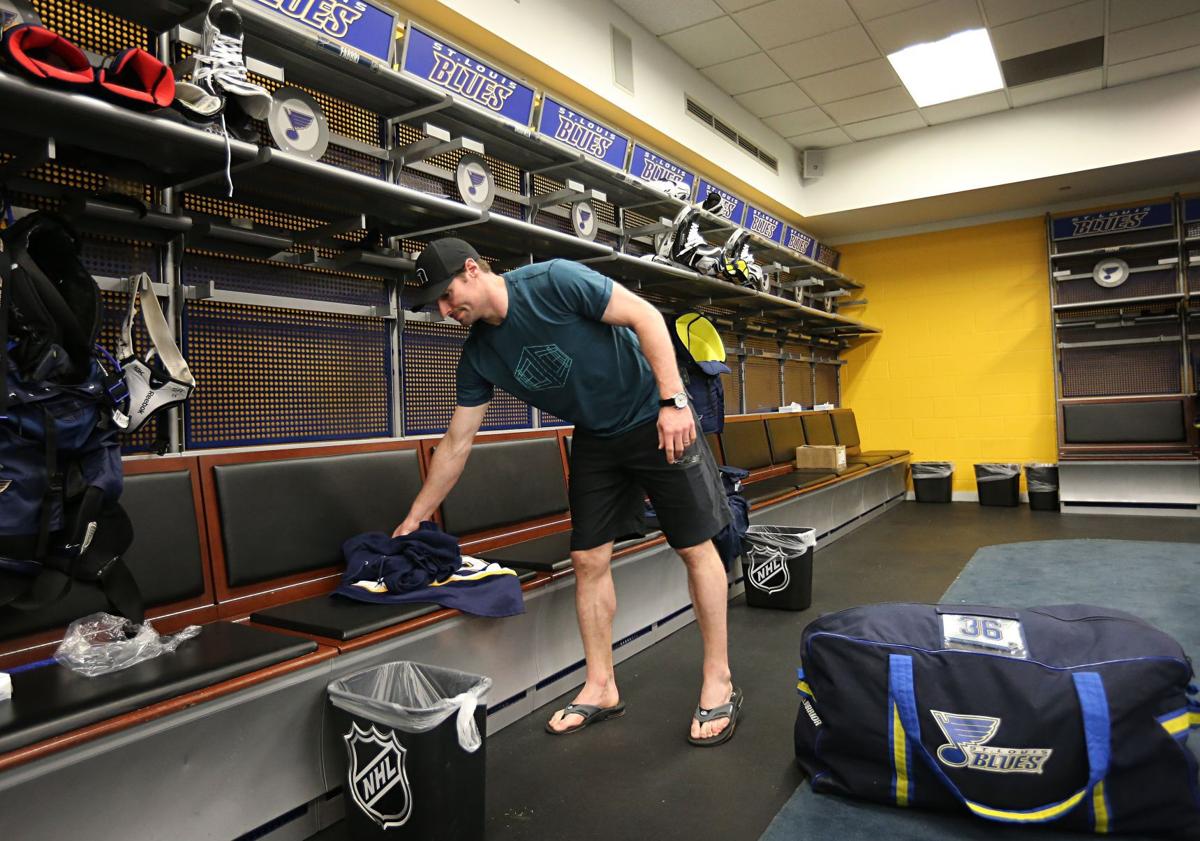 Three days after their season ended in San Jose, the Blues gathered their gear at Scottrade Center Saturday morning and departed for the offseason.
It was the last time fans will hear from them for a few months, and perhaps the last time ever as a Blue. 
There are many questions facing the club this summer, perhaps some that will have light shed on them Tuesday, when general manager Doug Armstrong and head coach Ken Hitchcock meet with the media.
But on Saturday, it was the players' turn to look back and look ahead. Here's a collection of news and notes from those interviews:  
• Alex Pietrangelo was one of several players to reflect on a season that lasted longer than most but ended without a Stanley Cup.
"Disappointment is obviously the first thing that comes to mind," Pietrangelo said. "You put in a lot of effort, a lot of guys put in a lot of time here over the last six or seven years, and to come the closest we've ever come, it's obviously disappointing. Sitting back the last couple of days with the guys and their wife and kids and just kind of going through the year, going through all the memories, it's fun to look back and be happy with what we accomplished. To be able to take this group to the next level, for the city, for the organization, it's a good feeling, it's something to be proud of. There's obviously more that we need to accomplish, there's another level that we need to get to, and we'll worry about that in a couple of weeks."
• David Backes had an emotional post-game interview following the Blues' Game 6 loss. During part of it, describing the kind act of teammate Steve Ott giving him "something" to help the captain stay in the lineup, knowing that would mean Ott wouldn't play, Backes broke into tears.
"I think I'm getting a Visine endorsement after that interview," Backes joked. "I've seen a bit of it and quite a few people have referenced it. That was real, that was raw, that was my heart right on my face and coming right out of my tear ducts. It's one of the hardest things I've done as an athlete is emerge out that room and have to face these cameras with that sort of emotion all over the place. In hindsight, I'm glad I came out and I talked. I think people could see how much it meant — and I was speaking for the whole group — what that opportunity and this run meant to these guys and that we didn't get it done. The sting of that is with every guy in this room."
In the interview after the game, Backes joked that Ott would not be happy with him about him telling the story to reporters, who weren't clued in on exactly what Ott gave him. (It was later learned that it was an infrared healing mat). So did Ott ever give Backes trouble like he expected. "Someone said that it was performance-enhancing drugs," Backes joked, "so now he wants to sue me for defamation. That's how he spun the whole thing. He didn't give me any grief. He knows that we've got a great relationship and we know each other wants to give everything we have to try to win a Stanley Cup."
• Goalie Brian Elliott finished the postseason with a record of 9-9 with a 2.44 goals-against average and a .921 save-percentage. 
Elliott did not play in Games 4 and 5, and afterwards Hitchcock told reporters that fatigue was a factor for holding him out. He had made 25 appearances in a stretch of 61 days and started 17 playoff games in 37 days.
On Saturday, Elliott disagreed with Hitchcock's claim, saying "No, that's kind of what he tells you guys. You just want to get back in there and have a chance to redeem yourself. Goalie is a tough situation ... everybody gets the opportunity to get back in the lineup, push through a bad game or a couple of bad shifts. As a goalie, you want to do the same."
• Backes and Troy Brouwer are two of the Blues' pending unrestricted free agents this summer. Both players expressed interest Saturday in returning next season.
Backes recently wrapped up his 10th season with the Blues. He has played in 776 games with the franchise, combining regular season and playoffs.
"No question," Backes said of wishing to return. "This is home. We've been here 10 years and this is what we consider home. I don't know anything else. Yes, it would be my hope that something gets figured out. But there's moving parts and different sides, and it all needs to align. I haven't even spoken with my agent yet. Hopefully it all works out, but it is the unfortunate side of sports that guys staying with one team is rare, but maybe I'm one of the rare guys. That would be great."
Brouwer finished his first season with the Blues, after being acquired in the trade with Washington for T.J. Oshie. 
"It's a spot that we really enjoyed this year," Brouwer said. "I don't know exactly what the cap situation is. I know it's a business, and I know they have young guys coming up for contracts in a year or two. You can't just look at this season, you have to look forward to what their cap situation is going to be in years to come. But it's definitely a team and a city and a franchise that I would love to come back to if the opportunity makes itself available."
• Most of the Blues had shed their playoff beards by Saturday but rookie defenseman Joel Edmundson still had his.
"I like the rugged look," he joked. "Everyone says it suits me, so I'll keep it going for a bit."
Kyle Brodziak was hard to recognize without his.
"That's what everyone was saying," he said. "I feel weird without it. Everyone says you look skinnier, younger (without it)."
• Blues forward Scottie Upshall played the final two series of the playoffs with a broken and dislocated right thumb he suffered in Game 7 of the Chicago series.
Upshall hurt it in the first period of that game when he hit a Blackhawk player along the wall.
"I felt it pop out," he said Saturday. "They taped it up, and here we go."
The injury limited what Upshall could do on the ice. He had just 12 shot attempts in the final 13 games of the playoffs and no goals.
"I was starting to become a passer," he said. "It was my top hand, so it restricted me a bit. Obviously I didn't feel my best puck handling but I got through it. It didn't get any worse, which is good."
• Defenseman Kevin Shattenkirk was at the center of much trade speculation last offseason and that expects to be the case again this summer. He will be entering the final season of a four-year contract that has a salary-cap hit of $4.25 million.
"It was a wild year with all the rumors going on, and it might plant the seed of doubt in your head," Shattenkirk said. "But that's not my decision. I'm happy to be coming back here next year. I have a year left and this is where I want to be next year. That's out of my hands unfortunately."
• Pietrangelo is getting married this summer, and the wedding date is July 2, the second day of free agency. Backes, who could still be an unrestricted free agent if not re-signed by the Blues, and wife Kelly Backes are in the wedding party. So if the captain's situation isn't settled by then, he could be a little distracted that day. "I'm gonna smash his cell phone," Pietrangelo joked. 
• Dmitrij Jaskin was so caught up with the Blues and the playoffs that he hadn't even thought about possibly being named to the Czech Republic team for the World Cup of Hockey.
"There's been too many games, too much other things around," he said. "It was a nice surprise. It's exciting."
By being named to the team, Jaskin will again be a teammate of Roman Polak, the former Blue now with San Jose. The two got into a fight during the Western Conference finals, and Polak was upset with Jaskin afterward, saying, "He knew what he did." In the handshake line at the end of the series, the two lingered for a moment to talk.
"It's all good," Jaskin said. "We better get it done before we get together. There's no point to talk about it. It's hockey, playoffs. It's all good now. Now we're fine."
• Defenseman Colton Parayko's motivation down the stretch was playing as well as he could to try to get the Blues to the Stanley Cup Finals. He knew a byproduct of that could be selection for Team North America, the squad for players 23 and under, at the World Cup.
"I was focusing on (going deep)," he said. "Play well enough for th eteam and that will take care of itself."
The bigger surprise for him was that teammate Robby Fabbri wasn't chosen for the squad.
"He had an unbelievable finish, an unbelievable playoff series," Parayko said. "It's a tough one because of how good he is. Those are things that are out of our control as players. It would have been great to have him there with me."
• Pietrangelo played 576:06 in postseason, 84 minutes more than anyone else. Barring overtime in the Stanley Cup Finals, Pittsburgh's Kris Letang will need four games to catch Pietrangelo. 
"It obviously takes a toll on you," Pietrangelo said. "That's the most hockey I've ever played, so it does take a toll on you. But everybody was chipping in at the end. I think we used more balance in that third round more than ever. I think we learned a lesson. I've never played that many games, so it's a good learning curve."
• Several players were asked about Hitchcock's coaching status. He was operating on a one-year contract that expires next month and it's not yet known whether Armstrong will retain Hitchcock and his staff.
"He's a great coach," Brouwer said. "He wouldn't have the record that he has if he wasn't. I'm not sure what his future is, I'm not sure what they're thinking is, but he's a great X's and O's coach. He always brings a good game plan for us. I don't know if it's the team or him deciding what's going to happen next year, but we wish him the best if he moves on and we wish him the best, obviously, if he stays here."
During the playoffs, Hitchcock was asked when he knew that Brouwer was a good fit for the Blues, and he said it was when the veteran forward told him one day to "shut up" and that he talked too much. Brouwer was asked about that moment Saturday and broke into a big smile.
"I don't know if that was a good story to get out," Brouwer said, laughing. "He's a guy that is so passionate about the game, but sometimes you need a break from hearing Hitch's voice. It wasn't a mean thing ... I don't think it was as harsh as maybe it sounded."
• Vladimir Tarasenko was at the rink Saturday, but declined comment to reporters.