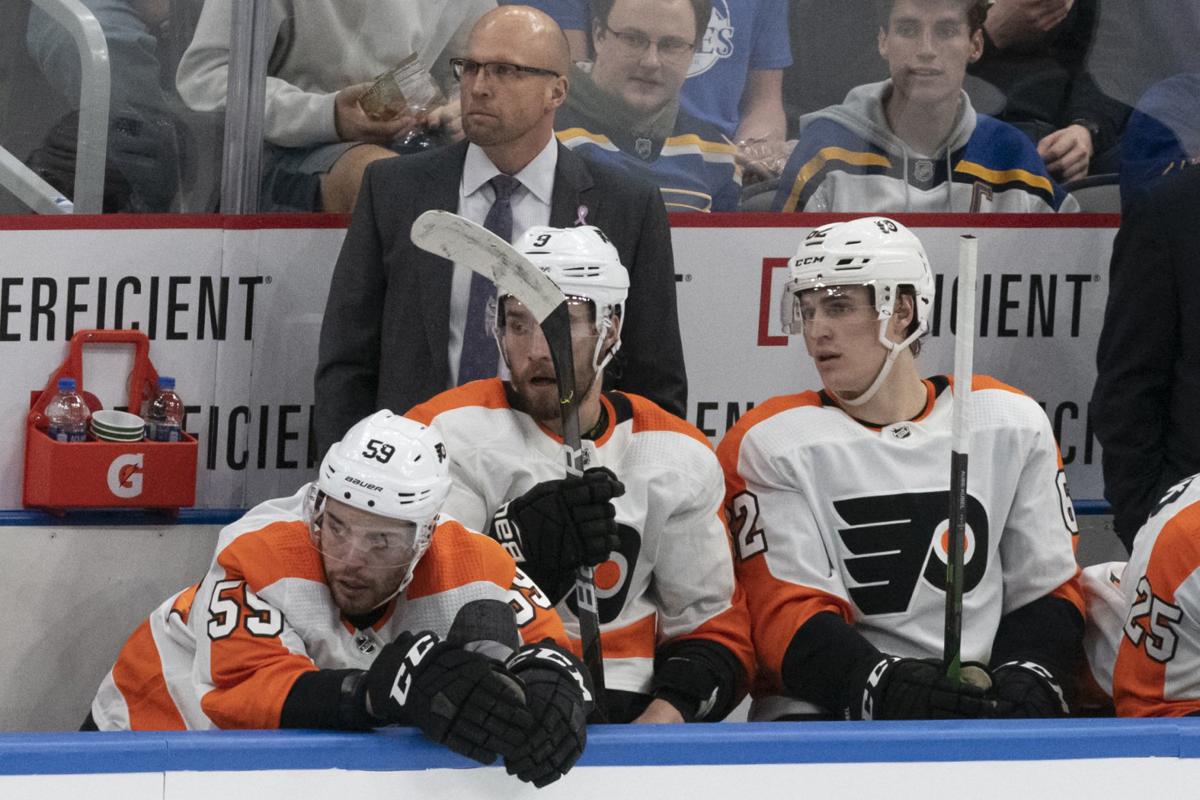 In late August of 2018, the Blues' Icebreaker event at Ballpark Village was a harbinger of what to expect in what became a history-making season.
If one more spectator crammed into the space that afternoon the roof might have come off the place as the team introduced new Blues Ryan O'Reilly, Tyler Bozak, Pat Maroon, Chad Johnson (yes, Chad Johnson), and reintroduced returning Blue David Perron.
The scene was a telling indication of the expectations for the 2018-19 campaign. Sky high.
"That's one of the things I look back at that I don't think I did a good enough job of — was sort of managing those expectations," Mike Yeo said. "Especially within the group. I knew full well heading into the summer with the amount of turnover that we had with our group that it was gonna take time.
"And I think that one of the mistakes I made was sort of coming right out and telling our group that it was sort of Stanley Cup or bust. Next thing you know we got off to a little bit of a bad start."
And Yeo was gone, relieved of his duties as Blues head coach after a 2-0 loss to the Los Angeles Kings on Nov. 19, 2018.
"I don't think we kind of prepared or braced the team for the challenge it would be at the start of the year well enough," Yeo said. "So looking back that was certainly a mistake that I felt that I made."
Basically half of the Blues' forward group was new last season, and it took time for things to settle in — more time than Yeo had in St. Louis.
His successor, Craig Berube, obviously worked miracles in St. Louis, guiding the group to the first Stanley Cup in franchise history. But it didn't happen overnight. Berube was nearly two months into his tenure as interim coach before the Blues turned the corner.
It's only natural for Yeo to wonder what would've happened had he been given more time.
"Obviously, winning the Stanley Cup is extremely difficult. Again, I've had regrets," Yeo said. "And I've had those thoughts many times. What could've been. And what if. But obviously the change was beneficial for them. So I can't look back at it and be too upset about it. Those guys did a great job. Their staff did a great job. Players did a great job."
Even so, Yeo said watching the team's march to the Stanley Cup, "was something that was very difficult to watch. That said, I think that once I sort of sorted through all those emotions and had time to really reflect on it, I know this is something that will make me a better coach down the road."
He returned to Enterprise Center on Wednesday as an assistant coach for the Philadelphia Flyers, who play the Blues tonight at 7 p.m. He spoke to the Post-Dispatch outside the visitors' locker room in the aftermath of Vegas coach Gerard Gallant becoming the seventh NHL head coach to be fired this season.
Gallant was supposed to coach the Pacific Division team next week at the NHL All-Star game in St. Louis, because the Golden Knights were atop the division when the all-star coaches were named on Jan. 3. Now, he's out of a job.
"You can't say that you prepare for it, but that's the reality of the game right now," Yeo said. "I think there's so much parity in the league and every game is a hard game in this league.
"You never seem to get a game where you're going in and just know that you're gonna win that game. And with that brings more pressure and so it seems to be that obviously there's a lot more turnover because of that."
And not much patience when things aren't going right.
"I'm not sitting around saying: 'Why me? Poor me?'" Yeo said. "Again, you understand that it's part of the job. It's part of the reality of being an NHL head coach. You know that there's the possibility that if the team's not performing to the level that they're expected to, that there could be a change made.
"So I look back at it, and obviously it was disappointing and it was hard to take. But also, being 46 years old and believing that my best days are ahead of me as a coach, I know it'll be a tremendous learning experience for me as difficult as it was."
After his firing, Yeo said it was good to get away from the game for a while and decompress. He got to spend more time with his daughter Braeden as she completed her time at Colorado College and son Kyler, who's playing junior hockey in Topeka, Kan.
Other than that, there's only so many times you can go fishing.
"That's exactly it," Yeo said, laughing. "At the end of the day, this is what you've been doing your whole life. And I'm a coach. You love that day-to-day grind. You love the feeling of winning hockey games. You love the feeling of coming to the rink and teaching and working with the players. So it didn't take very long before you start missing that."
Early last offseason, the wait was over when Yeo was hired as part of head coach Alain Vigneault's staff with the Flyers. Yeo coaches the team's defense and penalty kill.
"A lot of injuries right now, but I think that's not uncommon for this time of year for any team," Yeo said. "We've been happy with the way that the guys have responded. New coaching staff, and we're in the thick of the (playoff) battle right now."
Yeo hasn't talked to Berube much since the season started, but they have stayed in touch.
"I'm happy for his success," Yeo said. "I think that he is a great coach. I think that he's a guy that needed another opportunity and I'm glad that this one worked out for him.
"I look at a guy like him, I look at a guy like (Pittsburgh's) Mike Sullivan, and those are good — whether it's role models or examples for a guy like myself. Getting another opportunity later on down the road of how it can really pay off for you and for the organization."
Photos: Blues' home streak ends with OT loss to Flyers
The St. Louis Blues faced off against the Philadelphia Flyers on Wednesday, Jan. 15, 2020 at Enterprise Center. Photos by Lexi Browning of the Post-Dispatch.