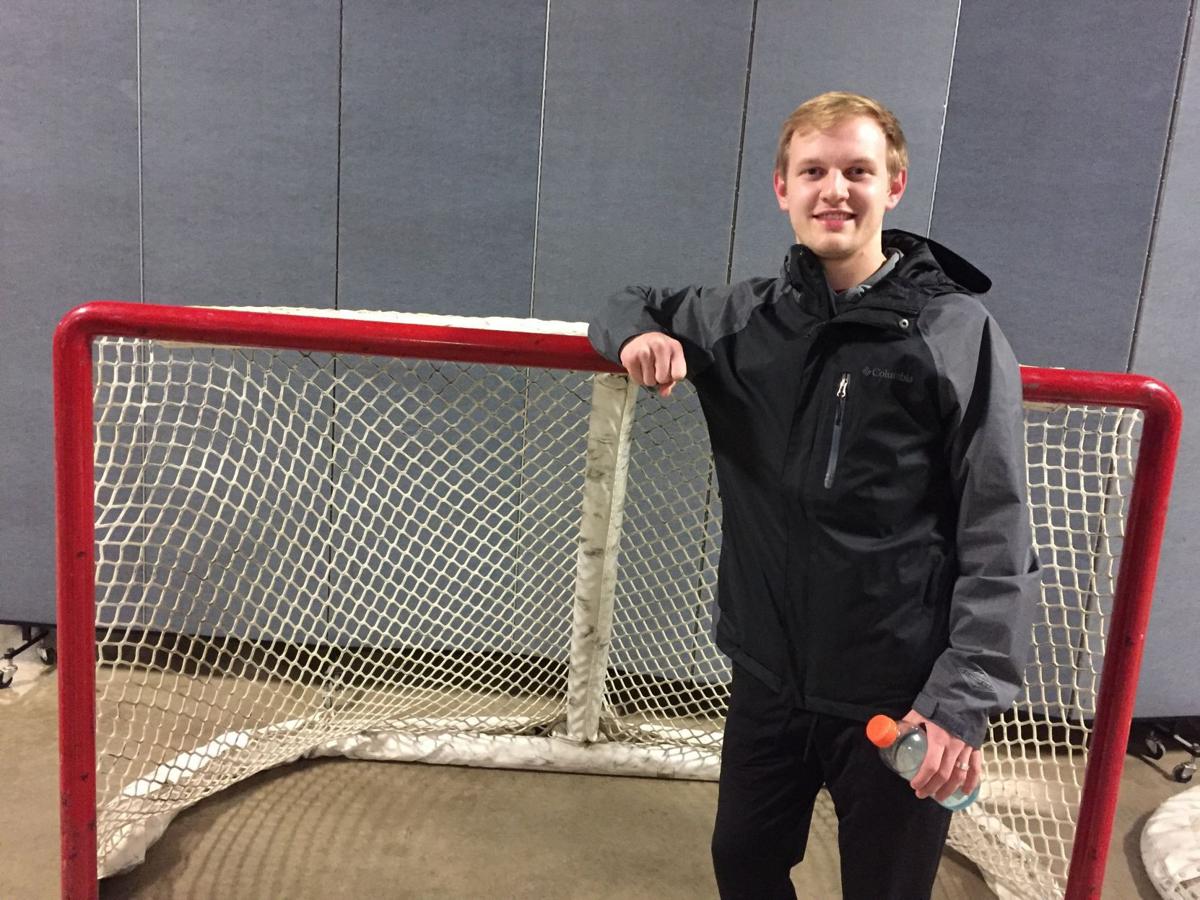 With 4 minutes to go in pregame warmups on Thursday night, Tyler Stewart skated into the Blues goal and the first shot he faced came from Vladimir Tarasenko. Stewart gloved it and Tarasenko skated over and gave his pads a whack with his stick.
Stewart, a Eureka High graduate who was once the goalie for St. Louis University's club team and an occasional practice fill-in, was pressed into emergency service for the Blues when backup goalie Carter Hutton sustained a lower-body injury during the morning skate and couldn't play. The Blues summoned their No. 3 goalie, Ville Husso, from San Antonio on an emergency basis, but with the late developments, he didn't make it to St. Louis by the start of the game. So Stewart, 25, was pressed into service until he arrived.
In a curious twist, because of an injury to Dallas goalie Ben Bishop, the Stars' backup goalie on Thursday was another St. Louis product, Mike McKenna. During the pregame warmups, Stewart and McKenna met at mid ice and exchanged greetings.
Stewart, who's going to grad school at Maryville and plays in an adult league at Brentwood, had been up since 5 a.m. working his regular job at his father's vending machine company and had just gotten home at 2 p.m. when the Blues called him to say he was needed.
"I was completely caught off guard by it," he said, standing in the tunnels of Scottrade after his services were no longer needed. "Just nuts is how I'd describe it. A dream come true obviously to be able to do the warmups. I thought maybe there was an off-chance I'd sit on the bench or do something like that. But it was awesome just to do the warmups."
Stewart, who along with his parents are season ticket holders, wore No. 98 for warmups with a plain white mask and white pads. He signed an amateur tryout contract with the team and spent the first period in the locker room on standby, just in case. Husso's flight didn't land until a little before 7 p.m. and if anything had happened to Jake Allen in that time, Stewart would have gone in.
He said he was torn between wanting to get in but, as a Blues fan, not wanting Allen to get hurt. "Even though I'm not an NHL-quality goalie, I would love to do it," he said. But he wasn't needed and Husso took a seat on the bench at 7:41 p.m., with 5:09 to go in the first period, after racing in from the airport.
"I got to listen to the pregame speech with (Mike) Yeo," Stewart said. "It's crazy how loose they are. You would think they'd be tight a little, but they're joking around like you wouldn't even think they're playing a hockey game. It's a cool environment, nothing like I'd ever experienced before.
"I sat next to Tarasenko. He was awesome. Him and (Vladimir) Sobotka were asking me how to spell scissors because they were confused about the spelling. They were saying it as Caesar, like Caesar salad. It was pretty funny. They just talked to me like I was one of the guys. It was pretty cool."
To fit Husso onto the roster, the Blues sent forward Sammy Blais, who was going to be a healthy scratch, back to San Antonio.
Hutton took a puck to the foot during the morning skate. The fact that they sent Blais out, rather than putting Hutton on injured reserve, which would keep him out for a week, points to the injury not being thought to be severe.
"It's nothing that we think is going to be long-term here," Yeo said after Thursday's game.
Husso is just back from being out for three weeks with a lower-body injury of his own. He returned to action for San Antonio on Tuesday and gave up five goals in a 5-1 loss.
NOTES
Vince Dunn and Chris Thorburn were back in the lineup after two games as healthy scratches, replacing Robert Bortuzzo and Blais. Dmitrij Jaskin moved from the fourth line into Blais' spot on the third. Oskar Sundqvist was the other healthy scratch. … St. Louisan Bishop sat out the game with a back injury, but Stars coach Ken Hitchcock said he was expected to rejoin the team on Friday.