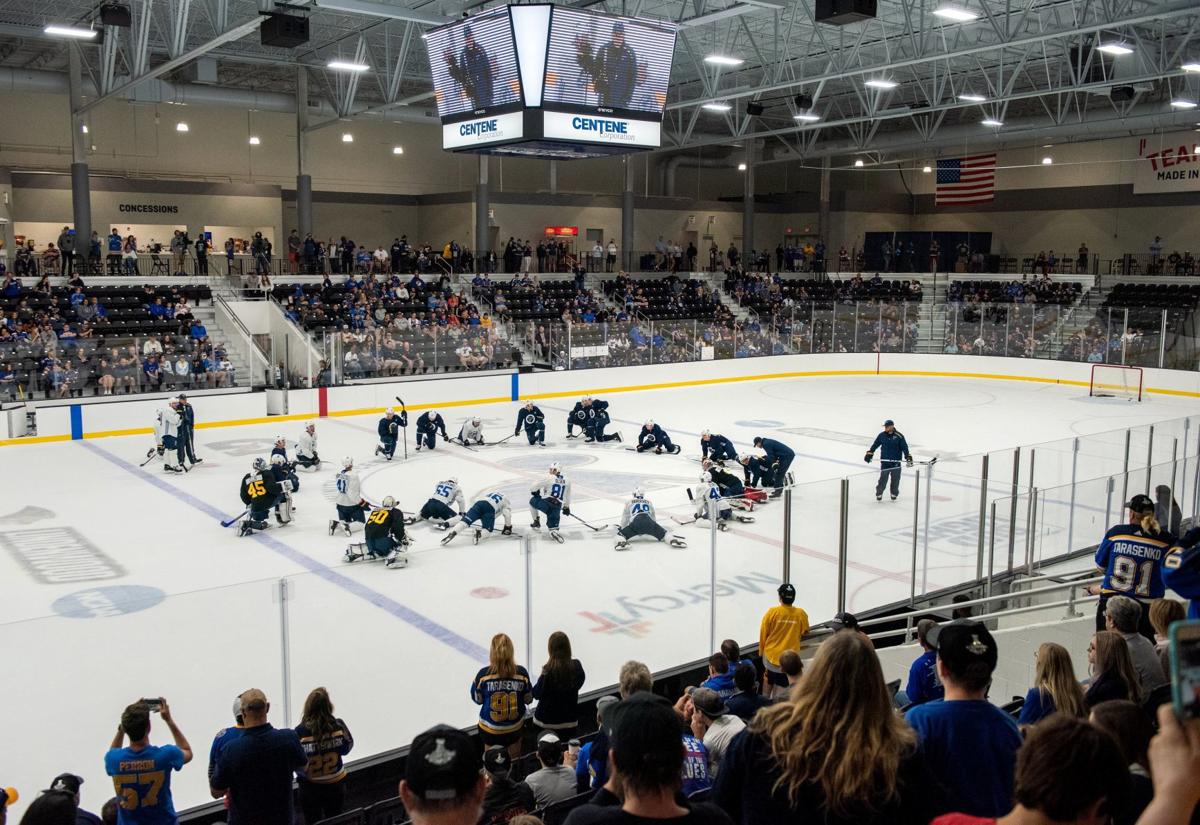 Four Blues players and one member of the team's coaching staff have tested positive for COVID-19 over the past couple of weeks, according to a source familiar with the situation.
The problems may have started at a bar in Clayton where several team members gathered more than a week ago. Members of the general public also were in the establishment, according to the source. A few days after that get-together, a player tested positive.
Subsequently, another player and coach tested positive, followed by two additional players.
After the series of positive tests, the team received text messages Friday morning that the day's Phase 2 workouts had been canceled and that the workouts would resume Monday as regularly-scheduled at Centene Community Ice Center in Maryland Heights. 
It is not known if the Blues players or coach that tested positive were experiencing any symptoms, or were asymptomatic. The Blues have deferred all questions on the coronavirus to the NHL, and the league has responded in only general terms, avoiding specifics on the Blues' situation.
But it's possible that at least some of the four players and coach will be unavailable for the start of training camp — assuming there is a final ratification of a wide-ranging plan on hub cities, the start of Phase 3 (training camp) and Phase 4 (the 24-team postseason), and a new collective-bargaining agreement.
Following guidelines established by the Centers for Disease Control and Prevention, players who test positive for COVID-19 and are asymptomatic must be isolated for at least 10 days.
The original Phase 3 plan called for training camps to start July 10, but there has been some reporting that the date will be pushed back to July 13.
On Monday, the NHL announced 15 players had tested positive for the coronavirus league-wide out of more than 250 players who had shown up for the voluntary Phase 2 workouts (which began June 8). An additional 11 players had tested positive since June 8 outside of Phase 2 — making it a total of 26 positive tests overall since June 8.
And now add the Blues' positives tests into the mix.
NHL deputy commissioner Bill Daly told the Post-Dispatch on Saturday that the positive results to date aren't necessarily surprising.
"I think it's fair to say that our experience to this point is consistent with what we expected," he said via email. "We didn't go down this road thinking we were not going to see any positives. Of course we were going to see positives.
"Especially given that we had players spread all across the globe and facing various conditions with respect to their individual behaviors, their methods of conditioning, their respective locations and their various modes of travel.
"What we didn't want to see, and what we wanted (and need) to avoid are mini-outbreaks. That's why conservative approaches to response management is so critical at this stage."
According to Blues general manager Doug Armstrong, about two-thirds of the Blues' squad was back in St. Louis as of Wednesday. The full squad is expected to be on hand by the middle of this coming week, meaning there are more Blues that must undergo initial testing in St. Louis.
As part of the Phase 2 protocols, all players participating in workouts must undergo lab-based tests 48 hours prior to entering to the club facility for the first time. Once they have cleared that hurdle, daily temperature checks and daily symptom checks are required upon entering the facility. According to league guidelines, players participating in Phase 2 are to be tested twice a week thereafter.
Contact tracing is to be administered for any players testing positive.
There are limits on the number of team personnel allowed on the ice and in the club facility. Players must wear face masks while entering and leaving the building, as well at times in the building when proper social-distancing (six feet) cannot be maintained.
The only mask exceptions are while on the ice and when exercising.
Additionally, seven pages in the original 22-page league memo from May 26 outlining Phase 2 protocol dealt with cleaning and disinfectant requirements.
Daly said the proposed Phase 3 (training camp) protocol "will certainly employ enhanced precautions and mitigation measures, but we are also relying on the structure and rigor of mandatory training camp activities to provide perhaps a less risky environment than a collection of voluntary skates, some being held inside our Phase 2 'safe haven', and some engaged in outside."
One curious and potentially troubling aspect of Centene is that it is a community-use facility available to youth and adult teams, as well as figure skaters. There are three indoor rinks in the facility, and the Blues have a private entrance to the rink they use (and their locker room and meeting space).
During the coronavirus pandemic, Centene was first re-opened to the general public on a limited basis June 15 for private ice rentals. On June 29, team workouts and practices were allowed for youth teams (and presumably adult teams as well). Fans also were allowed to attend practices, with face masks/coverings mandatory inside the facility.
Some of those youth teams practice on the same rink used by the Blues, although they're obviously not allowed in the Blues' locker room or team meeting area, which potentially could expose all parties to coronavirus.
When asked if this was a concern, Daly replied: "The level of risk — both to team personnel and to the public in the context of shared facilities — is really just a function of the protocols that are in place. Both with respect to interactions with the public and cleaning and disinfecting between sessions.
"In public/private facilities, our teams have employed rigorous protocols to maintain appropriate separation from the public, but also to ensure the impeccable cleaning and disinfecting of the facility."
Even though the Blues canceled Friday's workouts, Centene was open to the public Saturday, with ice time available until late in the afternoon.
Media are not allowed in Centene for the Blues' Phase 2 workouts, but at least one healthy Blues player told the Post-Dispatch he will not be on the ice Monday out of concern for the coronavirus.