VANCOUVER, B.C. — When the Blues' fourth line was on the ice to start a game recently in Detroit, it was regarded as one of those hockey things, a nod by coach Craig Berube in the direction of MacKenzie MacEachern.
MacEachern had grown up in the Detroit suburb of Bloomfield Hills and had a lot of family members and friends in the stands at Little Caesars Arena for the Blues' 5-4 overtime victory.
But then it happened against last Wednesday at Enterprise Center, against Minnesota, a 2-1 Blues win. And again Friday against Columbus. Berube said he did so against the Blue Jackets because they opened with Nick Foligno-Boone Jenner-Josh Anderson.
"That's a big, heavy line, so I wanted to match that right away with our guys," Berube said.
OK. But Oskar Sundqvist, part of a fourth line that includes MacEachern and Ivan Barbashev, had his own theory.
"I think 'Chief' (Berube) is a little bit superstitious there, too, that we've been winning every game that we've been starting," Sundqvist said following a 4-3 overtime triumph over Columbus.
Maybe Sundqvist is on to something. The MacEachern-Barbashev-Sundqvist line started again in Saturday's 4-3 overtime triumph in Minnesota. Do the math. The line has hit the ice first for the Blues every time during the current four-game winning streak — matching the club's longest spree since March.
So it's probably a safe bet that MacEachern-Barbashev-Sundqvist will be out for the opening puck drop Tuesday against Vancouver. The Canucks have an almost identical record to the Blues — 9-3-2 to the Blues' 9-3-3. And the Canucks have been just as hot lately, going 5-0-2 in their last seven games.
Even without any line-matchup considerations, Berube probably doesn't want to change the mojo.
"It really doesn't matter who's starting," Sundqvist said. "We're a group that any line can start."
But Berube likes what he's getting from the fourth line lately — at the start, at the finish and in between during games. His face lit up, something that doesn't happen often, when asked about the fourth line after the Blues won Saturday.
"They're working well together," Berube said. "They're doing a real good job for us with the energy and setting the tone for our game. Our guys feed off their hard work and physical play."
Four minutes into Saturday's game, MacEachern got his first goal of the season — and only his fourth in 37 career NHL games. Perhaps energized by that score, MacEachern was a beast, forechecking, blocking shots, making the occasional hit and digging pucks out of corners.
"I love the way 'Mac' gets in there . . . on the puck," teammate David Perron said. "Same with 'Barby' and 'Sunny,' obviously they're playing solid. Pretty sure the coaches can put them out there and just know what to expect off them. It's good. I think they're learning to play together as a line with 'Mac' more recently."
Largely because of injuries (to Robert Thomas, Sammy Blais and now Vladimir Tarasenko) and partly because Berube hasn't seen what he wants from Robby Fabbri, former fourth-line mainstay Alexander Steen has been moved up in the lineup.
That opened the door for MacEachern, a forgotten man in the Blues' stretch run and playoff push last season. Called up from San Antonio on Jan. 10, MacEachern played in 29 games and was more than serviceable with three goals and two assists in a checking role.
But he didn't play in a regular-season game following a 4-3 shootout loss to Buffalo last March 17, didn't play at all in the playoffs and was a healthy scratch in seven of the first eight games this season. But once he got in the lineup, he has made it difficult for Berube to keep him out.
"He's got a lot of speed and he's good at holding onto the puck and getting pucks back," Sundqvist said. "He's been easy to play with. We just let him be the first guy (in) every time because he's so fast."
Partly in light of Tarasenko's left shoulder surgery, which will sideline him for five months, Berube mentioned recently that he needed players such as Sundqvist and MacEachern to shoot more often and contribute on offense.
He didn't have to tell them twice. Friday against Columbus, Sundqvist led the Blues with five shots on goal and eight overall attempts. You can count how often Sundqvist has led the Blues in shots on goal on three fingers. He did so twice during the 2018-19 regular season, and then on Friday.
"Yeah, I think I need to shoot a little bit more," Sundqvist said. "Especially these last couple games (before the contest against Columbus) I had a couple good chances but I've been passing instead. So I'm gonna try to think about shooting it a little bit more from now on."
MacEachern had five shot attempts against Columbus, which may not seem like a lot but it's a total he has surpassed only once previously as an NHL player. MacEachern had his first assist of the season Friday on Sundqvist's third goal of the season, which tied the game 3-3.
The recent bump in production by the fourth line has brought much-needed scoring balance in Tarasenko's absence. Against Columbus, a member of all four forward lines scored a goal for the first time all season.
Saturday against Minnesota, the Blues got a goal from three lines, something that had happened only once before the weekend — in a 6-4 victory in Ottawa on Oct. 10.
O'Reilly scores overtime winner, Blues beat Wild 4-3
O'Reilly scores overtime winner, Blues beat Wild 4-3
O'Reilly scores overtime winner, Blues beat Wild 4-3
O'Reilly scores overtime winner, Blues beat Wild 4-3
O'Reilly scores overtime winner, Blues beat Wild 4-3
Blues Wild Hockey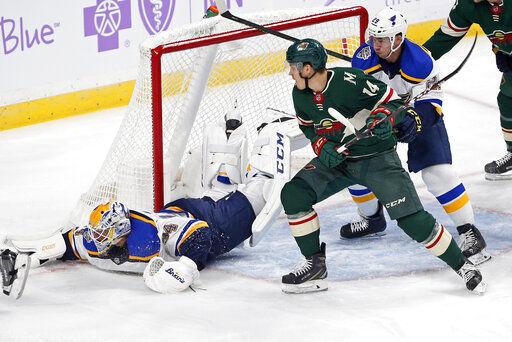 Blues Wild Hockey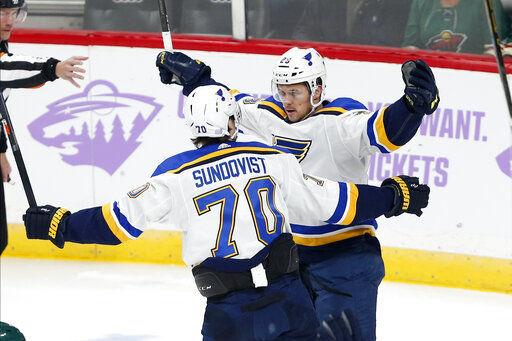 Blues Wild Hockey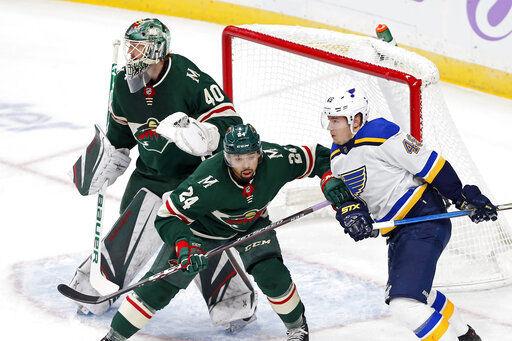 Blues Wild Hockey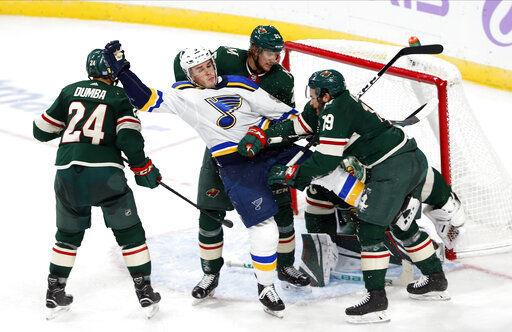 NO headline in galleries