One of the delights of the Blues' Stanley Cup finals journey has been the unexpected twists and turns along the way.
The unexpected emergence of Oskar Sundqvist, for example. Or the totally unexpected emergence of Jordan Binnington.
Craig Berube's rise from interim head coach — with emphasis on the "interim" — to Jack Adams Award finalist as NHL coach of the year.
How about the fall and rise of Jay Bouwmeester as a bedrock of one of the NHL's top defenses?
The "Big Rig" — Pat Maroon — coming up big in the playoffs for his hometown team, including the ultra-dramatic game-winning goal in double overtime to clinch Round 2 against the Dallas Stars.
OK, one more. How about Jaden Schwartz, the man who went from regular season dud to playoff stud.
Ryan O'Reilly undoubtedly is the team's unofficial MVP for the regular season. Through three rounds of the playoffs, the Blues' postseason MVP has to be Schwartz.
Entering the Stanley Cup finals, most observers consider Boston Bruins goalie Tuukka Rask the favorite for the Conn Smythe Trophy as the NHL's playoff MVP. But Schwartz is right there in the discussion, particularly now that it's golfing season for Logan Couture and the San Jose Sharks.
By now, most ardent Blues fans are familiar with his numbers. Schwartz has more playoff goals (12) in 19 games than he had in 69 regular-season contests (11). He has two postseason hat tricks, and has scored four goals in each of the Blues' postseason series — against Winnipeg, Dallas, and San Jose.
His Game 5-winning goal in the midst of the Winnipeg Whiteout with 15 seconds left in regulation rates as one of the most dramatic goals in Blues postseason history. He batted that one from a couple of feet off the ice into the net.
Winnipeg goalie Connor Hellebuyck referred to it as one of the Blues' "lucky pinballs" that night.
In any event, Schwartz is just one goal behind the "Golden Brett" — Brett Hull — for most goals in a single Blues postseason. Starting with Game 1 Monday of the Stanley Cup finals against Boston, Schwartz has at least four more games to tie or break Hull's postseason record of 13 goals, set in 1990.
How to explain Schwartz's amazing turnaround? Perhaps defensemen Joel Edmundson and Robert Bortuzzo deserve "assists" here.
"We went down to Mexico for our little break, and it just kind of cleared his mind," Edmundson said. "He came back here and he was lights out since."
Schwartz had only three goals for the season when the Blues took their end-of-January break for the All-Star Game and bye period. Players scattered, and Edmundson, Bortuzzo and Schwartz headed to Mexico.
Schwartz had eight goals in 33 regular-season games after the break — not an explosion, but still a 20-goal pace. Then came 12 goals in 19 playoff games. An explosion.
"He's definitely had it in him," Edmundson said. "He was just beating himself up a bit too much. So once he got a couple goals, he's just kept on rolling. And to do this in the playoffs is pretty exciting. It's good to see a guy like that be successful."
Schwartz is one of the most intense Blues. Because of that, he brings new meaning to the expression associated with pressing hockey players "squeezing the stick too tight."
"We have a fun dressing room, so guys are trying to loosen him up a bit, and you can definitely tell he's loosened up now," Edmundson said. "He's just having fun playing hockey. That's the best part of this. We're all just having fun playing hockey."
So what happened in Mexico at the end of January to clear Schwartz's mind?
"Just the sun and beaches," Edmundson said. "A couple cocktails. That's about it."
Just as a struggling player might overthink things, Schwartz sounds like he doesn't want to overthink what's now going right.
"I'm gonna have to be here for a while to explain that all," he said Tuesday. "Just working, thinking less. We can get into that for another time (on) where I was earlier in the year."
Good health obviously has something to do with it. He missed a couple of October games after taking a puck off the foot/leg. And then missed 11 more contests in November and early December with what was variously described as a wrist/hand/finger injury.
But Schwartz also added: "I think confidence in any sport is huge for your mindset and how you feel going into the game."
Schwartz's confidence had to take a quantum leap with that Game 5 score against Winnipeg. Beginning with that goal, he has scored all 12 of his postseason goals in the Blues' last 15 games.
"I honestly think that (goal) definitely got his confidence back, for sure," Edmundson said. "Just that line in general has been playing unbelievable. So we've been feeding off them."
Schwartz was reunited with his friend and fellow Saskatchewan native Brayden Schenn late in that Winnipeg game.
Late in the Round 2 series against Dallas, Berube put the old band completely back together, adding Vladimir Tarasenko to the line with Schwartz and Schenn. Members of that line have scored nine goals with nine assists in the eight games since being reformed.
"Obviously, we've seen that going back a year, two years," Berube said. "If you remember 30 games in (last season), they were one of the best lines in the National Hockey League. They've been really good at times going forward and putting it all together, and they're definitely doing a good job now.
"They're working hard together, and when they're working hard together and they're doing things together out there — connected — they're a real good line."
Berube would like four more wins' worth of play like that.
Then, and only then, it could be time once again for Mexico.
Season 3, Episode 37: In this edition of the Net Front Presence podcast, the Post-Dispatch coverage crew that will be on the road for the Stan…
10 times that St. Louis and Boston have played for the title
1946: Cardinals 4, Boston Red Sox 3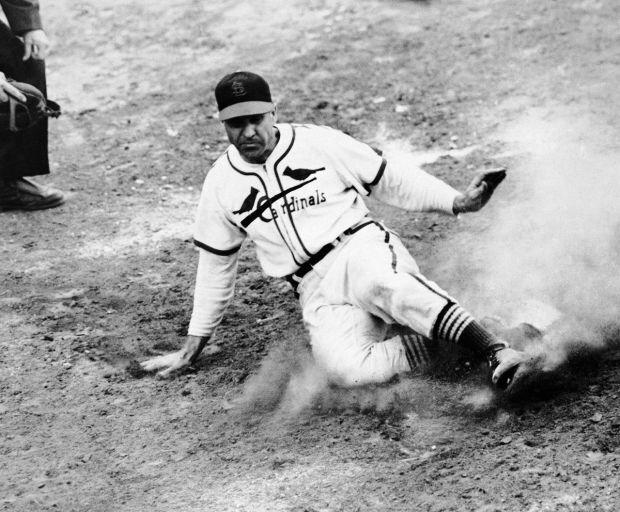 This is one of the classic Fall Classic games. In the top of the eighth of Game 7, Boston's Dom DiMaggio tied the game with a two-run double. But in the bottom of the eighth, Cardinals outfielder Enos Slaughter just kept running. Harry Walker hit a ball to the outfield and Slaughter, on first, dashed to second … and third … and through the stop sign to home. He was safe, Red Sox infielder Johnny Pesky became somewhat of a goat (for hesitating on the relay throw home) and the Cardinals won 4-3.
1957 NBA Finals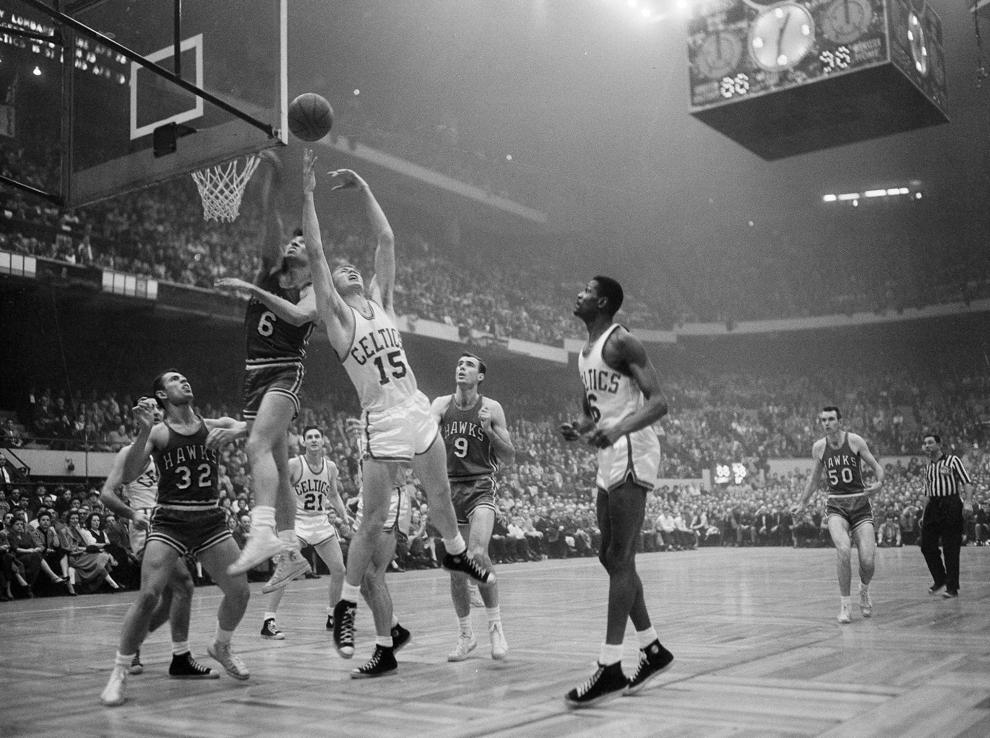 The Celtics prevailed 125-123 in what is still the only Game 7 in NBA history to reach double overtime.
With the Hawks down by two with one second left in the second overtime, coach Alex Hannum, forced into playing after four of his players fouled out, launched a miraculous full-court pass off the backboard to Bob Pettit, who missed the tip in at the buzzer.
Bill Russell, who the Hawks drafted a year earlier then traded, led the Celtics with 32 points. It was the start of a Celtics dynasty in which they captured nine of the next 10 titles, interrupted only by the Hawks the following year.
1958 NBA Finals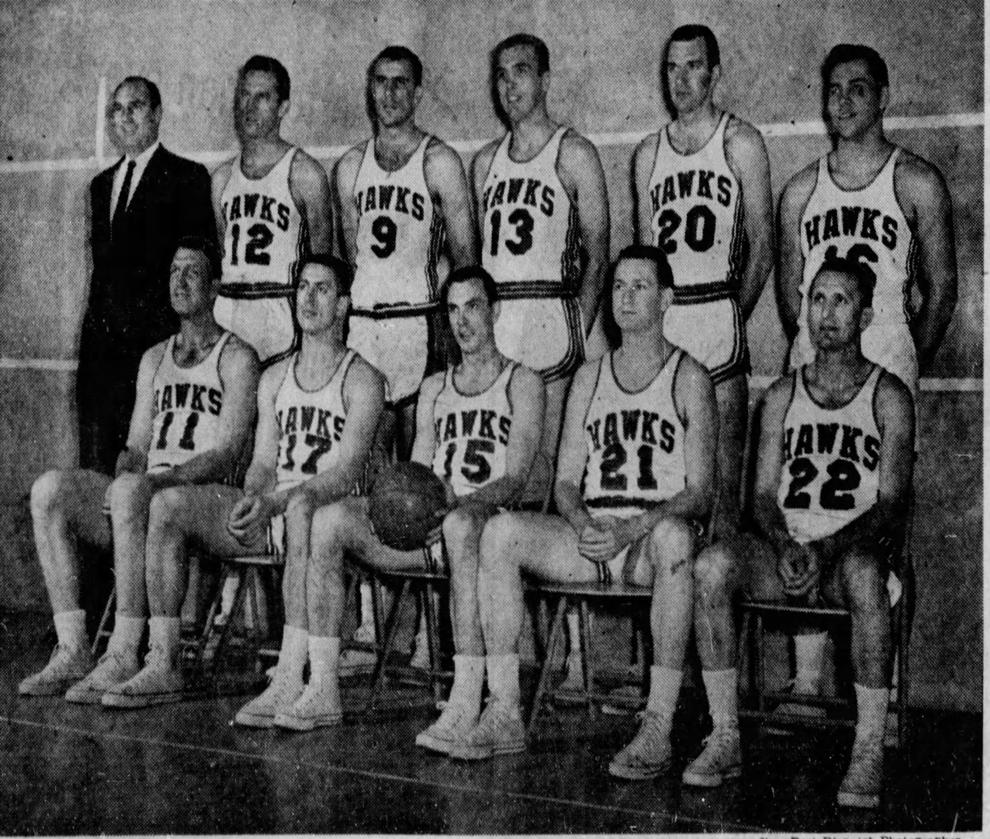 The Hawks won a critical Game 5 at Boston to take a 3-2 series lead and come back to St. Louis with a chance to clinch. With 10,218 excited hoop heads at Kiel, Pettit produced an extraordinary performance.
Although he was being double- and triple-teamed, the 6-foot-9 Pettit drained shot after shot, keeping the Hawks solvent. With a little more than 20 seconds to play, Pettit drove the lane, stopped and scored over the outstretched hand of Bill Russell, giving the Hawks a 108-105 lead.
Two Tom Heinsohn free throws made it a one-point game and the Celtics swarmed the Hawks to get the ball back. Sure enough, Slater Martin fired a shot off the mark, but Pettit fought his way to the basket and tapped in the rebound, rendering a final Boston basket irrelevant.
Pettit finished with 50 points, including 18 of his team's final 21, as the Hawks defeated the Celtics 110-109 and captured the NBA title. 
1960 NBA Finals
Meeting in their third finals in four years, the Celtics and Hawks were bitter rivals. But the Celtics' depth was too much for St. Louis, who were without quick guard Slater Martin, injured in the previous series. Bill Russell led the Celtics in a 122-103 Game 7 win with 22 points and 35 rebounds.
1961 NBA Finals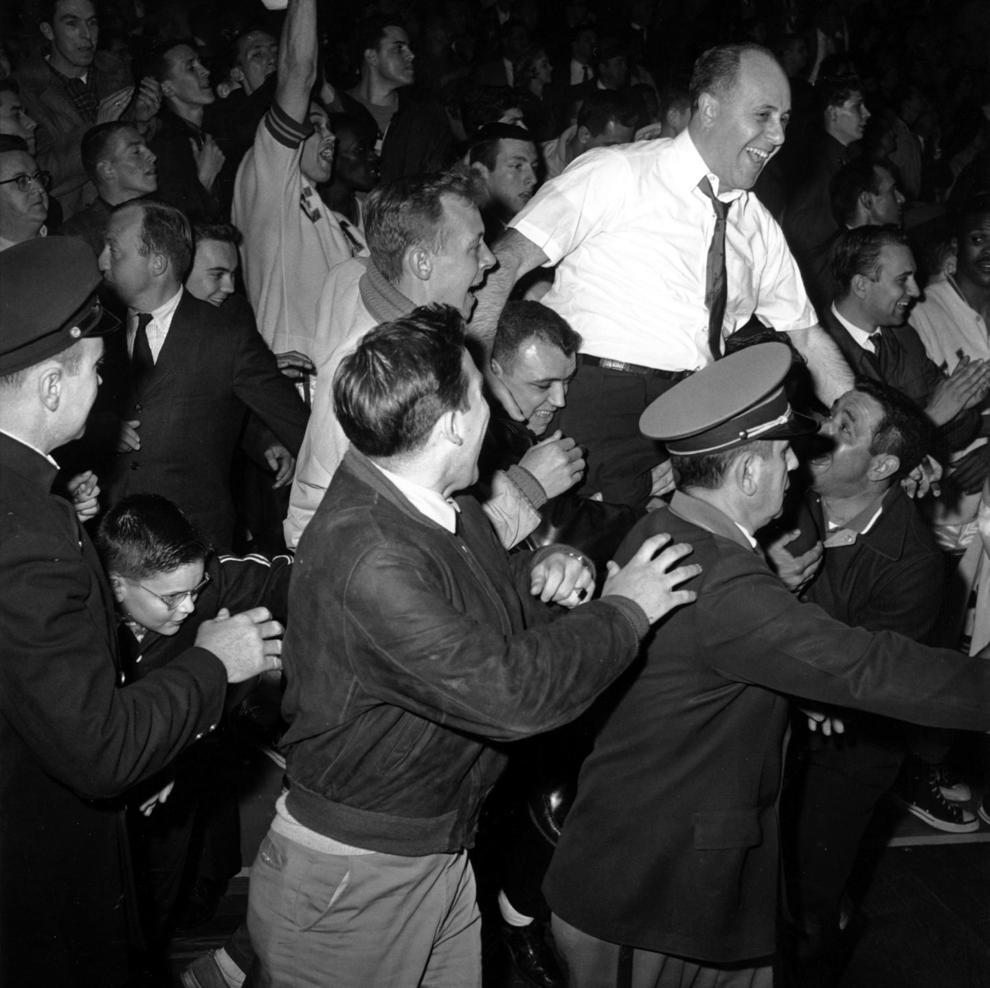 Celtics center Bill Russell was everywhere as the Hawks dropped the series four games to one.
In the final game, he had 30 points and 38 rebounds - as many as all five Hawks starters combined.
Hawks coach Phil Seymour said, "When the Celtics get around to splitting up their $43,000 prize money they ought to vote Russell three shares."
1967: Cardinals 7, Boston Red Sox 2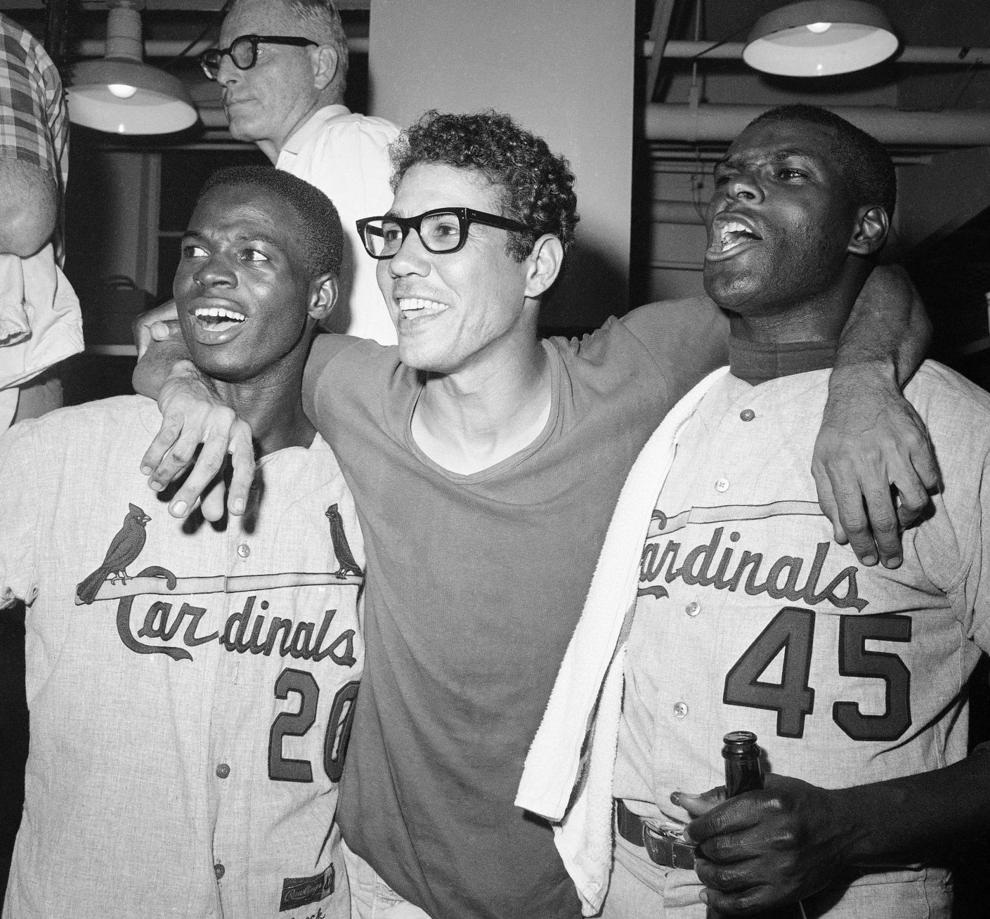 Boston's "impossible dream" died in Game 7 at Fenway, when Bob Gibson outdueled Jim Lonborg, famously pitching on two-days rest and the Cardinals won 7-2. Lou Brock set a World Series record with seven stolen bases, including two in Game 7. After 1967 and 1946, it seemed like Boston was forever cursed against the Cardinals in the World Series.
1970 Stanley Cup Finals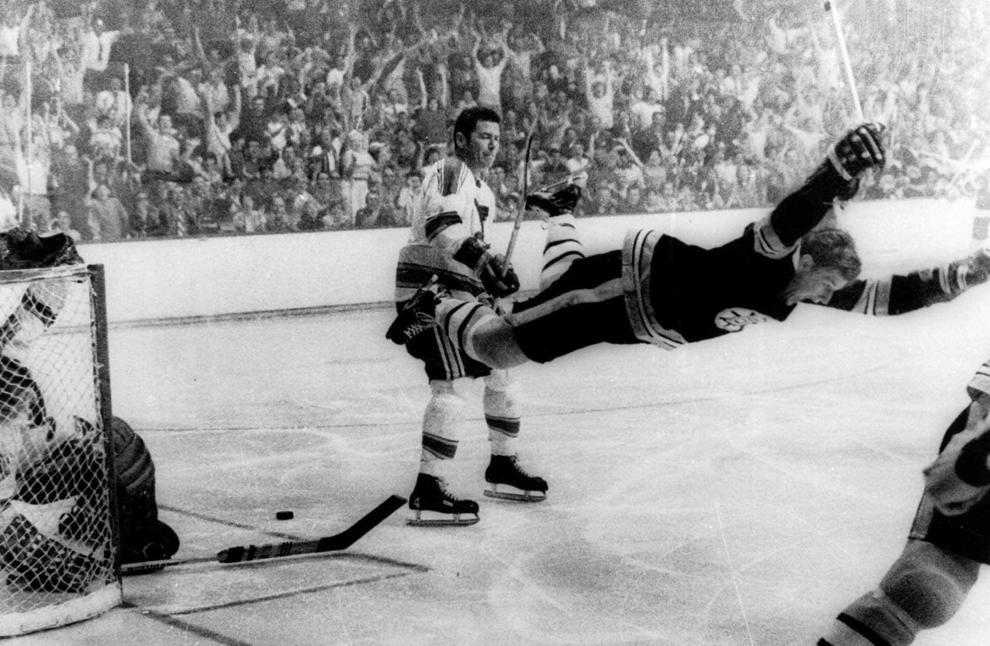 In the final for the third consecutive year, the Blues are outscored 16-4 by Boston in the first three games. The Note puts up a fight during Game 4 in Boston, taking a 3-2 lead in the third period. But the Bruins tie it and 40 seconds into overtime Bobby Orr scores on Glenn Hall to end the series. Frustrated Noel Picard pitchforks Orr through the air for one of hockey's iconic snapshots.
2002 Super Bowl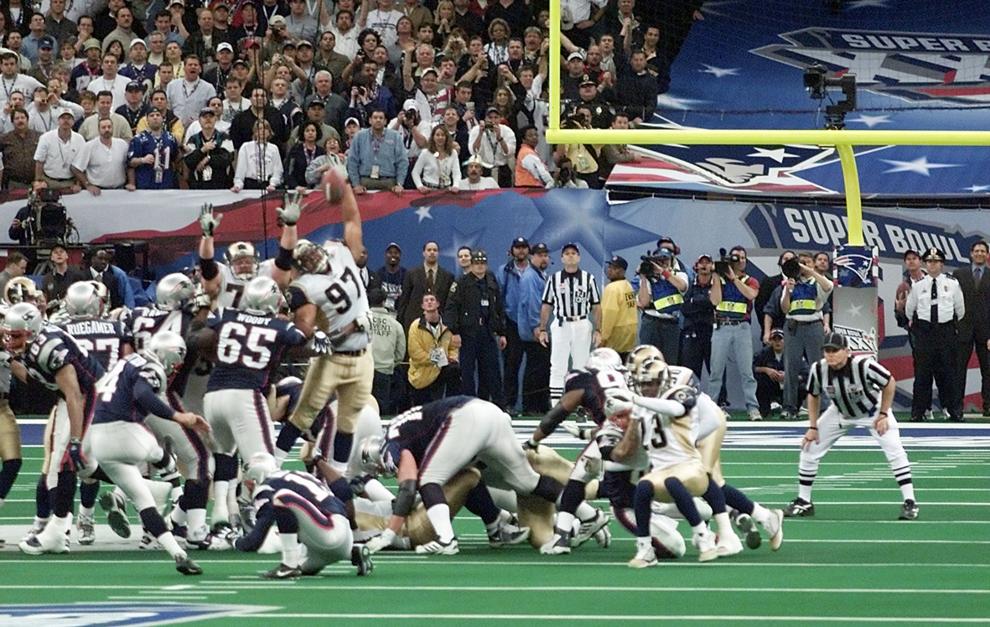 The St. Louis team was again there for the start of a Boston dynasty. Tom Brady, 24, started the season as a backup and Bill Belichick had more losing seasons than winning. 'The Greatest Show on Turf' racked up yards, but only managed 3 first-half points. The Rams tied it late, but Adam Vinatieri's final-play field goal gave the Patriots a win.
2004 World Series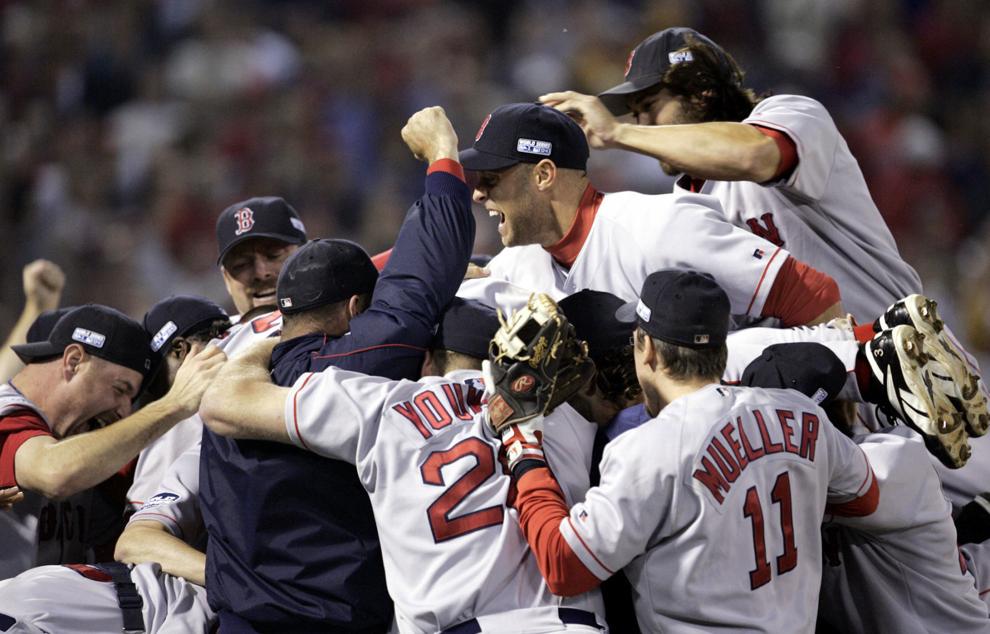 Manny Ramirez and the Sox, fresh off a comeback from a three games to none deficit in the ALCS, were too much for the Cardinals. Boston's pitchers limited the Cardinals to three runs over the series' final three games, and Ramirez hit .412 as the Red Sox powered their way to a sweep that ended an 86-year curse.
2013 World Series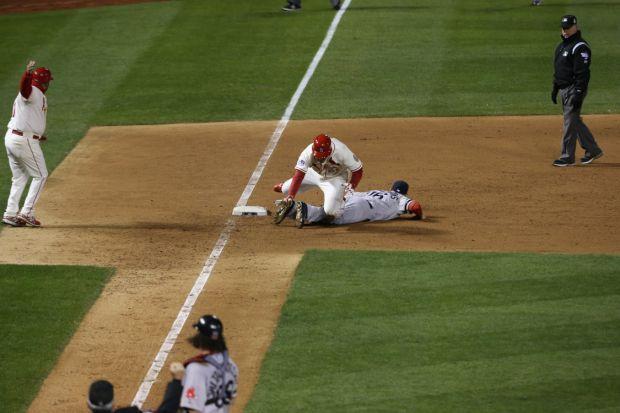 The Red Sox win in Game 6 clinched a World Series at Fenway for the first time since 1918.
The series was marked by a couple of bizarre plays. In Game 3, Allen Craig scored the winning run when umpires ruled Boston third baseman Will Middlebrooks interfered with him on an overthrow.
Game 4 ended when pinch-runner Kolten Wong was picked off first base, the only World Series game ever to end with a pickoff.