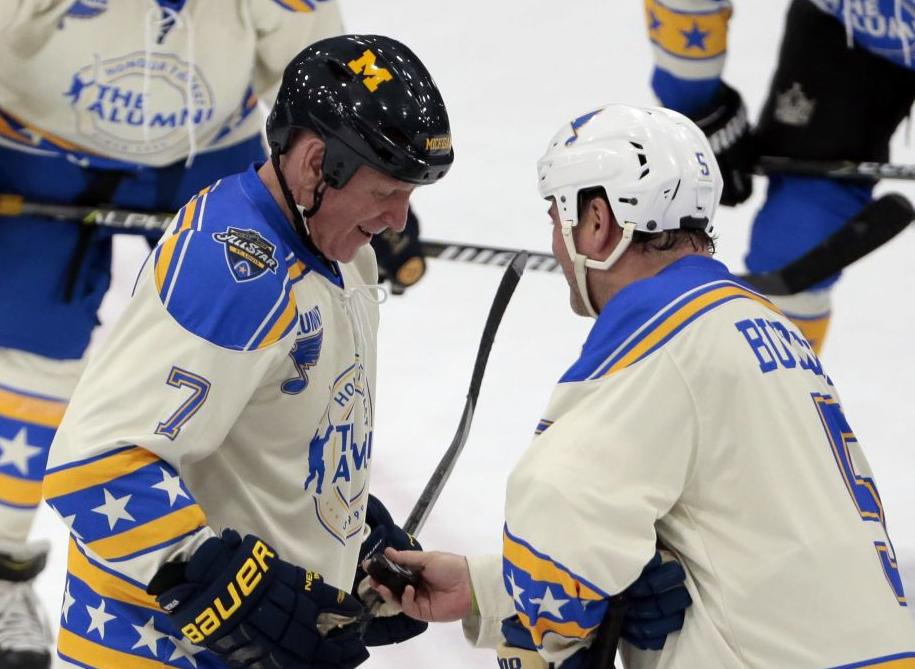 Hockey writer Tom Timmermann continues our "Where are they now?" series on former Blues.
Garth Butcher, the one-time Blues defenseman and captain, was one of those people blessed with an ideal name for his chosen profession.
Six times in his NHL career, including once in his time with the Blues, he had more than 200 penalty minutes in a season, and when he was playing junior hockey with the Regina Pats of the Western Hockey League, he once had 318 penalty minutes in 65 games, an average of almost five minutes per game.
But what about life after hockey? Did the name still fit?
Nowhere near as well. Butcher, now 57, has worn a variety of hats — none of them a butcher's — since he retired from the NHL in 1995. He has a restaurant in the Toronto suburb of Oakville — he sold off five others a year ago — owns some rental properties and runs a mortgage fund in British Columbia. While that's in Canada, Butcher lives in Bellingham, Wash., just south of the U.S.-Canada border (he's closer to Vancouver than he is to Seattle), on the banks of Lake Whatcom. For seven years, he was the director of hockey operations at the Bellingham Sportsplex and coached youth hockey there.
"I told them I'd do it a year and please replace me," he said, "and there I was, seven years later leaving. It was fun at the time when the kids were younger." (His son Matt was drafted by the Canucks in 2005 and played one season in the ECHL after going to college at Northern Michigan.) 
For Butcher, it's been an eclectic path, with lots of different things, all of which, starting with hockey, have been fun for him.
"I feel like I'm a lucky guy," he said. "I haven't had to work a day in my life. I can do something I'm interested in in my own time. I've been real fortunate."
Right now, there's not much he can do. His businesses are in Canada and he's in America, so with a 14-day quarantine required for people entering Canada, everything is so close yet so far away. Meanwhile, he's doing things he doesn't normally do, like mow his lawn rather than hiring someone else to do it because what else is he going to do? "Working hard, hardly working," he said.
Butcher's time in St. Louis was brief — two full seasons, parts of two others — but eventful. The case is often made that the trade that brought him to the Blues was one of the most lopsided — the wrong way — in franchise history. The Blues got Butcher and Dan Quinn from Vancouver for a package that included Geoff Courtnall, Cliff Ronning and Sergio Momesso, a trio that combined for 51 goals with the Blues that season but were the price GM Ron Caron paid to strengthen his defense with the gritty Butcher for a Cup run. It didn't work as the Blues went out in the second round to Minnesota.
But if Blues fans still wonder if that trade cost them a shot at the Stanley Cup in 1991 — the team finished with 105 points that season, the second-most in the league behind Chicago, and Brett Hull scored 86 goals that season — the blame clearly falls on Caron and not Butcher.
"I get treated great when I go back," he said. "I love it."
Though Butcher grew up in Saskatchewan and played the bulk of his career in Vancouver, he settled in the U.S. Butcher originally bought his home in Bellingham as a summer house, but plans changed.
"Someone I knew when I played in Vancouver said it was a real cool lake," Butcher said. "I bought a place here before I retired. We thought we'd settle in Vancouver — my wife's from that area — but we spent a couple summers here and decided this was home. So we sold our property in Vancouver. Yesterday I was out on a boat on the lake. It's certainly great for summertime."
That's also about the time he got into mortgages.
"When I played in Vancouver, I had done a few mortgages for myself and friends," he said. "I learned about it and started a fund for family and friends, the Mortgage Investment Corporation. We put money in, it's pooled, we lend it out and get a nice little return at the end of the year. It's a safer way than owning one or two mortgages. You spread it out over 400 mortgages, because you always get ones that aren't as good."
'Beaming for our fans'
Butcher flew down from Washington to St. Louis for Game 6 of the Stanley Cup Final last season, hoping to witness the history that escaped his team. He was also in town for the All-Star Game this season.
"I flew in for Game 6 and it was a great day in the city," he said. "I was out with the people and that scene's not going to happen this year, whatever happens this year. Game 6 was not a very good game, going out like that. I flew in for two nights, stayed with (Kelly Chase), had some laughs, took the next day off. I was beaming for the fans. I was really happy to be a small portion of it."
Butcher was named captain for his first full season, taking over from Scott Stevens. (The next season, Brett Hull took over as captain, starting a three-season run.) In January of 1994, Butcher was traded to Quebec along with Ron Sutter and Bob Bassen for Steve Duchesne. He played one more season, with Toronto, and then retired. In all, he played 208 games with the Blues, with 11 goals, 35 assists and 508 penalty minutes. His average of 2:26 in penalty time per game is sixth highest in franchise history among players who were here more than two seasons.
No wonder people liked him, and he likes them back.
"To me, it was such a different type of crowd," he said. "I always said it was a Budweiser, T-shirt, hard-working crowd having a blast, being real fans rather than sitting with their hands in their lap. I thought Blues fans came out to enjoy themselves and be entertained. They entertained us half the time. That was a big part of the feeling in the building. It always felt really hands on with the fans there. We'd see them after the game, walking out at the old arena, talking in the parking lot. There was a deep connection between players and fans."
---
Thomas and Timmermann on the Blues: Where are they now?
Hockey writers Jim Thomas and Tom Timmermann catch up with former Blues players and coaches.
The latest STL Blues hockey news, NHL headlines, scores, standings and rosters.