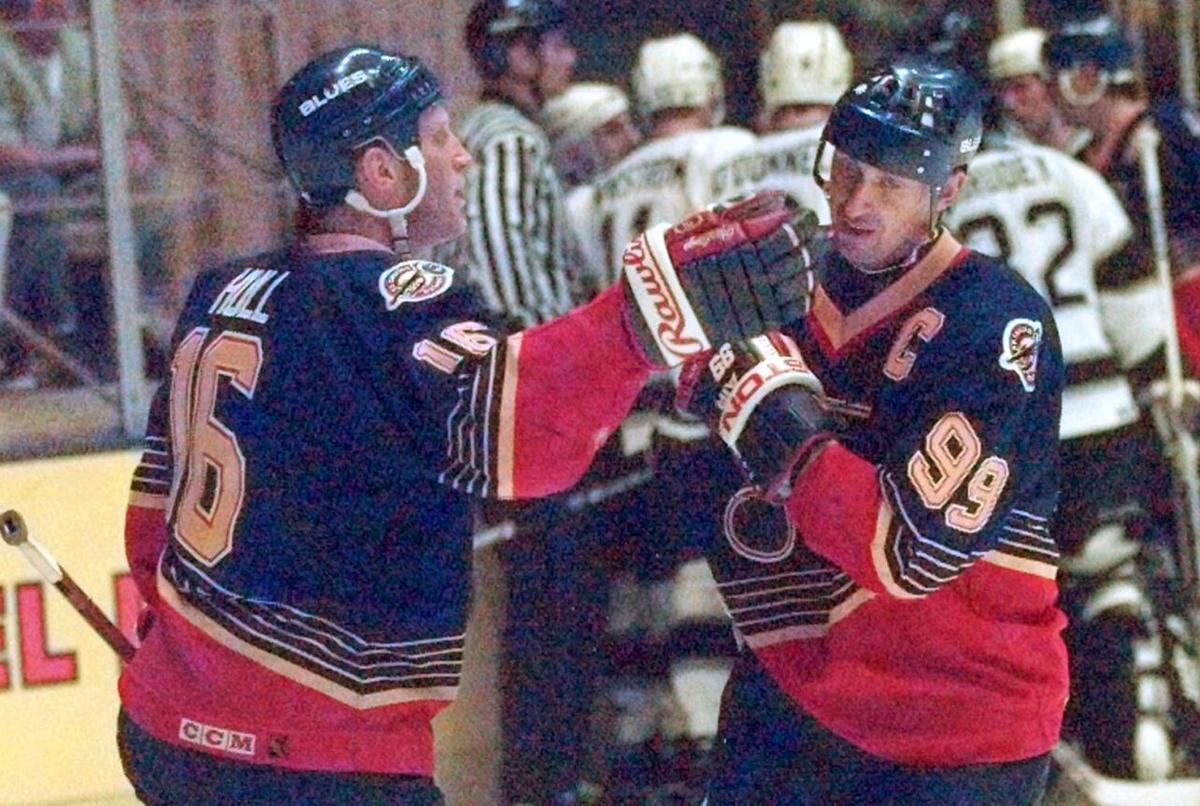 Editors note: This is an updated version of a story that originally ran in 2016.
It was the kind of news you had to hear more than once, and you still remember where you were when you heard it.
It was Feb. 27, 1996, the day Wayne Gretzky left Los Angeles to become King of the Blues, the day hockey took the front seat in St. Louis.
"I think it was one of the biggest moments in the history for St. Louis, not only hockey, but in sports," Mike Keenan, the author of the deal, recalled in a 2016 interview.
Keenan, 71, last coached in 2017 in the Kontinental Hockey League. But at the time, he was coach and general manager of the Blues, and from the outset of the 1995-96 season, he was after Gretzky.
The Kings had not been to the playoffs since a 1993 trip to the Stanley Cup Finals, and they were on course to miss again. Bought from bankruptcy the day before the season started, the Kings were financially stretched and looking to rebuild. Their main attraction was looking to reboot.
Gretzky put hockey on the map in LA. But he turned 35 in January 1996 and was in the final days of his contract. He had neither the time nor stomach for starting over. He made it known he wanted one more shot at a Stanley Cup.
"They basically said to me, 'If it's about money just tell us what it is and we're going to build a new arena and … it was all very cordial," Gretzky recalled. "And I said, 'You know, I'm near the end of my career and I don't know how much longer I have to go, and I want to try to win a Stanley Cup. If you're going to go young, that's the right way to go, and I understand that.'
"But we were all on the same page and they basically said, 'If you want to go somewhere else, just tell us where you want to go and we'll make it happen."
In retrospect, the answer is one of the remarkable aspects of the deal. Of all the gin joints in the NHL, of all the potential Stanley Cup destinations, Gretzky wanted St. Louis. A team that had never won a Stanley Cup.
But Keenan, who had coached Gretzky in Canada Cup competition, worked the deal for months. He called Kings GM Sam McMaster weekly, convincing him it made sense to trade one of sports' Mount Rushmore figures, even more sense to send him to St. Louis.
Gretzky didn't need convincing. He is married to a St. Louis girl, actress Janet Jones, and has extended family here. He was close friends with Blues star Brett Hull, and he recognized a formidable foundation in place. The Blues had a preeminent sniper in Hull, top quarterbacks in Al MacInnis and Chris Pronger, a premier goaltender in Grant Fuhr and a coach who had won a Stanley Cup in New York two seasons before.
There were other teams in the sweepstakes, including the Rangers and Canucks. Their offers were more substantial. But Gretzky was tangled up in Blue.
'PERFECT SENSE'
"I weighed all my options and just said it makes perfect sense for me to become a St. Louis Blue," Gretzky said. "We can live in St. Louis and raise our family there. That's our home and … there were no alternatives really. Ultimately, they pulled the trigger and I became a St. Louis Blue."
The salvo sent a bevy of young players to the Kings. Roman Vopat, a promising 6-foot-3 center, was the anchor piece. Wingers Craig Johnson and Patrice Tardif were embellishments. A first-round pick (Matt Zultek) in 1997 went along, as well as a fifth-rounder (Peter Hogan) in 1996.
When the smoke cleared, "The Great One" belonged to St. Louis, and the Stanley Cup has never felt closer. Mike Caruso, senior vice president of public relations for the Blues, was in Vancouver with the team on Feb. 28 when Gretzky arrived.
"He came up to Keenan's room and it was just the three of us," Caruso recalled. "Hearing about him all through the years and never meeting him, I was shocked at how quiet and down to earth he was.
"Our first practice was at Burnaby 8 Rinks (in Vancouver), and I could not believe the crowd outside and inside when we arrived. I thought I knew how big Wayne Gretzky was, but I had no idea how big he was. The crowds swarmed our bus as we tried to get off. It was like he was a Beatle. It was unreal."
Meanwhile, the trade was reverberating in St. Louis. When the Blues opened for business on the morning of Feb. 28, a line of customers was waiting outside. Seats for the pending three-game homestand disappeared. The remaining six home games soon sold out, as well.
When the puck dropped the next night in Vancouver, Feb. 29, the starting six for the Blues was Gretzky, Hull, Shayne Corson, MacInnis, Pronger and Fuhr. The tenacious Corson was the team's captain at the time of the trade, highly regarded in his own right. The other five are in the Hall of Fame.
"Shayne Corson's one of my best friends," Gretzky said. "And when I got there, Mike gave me the captaincy. I remember thinking, 'Oh my God,' but Mike was a trailblazer, he was just like, 'This is best for the team.'"
"And I remember I sat down with Shayne and said, 'Listen, if you want to be the captain, you can be the captain.' Shayne said, 'No, no, no, you should be the captain.' So we're sitting there, fighting over who should be the captain.' It was kind of crazy."
QUICK RESULT
During the first period of his first game with the Blues, Gretzky took a pass from Stephane Matteau and beat Kirk McLean on a breakaway. The play was started by Hull, and afterward Matteau was humbled by the moment.
"To be honest with you, I was uncomfortable after I heard the announcer call, and I saw on the scoring sheet, my name between Brett Hull and Wayne Gretzky," Matteau said. "I was thinking, 'I'll remember this all my life, I'll be able to tell my grandkids, I assisted on Wayne Gretzky's first goal as a Blue.' "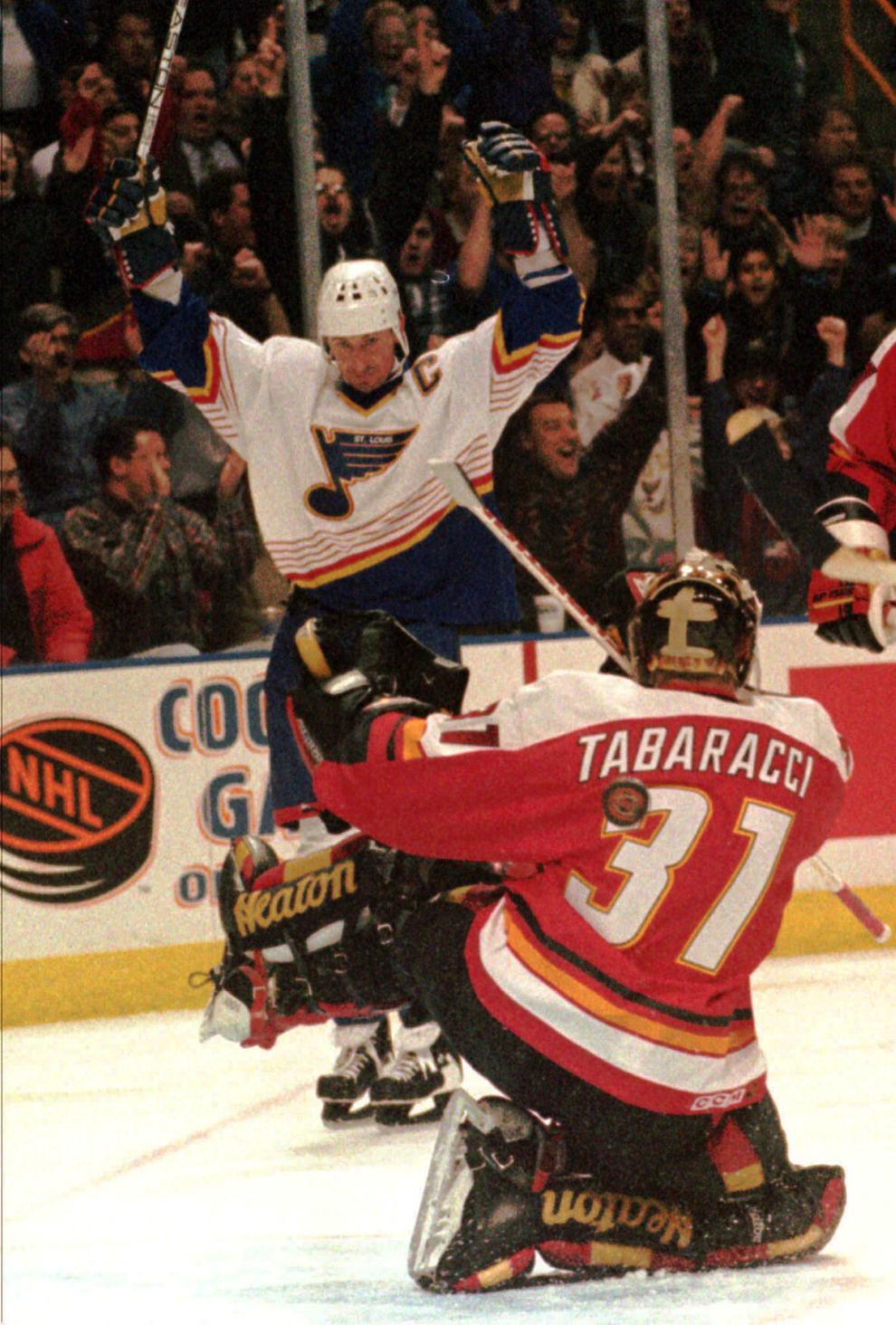 Gretzky's role had diminished in Los Angeles, where he was averaging around 16 minutes. That night in Vancouver, Keenan played him more than 27 minutes.
"When he came to us, he probably wasn't as well-conditioned as he had been in the past," Keenan said. "And in that particular game I played him a lot, and I could see his face was getting red.
"As the story goes, they went out to eat afterward at a restaurant in Vancouver. The waiter came to the table and said, 'Good evening, Mr. Gretzky, what can I get you?' And Wayne said, 'A bottle of oxygen to start with, please.'"
The 2-2 tie in Vancouver drew an A.C. Nielsen rating of 14.7 in St. Louis, the highest TV number for the Blues since the measurement had been kept. By happenstance, the next game was in Edmonton, where Gretzky had engineered four Stanley Cup championships. Before the Sunday contest, his new No. 99 jersey sold out in less than an hour.
In the second period at Edmonton, Gretzky was felled by a Kelly Buchberger elbow and had to be helped to the dressing room. His status for the return home Tuesday became dubious. But two days later, on March 5, he skated onto the ice at Kiel Center.
The largest crowd in Blues history, 20,775, greeted him with an ovation that lasted nearly two minutes. "I was tingling," he said.
Gretzky did not figure in the scoring, but the Blues beat Florida 2-0 behind Fuhr. They improved to 2-0-1 with their new headliner, 7-1-3 in their last 11. Everything seemed to be falling into place, but the euphoria wouldn't last. Events soon conspired to bring Camelot crashing down and send St. Louis hockey down a different path.
The mojo between Hull and Gretzky, the offensive jolt the trade was to provide, didn't readily materialize. The Blues won only one of their final 12 games down the stretch, scoring two goals or less eight times.
Fuhr had been a rock, playing a remarkable 79 of 82 regular-season games. But during a Game 2 loss in the conference quarterfinals, he suffered a torn knee ligament while being crushed by Toronto's Nick Kypreos. The season was on the brink.
Behind backup Jon Casey, the Blues would not go quietly. They beat the Maple Leafs in six games, a "be careful what you wish for" proposition. For the effort, they drew a second-round date with Detroit. With 62 wins and 131 points, 51 more than the Blues, Scotty Bowman's Red Wings were the class of the league, a prohibitive Cup favorite.
When the Blues dropped the first two games in Motown, an unfavorable outcome seemed inevitable. Keenan benched Gretzky for much of the third period of an 8-3 loss in Game 2, then singled him out for criticism afterward.
But the Blues and Gretzky rallied. They won Game 3 on Igor Kravchuk's overtime goal. Two nights later, Gretzky scored and a mighty Casey stopped 29 shots for a 1-0 win. Stunningly, the Blues then made it three straight. Gretzky had a goal and assist and Casey stopped 37 shots for a 3-2 win in Game 5 in Detroit. With Game 6 headed back to St. Louis, the Blues had the Wings by the throat.
But Detroit won Game 6 to set the table for one of the more memorable Game 7s in NHL history. With Casey stopping 39 shots, the teams played through five scoreless periods. One minute 15 seconds into a second overtime, Gretzky couldn't corral the puck at the Detroit line. Steve Yzerman raced the other way, stepped across the blue line and blistered a 55-foot shot over Casey's shoulder.
The game, the series and paradise were lost.
LOOKING BACK
Withered by the Blues, the Wings lost the ensuing series with Colorado. The Avalanche then swept the Panthers in four games to win the Stanley Cup. Gretzky still thinks of what might have been.
"We had a really good hockey team, and I'm convinced today that if we could have beaten Detroit in double overtime, we could have beaten Colorado," Gretzky, 55, said. "We had a little bit more playoff experience than Colorado. And, I'm not taking anything away from them, but if we'd have had Fuhrsie in net, with our experience, maybe the outcome would have been different."
Maybe the future would have been different. Winning solves problems, losing lets them fester. The relationship between Keenan and Gretzky turned acidic, exacerbated during the Detroit series. Reportedly, the Blues pulled a three-year, $23 million contract off the table.
Disillusioned, Gretzky became a free agent and signed with the Rangers on July 21, 1996. The "Gretzky Era" in St. Louis was over just 145 days after it started. He would score 249 more regular-season points before retiring, but Gretzky thinks the numbers would have been higher with the Blues.
"What made me good in St. Louis was Brett Hull, Al MacInnis and Chris Pronger," said Gretzky, who had 10 goals and 37 points in 31 games with the Blues, regular season and playoffs combined. "Had I stayed there, from an offensive point of view, I would have exceeded what I did (in New York) over the next three years."
"Look, if I had my druthers, I would have finished my career here," he said. "But, you know, the good Lord works in mysterious ways, and sometimes that doesn't happen. I have nothing but fond memories."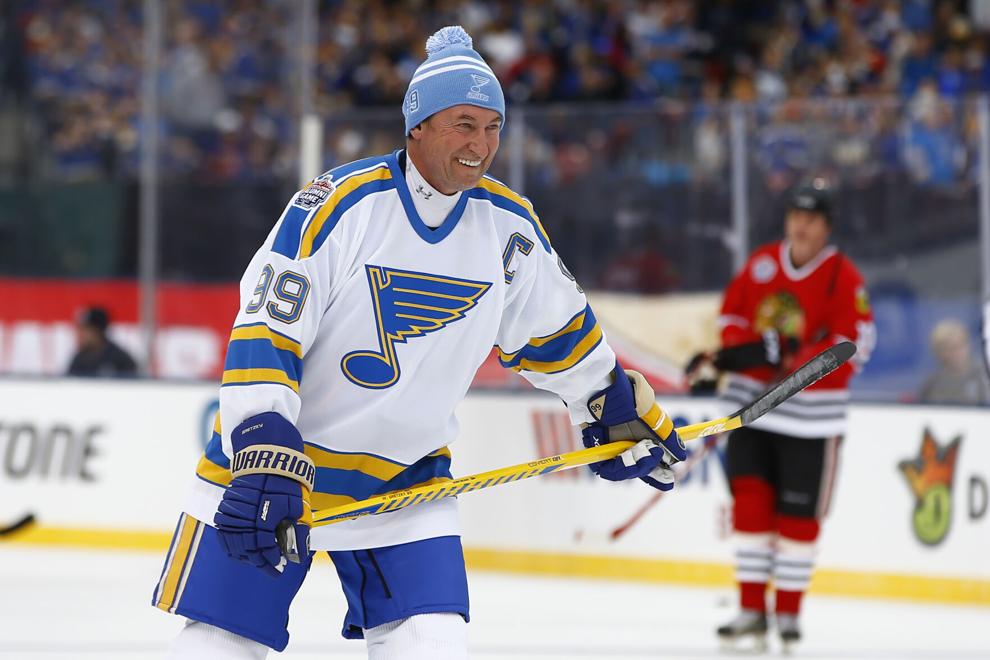 Dan O'Neill
@wwdod on Twitter