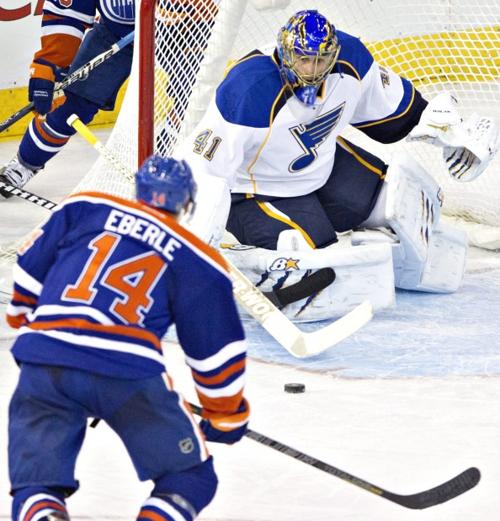 When more Blues players begin trickling into the club's practice facility this week, they will run into a teammate they're not used to seeing in mid-August.
Goaltender Jaroslav Halak, who in three previous seasons with the Blues spent the summer at home in Slovakia, has been in town since the end of the 2012-13 season in May.
"Everyone was asking at the end of the season, 'Where are you headed?'" Halak said. "I said, 'I'm staying here.' Everybody said, 'Enjoy the hot weather.' The weather has been great, so I've enjoyed it."
Unseasonably cool temperatures have complemented a productive offseason of training for Halak, who made the decision to stay in town so that he could work one-on-one with Blues strength and conditioning coach Nelson Ayotte.
After two stints on the shelf with a groin injury last season, Halak visited a specialist in Philadelphia after the Blues bowed out in the first round of the playoffs. The verdict was that surgery was not needed, but the goalie was told that he would lessen the risk of re-injuring his groin if he significantly improved his lower-body strength.
The last three months have been a regimented schedule of weight training and cardio activity aimed at bolstering his legs and quads. In the meantime, Halak lost 14 pounds of body fat, dropping his percentage to 9.4, which is the best shape he's been in since his arrival in 2010.
Friday was Halak's fifth day on the ice taking shots and afterward he said, "Everything feels good. I needed some time to heal it properly. Right now, I have no issues and hopefully it's going to be this way."
Players report to training camp Sept. 11 — in 24 days — and Blues coach Ken Hitchcock expects that it will be "all systems go" with Halak.
"I've run into him four or five times during the summer," Hitchcock said. "He's excited, he's feeling healthy. Part of it was conditioning, but another part was strengthening that area.
"He's a really young guy and you don't want to have an injury-plagued career. So he wanted take the question marks out of it by having a really high fitness level. He's done a really good job of finding that fitness level."
The reward could be more assignments for Halak, who for the past two seasons has been part of the Blues' tandem with Brian Elliott.
In 2011-12, Halak played 46 games and Elliott played 38, as the pair claimed the Jennings Trophy for the fewest goals against in the NHL. In the lockout-shortened year last season, Elliott played 24 games and injuries limited Halak to just 16.
But this summer, Hitchcock has referred to Halak as the team's starter and Elliott as the backup on more than one occasion.
When asked to define the situation, Hitchcock replied: "It was a tandem, but Jaro still played more than Brian (before Halak's injuries). We were still going 55-45 (percentage of starts in favor of Halak) last year … that was the feeling going into the season.
"And then when both guys struggled and Jaro got hurt and Jake Allen came in, the whole landscape changed. In an ideal world, if you could turn back the clock, we had the best goals-against average in the NHL the way it worked (in 2011-12). If you could ever duplicate that, you sure give yourself a heck of a chance to win.
"(But) Halak hasn't lost his starting job due to his play. He lost his starting job due to injury, so there's a difference. If Brian comes in and takes the job, that's one thing. My feeling is training camp is for evaluation, but to me it's status quo as long as both guys are healthy."
Halak has heard Hitchcock's plan, but it doesn't change his plans.
"It's nice to hear, but I have to work hard," he said. "It's not like anything is going to be handed to me. If I don't perform, I'm not going to play."
Halak finished last season with a record of 6-5-1 with a 2.14 GAA and .899 save percentage. He missed April 1-25 after his second spell with the groin injury and was relegated to backing up Elliott for the final two regular-season games and playoffs.
His dust-up with Hitchcock during the first-round series loss to Los Angeles earned some attention, but Halak said that he's moved past the incident.
"I went through some adversity and I wasn't happy about it," he said. "I was frustrated at the end of the season. I was injured and I didn't play, so obviously everything built up. I want to prove it, especially to myself, that I can still play and that I can perform."
Halak, 28, is entering the final season of his four-year, $15 million contract and says, "It's a big year, but I don't want to put extra pressure on myself because of that."
He also said that he hasn't put much focus on the trade rumors that involved his name this summer.
"I wasn't worried about it," Halak said. "Whatever happens, happens. I'm happy here. Last season was a bad season for me, but I was still happy that I could be here and part of the team."
Now Halak wants to be a more integral part of the Blues' success, and says that's why he stayed in St. Louis this offseason.
"I think I did the right thing," he said. "(The training) has been a challenge sometimes, but there's nothing for free in life. You have to work for everything. It's the middle of August now and it really flew by ... the whole 2 ½ months went by so fast."