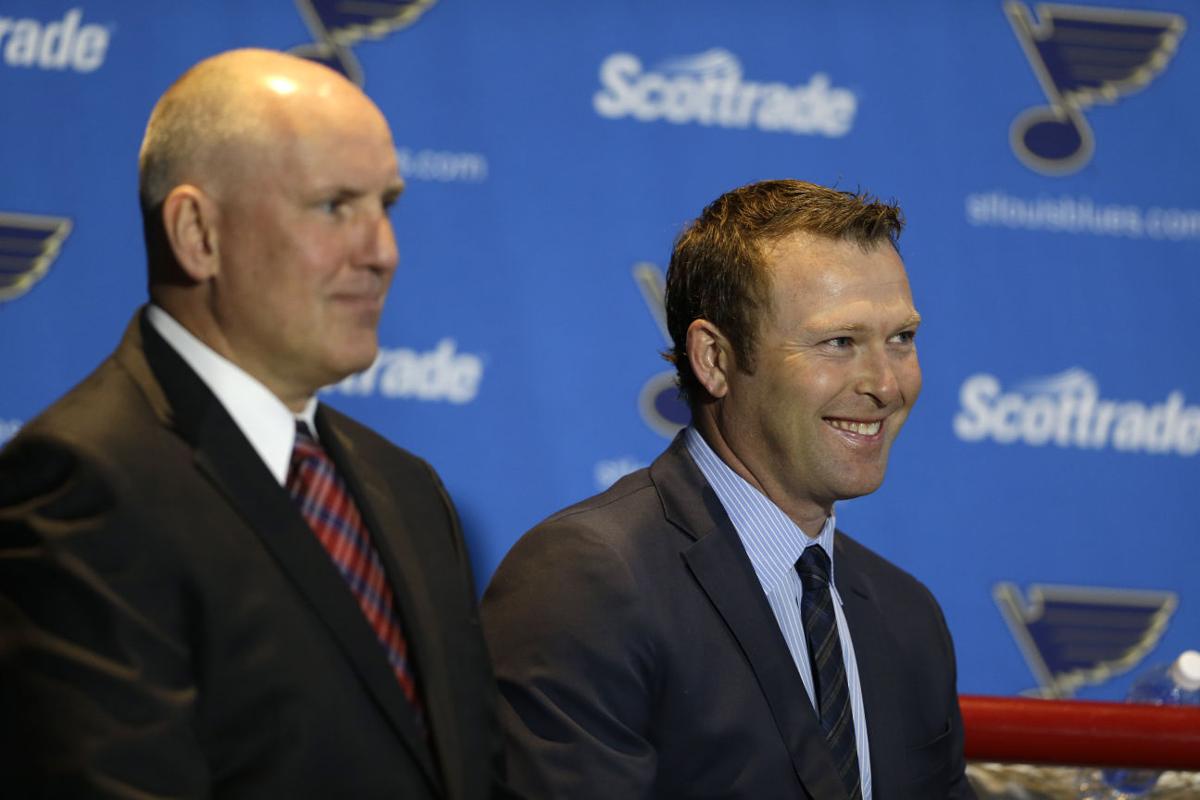 The crowd was too thick for Martin Brodeur to get a close-up look at a statue of his likeness when it was permanently positioned outside Prudential Center in Newark, N.J., on Oct. 22. So several hours later, the former Devils goalie and current Blues assistant general manager and a group of about 12 returned to the site for a night-capper.
"It was like 1 o'clock in the morning, it was last call, and the guys were like, 'Let's just go over,'" Brodeur said. "So we turned around and went back, taking pictures with it, selfies, it was kind of cool. Newark at 1 o'clock, we were pretty brave. The beer made us do it."
It would be understood if Brodeur, 44, spent more of his time soaking up the suds on a beach somewhere and basking in a Hall of Fame career in which he won an NHL-best 691 games, three Stanley Cups, four Vezina Trophies and two Olympic Gold medals.
But 12 days after that bronze statue was put on display, Brodeur was on a flight Nov. 3 to Finland for the Four Nations Cup. He, along with Blues director of player personnel Rob DiMaio, arrived to frigid temperatures and a sneak-peek of winter.
"It was 19 degrees and like Christmas snow," Brodeur said. "There was nothing on the ground, but it just snowed all day, and the wind ... The games were around 9 o'clock at night, and you'd come out, and it's like full-fledged Canada there."
This is the life that Brodeur has chosen. After suiting up for seven games with the Blues to wrap up his playing career, he is in the second year of a three-year contract as an assistant to GM Doug Armstrong. His days are consumed by watching practice, scouting prospects and taking the occasional trip overseas to make sure the club isn't missing out on untapped talent such as Chicago's Artemi Panarin, who once played at the Four Nations Cup.
It's the type of grunt work that might make others in hockey's hierarchy flinch, but not Brodeur.
"There's times like 'seriously?'" he admitted. "Especially when it takes you 21 hours to get back from Finland, you're like 'Seriously, are you doing this?' But that's the work that I'm willing to put in to see if I'm going to enjoy this part of the job. Everybody has done it, all the GMs and scouts and player personnel, they've done that work. I feel that I can't short-side myself on this. I've got to try to do as much as I can, and then after three years, I'll re-evaluate and see if it's something I like. So far it's been really fun and it keeps me busy. I like to be on the run a little bit."
Brodeur has remained on the run since returning from Finland. He accompanied the Blues on their recent trip to Columbus Nov. 12, and along with Blues special advisor Al MacInnis, drove to Ohio State University to watch Tage Thompson, a 2016 first-round draft pick from the University of Connecticut play against OSU. He left Friday for Boston, where he was planning to see 2013 third-rounder Jake Walman of Providence and take another look at Thompson.
"When I saw Tage the first time, he scored two goals," Brodeur said. "I'm going to see him two weeks in a row, so that will be nice. I'm trying to work hand in hand with the amateur part, the professional part, so we're all on the same page. I could be a different opinion or maybe the same opinion, but I like knowing what I'm talking about or knowing what I'm hearing. If I sit back and don't do the work, the next thing you know, it becomes like Chinese to me.
"I don't have that experience. That's why, when I go watch amateur games, I sit with our amateur scouts and I ask a billion questions. I'm trying to learn so my eye can be more defined to what I'm looking for because I've never done this before. I just played hockey all my life, just tried to get out of the way of a puck coming 100 mph."
But Brodeur isn't the only one asking the questions. Armstrong often asks him to provide his opinion on personnel decisions, along with a player's perspective on any issues that arise.
"The big thing with him, he's just a step ahead of everybody all the time," Brodeur said. "It challenges you a little bit to dig in and make sure you know your information. He's really anal about the things that you do, as far as gathering information and communication with each other because when there's times for him to make a decision, he relies on us to be there for him."
It can get intimidating, Brodeur admitted, when Armstrong makes a move based on his information or suggestion.
"Oh for sure," Brodeur said. "It gets more nervous when you're involved and they listen to you, and it's not working out."
Armstrong, who signed Brodeur to replace an injured Brian Elliott and then brought him into the management booth, has been impressed with his approach to the job.
"He's working now with our pro and amateur staff, getting to understand the behind-the-scenes of what it takes to put a team on the ice," Armstrong said. "There's different avenues that guys take to stay in the game. When I look at (LA's) Rob Blake, (Philadelphia's) Ron Hextall and (Tampa Bay's) Steve Yzerman, that's the path he's taking to get to the position of a manager if that's what he so desires. Going the way that those guys went, I think, is the one that will set him up best if he wants to manage in the future."
Does Brodeur have interest in being the guy one day?
"I don't know, that responsibility of day in and day out, you have to be ready and I know I'm not yet," he said. "I might be eventually, (but) right now I don't see myself in one because I don't think I know enough.
"I'm not afraid of the work, but it's overwhelming. I see Doug go and he takes on a lot of responsibilities. But it's something that I've been enjoying so far. I have no regrets about my decision whatsoever. If I had a regret, you wouldn't see me here. It would be like, 'Hey, where's Marty?'"