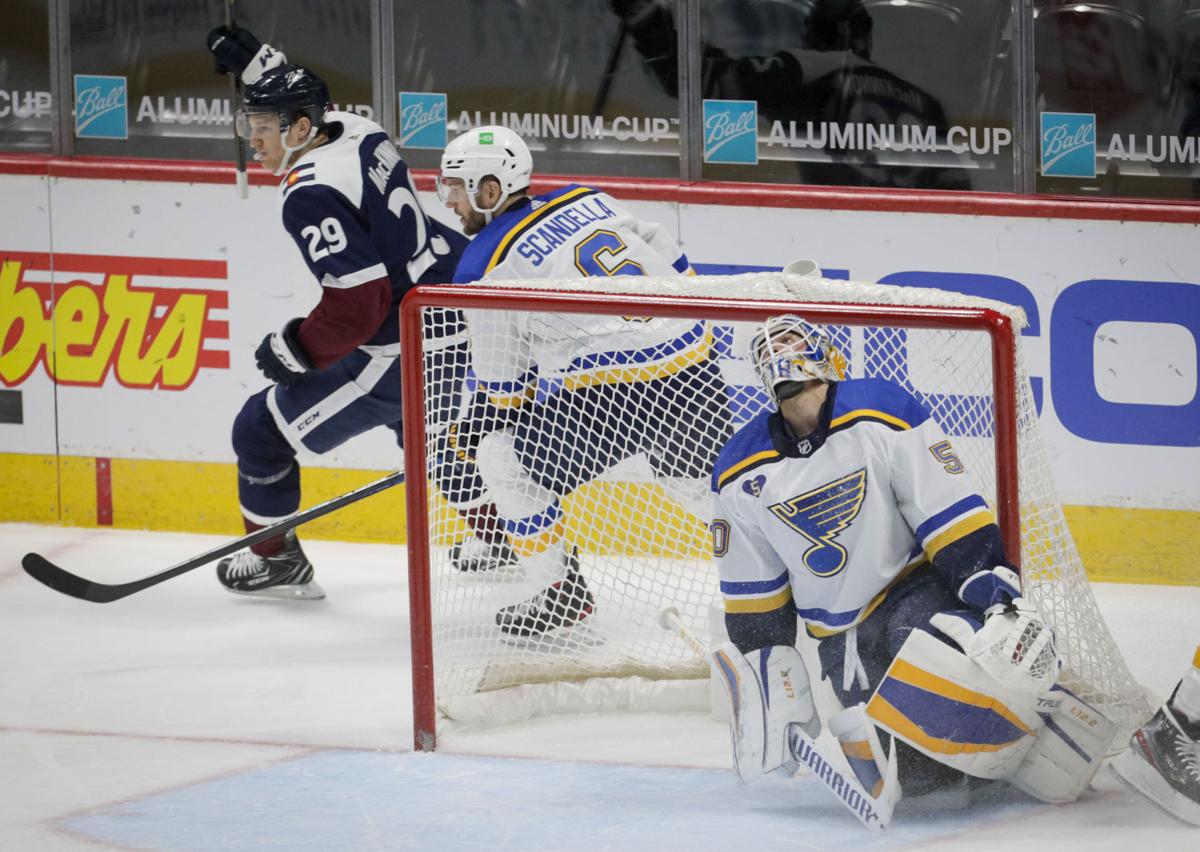 Ville Husso probably squandered any chance to "steal" playing time from Jordan Binnington when he allowed five goals in 1 ½ periods Monday against Vegas.
So once again, if anyone can help pull the Blues out of their current funk, it's Binnington, who has been in a funk of his own lately.
With that in mind, coach Craig Berube was asked Tuesday what he wanted to see from Binnington over the remainder of the season. The answer was interesting, and somewhat surprising.
"You know, it's a swagger that he's always had," Berube said. "And I'd like to see him get that back. That's a big thing I think for our team, but not only for our team but for him. Binner's been a great goalie in this league. He's done some great things. He's won a Cup. And there's no reason that he shouldn't have that swagger."
Berube thinks the same holds true for the rest of the team as well.
"You gotta have the swagger," he said. "You gotta go out there and play with swagger and bite. It's a big part of the game. It's a will. You gotta will your way through things sometimes and that's where we're at right now."
Whether you call it swagger, will, confidence, mojo — whatever — Binnington and the Blues seem to have lost it. So if anyone happened to find some missing swagger around the area of Enterprise Center downtown, you might want to contact the Blues.
In contrast to the coach, Binnington thinks his swagger level is fine.
"Yeah, I always have swagger," he said Tuesday. "It's different at times. Every game is different. Sometimes I just do my job and make the saves I'm supposed to make. Sometimes you do more. You want to win those games 1-0, 2-0. I always want to play hard and have fun doing it. That's what it's about for me."
So do we have a swagger controversy between the coach and the goalie on our hands?
Probably not. Binnington almost certainly was unaware of anything Berube said about swagger. Besides, Binnington really isn't one to self-critique. Maybe it's pride. Maybe it's just a personality quirk. If he's lost any swagger, he's not telling us.
In that respect, he's the polar opposite of captain Ryan O'Reilly, who is self-critical to a fault.
So when asked Tuesday about his play, and what he must do better down the stretch, Binnington's answer was almost predictable.
"Just make a couple more saves," he said. "Same approach. Prepare the best we can, focus and give the team a chance to win. Yeah, that's where that's at."
And that's where it ends in terms of self-appraisal — at least anything Binnington's willing to share with the outside world.
But even before he signed his six-year, $36 million contract extension, the numbers haven't been there during his current slump. Since a 3-2 overtime victory Feb. 18 against San Jose, Binnington is 2-8-3 with a 3.17 goals-against average and .889 save percentage.
Binnington is as competitive as they come, and as Berube said many times last year — a winner. But you don't have to be an analytics whiz to realize that those aren't winning numbers.
There are numerous examples where Binnington was left high and dry by his defense, but Binnington also has given up more "soft" goals than usual. Several that would be described in the coaching vernacular as "one he'd like to have back."
Sometimes they've come on shots to the near post. Sometimes they've come from distance shots that find their way through traffic. Or loose pucks that can't quite be controlled at the net front.
Things reached the point that after a strong showing by Husso in Saturday's 2-1 loss to Colorado, Berube decided to go with Husso again Monday against Vegas. It marked the first time the rookie from Helsinki, Finland, had started successive games for the Blues.
Based on Husso's performance in that 6-1 loss, it looks like there is no goaltender controversy brewing in St. Louis.
But whether it's Binnington or Husso, Berube wants more from his goalies. Berube simply asks his players to do their job. In the case of the team's proven goal-scorers, they need to score.
"That's what those guys get paid to do is score goals, and to do the right things on a nightly basis," Berube said. "And we're not getting that. So it's tough to win.
"It's the same thing when I talk about the goaltending — you need saves. And we're not getting enough of them. It's a whole. It's not one person, it's everybody. We gotta have a better buy-in from everybody."
In the case of Binnington, he was asked if he's working on any specific areas with goaltender coach Dave Alexander.
"No," Binnington said. "The game doesn't change. We put our work in, we put good work in. If anything, just more focus in practices."
Even with the team suddenly five points out of a playoff spot and with only 18 games left to play, Binnington believes this season can be salvaged.
"Yeah, we fight until the end, we compete," Binnington said. "We believe in each other, and it's time. It's time to hold ourselves accountable.
"Putting in the work every day, prepare the best way we can, just go out and compete and play together. I think that's important."
Two years ago, the Blues were near the bottom of the NHL standings near the midpoint of the season when Binnington burst on the scene and the team caught fire en route to the Stanley Cup.
"For me, I was trying to survive and do what I can to be a part of the solution," Binnington said. "I think we all kind of had the same mindset and added desperation that we need, and urgency."
Is that desperation there this time around?