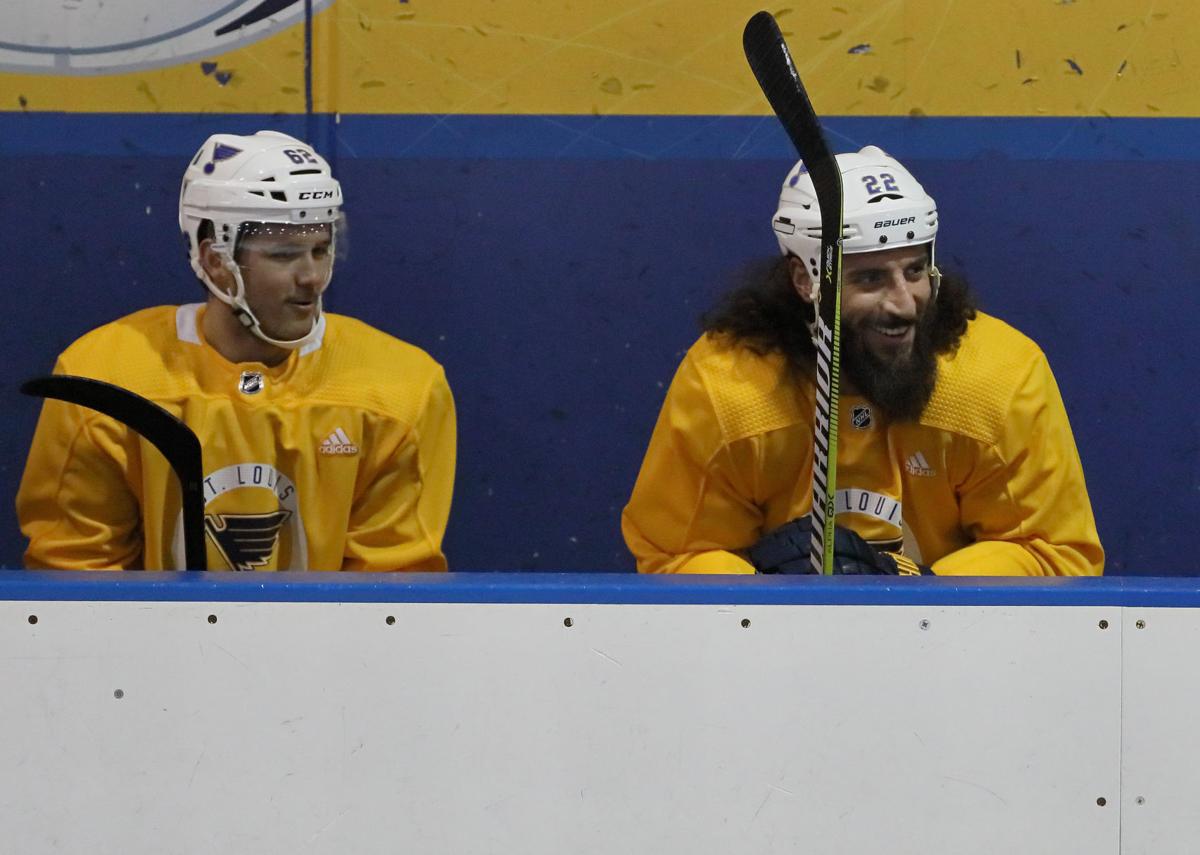 As early as the NHL Prospects tournament last September in Traverse City, Mich., Chris Thorburn quietly let it be known that he was done playing hockey.
In late January during the NHL's All-Star Weekend in St. Louis, he at least tied a record by playing in an alumni game while still technically an active player.
"Just setting records all over the place," Thorburn said, laughing. "Last year I set it for least amount of ice time in the NHL."
Thorburn's 1 minute 52 seconds of ice time during the Blues' 2018-19 Stanley Cup season was indeed the lowest total in the league that year. (Not sure about it being a record.)
Still, a tiny part of Thorburn held out hope that he might somehow return to the ice. There may have been a time or two when he watched a game on television this season and thought: "Hey, I can still do this."
But when all was said and done . . . Thorburn knew he was done as a player.
"I did keep training, but in my mind I was OK and content with retirement," Thorburn said. "So yeah, I've been ready to do this for a long time. It just took a long time to do it officially."
It became official with Monday's retirement announcement. He had notified the NHL Players Association of his decision; and the NHL Alumni Association replied with an email welcoming him to the fraternity.
Thus ended a career that spanned 14 NHL seasons in Buffalo, Pittsburgh, Atlanta, Winnipeg and St. Louis. Only 51 of his career total of 801 regular-season games came with St. Louis, begging the question: Has there ever been a Blue who played so few games yet became so embraced by the fan base?
"I came in, not so much to take over for a fan favorite in (Ryan) Reaves," Thorburn said.
But to play that kind of rugged, physical game at forward.
"When I came to St. Louis, they lost 'Reavo,' so they just wanted some muscle," Thorburn said. "Not that I had to do what 'Reavo' did. There's no comparison. (The fans) just accepted me for the player that I was. . . . They just let me be me, play my style, and they embraced me just as much as I embraced them."
After playing in 50 games in 2017-18, his first season in St. Louis after signing as a free agent, there was just that one appearance — 1 minutes 52 seconds worth — in the 2018-19 season, in an early-season contest against Chicago.
Thorburn, now 37, spent much of that season in San Antonio. And it was there, surrounded by a lot of young players trying to find their way in pro hockey, that Thorburn may have discovered his calling — post-playing career.
"When I went down there the guys really picked my brain, asked me advice, or just tips," Thorburn said. "I'd tell 'em a story or whatever."
The exchanges were helpful to the youngsters and fulfilling for Thorburn. As he put it, the experience got his "wheels turning."
"I was just like: 'There's something here,' " Thorburn said. "This is something that I would really enjoy and something I'd take pride in. If there was like a role that was like mentor/player development."
So if there's an NHL organization looking for someone to work with younger players, Thorburn could be your guy. Then again, with his gift of gab and perspective on the game, a media job could be an option, be it sports talk, game-day analyst or studio analyst.
"It's not that I don't want to do (media)," Thorburn said. "At this point, I'm open to anything. But I just kind of get nervous a little bit. I'd have to like break in a little bit, you know what I mean?"
Well, it's not like he has to be in the NHL Network studio, or in the game-day booth working with Mike "Doc" Emrick on Day 1. Last season, he pinch-hit for Blues radio analyst Joe Vitale in Game 5 of the Western Conference final against San Jose, a 5-0 Blues victory.
For now, he's sheltering-in-place at home in Midland, Mich., with wife Sara and children Bennett, Mary and Oscar. (Contrary to rumor, 3-month old Oscar is not named after Oskar Sundqvist, who was one of Thorburn's best friends on the Blues.)
"We're here for now," Thorburn said. "We're gonna kind of regroup and see what's next."
The latest STL Blues hockey news, NHL headlines, scores, standings and rosters.