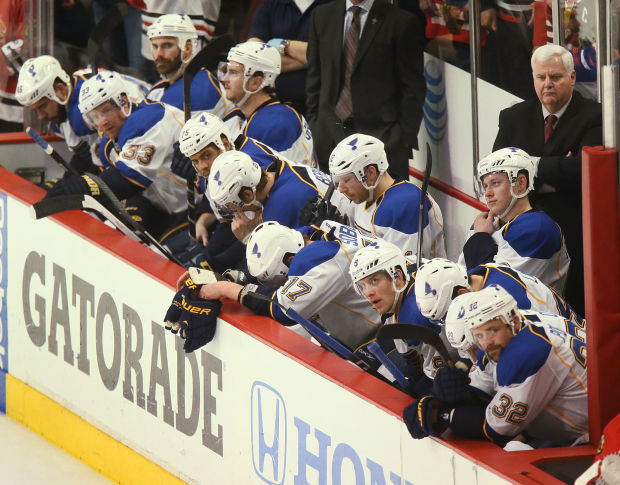 Something is missing, something that has allowed a wounded opponent to recover and turn the playoff tables on the Blues two years in succession.
Amid the disappointed souls and unfulfilled hearts at Scottrade Center, coach Ken Hitchcock will spend the next many weeks trying to find the missing ingredient and install it.
"To me, it's … when you've got your foot on the throat — step," Hitchcock said, trying to explain an intangible killer instinct the Blues have been unable to apply the past two Aprils. "That's what we've got to do. I don't know any other way to describe it.
"The end result is you've got to go further, further in every aspect of your game, further on checking, further on special teams, further on scoring. … And it's hard to do, but you've got to do it.
"You can add 10 pieces to a hockey club, but you have to have commitment to go further. Those are the hard conversations that you have to have, the hard things you have to do."
Comfort was hard to come by when Blues general manager Doug Armstrong and Hitchcock met with reporters Tuesday. Last season, when the Blues led the defending Stanley Cup champion Kings 2-0 and lost the next four to go home empty, there were long faces, to be sure.
But there was a consoling sense that the experience was part of the process for playoff success, a hard lesson to learn but a necessary one. This time, answers are more difficult and a rationale is less easily defined. This time, there is a palpable sense of failure and soul-searching.
The Blues have 130 regular-season wins over the past three seasons, more than any team in the Western Conference, more than the last two Stanley Cup winners. But in that same period, the Blues have not won a single second-round playoff game.
In 2011-12, the team started promisingly, beating San Jose in the first round. But the Blues lost four straight to the Kings in Round 2. Last season, after winning the first two games of the Western Conference quarterfinals, they lost the next four to succumb to the Kings. This time, highlight the previous sentence, delete "Kings" and insert "Chicago Blackhawks," copy and paste.
When playoff temperatures elevated, top players on opposing rosters surfaced, their St. Louis opposites did not. That's a sobering reality with which to come to terms, and one not easily rectified.
The core of the Blues is young and well-regarded, players like T.J. Oshie, Jaden Schwartz, Vladimir Tarasenko, Vladimir Sobotka, Kevin Shattenkirk and Alex Pietrangelo. The veteran leaders are equally respected, the likes of Alexander Steen, David Backes, Jay Bouwmeester and Jordan Leopold. The Blues had 10 players selected for the Olympics, as many as any NHL team.
But something is missing, something that translates regular-season excitement into playoff consummation, something that won't leave Blue-blooded fans feeling all dressed up with nowhere to go.
In Hitchcock's mind, the decisive Game 6 loss at Chicago was simply a microcosm of the series. The Blues had the Blackhawks where they wanted them. Ahead 2-0, they played their best hockey of the round in Game 3 but couldn't get a goal and lost 2-0.
Trailing 2-0 midway through Game 4, the Blues mounted a stunning comeback. They tied the score with two late goals in the second period, then went ahead 3-2 with less than eight minutes remaining. They had their foot on Chicago's throat but didn't step.
The Hawks got a deflection goal with less than four minutes to play, then won in overtime. And that was the last time the Titanic saw daylight.
"Everybody's going to talk … about the loss in Game 6 in Chicago, and Los Angeles (in 2013), but the series wasn't lost in Game 6," Hitchcock said. "Sure, we played our best period of hockey in the second period in Chicago (Sunday), but that wasn't where we lost the series, and it wasn't where we lost the series in LA.
"We lost the series in Games 3 and 4, when we had the opportunity in both series. … We weren't able to create the gap in Games 3 and 4 and win on the road, which you have to do in the playoffs. That's the killer instinct that you need to have. We weren't able to do it in either series, and it hurts."
Hitchcock, 62, loves St. Louis, loves coaching this team. He has had an illustrious career, which includes a Stanley Cup championship in Dallas in 1999. Nothing would be more rewarding than to crack the code and lead this town to its first Stanley Cup championship.
"There's a lot of really great pieces here that have really emerged as good players now," Hitchcock said. "But we've got to help them along and find a way to push through when you're sitting in a series like that … The first thing I look at is me, what can I do to help this thing along?"
Something is missing, that part is obvious. The challenge is for Hitchcock to find it and establish it.
"It's not God-given, it's developed from within your group," Hitchcock said. "If you're going to start the fight, you need to know you can finish it. That's just the confidence that goes within the group that has to come with us, and it's really important we develop that mindset. … It's that killer instinct."