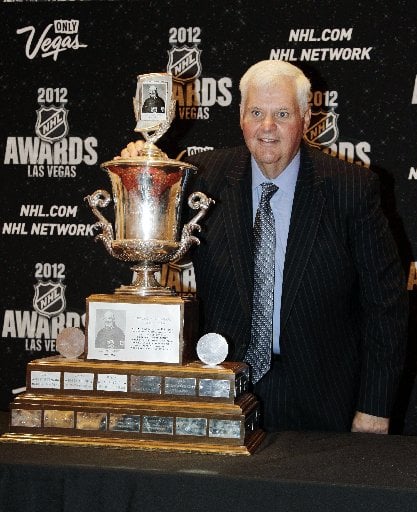 The NHL's coach of the year will be behind the Blues' bench for at least two more seasons.
Ken Hitchcock, 60, has agreed to a one-year contract extension with the club that will take him through the 2013-14 season. There is also a mutual option for the 2014-15 season.
The upcoming season, 2012-13, was the final year of his deal prior to the extension.
"I feel like we are putting together a quality program here," Hitchcock said in a statement. "We had a good year finishing where we did in the standings but this club is not satisfied with our ending and firmly believes we have great things to come."
The Blues hired Hitchcock last November, and after the team opened the season with a record of 6-7, he guided the team to a 43-15-11 finish. The club's 109 points were the second-most in franchise history and helped the Blues to their first Central Division championship since 2000.
The team earned the No. 2 seed in the Western Conference, finishing the regular season just two points behind the Vancouver Canucks in the race for the Presidents' Trophy.
In the playoffs, the Blues won their first postseason game since 2004 and then orchestrated their first series victory since 2002 with a first-round win over the San Jose Sharks. The team was then ousted in the second round of the playoffs following a sweep by the Los Angeles Kings, who went on to win the Stanley Cup.
"Ken came in and immediately steadied our group and was able to get each one of our players to elevate their game," Blues general manager Doug Armstrong said in a statement. "He still has the passion and drive to be a Head Coach in this league and is committed to taking this team to the next level."  
Earlier this month, Hitchcock was named winner of the Jack Adam's Award as the NHL's coach of the year. He beat the New York Rangers' John Tortorella and Ottawa's Paul MacLean to become the fourth coach in Blues' history to claim the award, following Joel Quenneville, Brian Sutter and Red Berenson.