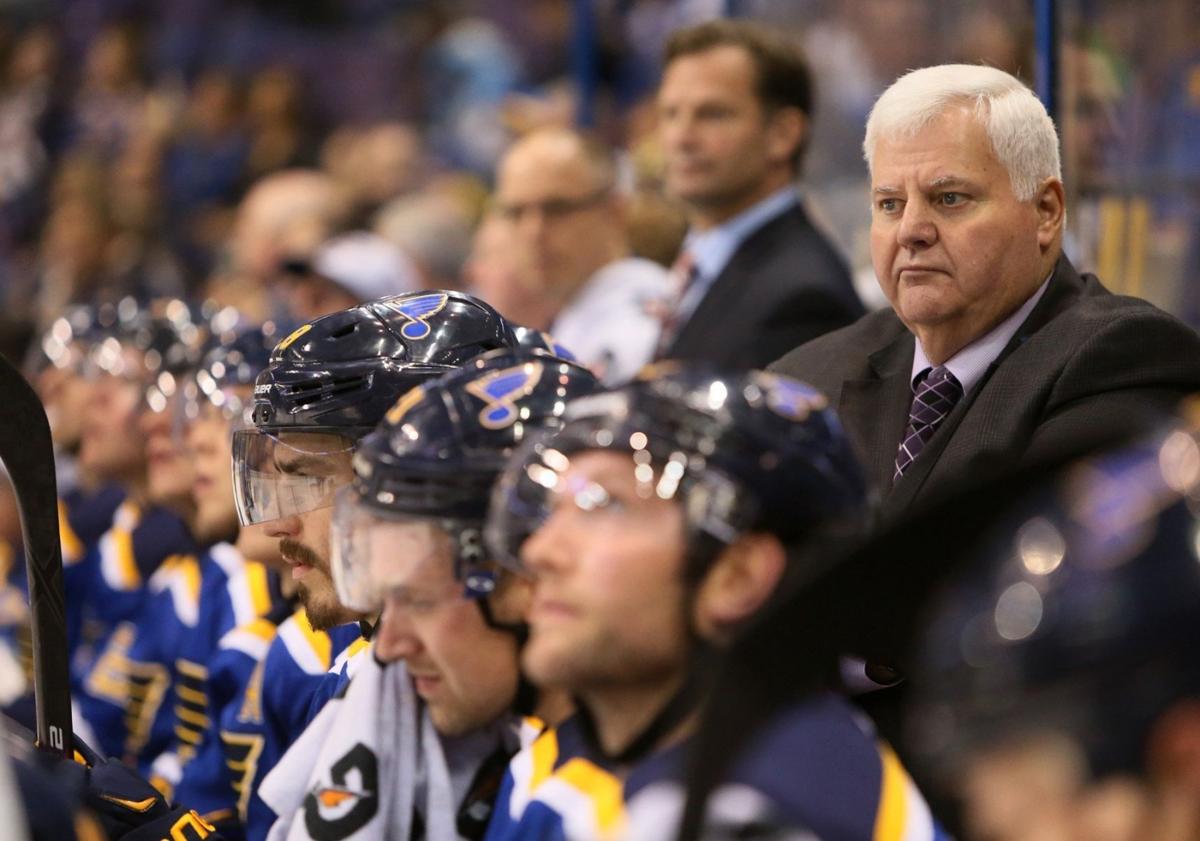 The Blues will retain Ken Hitchcock as their coach for the 2015-16 season, as the sides agreed to a one-year contract on Tuesday. 
Hitchcock's status has been up in the air since the team's first round exit from the Stanley Cup playoffs, when they lost in six games to the Minnesota Wild.
Hitchcock has met with general manager Doug Armstrong several times since the end of the season and the decision was made after another meeting on Tuesday morning.  In addition to Hitchcock, the team's entire coaching staff will return.
"This was a long process for me," Hitchcock said. "Looking back at the end of the season when we sat together before, it was very disappointing in losing, especially the lead up to it when we were on top of our game. ... Today was the first day we started to prepare for next season, so it was an exciting day for me. I'm really proud to be able to coach this hockey club again. ... I'm really excited to include the staff and even some different ideas and some different thoughts and the thing that's exciting for me today was, today was the first day we started looking ahead. This has been a process of reflection, focus on what went right and what needs to change and we're now in the process of getting ourselves mentally and physically prepared to get the players into the right frame of mind so we can begin building our team again.
"This is unfinished business for me. I don't want to coach to coach. I want to coach to win and I couldn't find a better spot than to show up right here and coach this hockey club. This is a really good team trying to become a great team. I think I have the tools and the expertise to help them along the way. I agree with Doug 100 percent in that this is going to be one big challenge because the teams that were in a year ago that are out are not going to take it lightly. They're going to be pushing. It's going to be the hardest job we've ever had to get into the playoffs. I think both of us recognize that. ... For me, I couldn't find a better place to coach, couldn't find a better operation."
"It's been a long process for Ken and I to go through over the past few weeks," GM Doug Armstrong said. "Probably the majority of it was spent on detoxing from a disappointing end to our season and putting that in perspective with the work that's been done here the last four years under Ken's guidance and leadership. We're excited to be back together with the entire coaching staff coming back to move forward and get ready for September.
"I think one of the things we've talked about internally when you look at the Central Division, all seven teams have made the playoffs the last two years. ... Unless we come prepared to work in September, (the playoffs) won't be an issue for us because we won't make the playoffs. We have to come ready to play, we have to prepare. We can't put the cart in front of the horse about worrying about the playoffs. We have to put the work in in the regular season and when we do that, when we start clicking some of those fence posts, making the playoffs, winning the division, winning the Western Conference and the Presidents Trophy, that will get us to the Stanley Cup playoffs. There's a lot of work that needs to be done up to that point."
Hitchcock said one thing that would have to change for next season is the team would have to be faster. He said that the four fastest teams in the league are the ones still playing. He thinks that can be done with the players currently on the roster. Armstrong said some roster change is inevitable after this season and conversations are gradually starting between the Blues and other teams as more and more teams have become part of the postseason.
Hitchcock said the team needed to be more reckless, and that players like Robert Bortuzzo and Petteri Lindbohm were good examples of players who could do that.
Armstrong said he had to make sure that Hitchcock still had the passion to coach the team in the dog days of the season. "I didn't want him to come back and feel he was coming back out of anger and disappointment," Armstrong said. "I wanted him to come back out of excitement and energy and when we talked, I felt that and I felt that talking to members of his staff. There's an excitement to get back to work. ... It can take a lot out of you physically and mentally during the season. I wanted to make sure Ken and I were on the same page, that he had that desire to head down that path."
Armstrong downplayed any strife between Hitchcock and the players. "Show me a well-liked coach," Armstrong said, "and I'll show you a losing coach."
"I've got no issues with him," Blues captain David Backes said. "Does he ride guys hard and has he been on my case at times, where it's made me angry? Yes. But he does it in the light of trying to make our team better, trying to make each individual player better.
"I think if you get caught up in those individual moments at the time you're under the gun, having an interview, those comments come out. But when you take a step back and you realize, 'Oh that's why he was all over me because I was not being as productive as I could be,' he's very effective."
The Blues have reached the playoffs in all four seasons Hitchcock has coached the team, but they have won only one playoff series in that time, a first-round series vs. San Jose in 2011-12. The Blues have finished with more than 100 points in three of Hitchcock's four seasons (the other was the lockout shortened 2012-13 season).
Hitchcock is fourth on the all-time NHL win list for coaches with 708, and is second among active coaches, behind Joel Quenneville. He's second in wins with the Blues with 175, again behind Quenneville, who had 307.
After the season ended, Armstrong said he wanted to review the situation before making a decision on the future of Hitchcock, whose contract runs out on June 30. The team asked for permission to talk to the Red Wings about their coach, Mike Babcock, but those discussions went nowhere and Babcock signed a massive deal to coach the Toronto Maple Leafs.
"It's a disappointing end early in the playoffs and for the management and the ownership not to pursue all options — whether a job was offered or they wanted to talk and see if there's a different fit there with a different coach — I think they'd be amiss not doing their due diligence," Backes said. "That being said, it's a business. In the end, they came back and they said that Hitch is their guy and he's got a one-year deal to prove that he can get a job done."