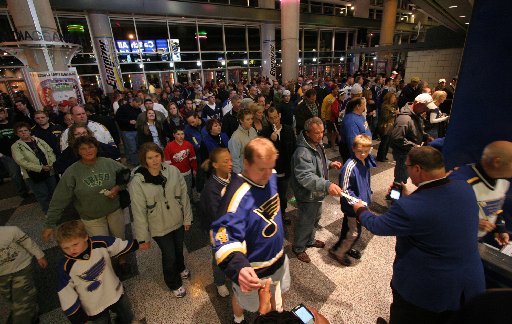 In four days, the Blues were scheduled to open the 2012-13 NHL regular season against Erik Johnson and the Colorado Avalanche. Instead, the lights will be dimmed Thursday at the Pepsi Center in Denver.
Dark days are back in the NHL.
Eight years after a lockout canceled the entire 2004-05 season, the league is back in the same situation after failing to reach a new collective bargaining agreement with the NHL Players' Association. Infrequent negotiating sessions have led to little progress, which led to last week's announcement that games have been called off through Oct. 24. More cancellations could be coming soon.
Although the NHL returned to record revenue following the last lockout, there are concerns that retaining corporate support and returning fans to their seats may prove more difficult this time around. For those reasons, many can't believe another work stoppage is upon us, but to others the predicament was entirely predictable.
"Given the circumstances of what's happened in professional sports in the last few years, I can believe it," said Dr. Patrick Rishe, a sports economics professor at Webster University who is a contributor to the Sports Money section at Forbes.com.
The NHL lockout is the third among pro sports in the last year. In the NFL and NBA, owners set out to decrease the players' percentage of the total revenue and both succeeded. NHL players currently possess 57 percent of hockey's total revenue, which reached $3.3 billion last season, and with NFL and NBA owners and unions agreeing to a split close to 50-50, Rishe says the NHL will try to follow suit.
"What's happened is we went from a time period more than five years ago where athletes were getting between 55-60 percent, and the tenor of the relationship between what players and owners split has changed," Rishe said. "That puts the NHL in a precarious position. Even though the players gave up a significant amount in the (2004-05) negotiations, they're still receiving a 57 percent share.
"The problem is that when two leagues more successful than you have just gone through labor negotiations and their players are barely making 50 percent, then as the weakest sibling of the four major team sports in North America, you can't expect to stay at 57 percent."
There's only one problem: So far, the players aren't budging.
Seen as the losers in the last negotiations when the NHL instituted a salary-cap system, the NHLPA appears to be dripping solidarity. The union made one proposal, offering to trim back initially to a 54 percent share but only with a revised revenue-sharing system.
After that was flatly rejected, NHLPA director Donald Fehr, the former boss of baseball's union, hasn't even felt the need to counter the NHL's offer.
"Donald Fehr, I know he's a tough negotiator and for years he was used to getting his way by virtue of the fact that MLB is still the only league that doesn't have a salary cap," Rishe said. "But I think the wrangling that will go on over the course of the next month or two is simply seeing what (off-ice) concessions he can get ... just like the NFL got fewer workouts, this that and the other.
"Then looking into the future, if the owners cannot largely make a profit with a 50-50 split, then you shouldn't own an NHL franchise. Part of the reason teams get into trouble is because they feel like they have to keep up with the Joneses."
After a battle that was clearly between the league and the union in 2004-05, players have characterized this rematch as a bout between big-market owners and their struggling brethren. In fact, with Forbes reporting that 18 of the league's 30 teams lost money in 2010-11, the case has been made that some owners might prefer the union's proposal.
But sources have said that while the NHLPA is suggesting an increase to $250 million in revenue sharing, the outline also calls for more clubs to receive the funds, meaning a market like St. Louis could see fewer dollars in the players' proposed system.
"You have to be careful how you define big market versus small market," Rishe said. "Part of it is sheer population, but part of it, a city such as Dallas in terms of population is a big market, but the way it's performed at the box (office) and with local corporations is akin to a mid-market. So you're essentially penalizing teams like St. Louis for the fact that a big market team doesn't have as much interest in their local hockey team."
While the direction of the labor negotiations will have a definite effect on the Blues, a prolonged lockout could have a dramatic effect. A club attempting to attract more corporate support and season-ticket holders will face the challenge of keeping its current customers.
Tony Knopp, CEO and co-founder of Spotlight TMS, a company that enables businesses to measure and maximize the impact sports tickets have as investments, said he's not sure corporate America will come back to the NHL the way it did after the 2004-05 lockout.
Spotlight TMS works with eight NHL teams, including the Blues.
"This is very different," said Knopp, who was a senior sales executive for the Los Angeles Kings during the last lockout. "Since 2008, I would say that one in every four customers we talk to, somebody internally is telling them that they have to drop their tickets. I know (the NHL and its teams) are saying, 'This is what happened after the last lockout, this is how much business you can expect.' My argument is that's not going to be the case this time.
"These guys are already looking for a way to get out of sports tickets, and now they're just giving them bullets to shoot themselves with. The reality is, once budget gets cut, you don't just add budget overnight. You have to justify why doing business with the St. Louis Blues is better than not laying off these three people. That's an awful difficult fight to have post-2008."
Spotlight TMS claims that 40 percent of the Blues' ticket and suite revenue comes from corporations, "a huge chunk for that team," Knopp said, "and now you're giving them a reason to leave and they may not come back."
The same goes for season-ticket holders and individual ticket buyers.
Chad Denison, 40, from St. Charles, has been a season-ticket holder for the past five seasons, and off and on since 1994.
"The only thing the fans have, the only voice we have, is our money," Denison said. "How we choose to spend our dollars and where we choose to spend them."
Denison says that he'll probably return after the lockout, but added, "I know a lot of guys that have been season-ticket holders since the beginning and they said they're done. I really don't believe them. If they don't come back, then what are the chances of the Blues staying in St. Louis? Ultimately, I think people want hockey here."
Rishe says that Denison is right: Fans will be back.
"This is the reason why a lot of people in my profession dispel the histrionics associated with lockouts and strikes," Rishe said. "Usually the histrionics follow down the line of, 'Oh, this is going to kill the sport.' Every sports league has had some kind of lockout or strike in the last 25 years. How are they doing? All of them are seeing record revenue.
"First of all, I don't think they're going to cancel the whole season. I do think that both sides probably realize that it would take longer for them to get back into the fans' good graces than last time. Having said that, hockey fans are passionate, and though they weren't happy (in 2004-05), they sure were excited to come back and the numbers showed it."