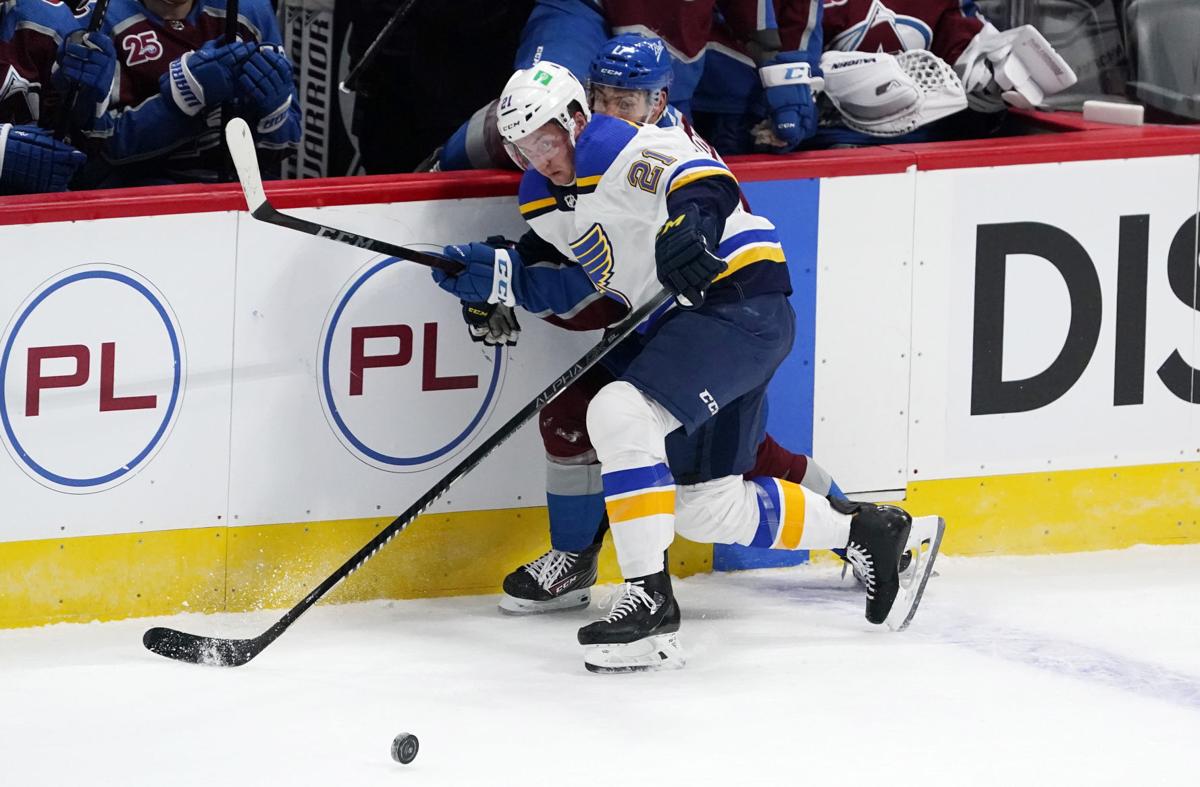 DENVER — The new season arrived with a surprise for the Blues. A big surprise. The Blues skated out for pregame warmups Wednesday night at Ball Center without newly-signed forward Mike Hoffman.
The Blues announced that Hoffman was not eligible to play because his work visa has yet to be approved. Hoffman is a native of Kitchener, Ontario.
He is expected to be eligible for Friday's game here in Denver against the Avalanche.
Hoffman signed a one-year, $4 million free-agent deal with the Blues on Monday after spending training camp with the Blues on a PTO (professional tryout contract).
The sharp-shooting winger is expected to provide scoring help, particularly in the absence of Vladimir Tarasenko, who was placed on the long-term injured reserve list Wednesday morning.
Sammy Blais replaced Hoffman in the lineup. These were the Blues' revamped lines in Hoffman's absence: Brayden Schenn-Ryan O'Reilly-David Perron; Jaden Schwartz-Robert Thomas-Oskar Sundqvist; Zach Sanford-Tyler Bozak-Jordan Kyrou, and Kyle Clifford-Ivan Barbashev-Blais.
Rivalry is renewed
For most of the 2019-20 regular season, the Blues and Colorado were neck-and-neck for Central Division and Western Conference supremacy.
The race was particularly heated over the last 4 ½ weeks, with the Blues always ahead of Colorado but never by much. Over that span, the Blues led by more than three points on only three days. Usually it was a point or two and with Colorado having games in hand.
Who knows how it would've ended up had the regular season not ended March 12 due to the coronavirus pandemic. With the 2020-21 season underway Wednesday at Ball Arena, the Blues are looking for more of the same in their rivalry with the Avalanche in the realigned West Division.
"Absolutely," captain O'Reilly said. "They're obviously gonna be one of the best teams in our division. I don't think there's ever an easy game against these guys. They've added some great pieces, but so have we.
"I think it's good for us to start with them. This is a team we're gonna have to get through in order to move on, so it's gonna be a great rivalry."
There's just one change at the outset of this season. The Blues will be the team looking up, at least according to media prognosticators. In fact, almost everyone has the Blues picked to finish third in the division behind both Colorado and the Vegas Golden Knights.
Is that a source of motivation for the defending conference champion Blues?
"Maybe," coach Craig Berube said. "But it doesn't matter. I don't think that you really get focused on that. You just focus on your own game. We're gonna focus on just our team and we're gonna go and win hockey games. That's all we can really worry about. I'm not gonna worry about who's picking Vegas or Colorado.
"They're both great teams. They deserve it is the way I look at it. We're fine being where we're at. We'll go and show 'em on the ice. That's all we can do."
Another homecoming
Even after all these years, it's always special for O'Reilly to come back to Colorado, the team that drafted him in the second round in 2009.
"It's always weird coming into this building," O'Reilly said. "I'm always excited to be here. I like this arena, I like this ice. ... I have a lot of history here. Six years I played here, I think, and some good memories."
Only this time, he's coming back as a team captain for the Blues.
"It came as no surprise to me," said former teammate and Colorado captain Gabriel Landeskog. "I learned a lot from that guy. A very hard-working guy and a really good teammate. Puts the team first. I think you can tell by the way he plays the game that he really cares. I'm happy for him."
Tarasenko to LTIR
As expected, the Blues placed Tarasenko on long-term injured reserve (LTIR), freeing up the needed salary cap space to elevate Kyrou from a one-day stint on the taxi squad to the active roster. Kyrou was in the lineup Wednesday against the Avalanche.
The surprise was that fellow forward Mackenzie MacEachern also was elevated to the active roster.
MacEachern scored seven goals in 51 games last year, largely in a fourth-line role. Even with the retirement of Alexander Steen and Tarasenko out following shoulder surgery, he faced a stiff challenge to stay on the active roster.
The Blues in essence are borrowing from the cap savings gained by placing Tarasenko on LTIR. They must make up that money somehow once Tarasenko returns to the lineup. But they can worry about that later.
Blue notes
Colorado defenseman Erik Johnson, a No. 1 overall draft pick by the Blues in 2006, is on the Avalanche COVID-19 list and missed Wednesday's game.
• For now, the Blues have a four-man taxi squad of goalie Joel Hofer, defenseman Miko Nikkola, and forwards Jacob de la Rose and Austin Poganski.
• Former Blues captain Alex Pietrangelo has been named alternate captain for his new team, the Vegas Golden Knights.
• Still playing in Russia in the Kontinental Hockey League, Blues prospect Klim Kostin had an assist for Avangard Omsk in Wednesday's 5-3 loss to Torpedo Nizhny Novgorod.