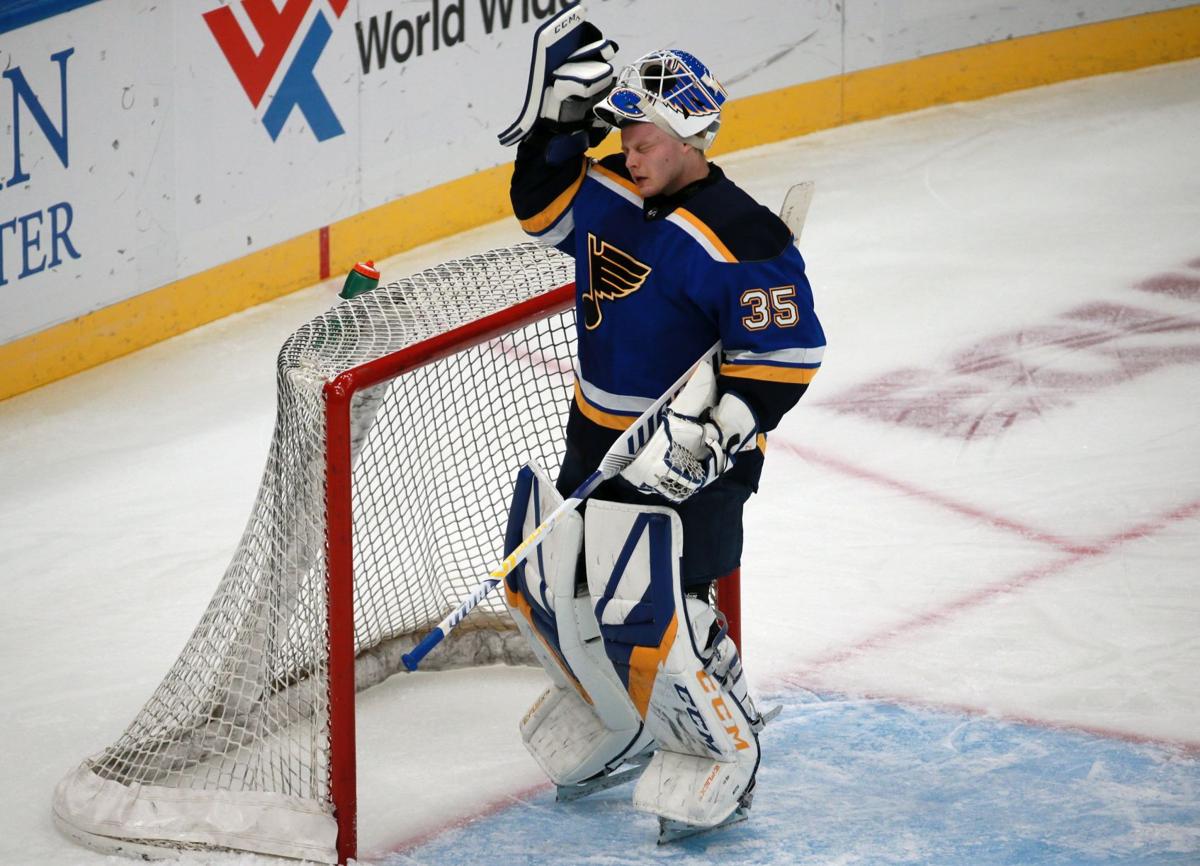 Ville Husso has played a grand total of zero NHL games. He was chosen by the Blues in the fourth round of the 2014 draft and holds the distinction of being the player currently in the Blues organization the longest without having appeared in a game. Everyone drafted or acquired since then has either played in a game or moved on.
And the Blues are expecting a lot from him.
"He's going to have to play well for us to have a good season," said general manager Doug Armstrong.
Husso is the backup goalie, a job that may be more important than ever in this shortened season. Amid the Blues' 56 games are 10 sets of back-to-backs, about 18 percent of the team's schedule. While No. 1 goalie Jordan Binnington has said he wants to play as much as he can, it figures that Husso will play at least 20 percent of the Blues schedule. While Jake Allen started 30.9 percent of the Blues' games last season, he was a veteran who had been the team's No. 1 goalie. Husso is a total novice when it comes to the NHL. And if anything should happen to Binnington? Husso would be the guy playing as much as he can.
Armstrong appreciates the risk and the concern. Salary-cap concerns made moving Allen, who was traded to Montreal, the obvious offseason change, along with the fact that Husso would have to pass through waivers if the Blues sent him down.
"That's certainly an area that's going to get a lot of focus on it until he really gets in there and proves that he can do it in the NHL," Armstrong said. "There's going to be those questions. But my job is to talk to the other managers, and he's not a player we felt would have gone through waivers if necessary to put him through there. So it was time to find out if the assets are going to get the job done, and he's going to get that opportunity."
"This is going to be my chance," he said. "I feel I'm ready. I've felt that a long time now. I felt like the AHL helped me get used to small ice games — the rinks in Europe are bigger, the games a little different. The NHL has all the best guys. I feel good now. I can't wait to get the games starting and get some games."
The Blues know as well as anyone what a rookie goalie can do. They have a Stanley Cup to prove it. But it's worth remembering that the Blues did not immediately take to Binnington. After he was called up from San Antonio, Allen started 11 consecutive games. It was only once the Blues got to having back-to-back games that Binnington was pushed into service.
Husso has been here before. He has been the team's top development in the pipeline for several years. He was on the Blues bench for six games in the 2017-18 season, twice because Carter Hutton was on standby waiting for the birth of his first child and four times because Hutton was hurt. But in each case, Husso only watched, separated from his NHL dream by the width of the boards. Each time he got called up, he packed his gear thinking this could be his chance, but it hasn't been.
He has seen action in preseason games, though those are obviously an iffy measuring stick, with the level of competition varying wildly from game to game. Still, it's hard to argue with his results. Prior to the 2017-18 season, he got in two games, playing four periods plus an overtime and didn't allow a goal, shutting out Washington while facing 27 shots. He played two full games in camp in 2018-19 and allowed just three goals. In all, he has appeared in some or all of seven preseason games and has allowed just seven goals, giving him a goals-against average of approximately 1.30.
"They're good for your mental mindset," he said, "playing against good players in NHL exhibitions, for sure that gives me confidence. A regular-season game is different. I need to be ready every night, compete every night. It's a new game, a new opportunity to do so. I need to work hard."
Blues coach Craig Berube had Husso on his Chicago Wolves team in 2016-17, Husso's first season coming over from Finland. He's not committing to any amount of action for Husso and seems in no rush to get him in. "We have enough time and separation in the first six, seven, eight games where Binner will be in the nets," Berube said. "We'll get Husso in there. He's got to continue to feel comfortable and keep pushing himself and getting better. The way the schedule is situated, you're going to need your backup goalie to play a big role. He's gonna play a number of games, and it's going to be important."
Husso was home in Helsinki when he learned — "I think I saw it on Instagram," he said — that the Blues had traded Allen, which opened the spot for him.
"I knew it's close, I'm close to the NHL," he said "I was just keeping in my mind it will come and I need to work hard every day and do my job and try to get better every day and every night."
The goalie combination for the Blues will be Binnington and Husso, just as it was with the Wolves in 2016-17 and in San Antonio in 2018-19. That was the season when Husso got hurt and struggled, enabling Binnington to get the call when the Blues needed a goalie midseason.
"Jordan's a great goalie, great guy and great teammate," Husso said. "We are good friends, good teammates. I can get some tips from him. He helps, he's a smart guy. I think we have a good tandem here. He did it two years ago. Anything can happen.
"I have a good feeling this year."
A look at Jordan Binnington's numbers in the NHL
| Season | Team | Record | GAA | Save % |
| --- | --- | --- | --- | --- |
| 2015-16 | Blues* | 0-0-0 | 4.69 | .750 |
| 2018-19 | Blues | 24-5-1 | 1.89 | .927 |
| 2019-20 | Blues | 30-13-7 | 2.56 | .912 |
A look at Ville Husso's AHL numbers
| Season | Team | Record | GAA | Save % |
| --- | --- | --- | --- | --- |
| 2017-18 | San Antonio | 15-14-5 | 2.42 | .922 |
| 2018-19 | San Antonio | 6-18-0 | 3.67 | .871 |
| 2019-20 | San Antonio | 16-17-8 | 2.56 | .909 |