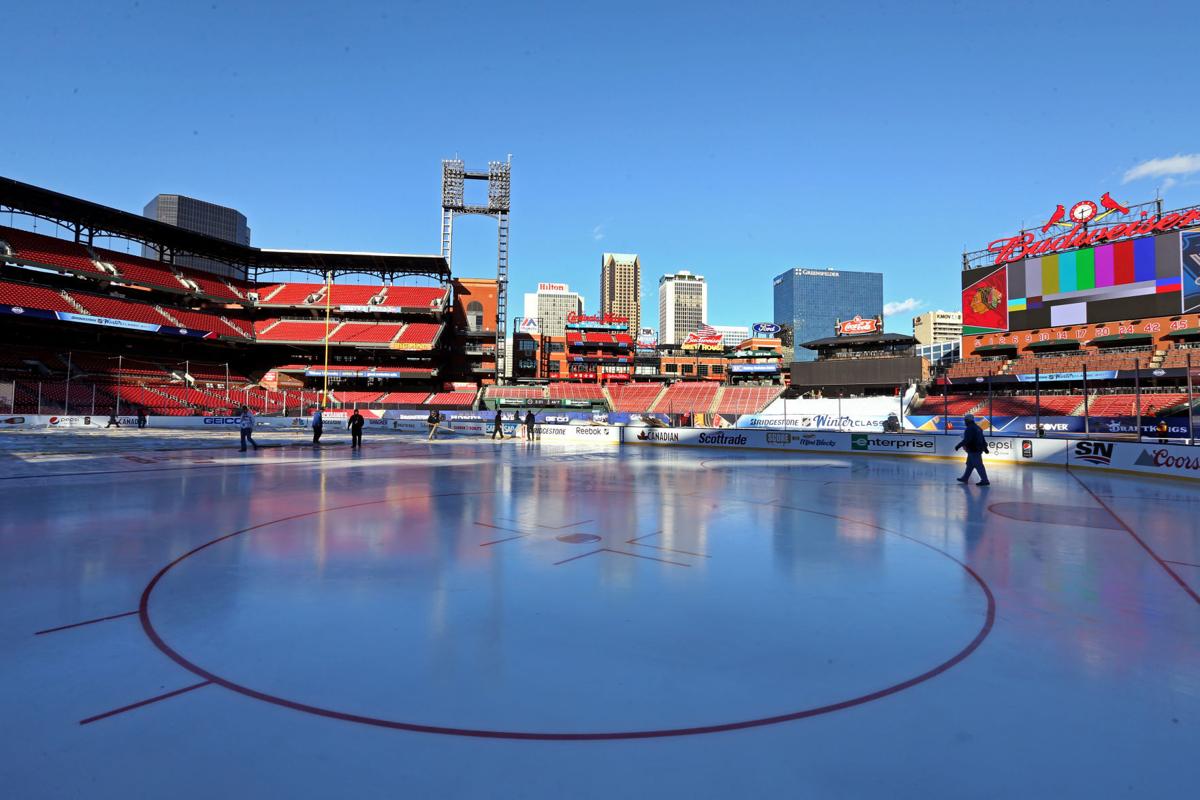 It's billed as the "Winter Classic," an outdoor hockey game played in St. Louis over the long New Year's weekend.
But the weather forecast indicates that conditions on Monday at Busch Stadium, where the contest between the Blues and Chicago Blackhawks is to be played at noon, will be more like what could be expected there for a Cardinals season opener in early April than for a midseason NHL game in January.
On Saturday morning the Weather Channel was calling for the temperature to be in the upper 50s with an 80 percent chance of rain — and possibly thunderstorms.
That would not only make it a hardship on fans in the stands, but driving rain could make playing conditions dangerous. Monday night's forecast is much better, as the chance of rain is down to 20 percent.
NBC has invested a lot of resources to televise the game nationally and the Classic has become its showcase regular-season hockey telecast of the season. An NHL official directed inquires about scheduling to NBC, and executives there are taking an optimistic approach. But they acknowledge delays or a postponement is possible.
"When's the last time you've had a weatherman get anything right?" NBC Sports executive producer Sam Flood asked in an interview this week. "We are there to cover the game, and when the game is played we will cover it."
There have been weather delays previously in the Classic.
"We've dealt with it before, so we'll deal with it again if we have to," said Jon Miller, president of programming for NBC Sports. "If we do run into rain we will stay as long as we can. We'll play it Monday night if necessary. And if we can't get any play in on Monday, we'll carry it over and we'll play it on Tuesday. We're hopeful that everything cooperates. We've all been looking at the weather, we're all well aware of what the pitfalls are."
There could be another "pitfall" for some fans. It was reported Thursday by several news outlets that Charter Communications, the area's largest cable TV provider, is an a contract dispute with NBC and is threatening to pull its programming beginning Sunday.
If the game is pushed back to Tuesday it would be a night game and shown on NBCSN, the cable component of NBC Sports Group.
"For the fans planning on attending, we beg your indulgence in advance if weather's an issue because we're going to have to be flexible," NHL Commissioner Gary Bettman said in an interview with Kevin Wheeler of WXOS (101.1 FM).
Flood knows there could be time to fill on Monday, and had a humorous line about the roles announcers Bob Costas, Mike Milbury, Jeremy Roenick and Liam McHugh could end up taking.
"In the interim we are great dancers," Flood said. "I understand Bob has a long history of tap dancing, so he'll dance some. Mike Milbury's really light on his feet so he can dance like a rock star. (Roenick) has that knee injury but he can rock it and Liam can lead the band, so we're good."
On a more serious note, Flood said keeping viewers informed and entertained if there is a delay will be key for NBC.
"You wait for the game to be played," Flood said. "The rest of the time your job is to engage and make sure people know what is going on."
Once the game begins, viewers can expect a different perspective on some of the pictures, as a referee will be wearing a camera.
"It's very good for replays and faceoffs," Flood said. "It gives you a different perspective of what's going on on the ice. ... In a game on an outdoor rink, we think it's worth playing around with."