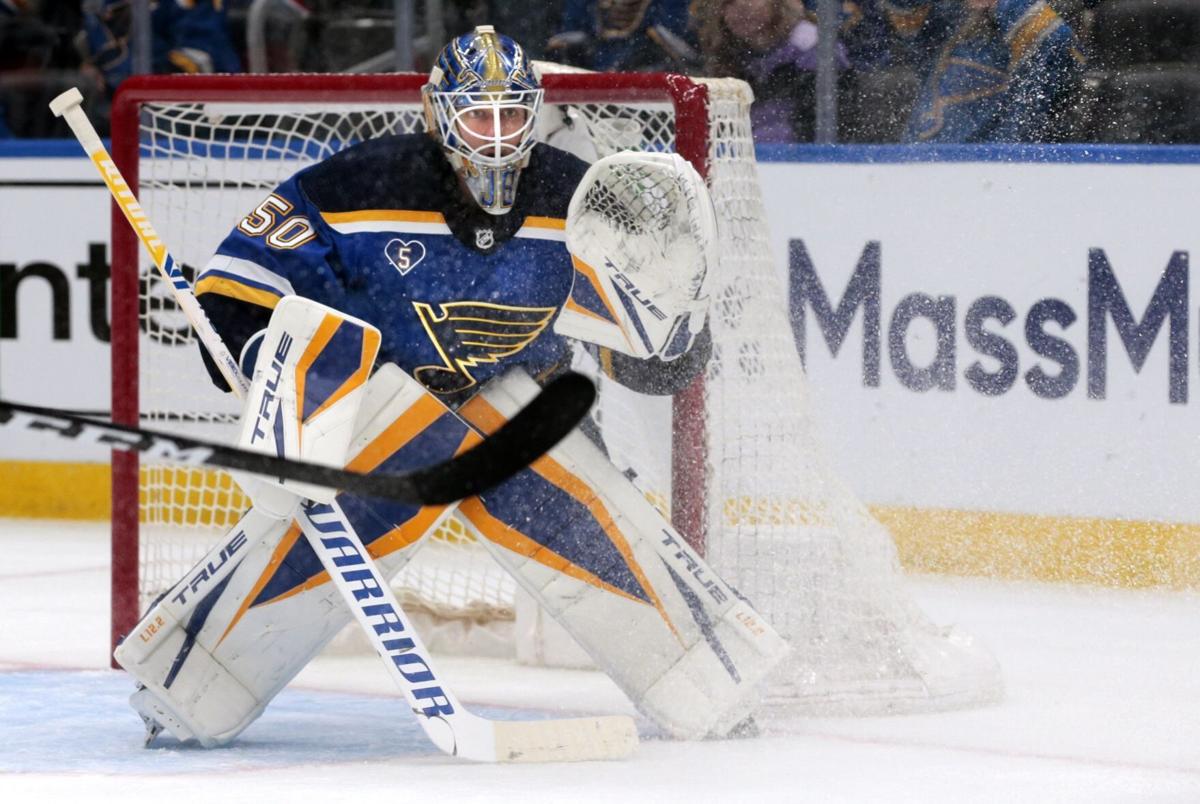 When Jake Walman, Nathan Walker and David Perron all tested positive for COVID during the week of May 9-15, Blues general manager Doug Armstrong thought they'd be false positives.
"Because no one (in the NHL) was getting COVID," Armstrong said.
At least not at that time. Alas, all three proved to have COVID.
The following week, when Jordan Binnington and Vladimir Tarasenko came up positive, Armstrong expected the worst.
"These two I thought were gonna be positive because that just seemed to be the way our team was going at that point," Armstrong said.
Wrong again, but this time Armstrong was glad to be wrong because Binnington and Tarasenko got to continue playing in the team's first-round playoff series against Colorado because of erroneous test results.
Even so, it made for a strange day for Binnington, Tarasenko and the entire Blues team leading into Game 2 on May 19 against the Avalanche.
Over the course of the season, Armstrong said he got daily updates at 4:30-5 a.m. on the previous day's tests results. On May 19, after getting the news that Binnington and Tarasenko had showed up positive, Armstrong said he talked to NHL deputy commissioner Bill Daly.
"And he said that there could be a tainted lab issue," Armstrong recalled. "Obviously, Vegas I think, had a number of people (show up positive) in management and players. And then the NBA had people, too. So that gave us a glimmer of hope. I talked to the players. We ran a test. We took it right to a lab there in Denver and they were cleared by 1 o'clock."
But as Armstrong said, it made for a hectic morning and early afternoon. Neither Binnington nor Tarasenko could take part in the morning skate, and the Blues lost 6-3 that night in Game 2 in what was really a one-goal game because the Avs scored a pair of late empty-netters.
"I felt bad for the players because no one wants to wake up and then turn your phone on, and it's the GM or the trainer: 'Give me a call ASAP,'" Armstrong said.
"And then their minds start working on, 'OK, how did I get this? What's going on?' And then you try to calm them down. Or not calming them down, but you try and tell them that there could be another false positive and you just work through it. But it was a hectic six hours."
Perron, Walman and Walker from the week before weren't as lucky. Even though all three were vaccinated, they all tested positive, an occurrence which is highly unlikely. But not unprecedented.
"The New York Yankees," Armstrong said.
The Yankees Major League Baseball team had nine vaccinated players test positive.
"It's not something that quite honestly, I thought was gonna happen (to the Blues)," Armstrong said. "I thought that like everybody else, you follow the news and you see the vaccinated people, and society's opening up and masks aren't necessary and people are going to restaurants, and we got hit with it."
The Blues were a little shocked when Walman showed up positive despite being vaccinated. That took place on the day of the team's regular-season road finale May 10 in Los Angeles. Imagine how they felt when leading scorer Perron showed up on the COVID list May 15, the day the team left for Denver for Games 1 and 2 of the Colorado series.
"I think it's the psychological (impact) of losing a player like Perron," Armstrong said. "And then there's also that psychological fact of how and why did Walker and Walman get it as vaccinated people? So it plays with our mind a little bit. It plays with our mind a little bit when Vladi and Binner had the tests in Colorado.
"But it is what it is. I guess if I wanted to sit here and find excuses why we didn't perform to our level, we could. But nobody really cares. You are what you are. You are what your record says you are, and we're 0-4 (against Colorado)."
So after a season in which they had largely avoided COVID in their ranks, the Blues got hit late. Until then, they had experienced only false positives by Sammy Blais and Zach Sanford that forced each player to miss only one game — Feb. 20 (San Jose) and March 20 (San Jose), respectively — before the false positives were cleared up.
As the season wound down, Armstrong said he thought the Blues reached the 85 percent vaccination rate among their travel party, which was required in order to participate in relaxed COVID protocols for NHL playoff teams. Then again, they weren't in the playoffs long enough to put them to much use.
During his season-ending Zoom call Tuesday, Perron said he was hoping the league would postpone the start of the Blues-Avalanche series for a few days to give him (and Walman) more time to clear COVID protocols.
Walman cleared protocol in time to play in Game 4 against Colorado. Walker was a "Black Ace" — or roster extra — and wouldn't have played unless there were a rash of injuries or more COVID cases.
For his part, Armstrong harbored no illusions of the series getting moved back by the NHL.
"They have a business to run," Armstrong said. "They want this to end on schedule. And we were told if you get a COVID case and it's not something that runs through your whole organization (there would be no postponements).
"But I think the reality is, you just have to deal with it. I never expected them to push the season back or the playoffs back. So no, I wasn't surprised or did I expect it."
As for next season, if there's one GM hoping for a return to normalcy, it's Armstrong. Starting with the Edmonton bubble in the 2019-20 playoffs, his team struggled mightily with pandemic pucks.
"This is getting old for everybody right now," Armstrong said. "Just even watching the Canadian division in the playoffs, knowing what the Bell Centre (in Montreal) would sound like. Or knowing what the old Toronto Gardens, whatever name they're using now.
"Just not having fans, it's different. When you see 9,000, 6,000, 12,000 — the energy that it brings. You forget what 18,000 and 20,000 looks like.
"I'm not an anti-vaxxer, I hope that everybody gets vaccinated. I think it's a smart thing to do. I think it makes our society better. I think we can move on quicker. And once we do that, we're gonna get back to the things that are normal. This is abnormal and I hope it always stays abnormal. I want to get back to normal."
St. Louis Blues 2021 Report Card: Reflections on a season of disappointment
FORWARDS - RYAN O'REILLY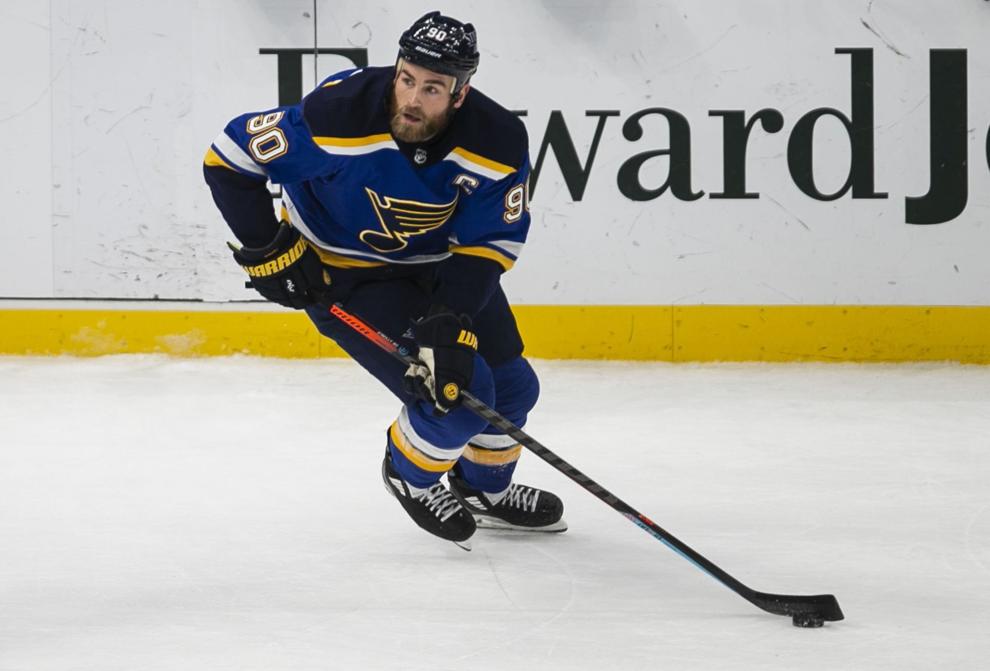 He stepped up down the stretch of the regular season, scoring 10 goals in 13 games. He posted a career-high plus-25 rating, won 58.9 percent of his faceoffs and produced a stellar 43/24 takeaway/giveaway ratio. O'Reilly put extra focus on getting shots on goal and it worked, since 69.7 percent of his attempts got through. That's how you double your goal total from one year to the next.
DAVID PERRON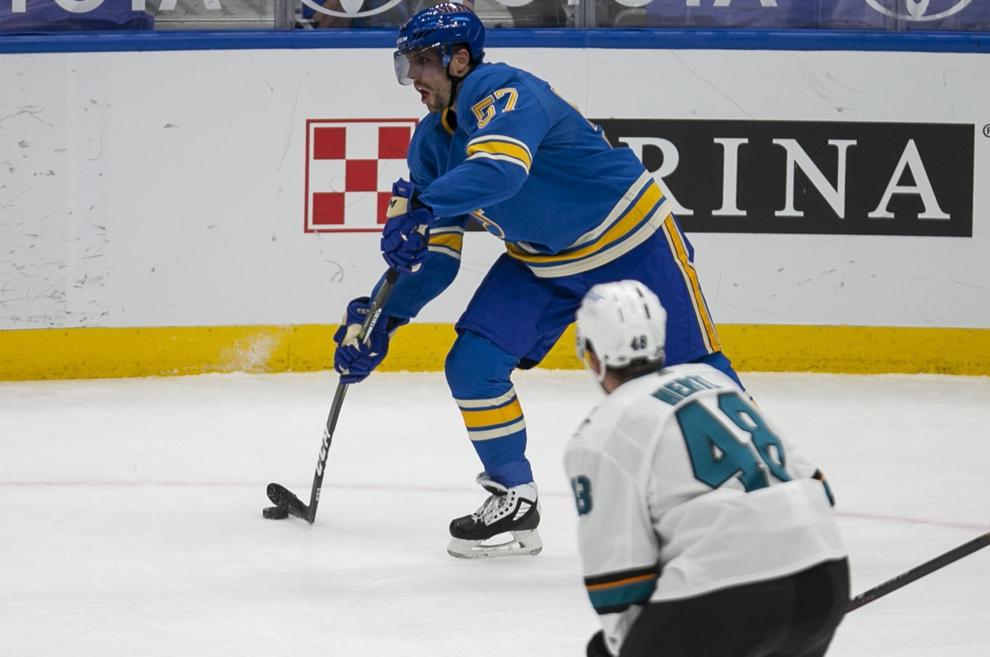 He joked Tuesday about getting an 8-year contract extension after next season, but has been seriously good at an advanced age. Perron (19 goals, 39 assists in 56 games) delivered consistent point-per-game production all year while posting strong possession metrics. His 18:03 average time on ice was the second-highest of his career. He played every regular season game ... and then COVID-19 denied him another shot at postseason play.
JORDAN KYROU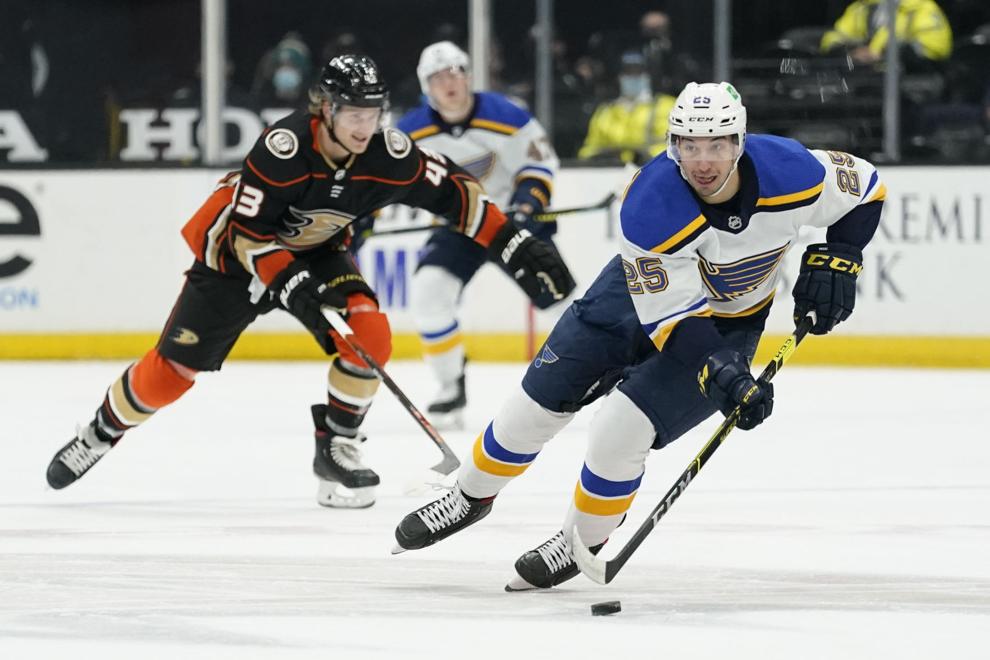 He finally established himself in the NHL, albeit in uneven fashion. Kyrou scored 12 points his first 12 games. Later, though, he was held without a point 13 times during a 15-game span. He produced solid possession metrics while getting sheltered usage (59.2 percent offensive zone starts). Kyrou began playing more tenaciously late in the season and he was noticeable in the playoffs while scoring once and putting 10 shots on goal.
TYLER BOZAK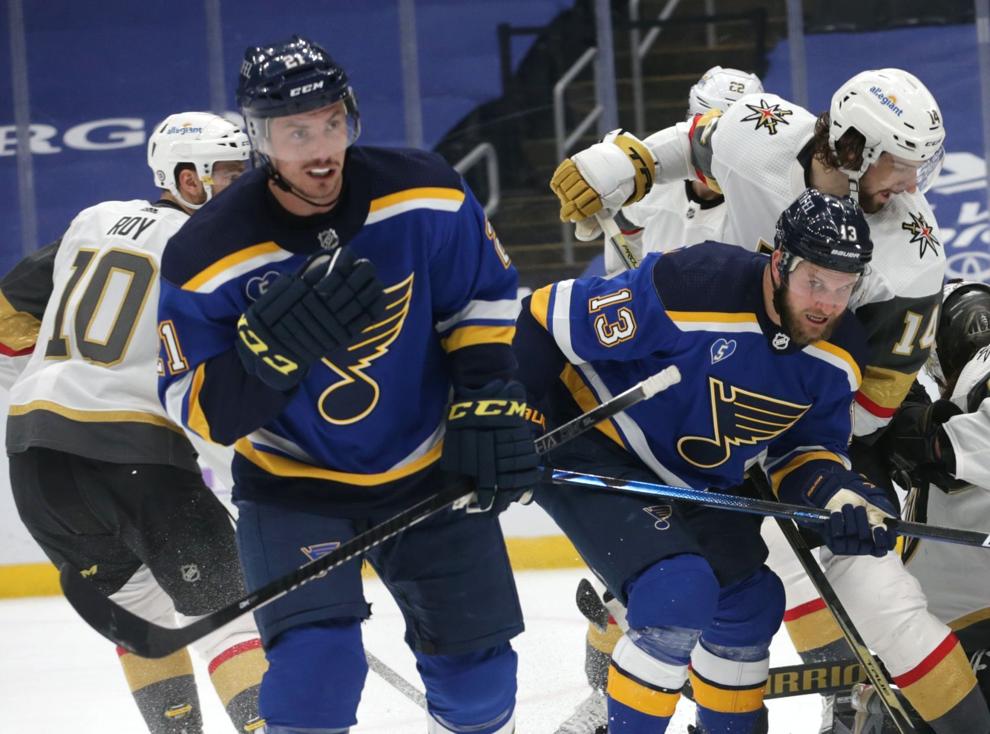 He stepped up production from a 35-point pace last season to a 45-point pace. During the final 14 games his ice time jumped to 16:18 and he produced 10 points (three goals, seven assists). Bozak won 56.8 perfect of his faceoffs, making him an invaluable tag-team partner for O'Reilly. He scored two shorthanded goals, one in the playoffs. But at this stage of his career he didn't quite measure up to his $5 million salary.
SAMMY BLAIS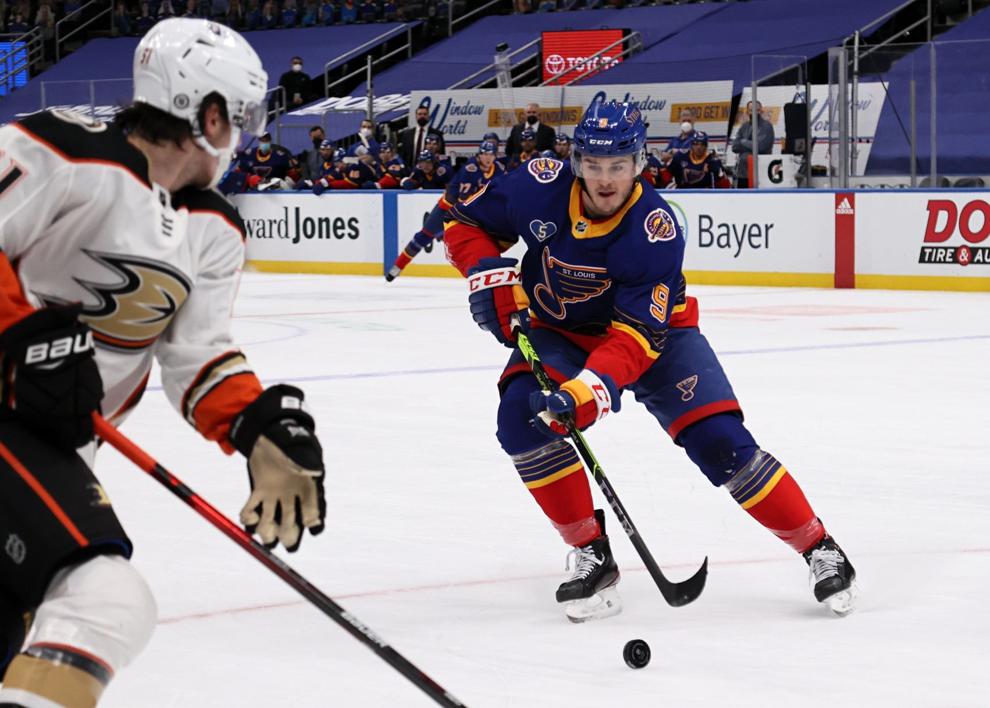 Sammy is who he is. He delivers crunching body hits. He scores the occasional goal. He suffers more than his share of injuries. His shot rate declined this season and his hit rate slipped, too, but his production was on par with last season. Blais scored a goal and delivered 14 playoff hits, so at least the Avalanche knew he was in the series.
DAKOTA JOSHUA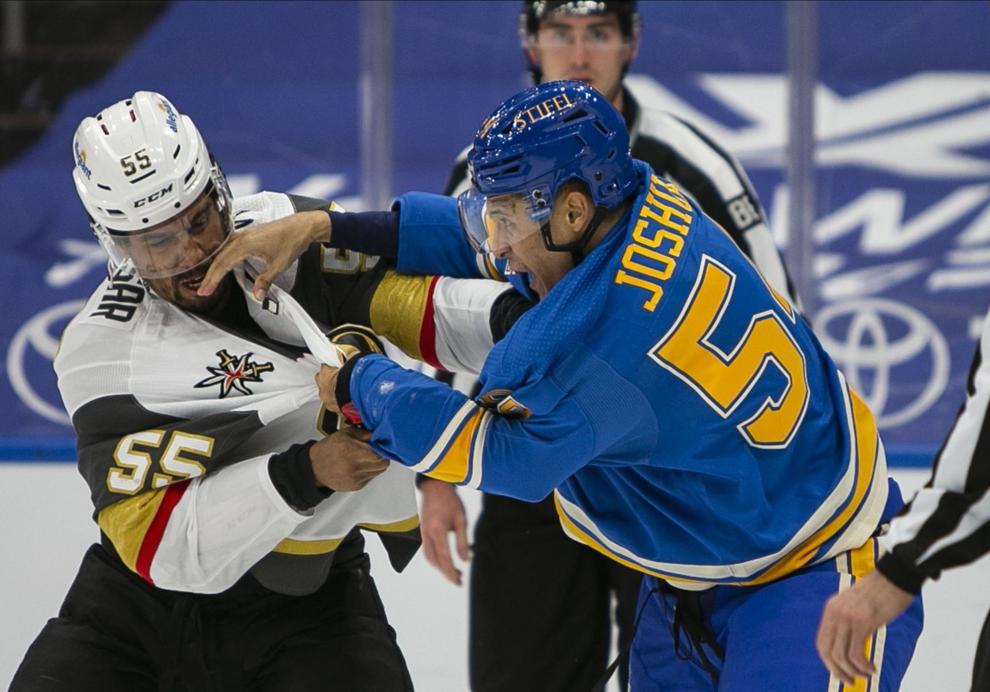 He made the list of pleasant surprises. Joshua played 12 games as an emergency fill-in and made his mark with 23 hits, including one on Vegas Golden Knights ruffian Ryan Reaves. His only goal caromed in off his body, but at least he was driving to the net. Bonus point: Joshua won 57.8 percent of his faceoffs while proving he can play center.
MACKENZIE MACEACHERN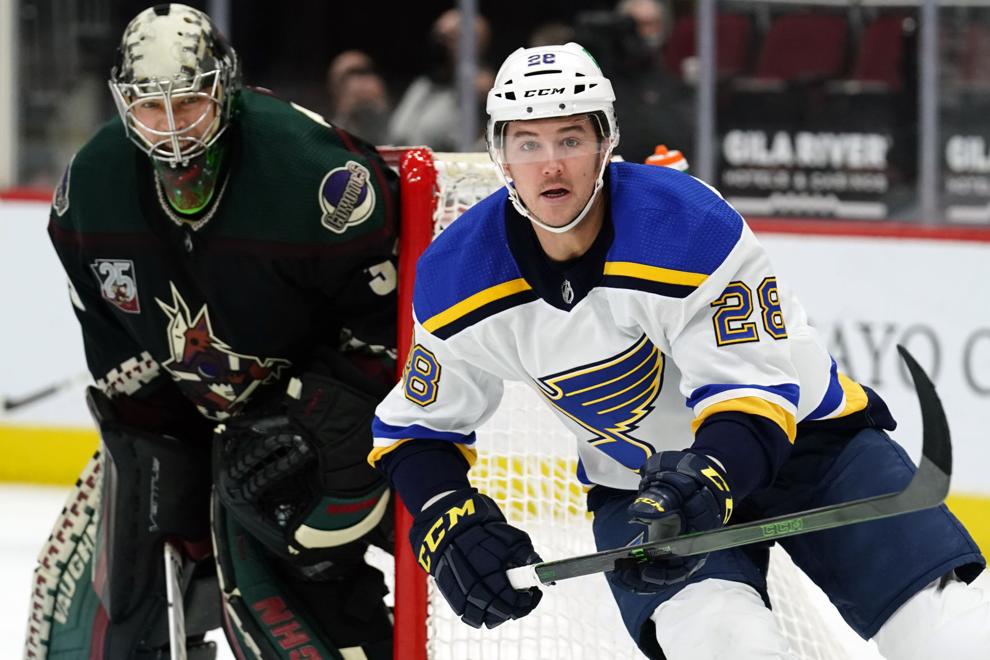 A year ago he scored seven goals in 51 games. MacEachern failed to produce at that level this season – he had just 1 goal and 1 assist in 12 games – but he chipped in as a penalty killer and scored his goal shorthanded. His shot rate and hit rate were on par with last season and he finished plus-3.
BRAYDEN SCHENN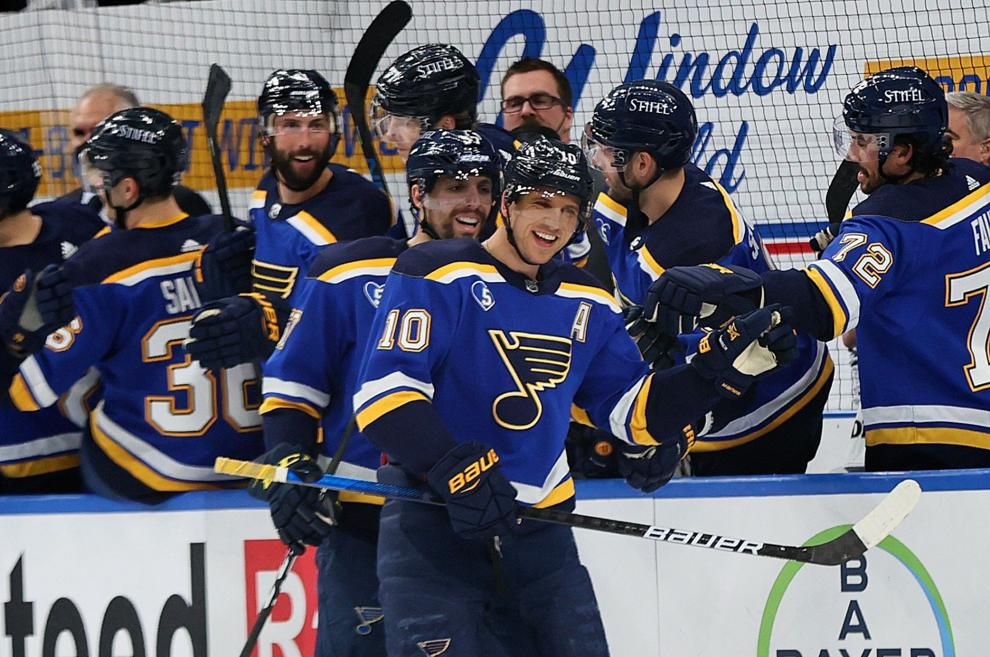 He almost single-handedly refused to let the Blues get soft this season. He landed 119 hits and took a memorable run at Mikko Rantanen in the playoffs. He was willing to drop the gloves as well. But after scoring 6 times in a 9-game January stretch, he scored just 10 times in his final 46 games. On the plus side, he handled a big workload (19:09 per game), saw more penalty-killing duty and made progress in the faceoff circle (52.4 percent)
IVAN BARBASHEV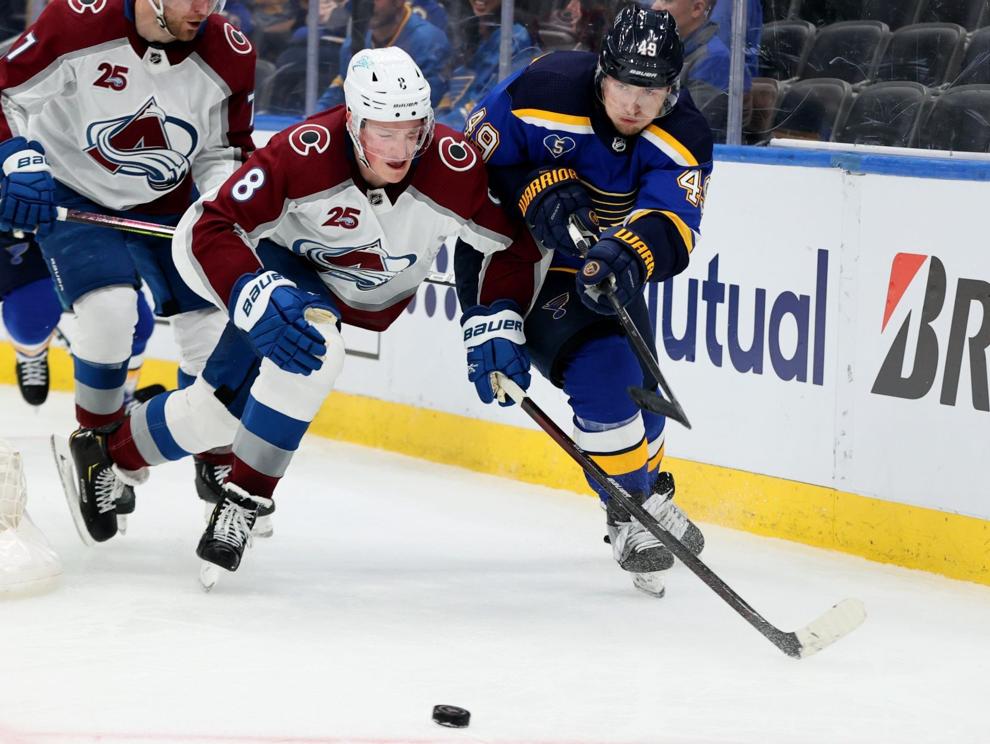 Like most Blues forwards, Barbashev suffered regression with his hit-per-game rate. Otherwise he remained on par with his previous checking line production when healthy. He earned a promotion to scoring-line work at the end, but his inability to finish was evident in the playoffs. He missed the net on a point-blank shot from the slot and he failed three times to lift the puck over Philipp Grubauer's pad at the right post.
MIKE HOFFMAN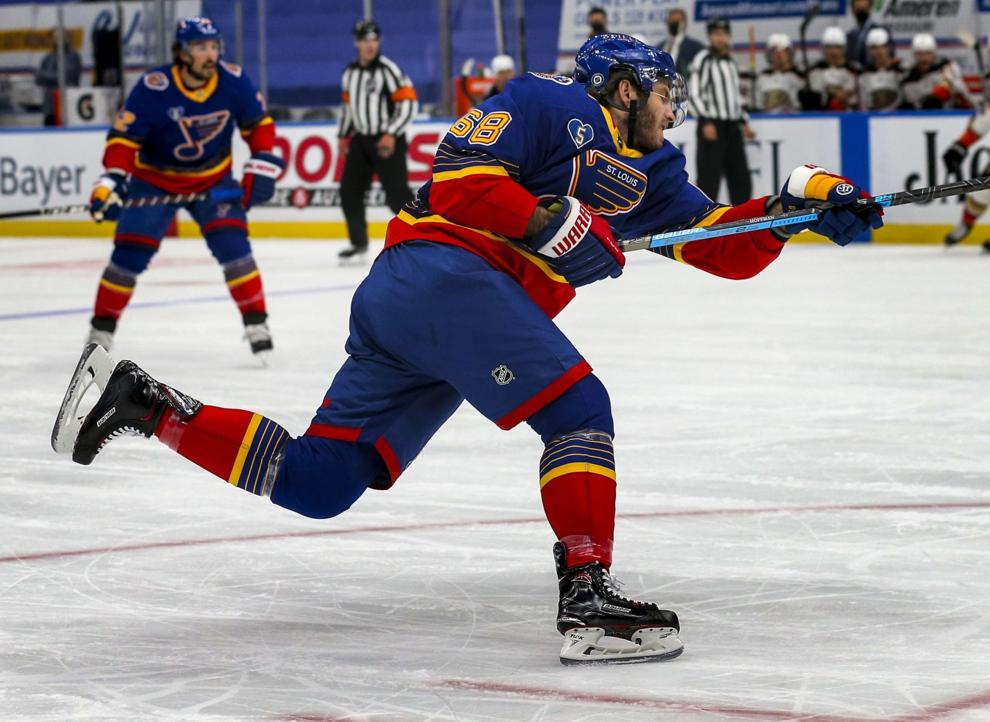 OK, so he's not a Craig Berube-style player. Everybody knew that going in. Hoffman can really shoot the puck. When the Chief finally put him in position to do that – on the power-play unit and during 6-on-5 play – he came through. He scored 8 goals and added 7 assists in his last 16 games. His 17 power-play points trailed only Perron. With sheltered usage (60.6 percent offensive zone starts) he earned a plus-2 rating despite the earlier defensive indifference that made him a healthy scratch.
KYLE CLIFFORD
He played a robust game while moving in and out of the lineup. But his hit rate and shot rate were far below what they were the season before in Los Angeles and Toronto. Clifford chipped in a bit on the subpar penalty kill unit and he played with an edge, which the team needed. But injuries in this disjointed season kept the Blues from building the sort of dynamic fourth line that boosted their Cup run.
JACOB DE LA ROSE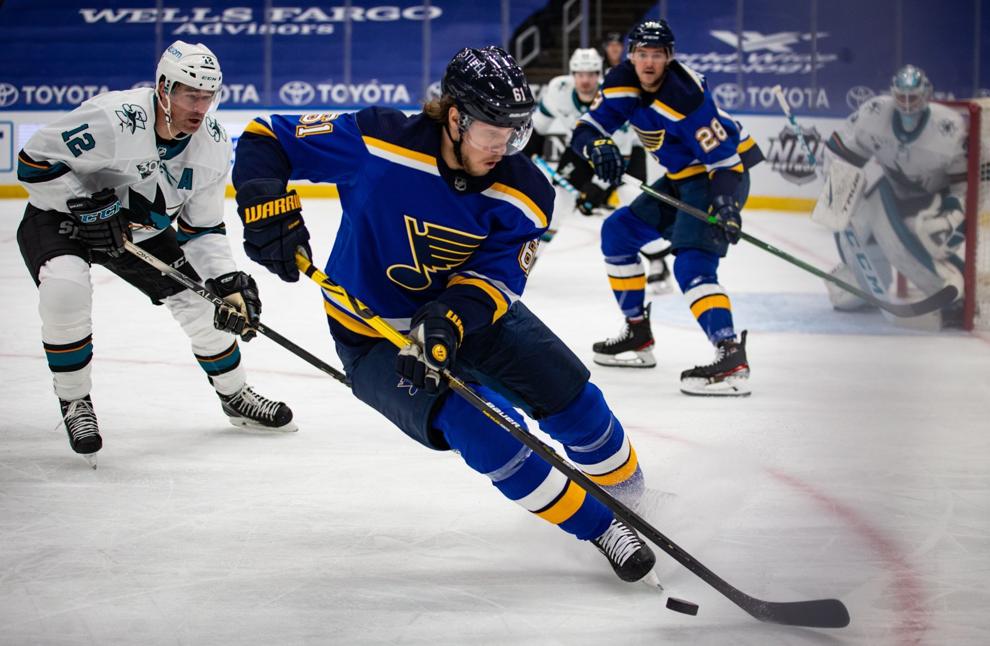 When in the lineup he took a 31 percent penalty-kill share. He landed 22 hits in 13 games and recorded a 6/1 takeaway-giveaway ratio while getting 71.4 percent of his zone starts in the defensive end. But he won just 46.6 percent of his draws and he produced no goals and 1 assist offensively.
JADEN SCHWARTZ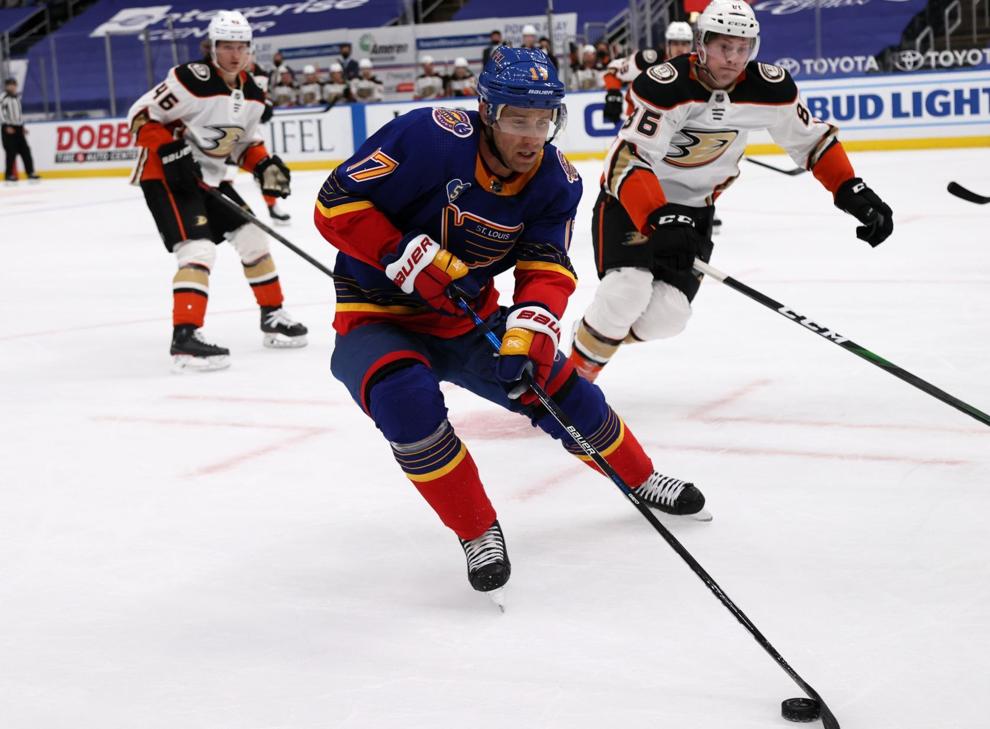 One again he followed a strong offensive campaign (25 goals, 33 assists in 71 games in 2019-20) with a much lesser one (8 goals, 13 assists in 40 games). His offensive zone start rate (48.2 percent) was the lowest of his career and his power-play role (2:04 per game) diminished as well. Then he failed to register a point in the playoffs. He still checked well, but he lost significant leverage heading into free agency.
OSKAR SUNDQVIST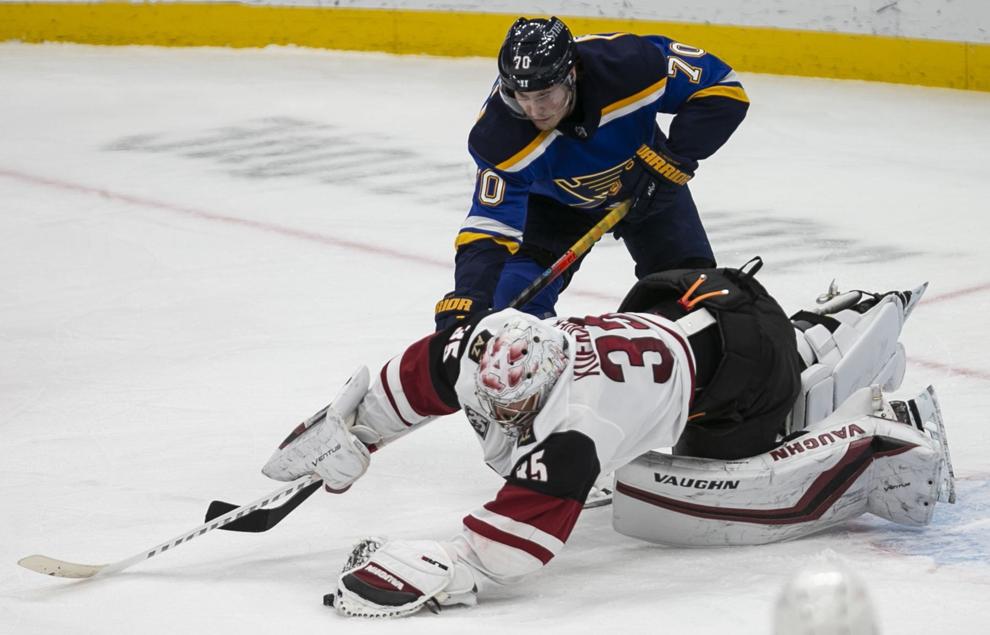 Before suffering his season-ending knee injury, Sundqvist failed to measure up to previous years despite heavier deployment. He averaged a career-high 15:09 in ice time and his 21.3 percent power-play share was also his best. Yet he scored only at a 26-point pace, down from 34- and 33-point paces the previous two seasons. He finished with a minus-6 rating after finishing plus-5 the year before.
ROBERT THOMAS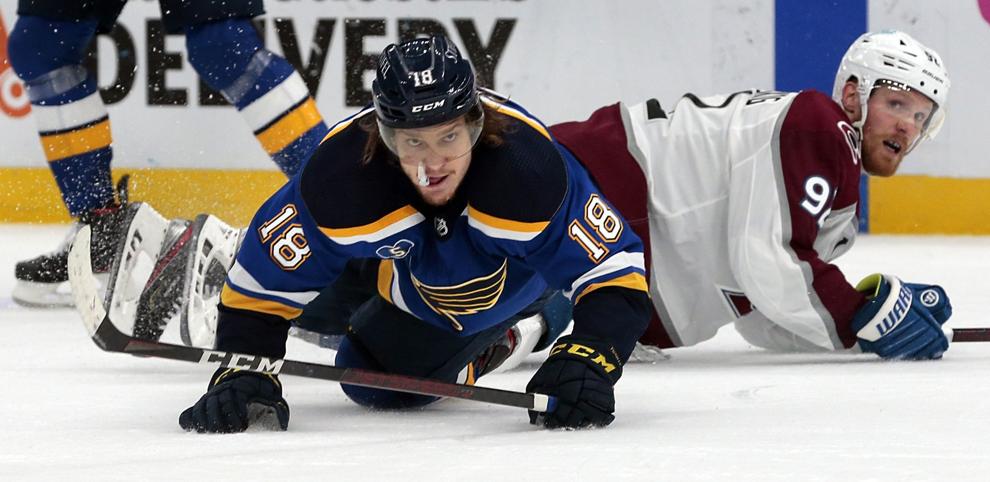 He flashed his tremendous playmaking talent in the playoffs while earning three assists and creating other scoring chances. But after scoring at a 52-point pace last season, he slipped to a 30-point pace during this injury-marred season. And his peripheral statistics indicate passive play: 22 shots on goal, 5 hits, 11 blocked shots. He won just 42.6 percent of his faceoffs and just 46.8 percent of his shot attempts got on goal – the worst rate among regular forwards.
ZACH SANFORD
After scoring at a 42-point pace last season he regressed to a 25-point pace this season. After finishing plus-13 last season, he was minus-13 this season. After getting various opportunities to play on the top three lines, he fell into a fourth-line role. He produced just two goals and two assists in his last 26 regular season games and didn't register a playoff point. On the plus side, he played a big penalty-killing role for the first time and he held up when used as the No. 4 center.
VLADIMIR TARASENKO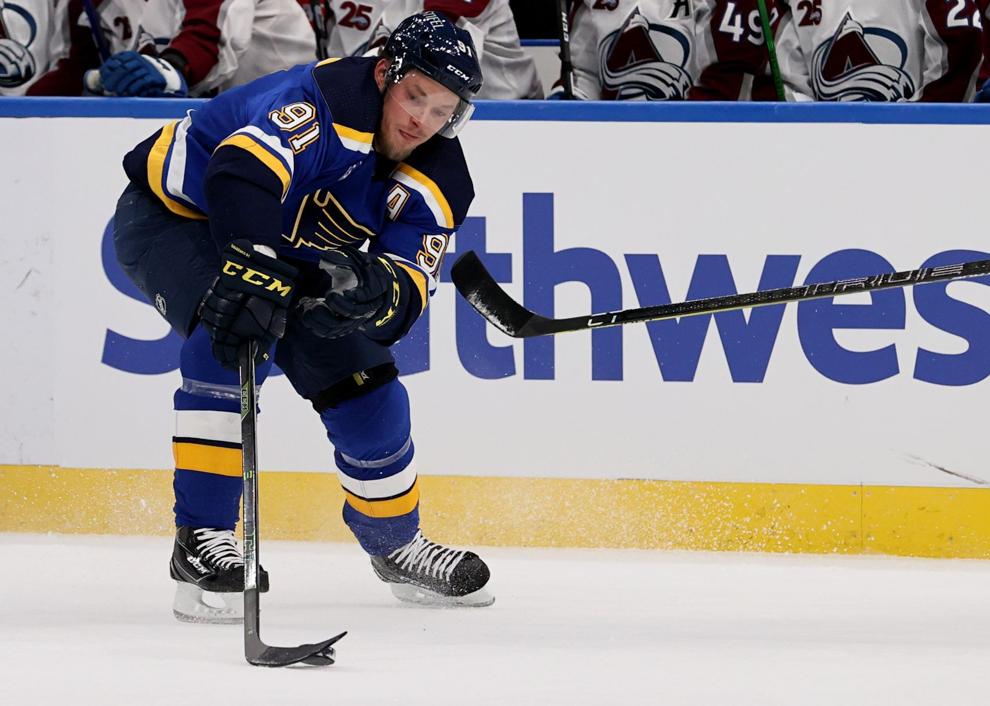 We know he can still play because he scored twice in the elimination game. And we know he is getting healthier because Russia called him for the World Championships. Tarasenko scored 54 points in the 46 games before his latest shoulder injury. The comeback was challenging for sure, but his four goals in 24 regular season games still ranked as a big disappointment. He averaged just 0.58 points per game this season after averaging 0.83 or better six straight years.
DEFENSEMEN: JUSTIN FAULK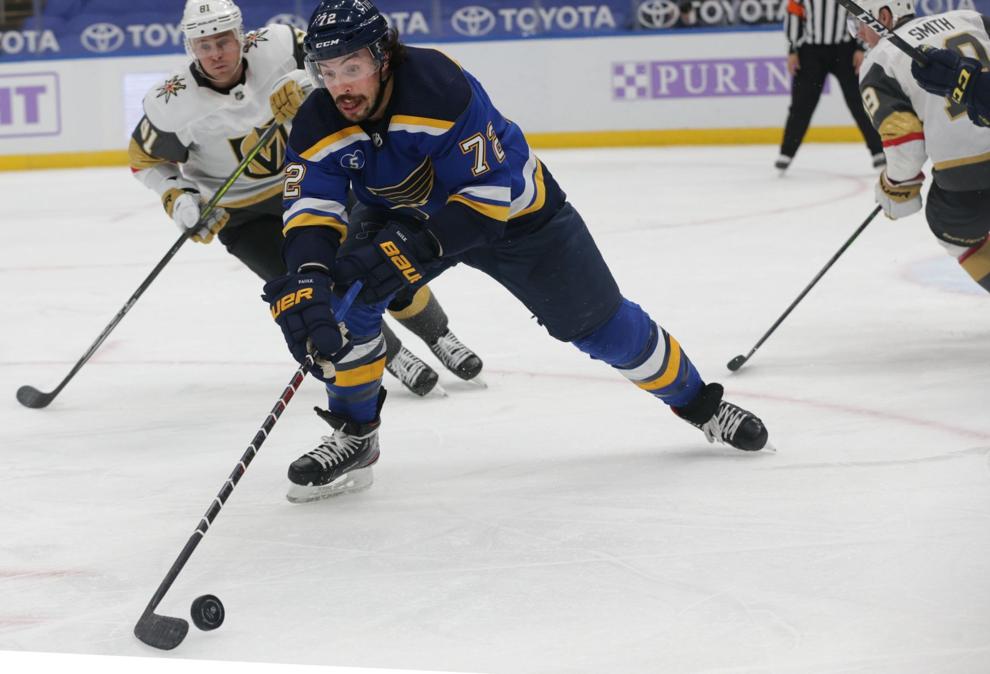 He might have been the most improved player in the entire league. Faulk added nearly 4 minutes to his average playing time. His share of penalty killing jumped from 22.8 percent to 55.6 percent. He landed 45 more hits while playing in 13 fewer games. Faulk produced seven points in his last seven regular season games before getting knocked out of the playoffs by Nazem Kadri's cheap shot.
TOREY KRUG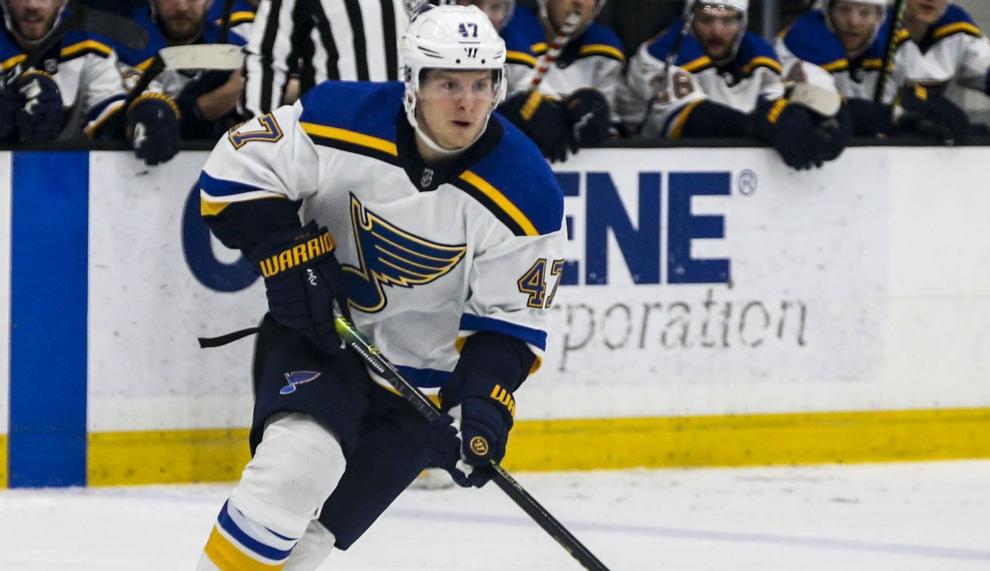 Once he settled in with his new team and found his place on the power play, fans saw why GM Doug Armstrong signed him. Krug produced 16 points in his last 18 games. He assumed more responsibility than he had in Boston, playing a career-high 22:33 per game while getting 46.3 percent of his starts in the defensive zone. As Armstrong noted, that heavier workload took a toll on his 5-on-5 play at times – although he did finish plus-11.
MARCO SCANDELLA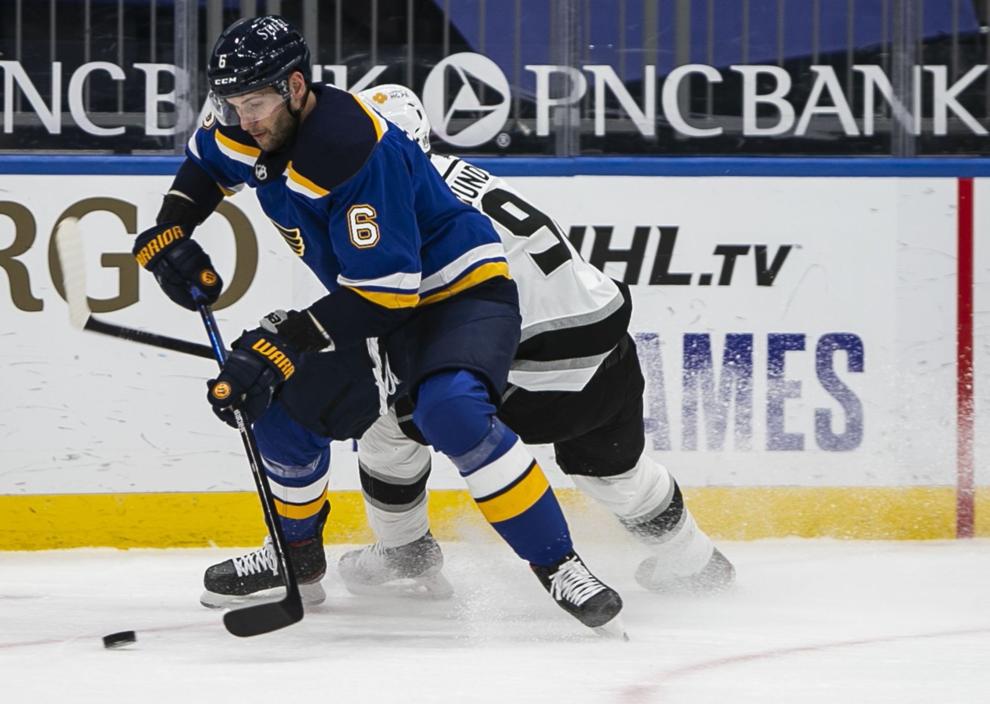 His plus-14 rating was second only to O'Reilly. His share of the team's penalty-killing duty was the second-highest of his career. His playing time was up appreciably from what he did for three teams last season. Scandella struggled defending the Colorado Avalanche rush at times in the playoffs, but he had plenty of company there. And like most Blues, he saw his possession metrics take a beating with the Blues unable to sustain offensive zone pressure.
VINCE DUNN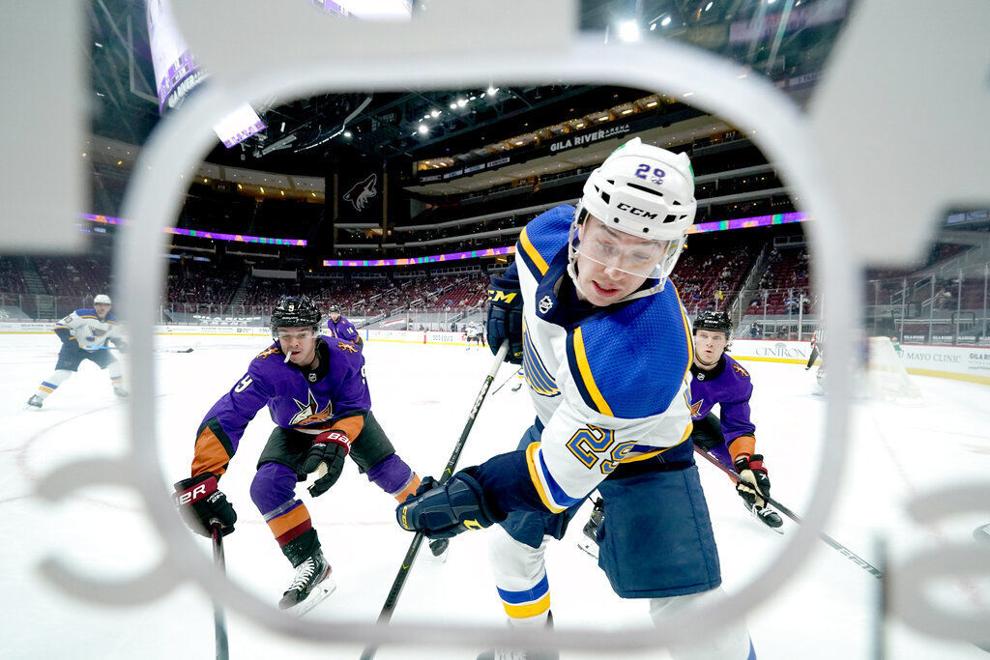 He was coming on offensively (8 points in 7 games) before suffering an upper-body injury in mid-April that ended his season. Dunn shouldered a bigger workload, 3 minutes more per game, but remained in sheltered usage (58.8 percent offensive zone starts). He remained prone to risky plays, as evidenced by his 10/26 takeaway/giveaway ratio and minus-8 rating. He could be a 40- to 50-point defenseman with more power-play time, but on this team his share was 36.5 percent.
JAKE WALMAN
He exceeded expectations, stepping in under emergency circumstances to turn heads with his puck-rushing skill and confidence. Walman has made the journey from hot prospect to non-prospect and back. His speed did not translate into production, though, and his minus-7 rating and 6/17 takeaway/giveaway ratio reminds us that there's work to do.
ROBERT BORTUZZO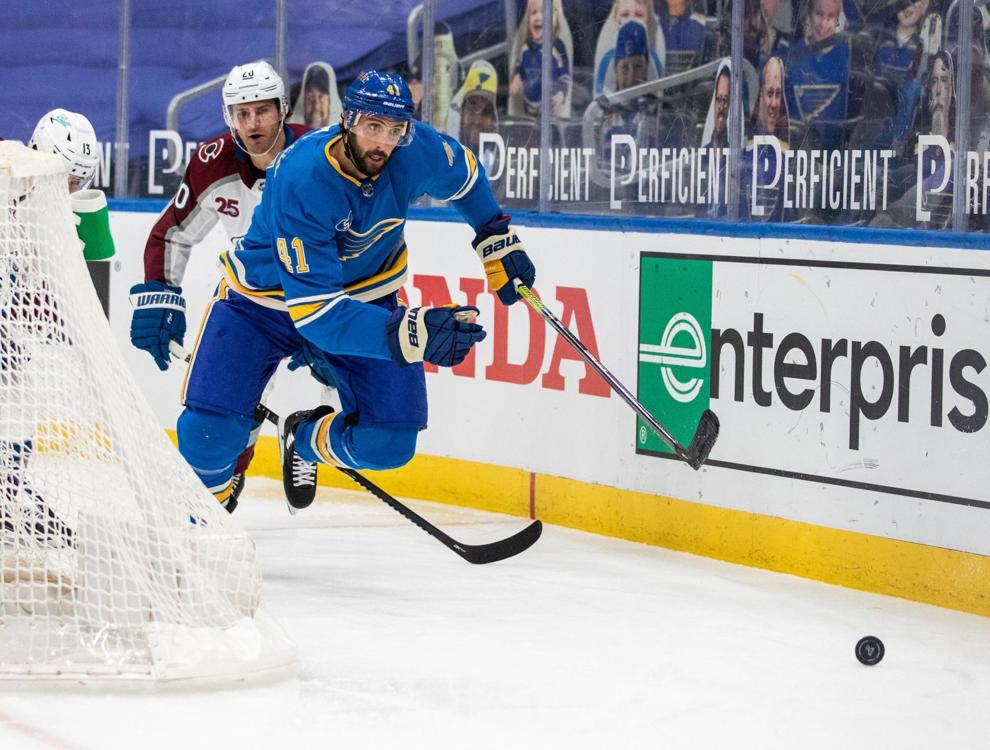 He maintained status quo as a third-pairing defender who moved in and out of the lineup. Bortuzzo logged a bit more ice time, but he remained in a sheltered role (57.8 percent offensive zone starts) and his share of the team's power-play duty declined. On the other hand, he was one of the few Blues to play more physically this season – landing 19 more hits in two fewer games played. He was missed after absorbing a head shot two games into the playoffs.
COLTON PARAYKO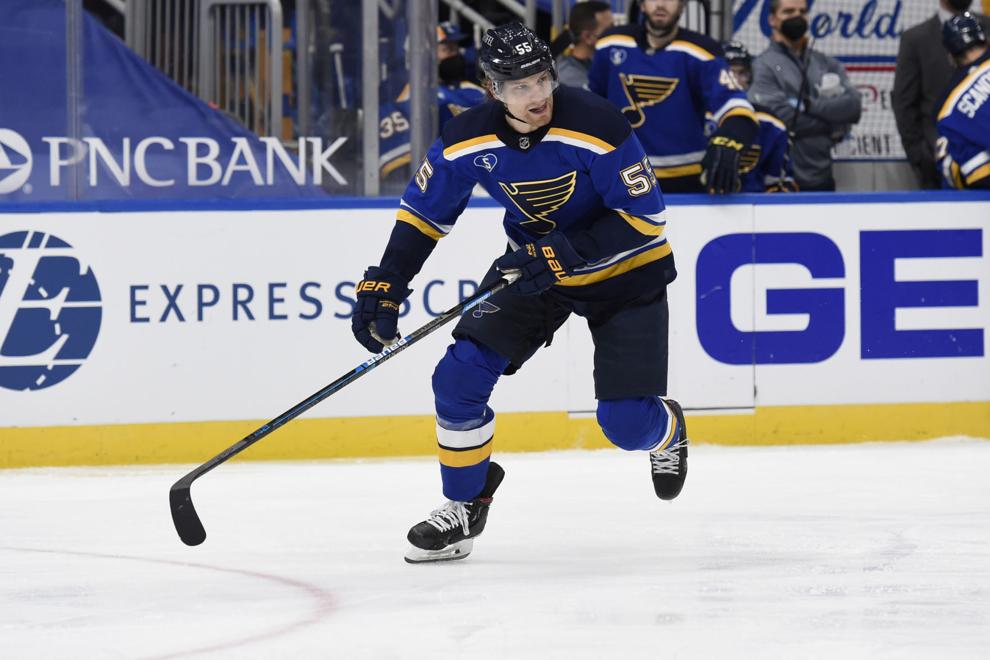 Ah, what could have been. A healthy Parayko could have enjoyed a breakthrough season as a true No. 1 defenseman. Instead he labored with a back injury, was shut down for a big chunk of the season and then returned to play just OK. His 13/23 takeaway/giveaway ratio was his career-worst. After a strong offensive finish in 2019-20 (15 points in 19 games), he produced just 12 points in 32 games and nothing on the power play. Blues fans are anxious to see if he can make a full recovery.
CARL GUNNARSSON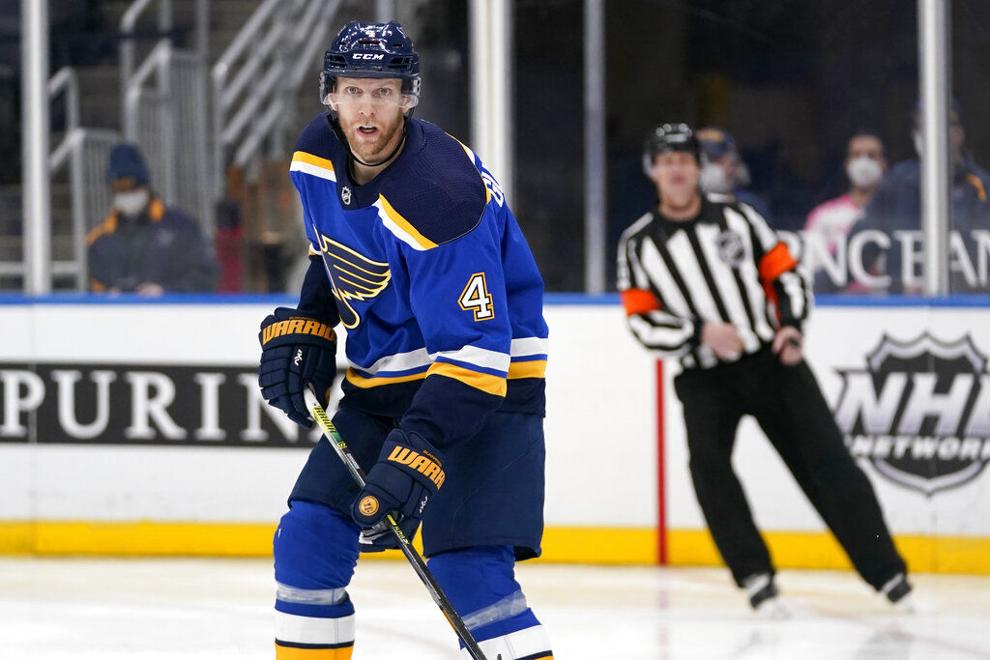 Had he not suffered a season-ending knee injury, he could have played a key role down the stretch given the other injuries. He could have made his case for more NHL time. His penalty-killing share (46 percent) was his highest as a Blue and it would have stayed high. Instead he faded to the background after 12 games.
NIKKO MIKKOLA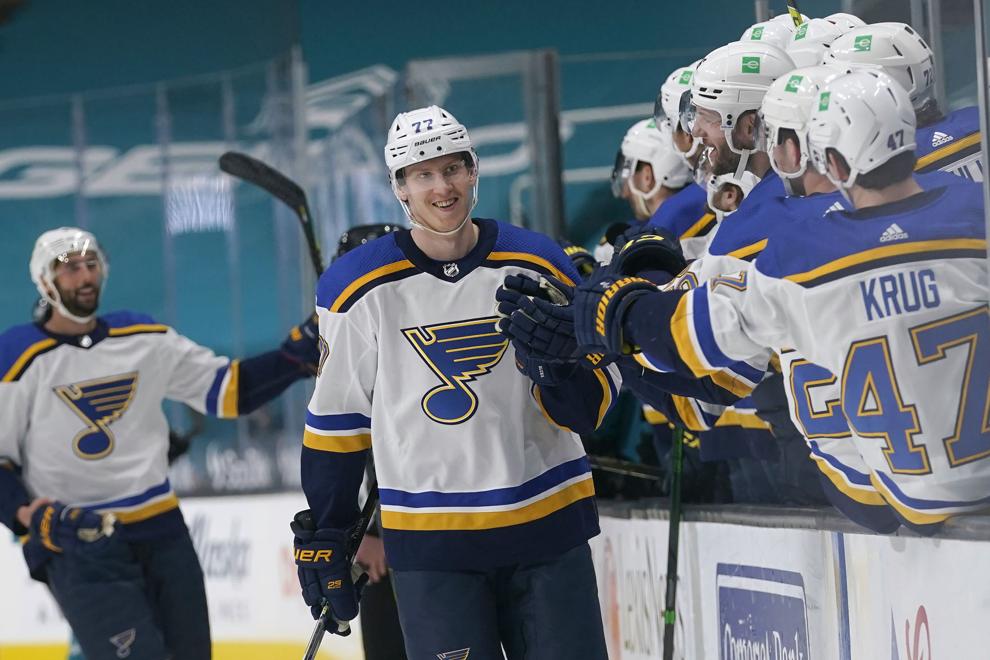 He looked the part of a Blues defenseman with his rangy build and long reach. But Mikkola struggled with the puck. In the regular season and playoffs combined, he had just three takeaways against 22 giveaways. So he earned his minus-11 rating. On the plus side, he remained aggressive and showed no hesitation to jump into the offensive play during the postseason.
GOALTENDERS: JORDAN BINNINGTON
His inconsistency led to a .512 quality start percentage, which ranked 30th among regular netminders. Binnington started well, going 5-1-1 in January with a 2.49 goals-against average and a .918 save percentage while appearing recovered from his Bubble Hockey debacle. His February and March got ugly, then Binnington posted strong ratios in April (2.45, .925) and May (2.42, .914). He also competed hard in the playoffs despite facing a mismatch.
VILLE HUSSO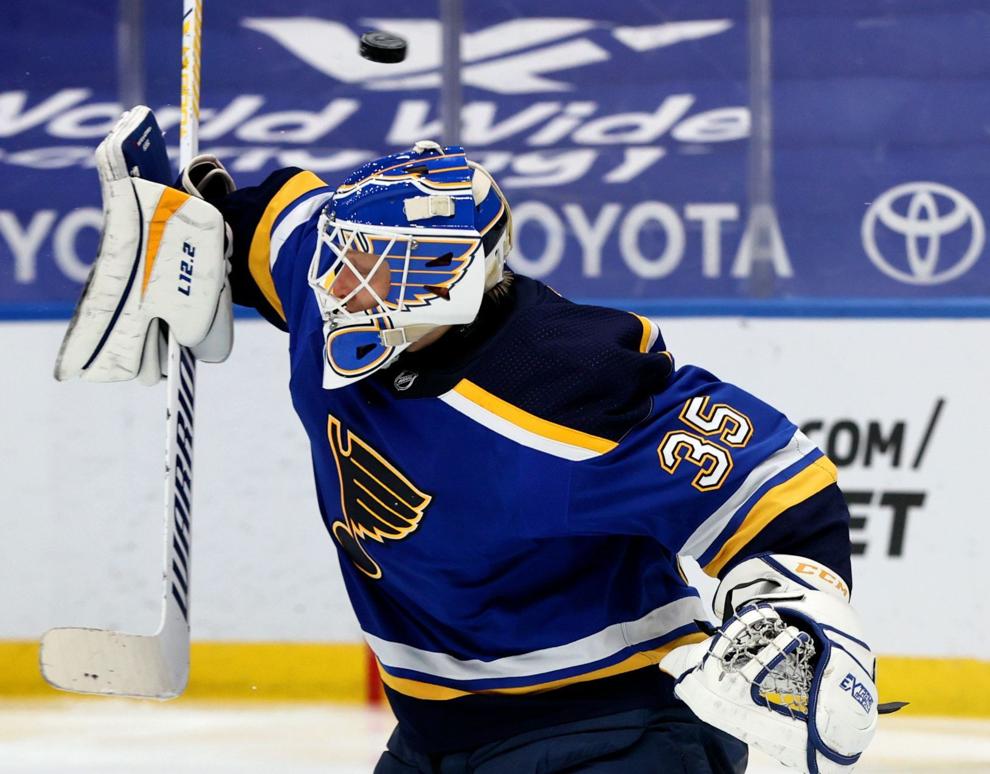 He capped his rookie season on a positive note by shutting out the Minnesota Wild. But with a .467 quality start percentage and mediocre ratios (3.20, .893), Husso was barely adequate in his backup role despite his 9-6-1 overall record and his 7-2-1 mark on the road. But what did you expect in his first NHL season?
OWNERSHIP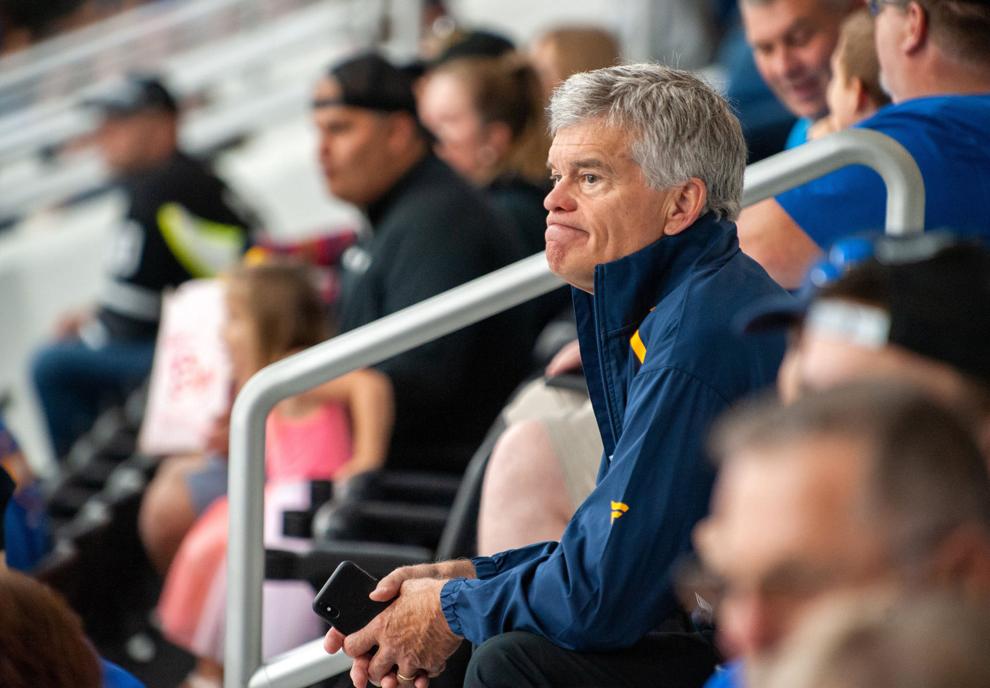 In the face of staggering revenue losses due to the pandemic, Tom Stillman's group still allowed the Blues to spend to the NHL salary cap and beyond. The Blues put $64 million on the table for Alex Pietrangelo, then signed free-agent Torey Krug after Pietrangelo left. The Blues added free-agent Mike Hoffman with the cap space cleared by players on long-term injured reserve. The ownership's commitment to winning remained unwavering despite taking a huge financial hit.
MANAGEMENT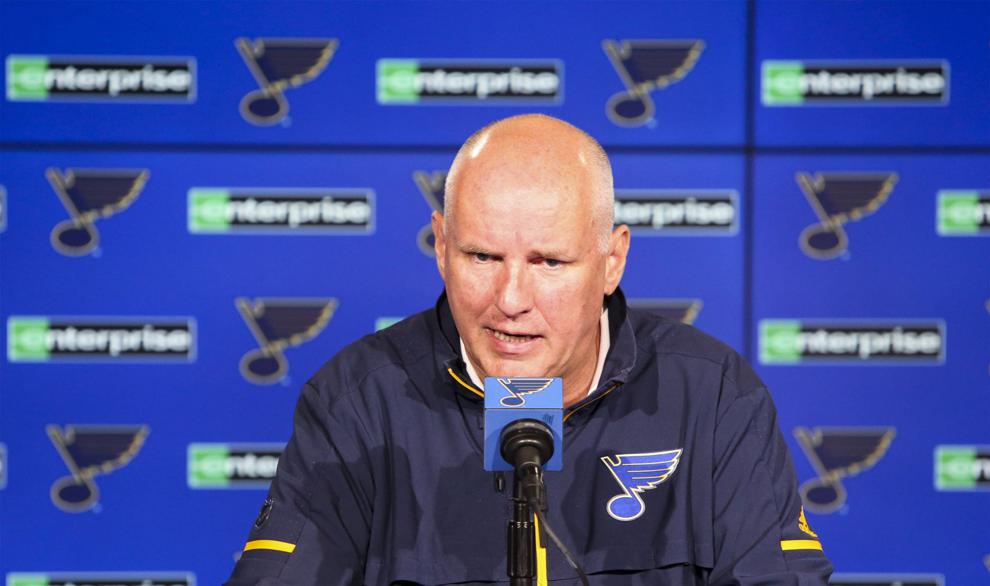 The Blues let captain Alex Pietrangelo get away. Could general manager Doug Armstrong have done more to retain him? Maybe not, since Pietrangelo was committed to testing free agency. He got a better contract structure with the Golden Knights, but not more total dollars. That whole episode was a head-scratcher. Armstrong rebounded by adding offense with Krug and Hoffman, but the team got smaller and less tenacious in the process. On the other hand, Armstrong's faith in Justin Faulk was richly rewarded when Faulk delivered a strong second season. And depth players like Dakota Joshua and Steven Santani filled in nicely to make the front office look smart.
COACHING STAFF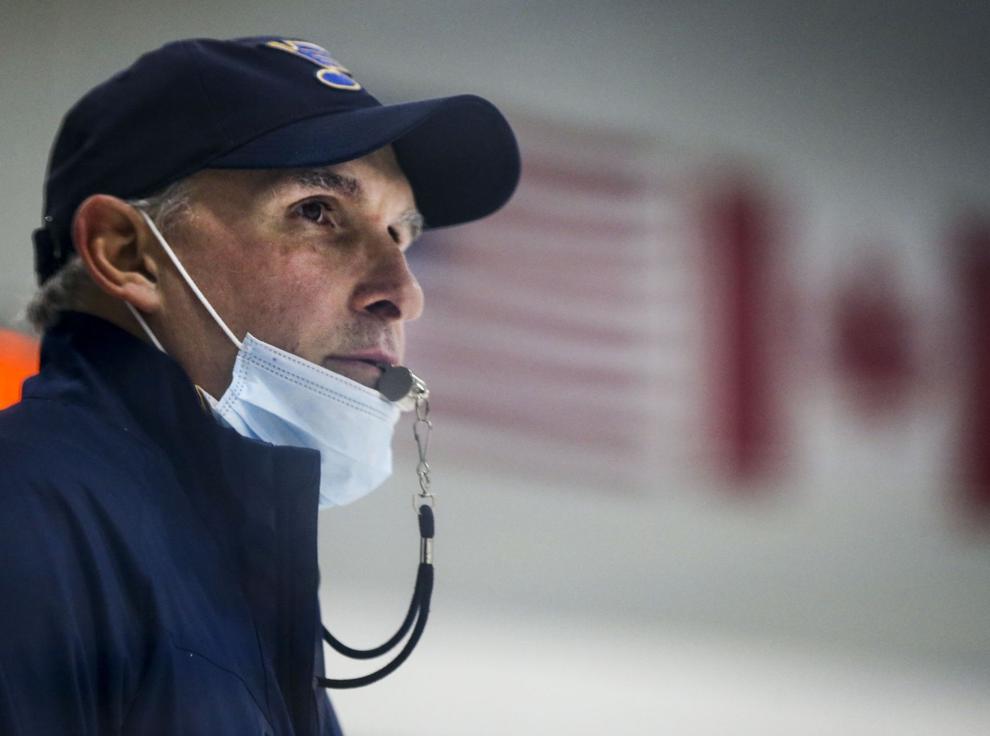 Thanks to injuries and the COVID-19 disruptions, this season became a constant scramble. The lineup remained in constant flux. Craig Berube and his staff rallied the team late in the regular season, but the Blues were still no match for the Colorado Avalanche. Injuries played a big part as the team suffered a four-game sweep, but the Blues still seemed to have more to give. They never got their penalty-killing unit up to par. At times they sustained pressure 5-on-5 ... and at times they didn't. The power play finally got into gear and Berube finally positioned Hoffman to succeed offensively.