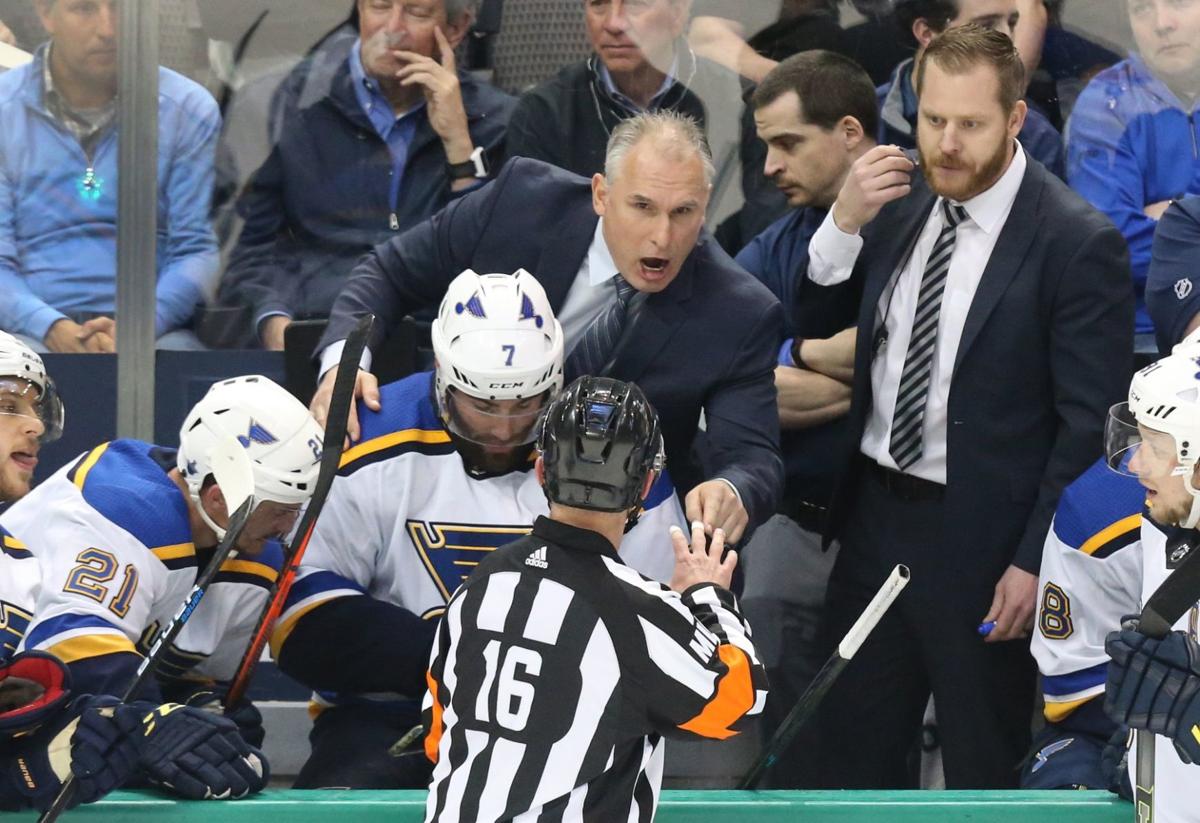 Late on the night of Nov. 19, when he replaced Mike Yeo as the Blues' coach, Craig Berube looked like a placeholder — the very definition of interim coach.
But after the Blues roared into the playoffs over the second half of the season, it became a question of "when," not "if," his interim tag would be lifted.
"When" took place Tuesday when the Blues announced that Berube had signed a three-year contract. Terms weren't disclosed.
Before the start of the Western Conference finals, against San Jose in early May, general manager Doug Armstrong told reporters that he had a "candidate list of one" and that the sole candidate on that list was Berube.
That gentlemen's agreement became a signed contract less than two weeks after the Blues took down Boston in the Stanley Cup Final to become NHL champions for the first time.
"Craig made an enormous impact on our team when he took over last November," Armstrong said in a statement. "He restored our identity and provided our players with a clear sense of direction and purpose. The chemistry and trust that he developed with our players was integral in bringing our franchise the 2019 Stanley Cup."
Under Berube, the Blues first became champions of the team game. And ultimately became champions of hockey in North America.
Players liked Berube's direct approach, even if it meant sometimes being on the receiving end of criticism. They always knew where they stood.
"He's pretty straightforward," defenseman Vince Dunn said shortly after Berube replaced Yeo. "He doesn't try to mess with you. He doesn't send you mixed signals. I think you can get the message pretty clear with a voice like his."
Belying his gruff exterior, there's also a personable side to Berube that resonated with the players.
"Very approachable," forward Brayden Schenn said during the season. "Very fun to be around. Demands a lot of his players, but that's what you want as a player. You want your coach to be able to go up to talk to you and say, 'How's it going?' At the same time when it's game time, to be hard on you. I think guys respect that."
When he took over for Yeo, Berube made it clear he would hold players accountable. He also said the Blues needed to get their confidence back.
It took a while to take root, but eventually the Blues reflected the personality of the their coach: hard-working, physical, mentally tough and relentless.
After Berube took over, the Blues were 38-19-6 over the remainder of the regular season, going from last in the NHL on the morning of Jan. 3 to a playoff spot. That surge alone made Berube a finalist for the Jack Adams Award, which goes to the coach of the year. (He finished third in the voting.)
In the playoffs, the Blues won hard-fought series with Winnipeg, Dallas, San Jose and Boston to claim the Cup.
All of that was more than enough to bring Berube back.
"This is a proud day for me and my family," Berube said Tuesday in a statement. "I have a tremendous amount of respect for this team and this organization, and the city of St. Louis has embraced me as one of their own.
"This past season was the experience of a lifetime, and I'm anxious to get started on our title defense."
After taking over for Yeo, Berube took down the standings posted at the team's practice rink at the IceZone in Hazelwood. Why be reminded every day of their lowly status?
And as the season progressed, it became obvious that Berube was more than a motivator. He was pretty good with the Xs and Os when it came to lineup changes and in-game adjustments.
He benched David Perron for a game in December — but it was a two-way street. Berube listened when Perron said he could do more for the team, and the result was a bigger role for the veteran forward.
Berube had the conviction to make rookie Jordan Binnington his primary goaltender over the final three months of the regular season, but he also got valuable starts from Jake Allen as a road specialist.
Perhaps Berube's best work came in the aftermath of the "Hand Pass" game, against San Jose. He kept the team focused on the larger goal when it would have been easy to derail after a blown call.
At the NHL awards presentations last week in Las Vegas, Berube talked about his love for the grind of coaching.
"The day-in and day-out operations, and just being around the team every day," he said. "Going through what you go through in the playoffs. It's enjoyable for me. That's why I do this job. I enjoy that part of it. So it's nothing but fun for me."
He also talked about the relationship he has forged with Armstrong. It's all-but impossible to win in professional sports without a strong bond between coach and GM, and one that includes honest, open dialogue.
"Total respect," Berube said. "I respect Doug immensely. He may say something you don't like. Well, you just tell him that you don't like that, or you don't agree. And I think it's good. Because what happens is when he goes away and I go away we don't hold any grudges. We just hash things out right in front of each other, and we do what we've got to do to try and help the hockey club."
After Berube was fired as coach of the Philadelphia Flyers in April 2015, Armstrong hired him to do some scouting. Then he made him the coach of the Chicago Wolves, at that time the Blues' American Hockey League affiliate, then brought him onto the Blues' staff as an assistant.