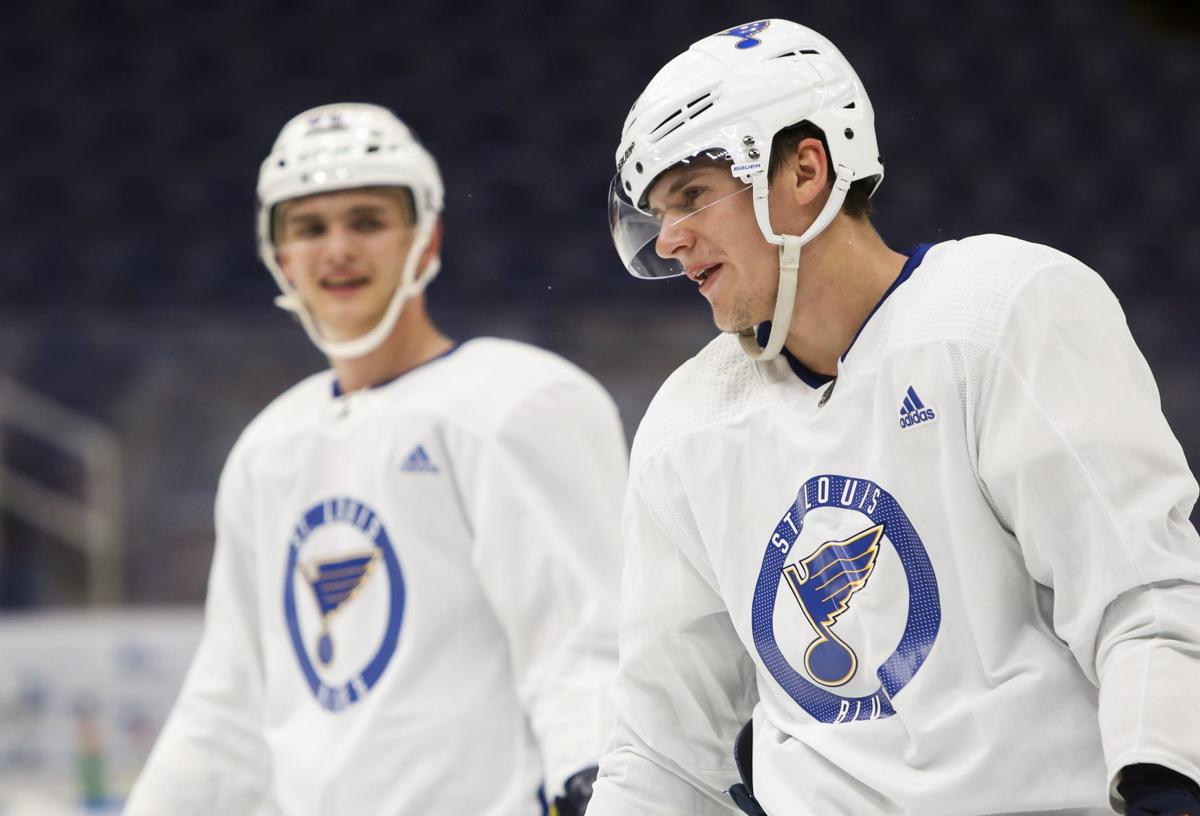 There will be Blues hockey played Friday in Michigan. OK, Blues "prospects" hockey. Nonetheless, the organization's annual trek to Traverse City for the NHL Prospect Tournament signals the beginning of another season.
The Blues' "varsity" starts camp next week. The first preseason game is Sept. 16 and ready or not, the regular season begins in less than a month, Oct. 2 against the Washington Capitals at Enterprise Center.
As for this weekend, many - but not all - of the Blues' top prospects take on their counterparts from seven other NHL teams.
The Blues are competing in the Gordie Howe Division with the Chicago Blackhawks, Detroit Red Wings and Toronto Maple Leafs. They open against the Toronto prospects Friday at 5:30 p.m. (Central), face Detroit on Saturday at 2:30 p.m., and close out division play Monday at 4:30 p.m. against Chicago.
Toronto is new to Traverse City this year, having replaced Carolina.
The Blues' prospects conclude tournament play Tuesday with a crossover game against a team from the Ted Lindsay Division, which includes the Columbus Blue Jackets, Dallas Stars, Minnesota Wild and New York Rangers. The time and opponent for Tuesday's game depends on how the Blues finish in their division.
The seventh-place game starts at 11 a.m. Tuesday on one of the two rinks at Centre Ice Arena in Traverse City. The fifth-place game starts at 11:30 a.m., the third place game is at 2:30 p.m., and the championship game starts at 4 p.m.
Columbus won last year's tournament, and has won three of the past five championships in Traverse City.
This is the 21st year of the tournament, and the Blues have won it four times - but not since 2004. Before that, they won three titles in a row from 1999 through 2001.
The Blues took a highly-regarded roster to Traverse City last year, one that included forwards Robert Thomas, Jordan Kyrou and Klim Kostin, as well as goalie Evan Fitzpatrick.
At the time, Thomas was the reigning playoff MVP in the Ontario Hockey League; Kryou was the reigning regular-season MVP in the OHL; Kostin had come off a season in the American Hockey League with San Antonio; and Fitzpatrick had led Acadie-Bathurst to the Memorial Cup championship - a tournament that features the playoff champions of the top three junior hockey leagues in North America.
Despite those credentials, that group struggled in Traverse City, going 1-2-1 in the tournament and finishing in seventh place. An 8-4 victory over the New York Rangers in the seventh-place game marked their only win.
Kyrou scored a hat trick in that contest, tying for the overall tournament lead with five goals. He rode that momentum into Blues camp and earned a spot on the team's opening-day roster although he was ultimately sent down to San Antonio on Oct. 29.
The Blues entered that tournament rated as having the No. 3 prospects group in the NHL by The Athletic and No. 5 by The Sporting News. So the Traverse City results were disappointing.
"Sometimes when you have a lot of expectations it plays with your head a little bit," Fitzpatrick said after the seventh-place game. "I'm really proud of the effort we put in (against the Rangers). We showed that our prospect system as a whole is a lot better than what people may think right now."
To a large degree, this year's team arrives in Traverse City without the press clippings of its immediate predecessor. Past prospects such as Thomas, Sammy Blais and Jordan Binnington "graduated" to the big club where they helped the Blues win a Stanley Cup.
And the Blues don't have a first-round pick to bolster their Traverse City roster from this year's draft, sending it to Buffalo as part of the Ryan O'Reilly trade.
As a result, the Blues' are ranked only 20th by The Sporting News in this year's prospects rankings, No. 19 by The Athletic and No. 23 by Elite Prospects.
Dominik Bokk, the Blues' most recent first-round pick (2018), will not be in Traverse City as he concentrates on his upcoming season for Rogle BK in the Swedish Hockey League.
Kyrou, who's coming off kneecap surgery and already has played in three Traverse City tournaments, won't be attending, either. Nor will promising defenseman Niko Mikkola, who was impressive in Blues camp last September before spending the season with San Antonio. He then was one of the top performers for Finland's gold medal-winning team at the World Championships in May.
But Kostin is back for his third go-around in Traverse City. The roster also includes forward Nikita Alexandrov, the Blues' highest pick in this year's draft (Round 2, No. 62 overall). Another player to keep an eye on is forward Alexey Torpchenko, a fourth-round pick in 2017 who starred in the junior hockey playoffs this spring for the Guelph Storm of the OHL with 13 goals in 24 games.
Defensemen Mitch Reinke and Tyler Tucker also bear watching. Reinke was signed as a college free agent during the 2017-18 NHL season and had a productive AHL season in San Antonio with 12 goals and 33 assists. Tucker was a seventh-round draft pick in 2018 and showed surprising scoring prowess for the Barrie Colts of the OHL last season with 14 goals and 45 assists.
All told, the Blues' 24-man roster in Traverse City includes 12 Blues draft picks and 14 players who took part in the team's post-draft development camp at Enterprise Center at the end of June.
The competition should be stiff in Michigan. The Chicago prospects roster, for example, features a first-round pick from each of the Blackhawks' past three drafts: center Kirby Dach (2019), defenseman Adam Boqvist (2018) and defenseman Nicolas Beaudin (2017).
Forward Kaapa Kakko, the No. 2 overall pick in the 2019 draft, is on the New York Rangers' roster for Traverse City.
---
Quick Hits: Thomas on the Blues
BRINGING THE BAND BACK TOGETHER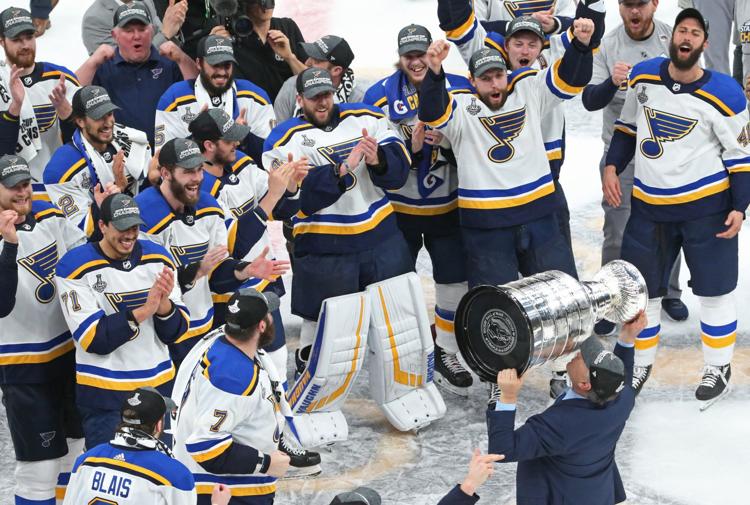 QUESTION: I'm jacked about the fact that most of the team is returning. Maybe it's recent Stanley Cup bias, and there is a bit of a risk being so close to the cap, but I love this team's tenacity and most of the top players should have a few good years left in the tank. Good move, in your opinion?
JIM THOMAS: I think it's a plus to basically have a defending Stanley Cup championship team return intact. There's a lot of character on the team, and even if that wasn't the case, Craig Berube has shown he will keep them motivated.
The team will miss Maroon's tenacity and physical play, plus his locker room and on-ice presence. But I think that means players such as Blais, Sanford, Fabbri and MacEachern have the opportunity for larger roles.
And certainly Kyrou is expected to make a push for a roster spot.
NEVER TOO EARLY TO TALK ABOUT THE LINES!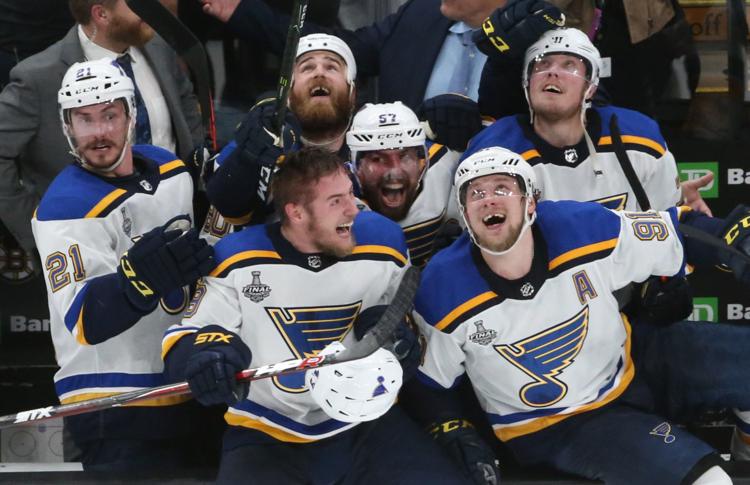 QUESTION: With Barbashev and Maroon figured out, what is your guess on the opening night roster and who are the two extra skaters?
JT: Potential lines:
Schwartz-Schenn-Tarasenko
Sanford-O'Reilly-Perron
Blais-Bozak-Thomas
Steen-Barbashev-Sundqvist
Extras: Fabbri, MacEachern. (Under this scenario Kyrou does not make opening-day roster.)
On defense:
Gunnarsson-Pietrangelo
Bouwmeester-Parayko
Dunn-Bortuzzo
Extra: Edmundson (Yes, it seems odd to have Edmundson as an opening-day scratch, but somebody has to sit, barring injury.)
Goalies: Binnington ... Allen
BOTTOM LINE ON THE MAROON DECISION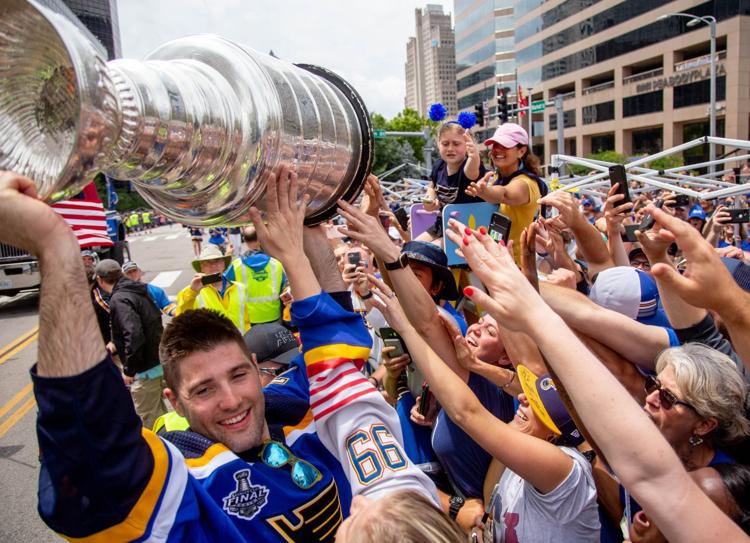 COMMENT: Loved the Barbishev re-signing, and had to agree on the Maroon decision. Your take?
JT: Barbashev is only 23 and has plenty of upside. Maroon is 30, and pretty much what you see in him now is what you get. So I can understand the decision-making, although in no way do I want to demean Maroon's contribution in 2018-19 and what he brought to the team in terms of intangibles.
It was clear that signing all the RFAs was the priority for Armstrong this offseason. A few of them, in my opinion, may have come in a little higher than expected. And that ended any chance of there being enough money to bring back Maroon.
WHO FILLS THE MAROON ROLE?
COMMENT: Seems like M MacEachern should be able to fill the Maroon role quite well, maybe better in the regular season, than Maroon did. He got regular ice time until late in the season.
JT: MacEachern was a forgotten man down the stretch. He was a healthy scratch in the last 10 regular-season games as well as all 26 playoff games. But he has some size to him (6-3, 197) and isn't afraid to hit somebody. Hasn't displayed great offensive prowess, but once in a while he will surprise. So I can see what you're saying to a degree.
Another candidate could be Sammy Blais on the third line. Blais hasn't shown himself to be one that drops the gloves, and hasn't really been a net-front presence. But obviously he will throw his body around. Also, Klim Kostin has shown himself to be very physical in San Antonio, will drop the gloves, but still may need some AHL seasoning.
SURPRISED BY TERMS OF BARBY'S DEAL?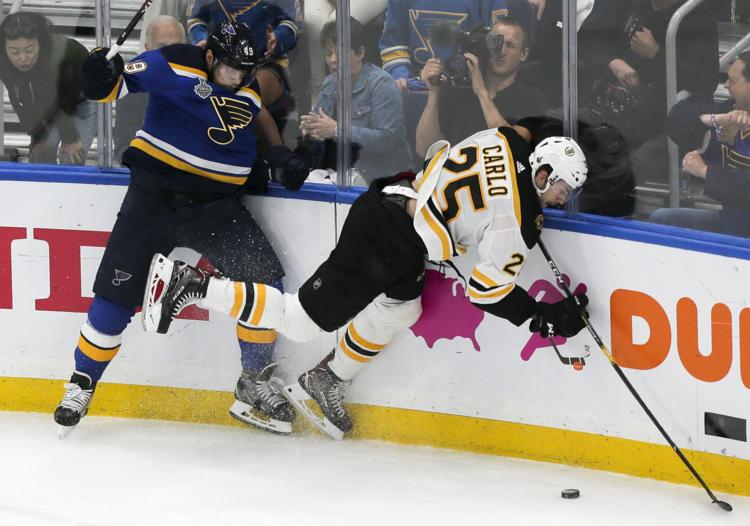 COMMENT: I was surprised by the contract terms for Ivan Barbashev. I thought he would have gotten more $$$ and perhaps another year.
JT: Agreed. I thought he'd get closer to $2 million, but $1.475 million a year is still a nice boost from the $863,000 he was making. Keep in mind, he's still not arbitration eligible after this two-year deal ends, so that hurts his leverage.
As for the contract length, if you're Barbashev, you get more money and a little security with the 2-year deal, but you don't want to box yourself in for longer if you continue to progress like you did last year.
EXPECTATIONS FOR A REPEAT?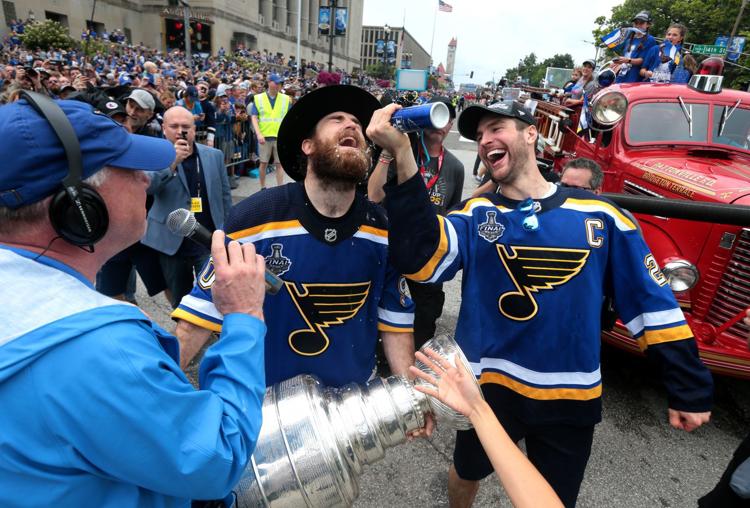 QUESTION: Can (will?) the Blues repeat as Cup champions? Or should we brace ourselves for the boys to fall victim to a massive hangover this season?
JT: History says no repeat, and I don't expect a repeat.
I think some kind of hangover is possible — a slow start wouldn't shock me in the least. But I don't expect a "massive hangover." I think the massive hangovers took place in late June.
TRADE TALK INVOLVING SCHENN?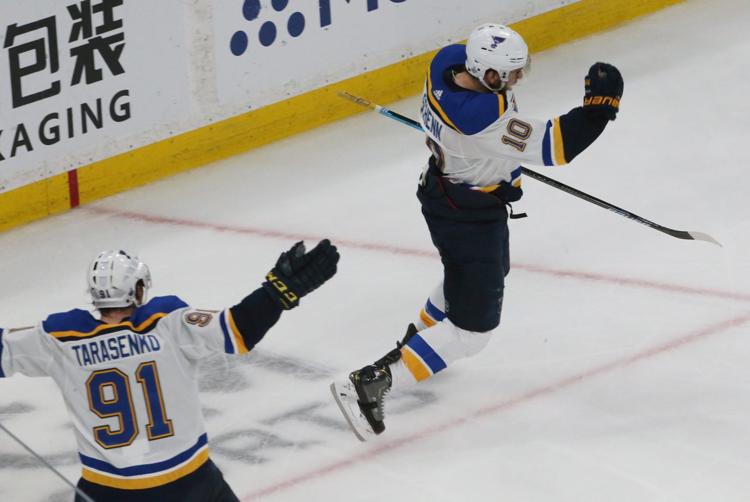 QUESTION: Why is there discussion about Schenn being traded? What's going on there?
JT: I haven't really heard much chatter on that front, but I guess I understand it given the Blues' cap situation, the fact that Schenn's production was down last season, and the fact that he's entering his walk year.
I'm sure the Blues would like to make room on the roster for Kyrou and Kostin at some point in the near future — this year or next.
---
Follow-up: What players one from the Blues varsity rooster and the other a prospect within the organization you suppose currently have the highest trade value?
JT: I guess I'd have to say Kryou and Schenn. And that's with the assumption that Parayko and Thomas aren't going anywhere.
---
Follow-up: How would you feel of a trade of Gunnarsson (maybe to Calgary) for a draft pick, to free up more cap space? Maybe Fabbri as well.
JT: Well, it wouldn't free up much. Combined Gunnarsson and Fabbri count only $2.65 million against the cap
ALL EYES ARE ON . . .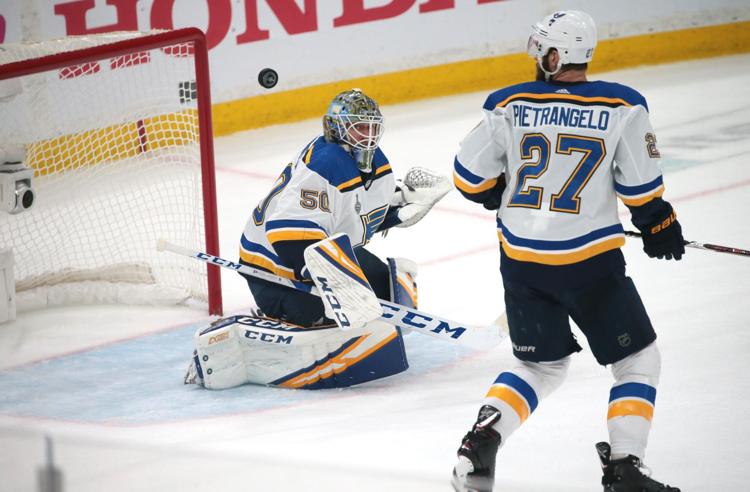 QUESTION: What one player on the team has the most pressure to perform better than ever before?
JT: Interesting question. Not that it's fair to expect him to be better, but I'd say all eyes will be on Jordan Binnington again this season. He won't sneak up on anyone this season.
---
Follow-up: How likely is Allen to be trade bait for a contending team at midseason, should their primary goalie go down before then?
JT: I'ts certainly in the realm of possibility, depending on how Binnington plays, how Allen plays, and just as importantly, how Husso plays in San Antonio.
DOES THAT AMOUNT OF CAP SPACE REALLY HELP?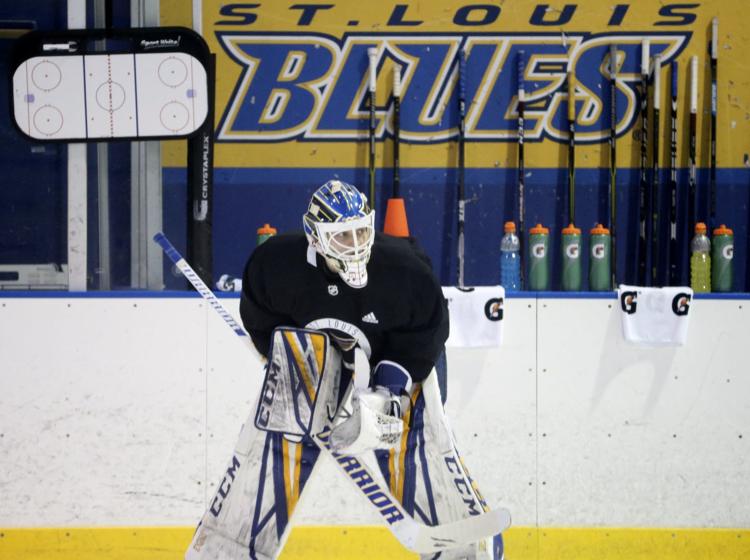 QUESTION: Please explain how the $1.2 million left under the cap would be used to solve an injury shortage.
JT: Simply stated, say Jordan Binnington gets hurt, Ville Husso is called up, Husso's salary counts against the Blues cap if he's at the NHL level. He would make $700K at the NHL, pro-rated of course.
So if he's up for one-10th of the season, it would be $70K. And so on.
LOOKING AHEAD TO YEAR 3 ON THE BEAT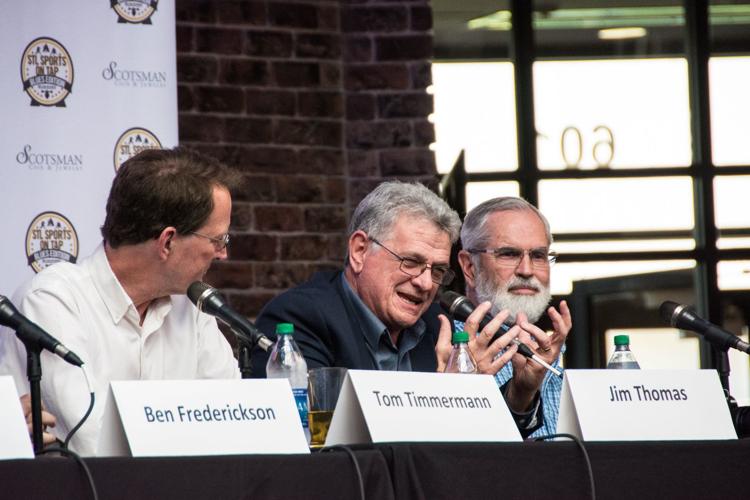 QUESTION: As you start Year 3 with the Blues, are there any aspects of the hockey beat that stand out as your favorite or least favorite? Is there anything you know now that you wish you had known on Day One?
JT: I love the speed of the game. I like the fact that the game basically is all in front of you — unlike football where you really can't get a great feel for line play unless you watch game tape. The access is good. Love the Canadian travel, specifically the western Canada trips. Writers, PR staffs around the league are good to deal with.
Playoff intensity was more than I anticipated.
On the minus side, the deadlines for night games can be nerve-wracking. There are occasions when I wish it was an open locker room instead of a few select players available postgame — although Blues PR does a good job of getting us who we need. Those are just a few things off the top of my head.
WHERE'S GARRY UNGER?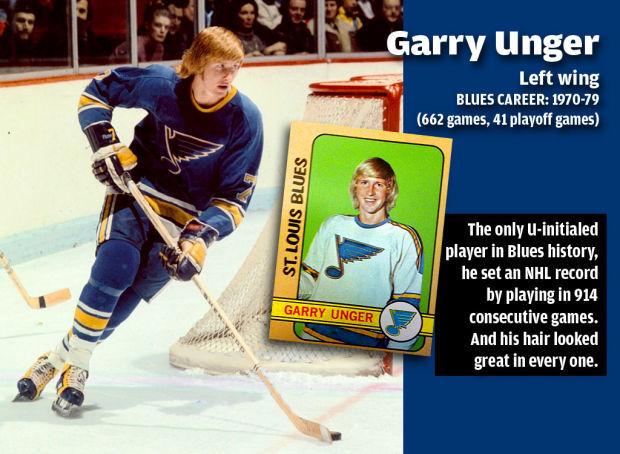 QUESTION: Has anyone checked in with my boyhood idol Garry Unger, either during or after the Blues' epic run to winning the Cup?
JT: Not to my knowledge. I can remember going to a Blues game with some friends during Unger's time here. After the game, we waited at the players' entrance and out came Unger with a blonde on his arm, stepping into a sports car and driving off into the night. Just as you'd imagine it, right?