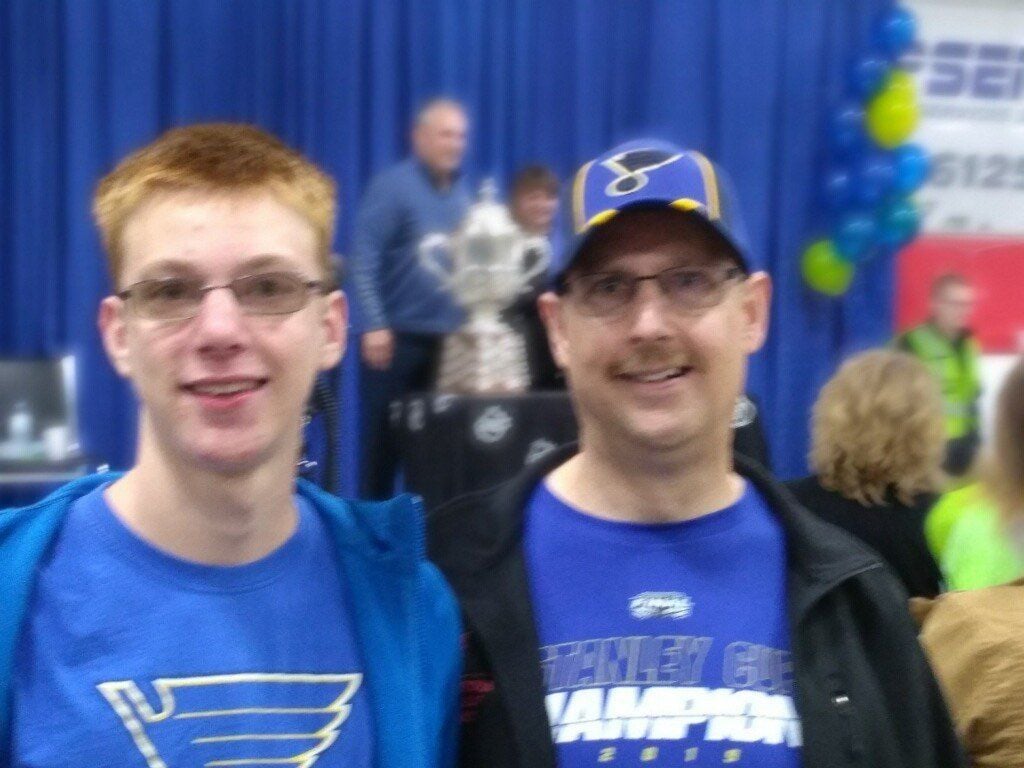 Ninth in a series of dispatches from Canadian quarantine.
EDMONTON, Alberta — Normally, you don't see much in the way of St. Louis Blues garb in these parts. It is, after all, the home of the Oilers. But John Hellwege wears his Blues hat proudly, and wears it all over town.
"Never get any grief about it," Hellwege said.
"During the run to the Cup, the average person in Edmonton — and I feel it was actually even more Canada-wide — was really pulling for the Blues.
"At first, they pull for their own team. In this case the Oilers in Edmonton, and then it's for other Canadian teams. And as soon as there aren't any Canadian teams to root for, then they really fell in love with the Blues.
"The story of worst-to-first. And (Jordan) Binnington literally coming out of nowhere to lead the team. Everybody I ran into at that point was like, 'Oh yeah, we're hoping the Blues win.' "
Of course, as far as Hellwege was concerned, it was love at first sight. The St. Louis native moved here in 2015 from the Gateway to the West. He's a professor and dean of students at Concordia Lutheran Seminary in Edmonton.
Even five years in this Oilers-crazed town hasn't swayed Hellwege's allegiance to the Bluenote.
"Blues fan, No. 1," Hellwege said. "I support the Oilers as a second, but grew up as a Blues fan very much so. When they won the Cup it was just something I had been waiting for literally my entire life. The last time they had been in the Stanley Cup finals was a couple months before I was born."
I met Hellwege and his son Nathan at the Cup day for Craig Berube in late June 2019 in Calahoo, about 45 minutes or so from downtown Edmonton. The line was so long to get a photo op with the Blues' coach and the Stanley Cup, that the Hellweges never made it to the stage.
They had to shut off the line after a few hours, so Berube could make it to his family celebration just outside of town.
"But it was still a thrill to be there and to actually see the Cup in person," Hellwege said. "To see 'Chief' there and that, it was a great thrill."
Post-Dispatch Blues beat reporters Jim Thomas and Tom Timmermann joined columnist Jeff Gordon to discuss the team's final Stage 3 preparation …
Maybe he'll get to stand in line again if the Blues win another Cup. (I'm sure he'll show up early next time.) He certainly doesn't want to wait another lifetime for the opportunity.
Hellwege attended the Blues-Oilers game here on Nov. 6. You may remember, a 5-2 St. Louis victory and the night Robby Fabbri got traded. I didn't have time to renew acquaintances that night — the Blues were in and out of town.
I hope to do so once my quarantine ends. But it'll have to wait a while because Hellwege currently is visiting family back home. That's right. The sportswriter from St. Louis interviewed him on the phone from Edmonton, while the professor from Edmonton was back in St. Louis.
Somehow fitting in these strange times.
CHRONICLE UPDATES
From Dispatch No. 6: Win some, lose some. To the person who asked how much the dry-cleaning cost for my sports coat: $16.54 (Canadian). Yeah, I thought that was a little high, too.
Trash cans in my hotel room were emptied for a second time, so we're looking pretty fresh in here.
After a two-day pause over the weekend it was back to tuna on wheat for lunch today.
Burger standings to date: Gold — Local Omnivore; Silver — A&W; Bronze — Harvey's. (I had heard good things about Harvey's. Maybe I'll try again later.)
Follow Jim Thomas' Quarantine Chronicles
Blues beat writer Jim Thomas is in Edmonton to cover the team during the rest of their season.
The latest STL Blues hockey news, NHL headlines, scores, standings and rosters.