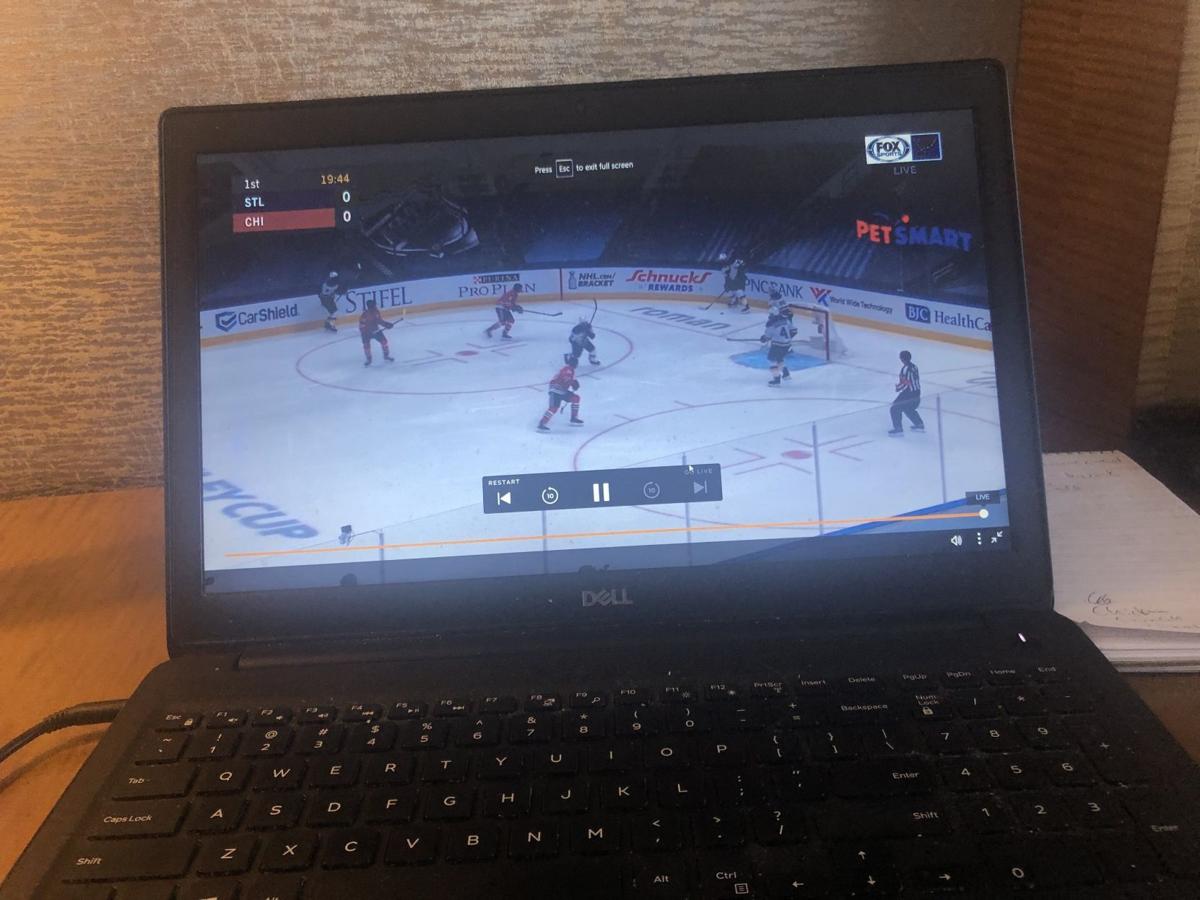 (11th in a series of dispatches from Canadian quarantine.)
EDMONTON, Alberta — The NHL and NHL Player's Association put this all together so quickly, it was a mad dash to get up here and start the 14-day quarantine. It wasn't until after 6 p.m. St. Louis time on Thursday, July 16 that I had been approved to attend the games here in the Edmonton bubble.
I was on a plane that Saturday morning, knowing my quarantine would be finished in time to cover the Blues' round-robin games and whatever other playoff games they might have. But I wouldn't quite be out of the "Q" in time for Wednesday's preseason game against the Blackhawks.
So other than being able to ask questions to Craig Berube and a couple of players afterwards, I was pretty much in the same shape as anyone watching the game back in St. Louis. Well, actually I was in worse shape. Here's why:
Outside of St. Louis, Wednesday's game was available on the NHL Network and NBC Sports Network. I went up and down the list of channels on the big beautiful flat screen TV in my hotel room only to discover no NHL Network and no NBC Sports Network.
OK, I can maybe see no NBC Sports Network. But this is Canada. Birthplace of hockey. How could there be no NHL Network? But as Isaac Bruce would say _ and I believe he coined the phrase _ it is what it is.
So I went to the handy FoxSportsGo.com function and watched the game from my laptap. All good, right?
Uh, no exactly. The streaming was choppy, cut out a couple of times, which I attribute to getting a notification late in the first period from my mobile device company that I had used all of my hotspot high-speed data for the billing period.
(You may have remembered, and you're forgiven if you don't, in an earlier Chronicle I mentioned the cellphone hotspot feature is a key to sending stories and fully functioning in social media in Canada.)
Anyway, I saw more than enough of the game to make sense of it. After the game, with the lower-speed data, I couldn't get into the P-D computer system to send the story. But I was able to email it, and Don Reed, a pro's pro running the desk back in St. Louis, did the rest.
Because of those issues, I wasn't on Twitter much last night during the game. Also, after 4 ½ months without writing a game story I was a little rusty, you know, kind of like the Blues on the ice.
Yes, I've been doing this for a long time, probably a few thousand games stories.
(One of my sons, who all got their sarcasm from their mother, once asked what it was like writing on stone tablets. I don't go that far back, but my first Post-Dispatch stories were via typewriter _ yep, pre-computer.)
So as the players sometimes say, I needed the reps last night.
Hopefully, you read Ben Hochman' column about Vladimir Tarasenko and Tom Timmermann's Blues notebook off of Wednesday's game, written from back in St. Louis. Informative, insightful and entertaining as always. Normally, we'd be sitting side-by-side in a press box engaging in the usual in-game chatter of things like:
_ Did Blais just get hit with a puck?
_ Is that MacEachern on the Thomas line?
_ What's going on in the Cardinals' game.
_ I know this is an exhibition game, but man they look bad!
We still made such comments Wednesday night, only this time via text. Such is life in the coronavirus age.
But enough of this. On Thursday morning, I called my mobile device provider and tripled my high-speed GB capacity. It will help in sending stories, but it won't be needed to watch games on my laptop. My quarantine ends at the stroke of midnight on Saturday, and I will be attending the Blues' round-robin open in person Sunday.
There's nothing like watching a game in person.
The latest STL Blues hockey news, NHL headlines, scores, standings and rosters.