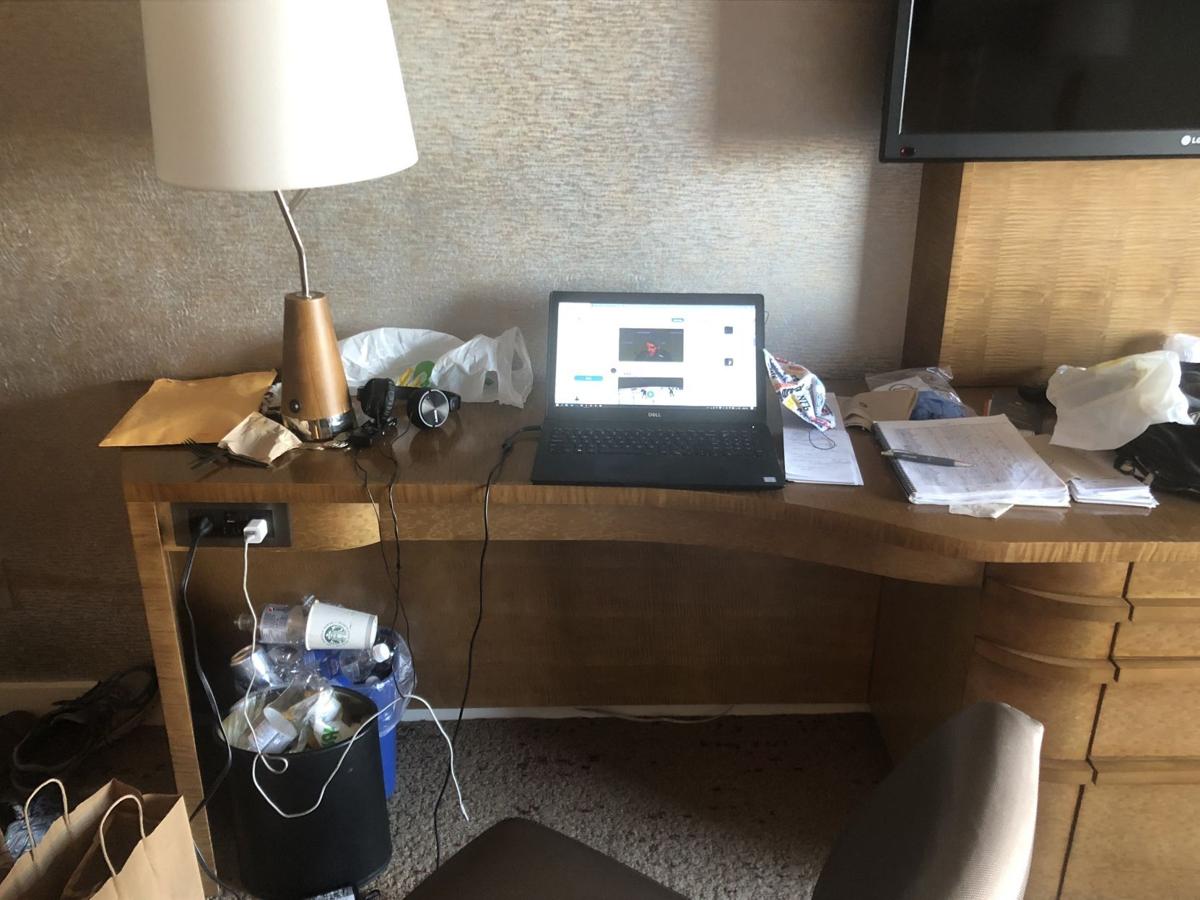 (Fourth in a series of dispatches from quarantine.)
EDMONTON, Alberta — During the heyday of the "Greatest Show on Turf," lots of nationally prominent media members found their way to Rams Park in Earth City.
One of the semi-regulars was Lesley Visser, a Hall of Fame sportscaster/reporter and a trailblazer among women in the industry. She'd usually stop by to say hello in the media workroom, and on one such trip, she chastised me — good-naturedly — about my messy work area.
I relayed this to Georgia Frontiere, the late owner of the Rams. Georgia was a world-class eccentric, but had a knack for making people feel better about themselves.
"A messy desk is the sign of a creative mind," she told me.
With that in mind, on Day 4 of my quarantine, my desk is getting messy.
It has been a busy four days in my 11th floor room at the Westin: getting organized for what lies ahead, trying to work ahead, and writing daily stories.
Wednesday went like this:
— Woke about 7 a.m. local time, coffee, transcribed phone interviews with prospects Tyler Tucker and Joel Hofer.
— At 9 a.m., watched live stream of Blues scrimmage in St. Louis. Lots of scoring.
— About 11 a.m. took part in Zoom call from St. Louis with coach Craig Berube and a couple of Blues players. After Zoom call, had daily call with colleague Tom Timmermann, our eyes and ears at Centene, to talk shop and coverage plans.
— Noon, started Blues chat. Surprised by low number of questions this week.
— About 2:45 p.m., finished Blues chat.
— Napped for about an hour.
— Wrote story on prospects Tucker and Hofer and their experiences at Phase 3 (training camp).
— Around 7 p.m., radio hit with Brendan Wiese on the Big 550, KTRS.
— Around 7:30 p.m. called home for another lecture from wife about staying in the room.
— 8 p.m. time to write latest Quarantine Chronicle.
Hey, lots of people work harder at more important things in life than hockey. And as my dad used to say: "It beats digging ditches."
The pace will slow down over the weekend, which is when the temptation to leave the room could hit an early peak.
Watched a little TV a couple nights ago; wanted something Canadian and there was a History Channel-style documentary on the First Nations. Interesting.
Ordered tuna on wheat from Subway for lunch for third day in a row. Must break out of that rut. About to get some dinner now.
One week from today, Blues are scheduled to play an exhibition game against the Blackhawks. I really think this is going to happen.
The latest STL Blues hockey news, NHL headlines, scores, standings and rosters.