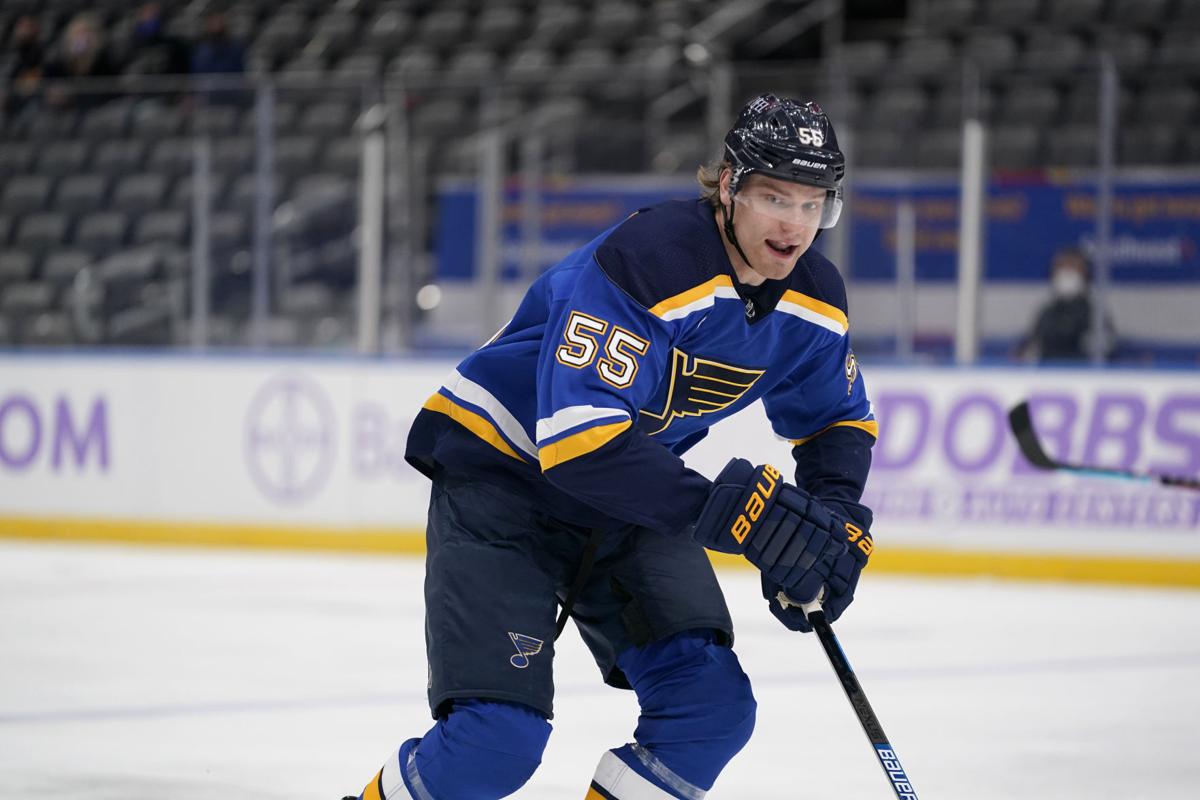 Granted, it's a far cry from the franchise record 11-game winning streak that propelled the Blues into the playoffs and on to the Stanley Cup two years ago.
But the Blues finally have a little wind in their sails with a three-game winning streak. Enough so, that general manager Doug Armstrong made Monday a no-trade deadline.
"It's definitely a vote of confidence," defenseman Torey Krug said, referring to Armstrong's decision not to alter the roster. "Any time you have this lineup coming out on the ice, we have a chance to win.
"From Day 1 we've felt that we've had the roster that can do big things this year. Obviously we haven't played up to our standards so far, but we're getting close."
In terms of victories — three in a row — the sample size is small. The remaining schedule is daunting. But the Blues are showing signs of a team that's gaining momentum.
"Yeah, you can feel it," Krug said. "The confidence in the locker room has improved drastically. We've been playing OK as of late before the winning streak. There were a few games there where I think we deserved a better fate. But the reality of it is it's a game of results. Now we're getting results, so the confidence improves."
With the exception of two very large hiccups against Vegas — losses of 5-1 and 6-1 — the Blues have been playing good defense since they swept a back-to-back in San Jose on March 19-20.
"We played two solid games there," coach Craig Berube said. "We get a hiccup in Vegas, that game for me in the third period. We went to Minny and the two games against Anaheim at home — they're all winnable games that were right there to win.
"I thought we played solid defensively in all those games. But we didn't win. Like I said, you gotta find ways to win. You gotta keep checking, you gotta keep playing desperate, hard hockey and doing all those things. Blocking shots and all those little things that are needed. And then you gotta find a way to get the puck in the back of the net."
Starting with a 2-1 shootout win over San Jose on March 18, the Blues have a 2.67 goals-against average over their last 12 games, which is more than half a goal per game better than the 3.24 GAA they had posted up to that point in the season.
More recently, the goaltending has improved noticeably, and the return of defenseman Colton Parayko from a back injury has further stabilized the back end. Parayko may not yet be the best version of himself, but he seems to be getting closer with each game.
"The last game especially (Saturday against Minnesota), I think I mentioned something to him because it looked like he was closing quicker," Krug said. "He felt a little bit more comfortable entering the corners and closing out plays
"When he's doing that, the rest of the game picks itself up and he's a big presence for us. It's exciting to have him back."
And at long last, the Blues have been able to score a goal or two — or nine — thanks to contributions that had been missing from slumping core players, defensemen jumping into the play, and third- and fourth-line depth scoring.
In the 3-1, 9-1 and 3-2 victories over Vegas, Minnesota and Minnesota respectively, the Blues held their opponents to two goals or less in three consecutive games. A modest achievement to be sure, but it's the first time that's happened all season.
It also marks the first time they've scored as many as three goals in three consecutive games since the first week of March.
"The scoring's coming," Berube said. "We gotta continue to push scoring goals and find ways to score goals. Power play's part of it. I feel like some of our guys that were out a long time are starting to come around and find that groove."
Jaden Schwartz, Zach Sanford and Justin Faulk all ended lengthy scoring droughts. Mike Hoffman and Vladimir Tarasenko picked up the pace. Role players such as Sammy Blais and Ivan Barbashev chipped in.
Hoffman's two goals in Saturday's 3-2 overtime win against the Wild may have helped keep him around. He's an elite scorer, and a streaky scorer. If he comes alive down the stretch it could go a long way toward getting the Blues into the playoffs, and more.
"It's always great to have a guy — as you saw last game — with that scoring touch," Sanford said. "That knack for the net.
"For players like me and Bozy (Tyler Bozak) playing with him, it's getting those pucks, looking for him, giving him those opportunities to shoot with the elite shot he's got. We know he's gonna be able to put some pucks in if he gets those chances."
Playing on the third line Saturday with Sanford and Bozak, Hoffman had a team-high nine overall shot attempts, his second-highest total of the season.
So a lot of arrows are pointing up for the Blues right now. But three consecutive wins, however encouraging, won't mean much if the Blues can't sustain that level of play. While, as Krug says, getting the results. It has been good enough to put them in playoff position, one point ahead of Arizona for fourth place in the West Division.
However, one bad week could put them right back in fifth or sixth place, and on the outside looking in. Starting with Wednesday's contest against Colorado at Enterprise Center, 11 of the Blues' final 15 contests are against either the Avalanche, Golden Knights or Wild.
"It's gonna be an exciting last 15 games," Parayko said. "Obviously a lot of good opponents which is good. It's gonna be a good challenge for us going into the playoffs and getting ready for playoffs. We're ready to take that head on."