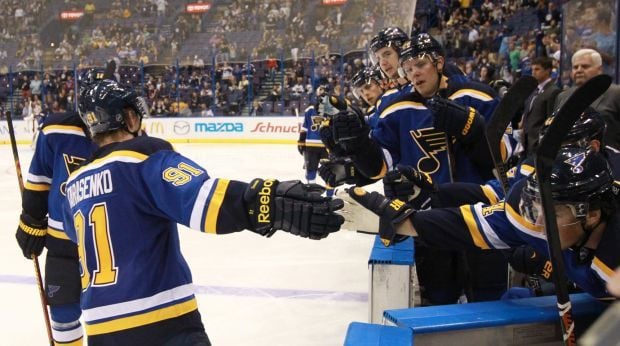 At the end of the Blues' pressbox during many home games is a silver-haired man in a business suit. He has neither a pen, nor a notebook.
Paul McGannon is the president of NHL21, a private Missouri corporation that is a civic group of passionate hockey fans with a goal of one day luring an NHL franchise to Kansas City. NHL21 has been in existence for 11 years and McGannon estimates that he attends 10 Blues' home games per season, meaning he has made the eight-hour, round-trip drive to St. Louis more than 100 times.
The Blues seem secure here with new a ownership group, led by Tom Stillman, but with the NHL currently open to the idea of expansion and ongoing speculation about franchise relocation, Kansas City simply wants to keep its name in the conversation and can do that by hosting preseason games.
"The main purpose is to satisfy my inner appetite for NHL hockey," McGannon said. "But you know, I love coming over to St. Louis because the Blues have always been a fantastic host for NHL21. I just say hello to the general managers and the decision-makers who decide on what the Blues want to do, as far as playing a game in Kansas City. I just think it helps to have a name and a face with a city."
The mileage that McGannon has put on his car has paid off again, as the Blues will play their fourth exhibition game in Kansas City since 2003 when they face the Dallas Stars at 7 Saturday night at Sprint Center. After three Blues' preseason games in front of an average crowd of 12,629, officials say that tonight's game is close to a sellout at the Sprint Center, which seats 17,200 fans for hockey.
"There's a lot of Blues fans here," McGannon said. "It's just awesome that the Blues have agreed to come over here. We are so appreciative of any NHL product that we can get here, but having the Blues is icing on the cake because there's so many Blues' fans here."
The proximity, of course, is a primary factor, but also past history.
The Kansas City Scouts played in the NHL from 1974-76 before relocating to Denver, where they were the Colorado Rockies, and then in 1982 to New Jersey, where they became the Devils. Then there were the Kansas City Blues, who were the minor-league affiliate of the St. Louis Blues in the Central Hockey League, housing hockey greats such as Doug Harvey, Barclay Plager, Bernie Federko and Brian Sutter.
In the last three-plus decades, Kansas City has had the Blades of the International Hockey League, the Outlaws of the United Hockey League and the Missouri Mavericks of the Central Hockey League. But not since the Scouts has the city touted an NHL franchise.
"At some point in time, we're now over 2 1/2 million (population), we'd like to have our own team," McGannon said. "We have great ownership groups here in Kansas City with the Chiefs, Royals and Sporting KC (of Major League Soccer). We are contenders and compete in those three major leagues and we'd like to do the same in the NHL."
Kansas City has been linked to Pittsburgh and Phoenix, but those franchises stayed put. There was interest in Atlanta, but the Thrashers relocated to Winnipeg. With the NHL intent on keeping clubs in their current cities, expansion seems to be the more likely scenario, if one exists.
But the city appears to be in direct competition with Seattle, Las Vegas and Quebec City to name a few possible suitors.
"So our thought is fill the building, make a great impression and be a viable option for the NHL should the need appear," McGannon said.
A matchup between Pittsburgh and Los Angeles on Sept. 27, 2011, attracted a record hockey crowd of 17,544 at Sprint Center. In a busy few sports days for the city, which will host Monday Night Football between the Chiefs and New England Patriots, organizers are hoping to top that hockey number Saturday night.
"That's our goal, we'll see if we can hit it," McGannon said.
Chris Stegmann, 27, of Overland Park, Kan., will be in attendance. His father, David, is from St. Louis, and the family makes annual trips to St. Louis to see the Blues.
"I heard about (the game) in late spring and I immediately knew that I wanted to go," Stegmann said. "We've been waiting a long time to get hockey back. But there's absolutely no way I'd (break ties with the Blues). I'd still be a Blues' guy."
While Kansas City is welcoming the team, the trip is equally beneficial to the Blues.
"We have season-ticket holders that live in Kansas City," said Chris Zimmerman, the club's CEO of business operations. "We know that there are people that love the Blues and so the chance for Kansas City hockey fans to see the Blues is a great opportunity for us to continue to build and reach outside of the immediate local area. Obviously Kansas City wants to continue to develop and prove to the world that they're a great expansion opportunity. That would be a great rivalry, no doubt, over time."
In addition, it would save McGannon a long drive.
"The good news about this game, it's 15 minutes door to door from my house," he said. "I never kick myself (about the drive) because ... it's a dream and we're hoping that the dream becomes reality. I just know that Kansas City is more than capable of having an NHL team someday."