The Blues closed training camp with the second scrimmage of their now-you-see-it, now-you-don't preseason, this time Sunday in an almost entirely empty Enterprise Center. On Monday, they will set their roster for their 56-game season that starts on Wednesday in Colorado.
Not that his spot was in doubt, but Jordan Kyrou strengthened his case by scoring two goals in the Blue team's 4-2 win over the White team, which was to have been expected because the team's top three lines all were on the Blue team. The White team got its only goals in special-team work at the end, with two goals into an empty net while defending six-on-five practice.
Kyrou and his linemates, Zach Sanford and Tyler Bozak, all had good nights. Sanford assisted on Kyrou's first goal and Bozak on his second.
"Sanford, that was the best he's looked so far in camp," coach Craig Berube said. "Bozak looks like he's skating well and doing all the things he normally is doing well, and Jordan's skating well. He's got good jump out there and good speed and that line ended up getting a couple goals."
The decisions for the Blues will come on the margins, and in some cases will involve who makes the team and who makes the six-man taxi squad of extra players who will travel with the team but not technically be on the roster. Some of those moves might be dictated by their salary-cap complications. The Blues also need to officially sign forward Mike Hoffman, who scored the fourth goal of the night for the Blue team. He has been in camp on a tryout basis, though he's not really trying out.
"On the back end, (Niko) Mikkola has had a good camp in my opinion and played pretty well," Berube said. "Up front, I think our team's pretty set. We're pretty deep. It's kind of set already up front. There were a lot of guys that look good up there and like I said, we're going to need the extra players with the schedule and injuries and things that happen, so it's important we have good depth."
For the taxi squad, Berube said, "I like to have guys that can come up and play and help. That's what we're going to look at."
Not only does Kyrou look to have locked up a roster spot, but he figures to start the season in the group of 12 forwards rather than as an extra. And Berube's decision to put him on the third line with Sanford and Bozak looks to be working well.
"We're all pretty smart players," Kyrou said. "It's easy to play with those guys. So we're just connecting well."
"He had some beautiful goals," captain Ryan O'Reilly said. "You see the way he's playing away from the puck, he's being heavier. He's playing that style and he's only going to be more effective, so it's nice to see that and see him developing into the player he is."
The power play got some looks, and it took just 12 seconds on the first try for O'Reilly to score.
"It was nice to get that game look," O'Reilly said. "I thought we moved around really well. It's a little difficult when you're going against your own guys and you know how good (David Perron) and 'Hoff' shoot the puck for one team, you can tell it's effective. We had some good looks out there."
Notes
Unfortunately they weren't on the same line on Sunday night, but forwards Mackenzie MacEachern and Curtis McKenzie were on the White team for the Sunday scrimmage. It was one of the few times they've been on the ice together in camp, since they've been in separate practice groups.
MacEachern is a likely candidate for the team, unless the Blues were to decide to carry one less forward for salary-cap reasons, and McKenzie would be a depth forward.
Also on the White team, and on a different line than MacEachern or McKenzie, was forward Hugh McGing and defenseman Niko Mikkola.
• One-time Blues defenseman Michael Del Zotto, who got his name on the Stanley Cup, signed a one-year, two-way contract with Columbus on Sunday.
• St. Louis-based Tim Peel was the lone referee for the scrimmage.
Blues hold first scrimmage at Enterprise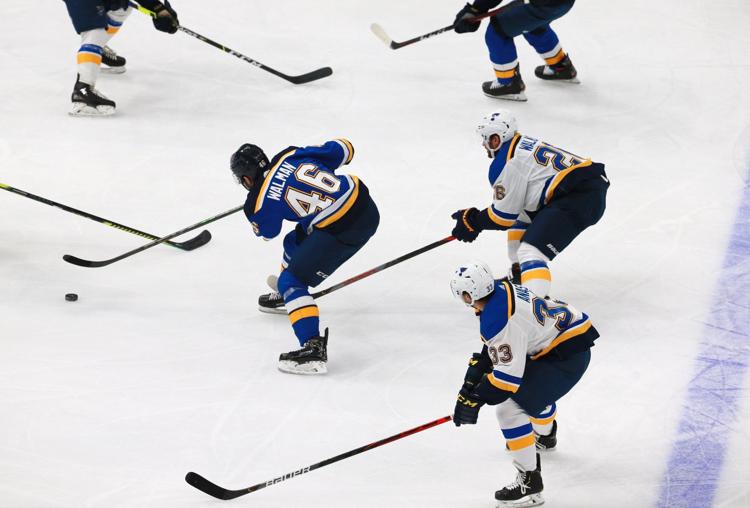 Blues hold first scrimmage at Enterprise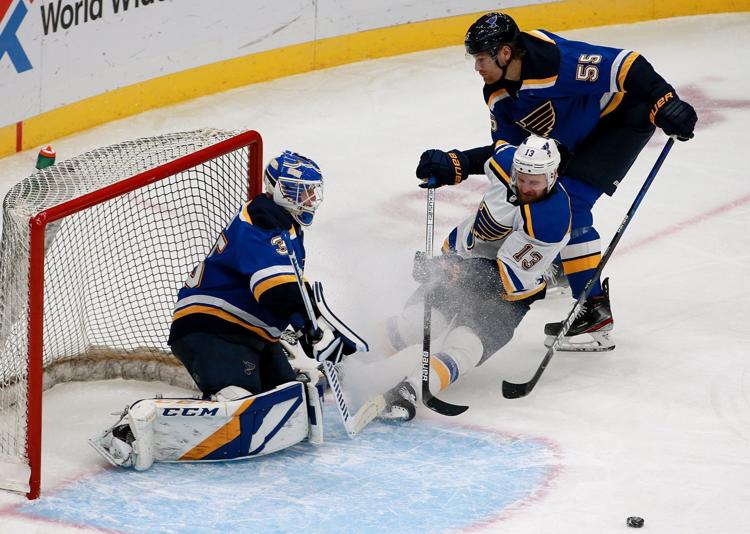 Blues hold first scrimmage at Enterprise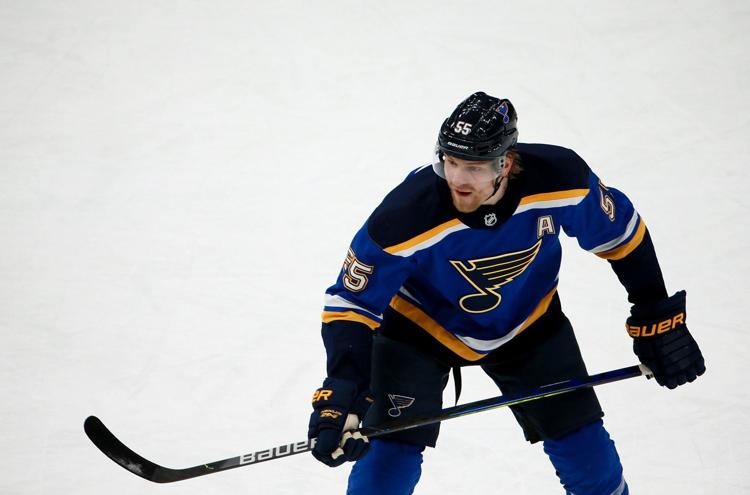 Blues hold first scrimmage at Enterprise
Blues hold first scrimmage at Enterprise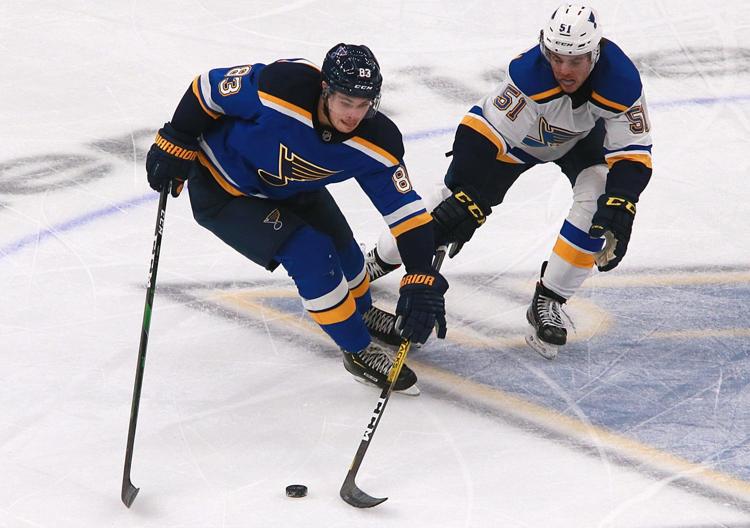 Blues hold first scrimmage at Enterprise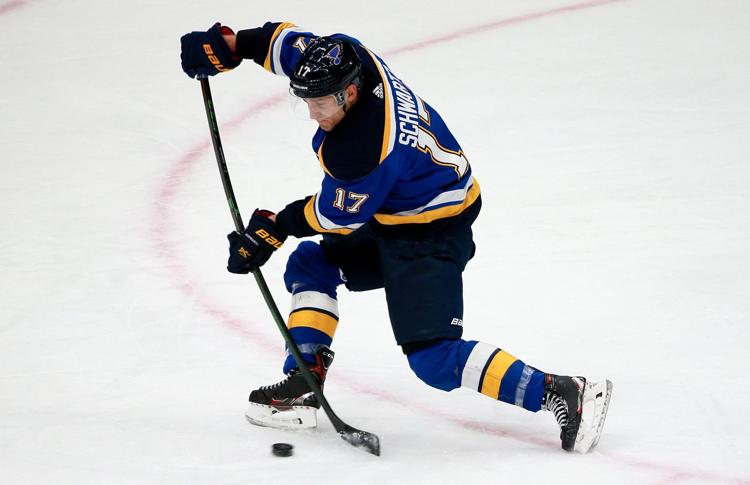 Blues hold first scrimmage at Enterprise
Blues hold first scrimmage at Enterprise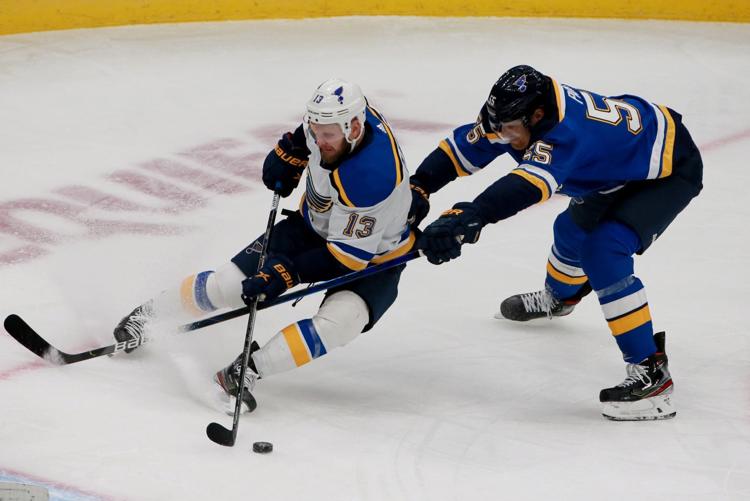 Blues hold first scrimmage at Enterprise
Blues hold first scrimmage at Enterprise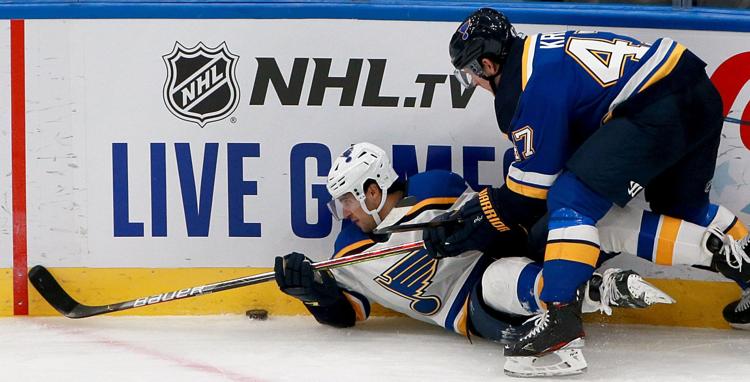 Blues hold first scrimmage at Enterprise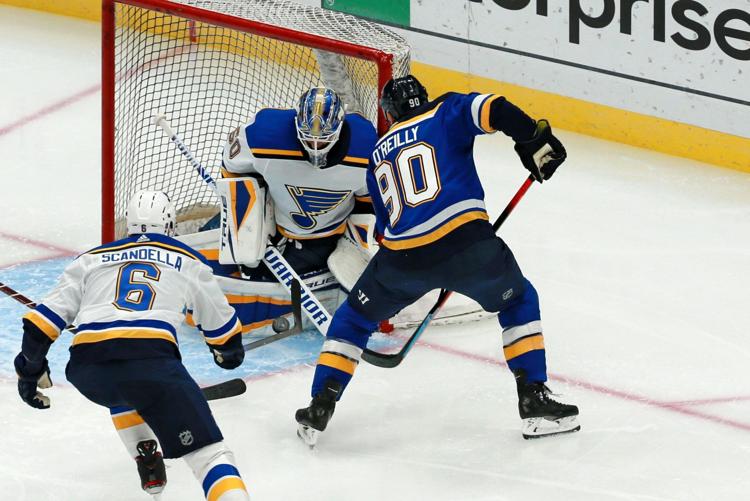 Blues hold first scrimmage at Enterprise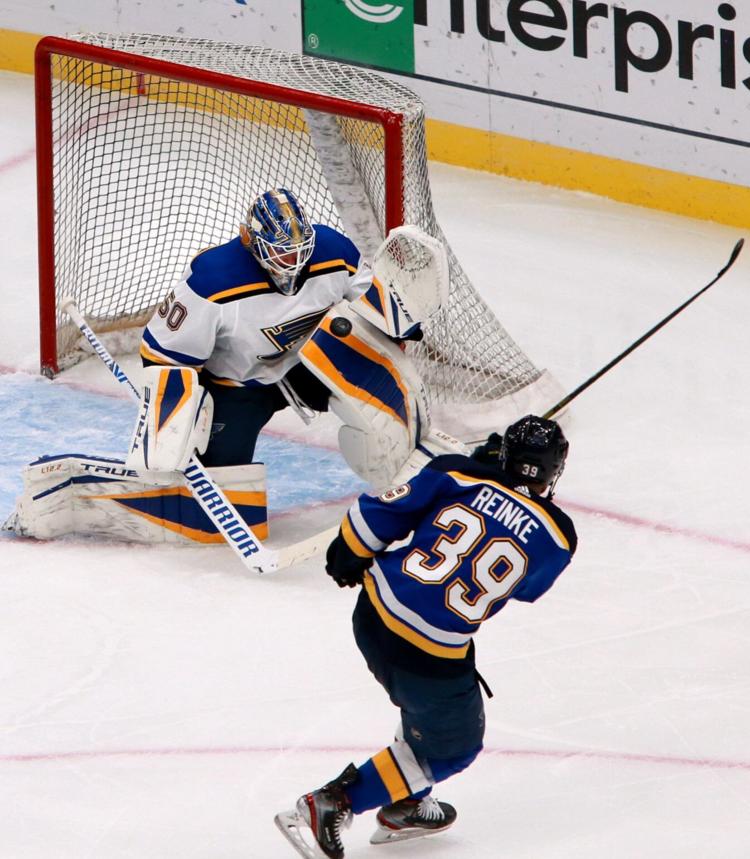 Blues hold first scrimmage at Enterprise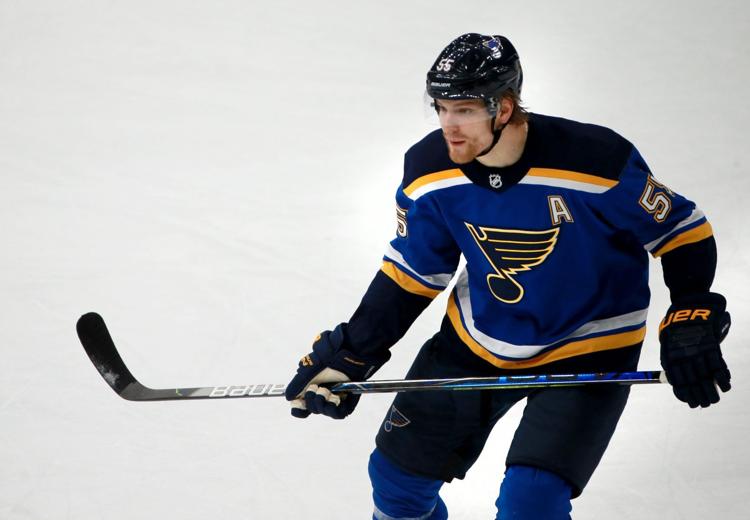 Blues hold first scrimmage at Enterprise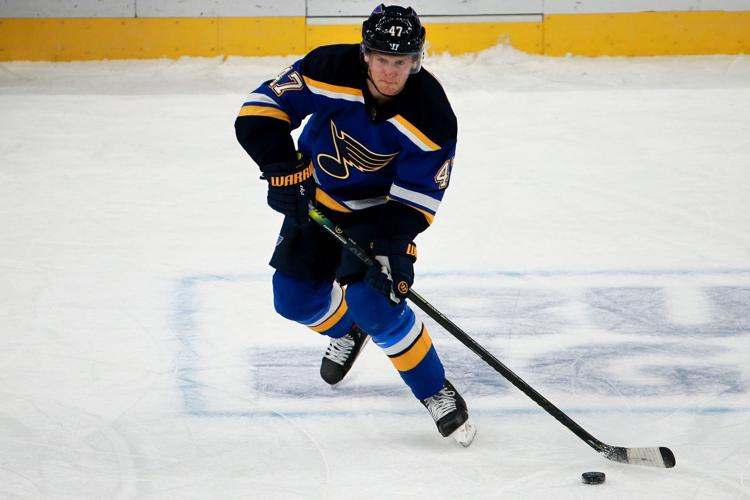 Blues hold first scrimmage at Enterprise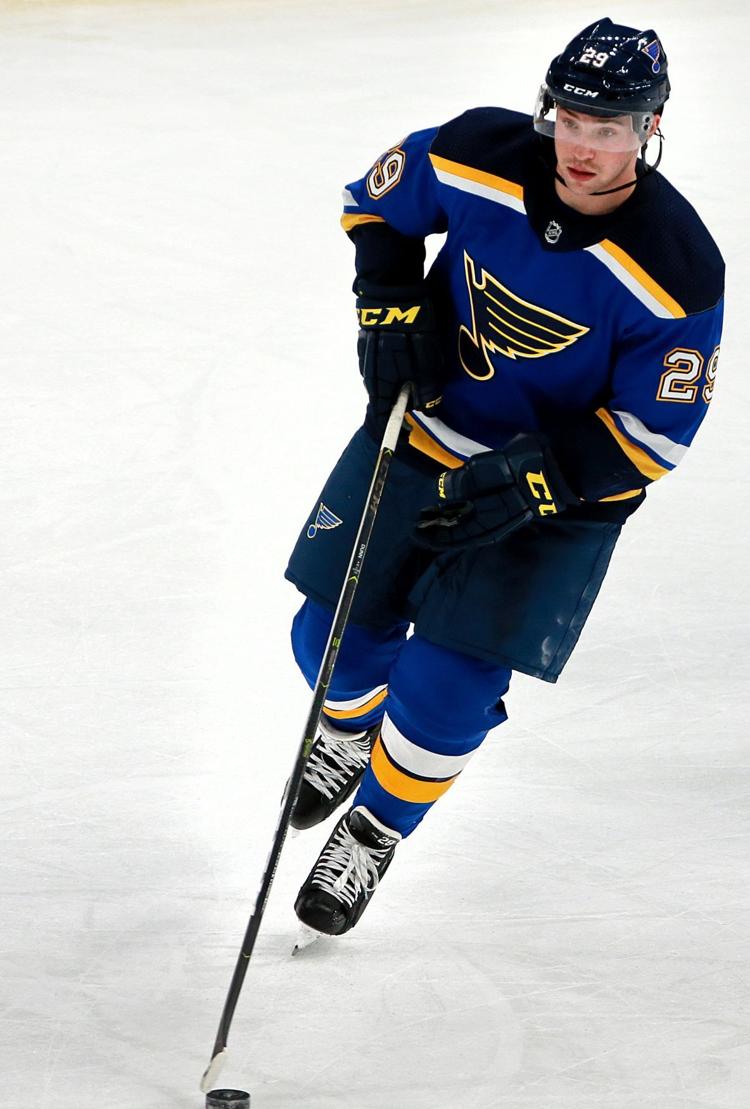 Blues hold first scrimmage at Enterprise