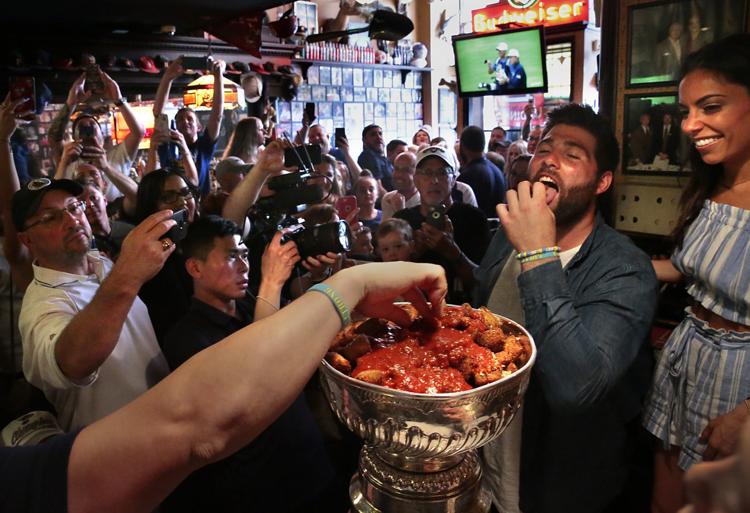 On Saturday, the Stanley Cup came home.
The chalice may reside in Toronto, but for right now, as long as the Blues are Stanley Cup champions, St. Louis is its spiritual, if not physical, home. So the Cup had two homecomings over the weekend, returning to St. Louis for the first time since the team's spirited victory parade in June and, on Saturday morning, Pat Maroon, on his day with the Cup, brought it to All-American Sports Mall in south St. Louis, the place where he played inline hockey as a youth and the place he had about 250 family and friends stop to take pictures with the Cup and share his happiness.
"It's obviously a good day," Maroon said, "but a stressful day at the same time. It's like planning a wedding to have everyone see it."
Maroon wanted to keep his day with the Cup private, fearing, not unreasonably, a potential mob scene that could break out with the Cup in a public setting. He started the day with it at his home in Clayton, where he and his son Anthony ate Cinnamon Toast Crunch from it. (Philip Pritchard of the Hockey Hall of Fame, the keeper of the Cup and its escort around the world, said that Maroon himself cleaned it when they were done. "He's all in," he said.) Then he had an invitation-only event at All-American, and from there went downtown for lunch at Charlie Gitto's, where the Cup served up toasted ravioli. After that, it was out to a nearby lake for some quieter family time.
This is a weekend getaway for the Stanley Cup, which had been making its way across Canada, hitting the many Blues in Ontario before its quick sidetrip here, which included a surprise appearance at the Muny on Friday night, rising up on one of the theater's lifts in front of the stage to the delight of a crowd that thought they were only going to see "Footloose."
But on Saturday, it was about Maroon, a St. Louis kid with hockey's premier trophy in his hometown. The last time a St. Louis-based player brought the Cup to town was in 2013, when Brandon Bollig, from St. Charles, had it after winning with Chicago. Maroon, considering the Blues' history, is obviously the first St. Louisan to have it here after winning with the Blues.
"That's obviously special and I think Pat appreciates that," said Pritchard. "It's always good when it's a hometown hero guy bringing it home. That's what movies are written about and for a guy like Pat to do that, he's a heck of a guy, a heck of a family guy, and he's soaking this whole thing in. We just took the bus over and sitting there, looking at the Cup and he saw the Montreal Maroons on there and he said, 'Hey, I'm already on here.' "
It was like a reunion at All-American, with friends, teammates and coaches from Maroon's childhood on hand.
"Everyone makes fun of me playing roller hockey, but this is where I grew up playing," he said. "To bring it back here is a very special day for me. To cherish these moments with the 250 people I invited, it's a really private event that I feel like I know everyone here. To share that day with everyone, it really is amazing. It's a big reunion for all of us to see each other and smile.
"It's been one of the coolest memories I'll ever have. It really doesn't get full circle until you actually leave it, and wow, the Stanley Cup was just at All-American, the rink where I used to come from 9 in the morning to 5 o'clock and just sit and be a rink rat. It's awesome."
The Stanley Cup wasn't the only trophy on hand. Maroon's son was on hand with the trophy his inline team won for taking an under-10 national championship in July in Florida. Both trophies got lifted, and Anthony, and some of his teammates went around the rink offering people drinks from their cup. "Those 10-year-olds know how to party," Maroon said. "It's been fun."
Maroon, of course, is a man without a country right now. He's an unrestricted free agent who, three weeks after free agency began, is still unsigned. Maroon said he thought he was getting some traction for a deal and he still had a lot to offer.
"I'm ready to compete and play for any team that wants me," he said. "I'm a guy you can probably use in the locker room, a good veteran guy. I don't really pump my tires up too much but I feel I've done a good job of bringing guys together and being a locker room guy. I think anyone can use me.
"I'm 31 years old, I'm a big guy, I can help someone's locker room for sure and help someone's team and be a big presence in the locker room and a big presence on the ice. I've still got it. I think I can get back to where I was a year ago. Obviously it was a frustrating year last year, but I came on strong the last four months. That's the game I'm supposed to play and I think I can get back to that."
The Blues and Maroon have said they're staying in touch, but with the Blues' salary cap situation, Maroon is likely to get a better offer from somewhere else.
"A lot of restricted free agents right now and everyone's trying to find their number right now," he said. "The cap didn't really go up. I'm just enjoying it. I'm just going to take the time and soak it all in and enjoy. I know I've got a lot left in the tank, a couple years. I've got three solid years I can give somebody. I'm just waiting and hopefully good things happen. Good things always happen to good people."