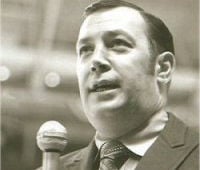 For a generation of St. Louis hockey fans who were learning what the NHL was all about in the Blues' infancy, Dan Kelly was their tour guide. He became the team's radio voice in its second season and not only educated listeners but hooked them with his simple, yet electric, signature goal call.
"He shoots ... he SCORRRES!"
But it was Kelly who also scored, as he developed into one of the most iconic sportscasters in a city that has produced an inordinate number of nationally known figures. And like many of those on a list that includes Harry Caray, Jack Buck, Joe Garagiola, Jay Randolph, Dan Dierdorf, Bob Costas, Gary Bender and Joe Buck, Kelly reached the big time.
His epic run lasted 21 seasons, and it now has been a quarter century since his voice was silenced. It was 25 years ago Monday that he died, at age 52, from cancer.
Jack Buck was the team's radio voice and Randolph called the TV games in Season One of the Blues, 1967-68, and although well-known locally they were far from polished hockey announcers.
"I was learning as we went along, and I think Jack was, too,'' Randolph recalled this week. "We didn't know what we were doing.''
Still, they helped acclimate the town to the NHL. But Blues owner Sid Salomon Jr. and Robert Hyland, who ran the team's radio home — KMOX (1120 AM) — went for hockey experience the next season.
Randolph said after that first season Salomon invited him to play a round of golf at Westwood Country Club, where Salomon lived, then brought him to his house to hear a tape of a hockey announcer.
"I listened for about five minutes,'' Randolph said. "Then he flipped it off and said, 'What do you think of that guy?' I said, 'He sounds pretty good to me, who is he?' He said, 'His name is Dan Kelly and he's been working up in Ottawa, a young guy I think we're going to hire.''
Kelly had made a favorable impression when he did part of a game in April of the inaugural season, after Buck had left for spring training.
And Randolph said there wasn't angst from the incumbents.
"Jack and I were relieved he was coming,'' he said, chuckling. "Jack and I didn't care one way or the other."
Kelly, a 31-year-old Irish Canadian who had been the third wheel on the legendary "Hockey Night in Canada'' broadcast team, quickly became a popular figure in St. Louis and the massive reach of KMOX helped him gain national exposure.
"He had the ability to feel things coming and was always ahead of the play,'' Randolph recalls. "He was magnificently prepared."
Kelly's ascent was fast, leading to him becoming the voice of the Stanley Cup finals on television, working some on American networks and others on Canadian outlets, for many years. Kelly no longer was the third wheel, he had become the voice of hockey.
"He dominates his sport like no other announcer,'' Sports Illustrated media critic Bill Taafe wrote in 1985. "There's the stout Irishman, and then there's the rest of the hockey-announcing universe. Kelly's is the purest, most knowledgeable, most accurate voice around.''
And he helped make the Blues popular not only in St. Louis, but even in another country.
"He put St. Louis on the map in Canada,'' former Blues coach and standout forward Brian Sutter once said. "And when you made the Blues, it wasn't like you just made the Blues or the NHL, it was you made Dan Kelly. The man was just a legend in Canada.There were two guys you heard growing up, Danny Gallivan and Foster Hewitt. And Dan Kelly got as big as those guys. But when you got here, you found him to be a very kind man, very knowledgeable.''
He was fun-loving off the air but all-business on the job. Stories about his professionalism as well as his sense of humor, and appetite, still resonate — a quarter of a century later — with some of those with whom he shared times.
Gary Mueller and George Csolak were Blues newspaper beat writers during part of Kelly's run. The traveling media contingent was small and those people got to know each other extremely well.
"I counted him as one of my very best and closest friends,'' said Mueller, who covered the team for the Post-Dispatch from 1971-1983. "Dan was so prepared, so professional.''
Csolak, who was on the Blues beat for the old Globe-Democrat from 1981-86, echoed that.
"I learned the game of hockey by listening to Dan's broadcasts when I was a kid, so getting the chance to work with him on a regular basis as a fellow media member was a thrill for me,'' Csolak said. "Dan and I were friends, but we were also very competitive. There were days when he didn't make it to practice and I was there and happened to break a story. I'd see him at the game later that night and he'd give me one of those looks like 'How did you get that?'''
Once, we were sitting at Lambert airport waiting for a team flight and Dan looked at me, smiled and said, "I don't know if you've heard, but the Blues just signed Bunny Larocque. You can use that if you'd like. We had it on KMOX earlier this morning."
Kelly, who wasn't afraid to criticize Blues players, had a number of broadcast partners over the years including Noel Picard, E.J. Holub Nancy Drew and most notably Gus Kyle — whose trademark line was that a game was "a real barn burner!"
"Dan didn't have a lot of tolerance for his partner's sense of humor,'' Csolak said. "I remember sitting next to Dan and Gus in the press box at Toronto back in 1982. Jack Brownschidle was playing defense for the Blues and carried the puck over the blueline only to be called offside by the official. Gus said, "Dan, the linesman called that play offside because Jack's nose crossed the blue line before the puck." When they went to break, Dan looked at Gus and said, "What's wrong with you? Don't you know his parents listen to our broadcasts back in Rochester, New York?"
Off the air, Kelly loved to have a good time — and enjoy an ample postgame meal.
"My first year on the beat in 1981, I came into training camp in the best shape of my life,'' Csolak said. "Then I was taken under the wing of Dan and got to experience some of the finest restaurants in North America. Dan loved to eat and man, could he eat. We'd often go out and have a full dinner late at night after the hockey game ended. Needless to say, I had a lot of work to do getting back into shape after that first season.''
One meal after a game in Detroit particularly sticks out.
"Dan came by and asked if I'd like to have dinner at a Greek restaurant famous for lamb chops,'' Csolak said. "I told Dan I didn't care for lamb, but he said, 'You will after you try these, I promise you.' After filing my story, I met Dan at the restaurant and he'd already polished off an order of seven lamb chops. I told him I wasn't really wild about lamb, but he said, 'Look, you order the lamb and if you don't like it, I'll eat it.' I did and I didn't care for it and he proceeded to eat another seven lamb chops while I ate steak."
Dinner with Dan was an experience, as he referred to some of the cities in the NHL by the name of restaurants.
''You'd ask him where we played the next night and he'd say, 'Lichee Garden,'" former Bob Plager once said. "Right away you'd know we were headed for Toronto.''
"Every NHL city meant a favorite restaurant for Dan ... Chinese in Toronto, Greek in Detroit, French in Montreal and Quebec, steak in Chicago, etc,'' Mueller said.
And Kelly became a celebrity.
"We were checking into the Royal York Hotel in Toronto when Dan noticed a sign saying that Paul Anka was appearing in the hotel's lounge in a dinner-theater type setting,'' Mueller recalled. "The performance was already under way. Dan said he knew Anka from having grown up together in Ottawa, and asked if there was space at the back of the room to sit and listen to Anka.
"The concierge said it was sold out, but recognizing Dan, went off to see what he could do. Within minutes, an extra table was set up, and Dan and I not only listened to Anka, but Dan sent a note backstage and at an intermission, Anka asked us backstage to say hello.That was the kind of respect and celebrity Dan had all across Canada.''
That extended into the States, too.
"One of our favorite restaurants in Chicago was Gene and Georgetti, a great place for steak,'' Csolak said. "As usual, the owners treated him like royalty. 'Mr. Kelly, come right in. We have a table for you.'
"One night Dan and I were having dinner when we both noticed a cockroach walking down the wall and onto our table. Dan looked at me and calmly called the waiter over. 'Waiter, can you tell me what kind of bug this is?'
"Horrified, the waiter immediately cleared the table of our steaks, our drinks and side dishes. He replaced the tablecloth and brought us out fresh steaks, side dishes and drinks. 'I am so sorry, Mr. Kelly. You and your guest can eat and drink all you want tonight. It's on the house.'"
But the occasional bug on the table isn't the only creepy side of life on the road, which includes a lot of plane travel, something Kelly didn't like. That was very clear to Mueller on one Vancouver-to-Chicago flight.
"As we approached O'Hare (airport), he turned to me and said he had discovered you could listen to the tower on one of the channels on the in-plane music system,'' Mueller said. "He told me how that helped calm him down. So I tuned in to that channel and heard the tower instructing United 242 (or whatever it was) to land on runway 32L (or whatever it was). A few seconds later, the tower calmly said '242 clear to land on 32L,' emphasizing the L. Then, with a bit of anxiety, '242, 32L, left, you're lined up with 32R, right.' Then, urgently, '242, pull up.'
"Dan turned to me and said, 'I'm glad we're not on 242.' Before I could tell him that we were on 242, our plane went into a straight-up, vertical climb. I don't think he ever listed to the tower again.''
Kelly and his wife, Fran, had six children and the two sons have followed their dad's career path.
John is in his 10th season as the TV voice of the Blues in his second round with the team, and Dan has had a variety of NHL broadcasting jobs, including a stint as the radio voice of the Blues, and currently does play-by-play for the Big Ten Network and Chicago Fire soccer team.
John had a memorable and poignant moment with his father in 1988 as he got to work with his dad, who already had been given a bad prognosis. And they ended up calling one of the more notable games in Blues regular-season history — a 3-1 victory that snapped one of the longest streaks in sports, the Flyers' 34-game unbeaten streak against them in Philadelphia. The string stretched more than 16 years.
It was the only time they worked together — Dan Kelly did only one more game.
"I'm thankful I got to work with him that one time,'' John Kelly once said. "It's something I'll always remember,something that will be very important to me the rest of my life.''
Dan Kelly's life ended a few months later, with cancer taking him when he barely was in his 50s.
Kelly also did baseball and football at KMOX, but he will always be remembered for hockey — in which he didn't shoot the puck but always scored on the air.
"I covered the Blues from 1971 to 1983," Mueller said. "Afterward, I missed the hockey, but most of all I missed going to the great restaurants with Dan."
Added Randolph: "It's tragic to me he left us so early because he'd still be on the air. He was fabulous.''