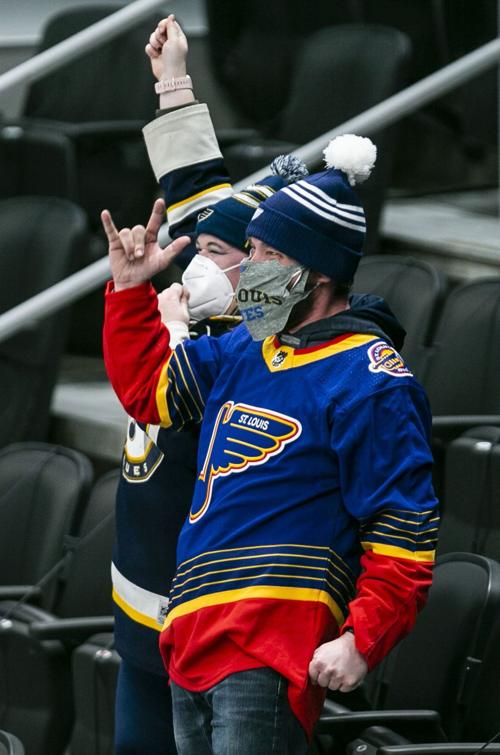 LAS VEGAS — Here come the fans. Well, at least more of them.
In cooperation with city health and governmental authorities, the Blues will allow 1,400 fans into Enterprise Center starting with the team's next homestand, which begins Feb. 2 against the Arizona Coyotes.
During the team's first four home games this season, only 300 spectators were allowed in Enterprise and they were all frontline workers or relatives of players and team employees. Those were free tickets, and that group will continue to be accommodated at upcoming games.
But for the first time, the Blues will sell tickets to season-ticket holders _ about 1,100 if you do the math to reach the 1,400 limit.
"Our team looks forward to bringing fans back to enjoy Blues hockey with us in person when we return home," said Chris Zimmerman, Blues president of business operations/CEO in a statement. "Through the partnership with local health officials and the continued compliance of safety protocols by all members of our team and staff, this marks an important step in responsibly returning our dedicated fans to Enterprise Center. We can't wait to see and hear more of them back in the stands."
If things go well in terms of COVID-19, the number of fans allowed in the stands could increase in the future. If they don't, the number could stay at 1,400 or in theory be reduced below that number.
"It's great," coach Craig Berube said of the attendance boost. "It's great for the fans, and great for us, too. We want to have fans in the stands. It definitely makes the games a lot better. The fans make the game, in my opinion, and it's nice that it's gonna happen."
Tickets for the four games on the next homestand _ Feb. 2 and 4 against Arizona and Feb. 6 and 7 against Colorado _ will become available starting Thursday.
Access to this presale will be determined by tenure of season-ticket holders, contract length and plan type. Season-ticket holders will not get the same seats they held pre-pandemic.
Among the health and safety precautions at Enterprise: tickets are mobile only; no bags are allowed; spectators must wear masks at all times; and Enterprise will be cash-free.
Fans will be seated in pods of two to four seats.
BOZAK OUT
Veteran forward Tyler Bozak did not practice Wednesday at T-Mobile Arena and Berube said he will not play Thursday against Vegas due to an upper-body injury suffered late in the second period of the Blues' 5-4 shootout victory Tuesday. Golden Knights captain Mark Stone stopped abruptly and slammed into Bozak, knocking him backwards to the ice.
Asked if Bozak's status was day-to-day, Berube replied: "As of right now."
There was no additional league punishment for Stone other than a two-minute penalty for interference.
BORTUZZO SKATES
Late in Wednesday's main group practice, veteran defenseman Robert Bortuzzo came out with three members of the taxi squad (Jake Neighbours, Scott Perunovich and Austin Poganski) to get some skating and practice work.
It was the first time on the ice for Bortuzzo since he was slammed into the boards by Colorado's Valeri Nichushkin in Game 2 of the season. Bortuzzo has since missed five games with an apparent concussion. There was no penalty called on the play.
Berube sounded doubtful when asked if Bortuzzo might play before the end of this four-game road trip.
"I don't know," he said. "One day on the ice; we'll see how it goes."
WEDNESDAY'S LINES, PAIRINGS
Blais is expected to replace Bozak on the Robert Thomas line. There were changes on all three D-pairings, with Dunn on the third pairing after being benched Tuesday.
Clifford-Barbashev-Sundqvist
BLUE NOTES
The Blues held a full-scale practice Wednesday; the first time they've done so between games of a two-game series this season.
Taxi squad members Mackenzie MacEachern and Jake Walman skated with the main group.
Jordan Binnington's 42 saves Tuesday was the second-highest total of his NHL career. His career high came the last time the Blues played here: Feb. 13, 2020 when he had 46 saves in a 6-5 overtime loss.