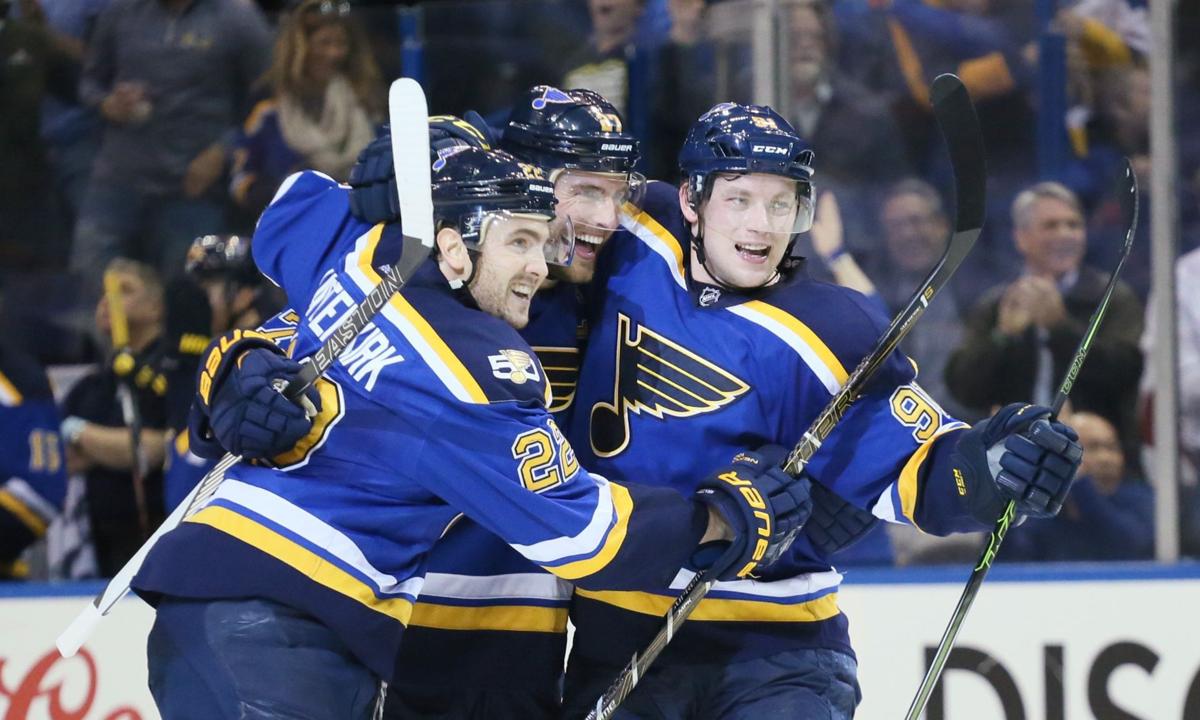 The phone call from Blues general manager Doug Armstrong to defenseman Kevin Shattenkirk that both parties had expected for some time finally took place Monday night.
The nearly two-year saga of Shattenkirk's future in St. Louis ended in a cordial conversation.
Armstrong usually keeps these talks short. This one was different.
"I asked Kevin, 'Do you have a few minutes?' Because this obviously wasn't a shock," Armstrong recalled Tuesday morning.
"I was real fortunate to have a real good conversation with him for about 15 minutes," Armstrong continued. "About what he meant to me. About one of the first trades we made was to bring him in here. About the great success that we built. We didn't reach our ultimate goal. But we had a lot of fun trying. He is a hell of a good young man. These are the hard parts of the job, the emotions that you get from friendships that you build."
The Blues (31-25-5) traded Shattenkirk to The Washington Capitals in exchange for center Zach Sanford, a first-round pick this year, a conditional second round pick in 2019 and an additional conditional pick that Armstrong defined as "complicated." In addition, the Blues sent pending free agent goalie Pheonix Copley back to Washington for pending free agent Brad Malone.
"It was a difficult decision," Armstrong said. "Kevin has been a big part of our success over the last seven years. Not only on the ice but off the ice. I have a lot of respect for Kevin, not only as a player, but as a person."
A difficult decision for a team in a difficult place, one that has its general manager acknowledging Stanley Cup contention seems to be out of reach despite a spot in the standings that, if the season ended today, says the Blues have a shot.
On Tuesday morning, Armstrong spoke publicly for the first time since the trade. His half-hour question-and-answer made it clear he deemed the trade necessary for a team in transition that, while currently in line for a wild-card spot, must be considered at-best a "dark horse" Cup contender.
"We are not in the business of trading good players for prospects when your team has a chance to win the Cup," Armstrong said. "This team now has to get in on its own. It's going to be more difficult, but if we get in, you always have a chance to win."
Armstrong's comments shed light on how he views his team in what he described as "an emotional year." Asked if this means the Blues are waiving the white flag on this season, he walked a fine line. The Blues are currently fourth in their division. They are in the second wild card spot as of today.
"If you can get into the playoffs, we have an opportunity to win," Armstrong said. "We've seen other teams win. But we are not in the same situation a year ago. We are not a top-five team in the league in the standings. We don't have the same rhythm that we did a year ago at this time. We are not raising any flags. What we are doing is looking at the situation the way it is."
On the same day Armstrong defended his decision to keep former pending free agents David Backes and Troy Brouwer for last season's playoff push, he explained why he did not repeat that choice with Shattenkirk, who was viewed as one of the league's top unrestricted free agents at the fast-approaching Wednesday deadline.
"I would say, if we were sitting where Minnesota (first) or Chicago (second) were in our standings in our division, I would have thought, you know what, they've earned it," Armstrong said. "You people (media) as experts can tell us who are Cup contenders and who are not Cup contenders. Everyone says Minnesota is a Cup contender. Everyone says Chicago is a Cup contender, based on what they do and with their experience. Last year at this deadline, everyone said St. Louis is a Cup contender. Now we are at the dark horse part of that. But dark horses win every once in a while, too."
Shattenkirk's departure creates more opportunities for prospects and adds responsibilities to others already in the dressing room.
"We said it last year during the summer," Armstrong said. "We were transitioning to a new group of players. A new leadership group of players. We need Colton Parayko to become a legitimate top-end player. We need Jaden Schwartz to become a legitimate top-end player on a consistent basis. Alex Pietrangelo is that player. This is just a continuation of a transition that happened when a team that was veteran-laden of 30-plus year old players, you transition to a newer team."
Some quick highlights of Armstrong's comments:
• When detailing the timeline of his attempts to trade Shattenkirk, Armstrong said the process started at the entry draft last year, when Shattenkirk responded to the idea of an eight-year extension with the Blues by saying he needed a different challenge, but was more than willing to return this season. Armstrong said one team had serious interest as a sign-and-trade, but Shattenkirk did not approve. The focus then switched to trading Shattenkirk before the season, which would have sent the defenseman to a new team for one season, but brought no guarantee that he would re-sign as a free agent. "The best offer we got under that format last year was a late first round pick, later than ours. We felt his value was more than that. The thought process was we are going to be able to get that value today." Another goal: Armstrong explained that if he was going to move Shattenkirk, he wanted it to be for a player who had at least three years on his contract. The latest attempt to move Shattenkirk came at the end of January, when another sign-and-trade (with Tampa) fell through after Shattenkirk and his agent discussed the terms of the extension with the team. Shattenkirk was then shopped as a rental for a Cup contender. "The interest level was different than maybe I expected, but certainly greater than last year at the entry draft," Armstrong said.
• Armstrong said the Blues liked Sanford when they previously scouted potential trade prospects. Sanford will join the team this afternoon but will not play tonight. "You base that on your scouting staff and what they see," Armstrong said. "They see a lot of Tage Thompson in him, a player we took in the first round. A big body. A point-a-game player as a sophomore at Boston College, a very good team. Armstrong added: "Talking to Washington on players we wanted and working our way to that player, it wasn't someone they were hoping to move on from. I see a big player who is multi-positional. I see him as a center. A player who can produce offense. You hope everything works out perfectly. If a 6-foot-4 Zach and a 6-foot-5 Tage Thompson are down the middle for a few years, it wouldn't hurt my feelings."
• Armstrong confirmed the Blues are maintaining 39 percent of Shattenkirk's contract now that he's moved to Washington. "It was not a deal they could do and retain his whole salary. But honestly, that was going to happen with many teams that are pushing to win the Stanley Cup right now."
• Armstrong used the word "rebuild" for the first time when referring to this season. "You build your team, then you look at it and you rebuild it," he said. "There are two teams that haven't had to rebuild it, and that's the Chicago Blackhawks and the Pittsburgh Penguins." He added: "This is not a good feeling. This is not a feeling I want to continue. But it's something that I felt like we had to transition, and when you transition, you have to make hard decisions, and you have to ride out the storm. Has it been easy? No."
• Asked which players in the minors could see increased opportunities now that Shattenkirk has been dealt, Armstrong named Vince Dunn, Jordan Schmaltz and Jake Walman as candidates. Armstrong raved about the prospects the Blues now have in the minors. "We have Tage coming," he said. "We have Zach. We have Jordan Kyro. We have two first-rounders now this year. We are starting to replenish the well. That's the exciting part for Blues fans moving forward. I understand the disappointment of moving an All-Star caliber player, but understand the All-Star caliber player wasn't going to be here on July 1."
• Armstrong predicted no other deals before the trade deadline, but said he will continue to take calls."You never say never," Armstrong said.
• Armstrong anointed Ville Husso as the top prospect on the goalie depth chart, and cited that as the reason behind moving Copley. "Husso is really the guy we have penciled in as our primary prospect in net down there ... We were carrying three goalies there. It's always difficult to carry three. It makes for poor practices. It makes for unhappy campers. Now we have happy campers."
• Armstrong declined to provide an update on where the Blues stand with KHL center Vladimir Sobotka, saying he will talk about him if he makes it back to the U.S.