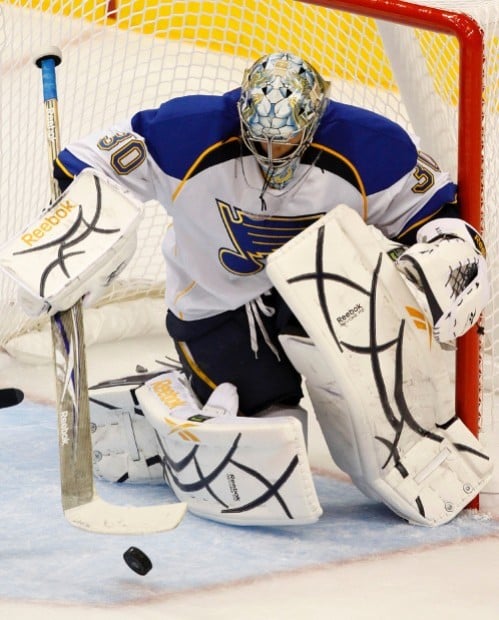 Blues goaltender Jaroslav Halak has been placed on seven-day injured-reserve with an injury to his right hand. His placement on IR is retroactive to Monday's game.
That means Halak will miss at least two games: Friday in Buffalo, and Saturday vs. Anaheim. Ben Bishop has been recalled from Peoria and will travel with the team in Buffalo. 
Halak missed two games earlier this month with what the club called an upper-body injury. There was speculation that it might have been hand-related, and it appeared that he has reaggravated the injury on Wednesday, shaking his right hand as he left practice early.
The Blues did not skate this morning before their scheduled flight to Buffalo. With Halak unable to go, look for Ty Conklin to start in Buffalo with his excellency, Bishop, as the backup.
Bishop has played 29 games for Peoria. He has a 15-12-1 record with a 2.52 goals-against average and a .916 save percentage.
Speaking of Peoria, T.J. Hensick, who has had two brief cups of coffee in St. Louis, has 16 goals and 52 points in 43 games for the Rivermen. Defenseman Nathan Oystrick, also up earlier, has 11 goals and 33 points in 43 games. The Blues, by the way, are 26th in  the NHL in power play efficiency.
Dave Spina, a jitterbug forward like Andy McDonald, has 9 goals, 18 assists and a plus-12 rating for Peoria. Spina has two shorthanded goals. The Blues are 20th in the NHL in penalty killing.