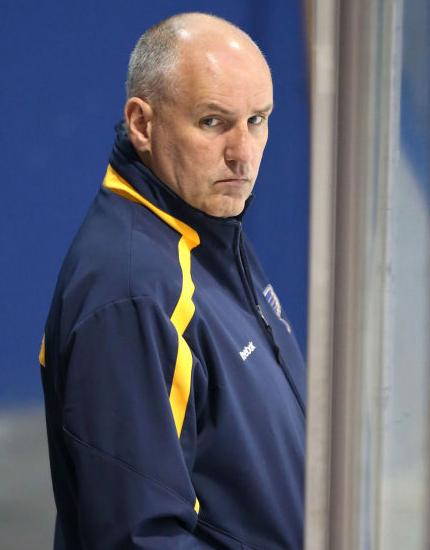 Blues general manager Doug Armstrong held a press conference today at Scottrade Center. Here's a transcript of his comments: 
Q: What do you need to do to take this team from being a good regular-season team to a good playoff team?
Armstrong: "Well, the coaches are going to meet with Al MacInnis and Dave Taylor and get their thoughts. I'm going to actually head myself to Chicago on Thursday to watch some of our American Hockey League players, see how close they are to helping our team next season. And then we're going to have to peel back the layers. Each year, you peel a layer back and hope you've gone deep enough. With this year's disappointment, we're going to have to look a little bit deeper to players and starting with myself, where I need to improve to give them the best opportunity to have success. These are difficult days because I don't want to say anything to let the belief out that these are excuses, because there are no excuses. We're in the winning business and we're not winning at the appropriate time of the year and we have to fix that. We lost to a very good team. There's a reason they are Stanley Cup champions a couple of times over the last four or five years. We saw that in this series. When the temperature went from a simmer to a boil, their best players elevated their game. You look at the game-winning goals scored by what type of players and how they scored. As the series progressed, I tipped my hat to the Blackhawks and what they accomplished. Now we have to find a way to create that synergy and environment where we have those type of players that get us the goal when we need the goal scored."
Q: How alarming is it that the nucleus that has been here for six or seven years hasn't been able to rise to the occasion in three straight playoffs?
Armstrong: "The six or seven years, I don't really believe in. To me it's the three years. Players were put in positions here to learn on the job and that's difficult in this league. I look at the regular season success this team has had over the last three years. I think our point total is probably in the top three or four in the NHL over that time frame. So, we're doing some things correctly. But we're not doing enough correctly to win in April, May and June. Quite honestly, I got to quit worrying about May. We got to get out of April first and we're not doing that yet. My job responsibility is to peel back the layers and see if we can work together with this group to get to a new level, or make necessary changes to get to a new level."
Q: After the playoff loss to LA last year, you believed that you made positive steps. After this year's loss to Chicago, do you still feel like you're closing ground?
Armstrong: "No. I felt last year that we were coming off of a year when no one expected us to be good the year before and we wanted to prove that we were a good team and we did that by securing home ice. I expected us to take it to a higher level this year and the higher level was going to be a consistent regular season followed by a longer playoff run. So this year, there's a true sense, hurt, that we have squandered an opportunity and opportunities don't come a lot in this league."
Q: You made a move that was considered to be an all-in move to trade for Ryan Miller. Could you assess his performance as a whole and specifically the playoffs?
Armstrong: "Yeah, I think as a management group, what you want to do at the trade deadline is assess your team. You don't want to spend fool's gold at that time. At that time, you say, 'OK you're either buyers or sellers or neutral.' We believed that neutral was going to be fine unless we could make one trade to get the goalie. I think that Ryan and our team ... we win as a team and we lose as a team. I thought Ryan wasn't the reason that this series ended in six (games). The series turned on a couple of things. Obviously the last one was our inability to score power play goals. That's haunted us for two playoffs now. That's nothing to do with Ryan Miller. He's a long ways from (Corey) Crawford in the second period. Some of the goals that went in, deflections, things like that, breakaways ... as a team we didn't get the job done. He's certainly a part of that, but he's not a scapegoat for this and it would be disingenuous to even go down that path. He gave us an opportunity, we got shut out in Game 3. We had the opportunity to grab a lead and extend the lead in Game 6 and we didn't do that. I go back to playing with a hot flame as long as we do burns you at certain times and the inability to score power-play goals ended up hurting us."
Q: How are you going to move forward with the goaltending for next year?
Armstrong: "I'm going to obviously let things settle in here. I'm trying to come up with a good analogy. It's like going to the dentist. The freezing is coming out and now it hurts. I'm going through that freezing coming out and it's really painful. Today is a lot harder than it was yesterday, I know that. We got to figure out a way to get better. With the goaltending, Jake Allen is going to be here next year. He's earned the right. He's the top American League goalie. He's got that team in the playoffs, now we're going to see how far he can take it. He will be one of two. Who his partner will be will be discussed at the appropriate time and that will be over the next few weeks. It's a two-way street with Ryan at this time. He has opportunities. I want to sit and talk to him, I want to get his feelings about our organization, how he felt about coming in, where he thinks we're at ... see if he even has any interest being a St. Louis Blue."
Q: Are the Blues' best players good enough to compete with the other teams' best players in the playoffs? If not, how important is it to act on those evaluations this summer?
Armstrong: "Well we haven't got it done and we have to find out if the chemistry is correct. It's a difficult league to acquire players. My job is to find a way to get it done. But I look at what happened at the trade deadline, I look at people signing their free agents ... we did it with (Jay) Bouwmeester, we did it with (Alexander) Steen. I look at last year's free-agent pool that was available, what players from that pool are excelling in this year's playoffs ... are they the players that are pushing you over the top? I'm not sure that I've seen that from a free-agent group and I'm not sure if free agency is the way to go. Then it's getting a team to want to move a top-scoring player and I know the cost of doing that. I haven't found the team that really wants to give us the 50-goal guy yet. But I know the two or three names they're going to ask for and that's robbing Peter to pay Paul. So, I have to sit with the coach and find out if there's a different way to complement this group. Is there a different formula used on the ice to create more opportunities? It doesn't come down just to puck luck, but at some point we've got to start getting some puck luck. We're going to search the market, we're going to see how we can improve our team. But we're not going to do something that is a knee-jerk reaction or something that doesn't fit in to what we believe will be successful. There are good players out there. As I said, most of them usually stay with the teams that they're at. If we can improve our team, (but) I trust the players that are here. I have trusted them now for three years. The coach has trusted them and more importantly they trust each other. And I'm going to have to sit with these guys, not in the next two or three days. This is something I'll do over the end of May into June, meet with some of these guys, talk to them either in person or on the phone and get their assessment. We need to be better at this time of year."
Q: How close do you think Vladimir Tarasenko and Jaden Schwartz are to being those guys? Could they ascend next year to being those guys?
Armstrong: "Yes. I think they can take a deeper, bigger role. I thought Vladi showed his skill set in the first part of the series. As the series wore on, I thought two things happened. If they circled him once, they double circled him as the player they had to stop. And I think he's conditioning and just his overall taking a month off was catching up to him. And it's his first time through. He wasn't a participant in the LA series last year. This is his first time through. He will be better, he will be stronger, he will learn from it. I think Jaden Schwartz will also learn from it. Again, it's difficult but we're going to need those two guys to get going....We need that killer instinct, we need to be able to when you have a team down 2-0, you need to take the knife and jam it through their eye into their brain and kill them. We don't do that."
Q: Is the coaching staff accountable when you talk about how difficult it was to score a power-play goal?
Armstrong: "I think we're all accountable. Now is not the time to isolate a person or player or part of the organization and set them adrift and hope that the problem goes away. We have to get better as a staff, I have to get better, the coaches have to get better, we have to find a way. Ken (Hitchcock) has done a solid, strong job in his three years here. One of the positives I take away from this — no one else will but I do — is that it's good to be here with the sense that you expect better from us. You expect us to be better, we expect to be better. Making the playoffs no longer is good enough. There's some franchises that are losing in the first round that had good years. We're not one of them. We're a franchise that lost in the first round that did not meet its expectations. We have to figure it out. Is coaching part of it, is playing part of it, is managing part of it? It sure is. Is conditioning part of it? Is every aspect part of it? Yes it is."
Q: Speaking of conditioning, almost every one of your players that participated in the Olympics got hurt. Do you think that's a coincidence?
Armstrong: "They've obviously done a study. When Olympics are held in North America, the injuries are much less than when they're held outside of North America. The sample size isn't great; it's three times versus two. I think we taxed our players quite a bit. I was fortunate enough to be a part of (the Olympics), but it's different sitting in the press box drinking coffee and chewing gum than what those guys were asked to do on the ice. I think it's something the league is going to have to look at, the value of the Olympics. Now we're out, Chicago's moving on, they had the same (number of) players and it wasn't an issue for the Blackhawks. So at the end of the day, it can't be an issue for us. What got us, I think, started with innocent play at the end of a game in Nashville with Tarasenko going down and that just started the ball rolling. The last six games of the season, I thought we lost our composure in the Colorado game and that snowballed into the Chicago game. Then the ball starts rolling. The game that came back to haunt us ... not that we would have beaten Dallas or Minnesota and that would have given us a free walk to the second round. But (Dallas and Minnesota) don't have the knowledge that Chicago has on what it takes to win. I might not be saying that in four weeks or five weeks. One of those two teams might be the Stanley Cup champs, but right now, we put ourselves in a position due to lack of success at the end that had to play a team with the knowledge."
Q: You have a defense that is talented and received a lot of hype because of its depth. But do you believe it has the qualities needed to win in the playoffs? 
Armstrong: "I think that's a fair assessment, but I think that assessment is blanket. I don't think that any facet of our group has been good enough in the playoffs. We have to find a way. These are good players. Two of the three top ones (Alex Pietrangelo and Kevin Shattenkirk) are young. Nobody wants to hear it, it's not an excuse, they're 24 years old. They're not even in the prime of their career, but we need more from all of our top players. With all due respect, and not to come off as a smart (aleck), but when Barret Jackman and Chris Porter are tied for third for scoring, you need more from other people."
Q: You mentioned that Jake Allen will be with the team next year. Is there anybody else that will be in line for a position?
Armstrong: "Yeah, Dmitrij Jaskin and Jake Allen are going to have jobs. It's for them to lose, not for them to gain. I don't know if I've told the coach that, but you guys can tell him when I leave. They have jobs now on this roster and it's for them to take that and expand it. Ty Rattie's another player I want to go watch. He's a first-year player, he had 30 goals in the American Hockey League. I want to see how he performs in the playoffs. One of the things that we want to guard against, I think, as an organization is putting players in positions to fail and not to succeed. That's not good for their development, that's not good for the franchise. Patience is something that you have to show. We have to give them the opportunity, but we're not going to try and jam a square peg into a round hole to say, 'Well look at our average age, it's younger.' That's losing hockey in my opinion."
Q: Not knowing what the future holds for Ryan Miller and the Blues, do you view Jake Allen as a potential No. 1 goalie next year?
Armstrong: "I view Jake Allen coming in here next year competing for starts."
Q: If Ryan Miller is here, can Jake Allen still compete for starts?
Armstrong: "Jake Allen's partner is going to have to hold Jake Allen out. Jake Allen is going to have to compete with his partner for ice time."
Q: You made the trade for Magnus Paajarvi. Is he another guy you'd like to see get more minutes next year?
Armstrong: "Yeah, he's another younger guy that's going to be into our 12 (forwards) ... most definitely. I made the decision to bring Brenden Morrow in, I made the decision to push younger players back to go for experience. It affected Paajarvi probably more than anyone. Magnus is going to get the opportunity to come and create space for himself. Now Magnus has a lot to do this summer. He's got to get stronger, he's got to get bigger. He has to commit to becoming the player that we want. If he does that, the ice time will be here. If he doesn't do that, then someone else is going to find and take that ice time. He is one player that has the responsibility to grab hold of his career physically and do whatever he can do to get to the next level."
Q: Do you view the position of second-line center as a need again this summer?
Armstrong: "I think we have to see where (Patrik) Berglund's going to get to. He's one player that I think played with a dislocated shoulder. He dislocated it in Dallas. Probably a three-week injury and he came back in a week. He wasn't the player that he normally is. I think he can potentially grab some of those minutes. (Vladimir) Sobotka's the guy that you always push out that always pushes his way back in. That's what I'm talking about with Paajarvi and all these other guys. Here's a guy that just comes and says, 'Where's the competition? Alright, I'll take it.' When we traded for him, did we think he was going to be a second-line center? Is (Jaden) Schwartz, (Vladimir) Sobotka, (Vladimir) Tarasenko one of our two best lines on a nightly basis? Yes. Maybe that's just where he fits in."
Q: Do you need to add 2-3 veterans to the mix?
Armstrong: "I think that that is going to fall on the returning players that have been here for a while to grab that. We've given them that opportunity and it has to become their team, they have to be the ones that hold each other accountable for it. I don't think there's a 31-year-old or 32-year-old veteran player that's going to come in here and reinvent the wheel for the St. Louis Blues."
Q: Are there any other player injuries that will require surgery?
Armstrong: "The guys are actually doing their medicals tonight and we're having their exit meetings tomorrow. I'll get more information. I know that lots of guys are banged up, but lots of guys are banged up around the NHL at this time of year. That's what makes these guys special people and special athletes. They tape an aspirin to it and they go play until they've got to get it fixed when the season's over."
Q: Do you have any players going to the World Championships?
Armstrong: "I've had some requests from some players. Waiting on the medicals. I should know by Thursday what players are going to be healthy enough to go. That list should become available then."