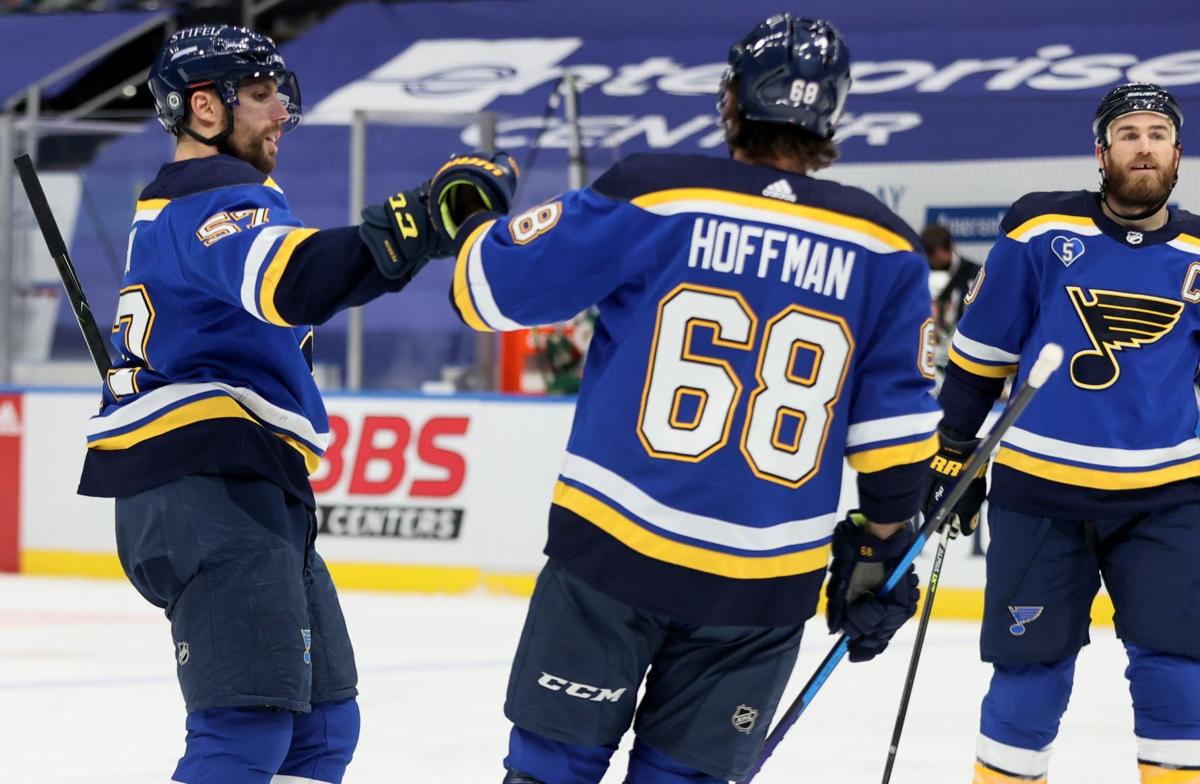 MARYLAND HEIGHTS -- Blues forward David Perron is on the NHL's COVID protocol list, which casts doubt on his availability for Game 1 of the playoffs on Monday, as well as the rest of the series.
Perron is one of three Blues on the list, along with defenseman Jake Walman and forward Nathan Walker.
Perron was not on the ice for the team's optional practice on Saturday at Centene Community Ice Center before the team flew to Denver. Coach Craig Berube said the players who were not on the ice were all just sitting out for maintenance reasons.
Perron was one of the stars of the season for the Blues, becoming the first Blues since 2002-03 to average more than a point a game over the season. He had 19 goals, second on the team to Ryan O'Reilly, and a team-high 39 assists.
Being on the protocol list does not necessarily mean a player has tested positive. Earlier in the season, the Blues had two players, Zach Sanford and Sammy Blais briefly appear on the list because of false positive tests. They both missed one game and then after having negative tests were cleared to resume play. Players can also appear on the list because of contact tracing.
The Blues had avoided the COVID list for almost the entire season, and were the last U.S.-based team to have a player land on it. It wasn't until Game 54 of the 56-game season that Walman landed on a list with a confirmed positive test.
Decision still pending on Tarasenko, Dunn for Game 1 
The Blues had an optional practice on Saturday, and Berube said the team's practice on Sunday in Denver will be telling as to which of their injured players are ready to go when their postseason series with the Avalanche on Monday.
Vladimir Tarasenko and Vince Dunn were both on the ice at Centene Community Ice Center. Colton Parayko, who missed Thursday's game, wasn't. 
Dunn has been out since April 24 and has missed the past 11 games with an upper body injury. Tarasenko has missed eight of the past nine games with a lower-body injury.
"They could be ready," Berube said. "Have to see how they felt today."
Dunn has been skating with the team for a while and has looked to be on the brink of returning. Berube thought he might play on the just-concluded three game trip, but Dunn didn't play there, or in the two home games that followed.
"He just he didn't feel he was ready yet," Berube said. "That's all. Nothing more than that. So it's just, you just got to keep working and when he feels ready to play, then he'll let us know."
Berube said Klim Kostin, who got in the final two games of the regular season after returning from the KHL, was a possibility to play against Colorado.
"He's available," Berube said. "We have a number of guys that are available that we can use And we might use him, we'll see how it goes."
Jaden Schwartz sat out the season finale to get some rest, so if he and Tarasenko were to go back in the lineup, two players would have to come out from Thursday. If Kostin stays in, Kyle Clifford would be the obvious candidate, and then after that, Zach Sanford and Sammy Blais would be the other options. 
Gotta believe
Blues captain Ryan O'Reilly said of Colorado after Thursday's game, "We're going to beat them."
Berube had no problem with him saying that.
"Well, he's confident," the coach said. "Our team's confident. He's our captain and he knows we got a good team and he feels good about us."
View from Denver
Avalanche coach Jared Bednar said he was expecting forwards Nathan MacKinnon and Brandon Saad to play on Monday against the Blues and defenseman Conor Timmins, who took a puck to the ankle in the third period of the game Thursday and didn't return, was possible.
MacKinnon has missed three of the final four games of the season for unspecified reasons. Saad (lower body) hasn't played since April 24.
"It would be huge," Bednar said of having MacKinnon ready to go from the start. "He's one of our stars, a guy that really looks forward to this time of year. We saw what he could do in the playoffs last year, he took his game to a whole new level. To have him out there leading us with Landy and Miko would be ideal and it's something that we need. He's such a big part of our hockey team, especially driving our offense. To have him in from the start of the series would be what the doctor ordered."