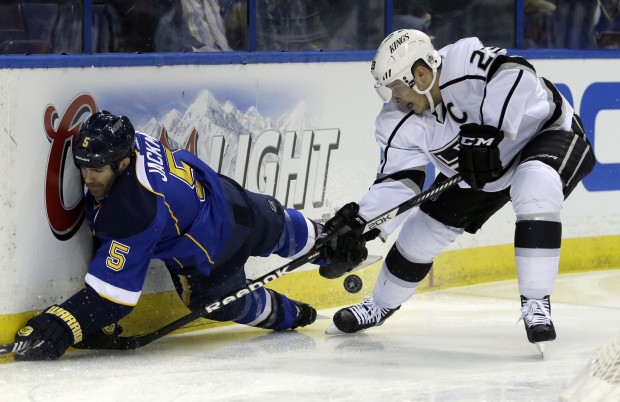 WINNIPEG • The Blues are putting their final two roster players yet to dress for a game into the lineup tonight against the Winnipeg Jets.
Defenseman Ian Cole and forward Adam Cracknell will make their season debuts when the puck drops at 7 p.m. at the MTS Centre.
Cole and Cracknell will replace Barret Jackman and Brenden Morrow, respectively. Blues coach Ken Hitchcock that both are dealing with injuries.
"We're going to rest Jackman and Morrow... both have upper-body ailments," Hitchcock said. "So they'll rest today and give a chance for Cole and Cracknell to play."
Morrow said Thursday that he had been experiencing some neck pain, as a result of the hit by San Jose's Brent Burns Tuesday. He deemed himself available for Thursday's game in Chicago and remained in the lineup, although he saw just 10 minutes, 32 seconds of ice time.
Jackman finished the game with 17:50 of ice time. He was a minus-2 in the Blues' 3-2 shootout win over the Blackhawks. The root of Jackman's injury is unknown and when probed again, Hitchcock only reiterated that it was upper-body.
When asked whether playing back-to-back games factored into the decision to sit the two, Hitchcock replied: "No, I didn't want to judge it on back to back. They've been kind of playing through things, so this gives them a chance to reset the dial. It's easy because you want to put other guys in. But I think this gives us two days (off) because we're not going to skate tomorrow. So they should be 100 percent, or close to it, and ready for Sunday's practice."
TONIGHT'S PROJECTED LINEUP
Alexander Steen-David Backes-T.J. Oshie
Vladimir Sobotka-Derek Roy-Chris Stewart
Jaden Schwartz-Patrik Berglund-Vladimir Tarasenko
Magnus Paajarvi-Adam Cracknell-Ryan Reaves
Jay Bouwmeester-Alex Pietrangelo
Jordan Leopold-Kevin Shattenkirk
Magnus Paajarvi made his Blues' regular-season debut Thursday in Chicago and fared well, according to Hitchcock.
"He was good," Hitchcock said. "What's nice for us is that it was a continuation of the way he had been practicing. I think he had a lot of solid shifts. I think moving forward he's going to be a big help for us."
Paajarvi saw 8:17 of ice time, playing on a line with Vladimir Sobotka and Ryan Reaves.
"It felt good, physically very good," Paajarvi said. "It means I've been staying on top of what I can control. Obviously I was a little bit rusty in some situations, I think. But overall, not bad at all."
After tonight's game, the Blues will be off for six days. They don't play again until hosting Vancouver Friday at Scottrade Center.
Instead of returning to St. Louis, the club is headed to Charleston, S.C., for four days for a team-bonding trip.
The players will stay off the ice Saturday, but will practice Sunday through Tuesday. But the bulk of the day will be free, allowing them to play golf, go fishing, etc.
"There will be a few of us out in the boats, some guys that haven't fished ever and some guys that know what they're doing," Blues captain David Backes said. "There will be plenty of (competition). We'll give you a report when it's all said and done."
• Vladimir Sobotka went 12-4 in the face-off circle Thursday night. He is 37-15 (71.2 percent) for the season.
• Winnipeg native Alexander Steen has 26 passes for tonight's game. Ryan Reaves, who is from nearby Brandon, Manitoba, has 23.
• In Thursday's overtime game in Chicago, Alex Pietrangelo logged 30:45 of ice time and partner Jay Bouwmeester logged 29:46.  
• The hearing for suspended Blues forward Max Lapierre is today in New York. The hearing is over, according to reports, and a decision is expected today.