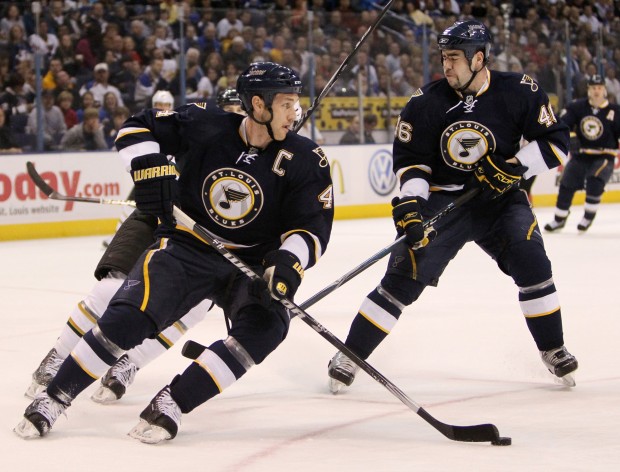 The Blues have no plans of changing their captain for the 2010-11 season.
Blues President John Davidson, general manager Doug Armstrong and head coach Davis Payne met with the media for about one hour this morning, and while addressing a variety of topics about the upcoming season, Armstrong emphatically said that defensemen Eric Brewer would remain the captain of the club.
There has been clamoring among the team's fans for the Blues to make a move and give the "C" to a core young player, such as a David Backes, but Armstrong said that you can forget about it.
The question wasn't asked directly if Brewer would remain the captain. The question regarded the potential emergence of the young players as leaders in the locker room. In his answer, Armstrong said: "The one thing I want to clarify . . . Eric Brewer is the captain. He's our captain. There's no question he's going to be our captain. He's going to be part of the leadership group that Davis (Payne) will provide. Eric Brewer was never a problem here. He's a good captain. He has the pulse of this team. He's an Olympian, he's won a gold medal. Eric Brewer is a good captain and Eric Brewer is the captain of our team."
Payne gather a further endorsement.
"He's been in that seat," Payne said. "He's going to be in that seat. He understands how our team is going to function. In situations, there are going to be opportunities for guys to stand up . . . that leadership group that Doug is talking about is going to be all-encompassing. And Eric Brewer is going to be part of that group."
Davidson said the Blues don't have a "next captain" picked out, or a specific player waiting to take that role.
"It's an evolution process," Davidson said. "You may not have your next captain for five years, who knows? It's like going to the Army at West Point. You've got colonels and you've got generals. From that group, people evolve as you get older. There's a lot of kids in (the Blues' locker room) that have been captains of their junior teams. A lot of them have leadership skills. But it will evolve at this level. It will tell us. You love to have your leadership come from within your own room, but that's all part of the process ... it's an interesting process."
The Blues announced today that there will be a press conference Thursday at 11 a.m. to welcome new goalie Jaroslav Halak to St. Louis. The press conference will be held inside the Scottrade Center atrium and is open to the public.
Halak's first day on the ice at the Ice Zone in Hazelwood is expected to be on Friday.
Armstrong said today that the Blues expect Halak, the team's starting netminder, to play roughly 55 games this season.
"Davis and (new Blues goaltending coach) Corey Hirsch will work with Jaro to decide how many starts is enough," Armstrong said. "We would think that the 55-range going into it is a good number. But if he's a workhorse and he doesn't wear out, he might get more. Or, if he feels that he needs rest .... I think (with backup Ty Conklin), we have one of the best goaltending combinations in the game."
The Blues finished 17th in the NHL with 218 goals last season. They are losing 31 goals this season with the departures of Keith Tkachuk and Paul Kariya. Does the club have enough offense to get back into the playoffs?
"I believe so; we all believe so," Payne said. "These guys are going to be able to run without tight reins. The leash is going to be there. (But) we don't expect them to all of the sudden fall once and we're going to tie a noose around their neck. We feel offensively that we had some guys have some success in the latter stages of last year, and we had some guys who still had to get over some humps, and we feel that the summer has brought that.
"Patrik Berglund, for an example, bigger, faster, stronger getting into training camp, he's a guy that based on the numbers last year we should see improvement from. A guy like Brad Boyes, David Backes . . . there's room there. With guys like Paul and (Tkachuk) gone, an opportunity has opened up. And so there's opportunity for ice time. It's going to go to the guys that earn that opportunity the right way . . . everything that's done with a team-drive attitude.
"If we go through the process correctly, the right guys are going to get the right opportunities and we'll score our goals. If you want to put a number on it, we were 24 goals off the Western Conference playoff average. You look at the names I mentioned in particular, if they get back on track, 24 goals is not a huge gap to come up with."
Payne locked into some specific line combinations last season, but said today that he wouldn't necessarily come out of chute with those same groupings this year.
"Early on, through the first stage of training camp, we'll probably go through some experimentation on groups of players that didn't see much action (together) last year," Payne said. "We obviously saw a lot of Backes-Oshie . . . we obviously saw a lot of Perron-Berglund-McDonald . . . we saw a lot of Steen-McClement. But there's going to be some moving around of pieces, just to see where these guys are fitting back with each other. Where does Brad Boyes fit into that mix . . . with a guy like Perron, with a guy like Oshie?
"There's a lot of different combinations that we'll look at early. But we obviously know that there's some pretty good comfort in some of the combinations that we used last year ... we want to  use the early part to take a look at where some of these other guys in the organization fit, and so we're going to structure our lines through the first (four) exhibition games where there's going to be opportunities and some new looks for guys that haven't seen a lot of ice time together."
Keep an eye on what the Blues do with Backes and McDonald. There's substance to the idea of moving Backes back to right wing and McDonald to center.
No battle in camp figures to be more fierce than the one for the final two defensive spots.
The Blues have Brewer, Barret Jackman, Erik Johnson, Roman Polak and Carlo Colaiacovo locked into five spots. The last two spots will be fought over between Tyson Strachan, Alex Pietrangelo, Ian Cole and Nikita Nikitin.
"Entering the summer, we talked about how many defensemen we needed, and at the minimum, we wanted five experienced guys . . . I count Roman as an experienced guy now.," Armstrong said. "We have that, and now I think there's really good opportunity.
"Strachan has played some games. Alex Pietrangelo has gotten a little view, maybe from the backseat, but a little view for two years on what it takes to play in the NHL. He wants that job. Nikitin is coming over from Russia. It's one thing to play in the KHL, it's another one to play in the NHL. He's going to push for that. Ian Cole is going to push for that. So I'm really looking to see how that competition plays out for a roster spot."