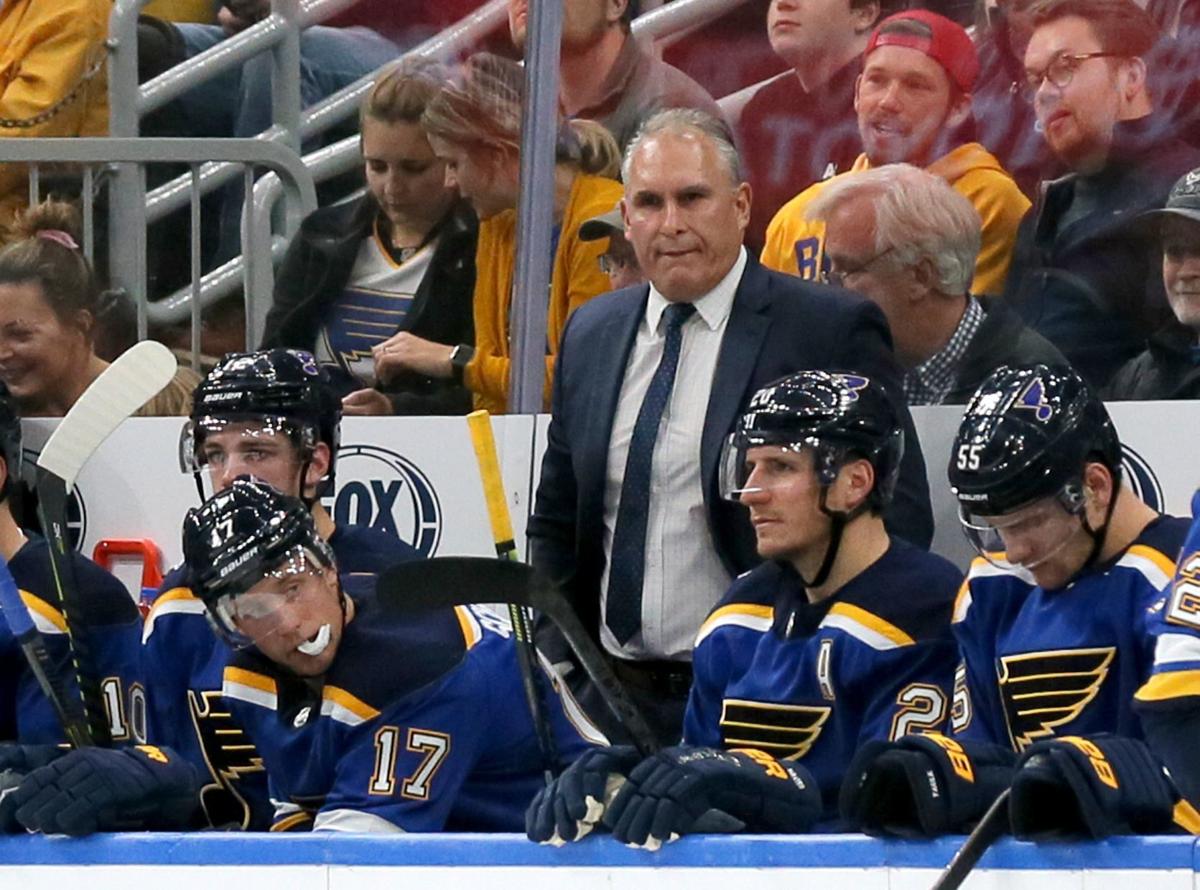 The Blues winning the Stanley Cup last season may have created a monster. 
Vegas on Wednesday fired coach Gerard Gallant, whose team is three points out of first in the Pacific Division and out of a playoff spot by virtue of a tiebreaker with 33 games to go in the season. 
Teams looking for any edge to get them over the hump and into the playoffs are doing whatever they can, even if it means firing a successful coach. Gallant led the expansion Golden Knights to the Stanley Cup Final just two seasons ago and his team was eliminated last season thanks to a five-minute major penalty that the league agreed shouldn't have been called.
Today, he's out of a job.
Patience seems to be wearing thin among NHL general managers.
"It seems that way," Blues coach Craig Berube said Wednesday. "I don't really know what to say about it. That's the game."
It's a curious way of life for NHL coaches.
"I enjoy it," Berube said. "It's part of the job. At some point, you're probably going to get let go."
Berube, who has had his job as being in charge of the Blues for about 14 months (about half of which was as an interim coach), is 17th in the NHL in seniority and is seventh among coaches in the Western Conference. He is, check this out, the only coach to have won the Western Conference championship that is still with his team. 
The three coaches to have won the West before him have been fired in the past month. On Dec. 11, Peter DeBoer was fired in San Jose. On Jan. 6, Peter Laviolette was fired in Nashville and on Wednesday, Gallant was fired (and replaced by DeBoer).
The NHL will also have to find a new coach for the Pacific Division All-Stars. Vegas led the division in point percentage at the halfway point of the season, so Gallant was chosen as the coach.
FLYERS WATCH
Here's Berube's take on the Flyers:
"They can score goals and they've got some really good young defensemen, they activate really well offensively, jump up into the play a lot. An aggressive team. Alain Vigneault's teams are always aggressive, put pressure on you everywhere. It's like any other game, it's going to be a tough game like they all are. We've got to play our game and get to our game and focus on what we're going to do.
"Sanheim and Provorov are probably their two best out there that get involved offensively. They all can skate on their D and move. It's a challenge and we've got to do a good job. They really hammer down walls in the offensive zone so we have to be good on the walls tonight and make little plays underneath and do a good job in that area so we get the puck out of our end and get to the offensive zone."
LINES
Same as before for the Blues.
Schwartz-Schenn-Sundqvist
MacEachern-de la Rose-Barbashev
Claude Giroux -- Kevin Hayes -- Travis Konecny
Michael Raffl -- Sean Couturier -- Jakub Voracek
James van Riemsdyk -- Scott Laughton -- Nicolas Aube-Kubel
Tyler Pitlick -- Connor Bunnaman -- Chris Stewart
Ivan Provorov -- Matt Niskanen
Travis Sanheim -- Philippe Myers
Robert Hagg -- Mark Friedman
Injured: Carter Hart (abdominal strain), Nolan Patrick (migraine), Oskar Lindblom (Ewing's sarcoma), Justin Braun (groin), Shayne Gostisbehere (knee)