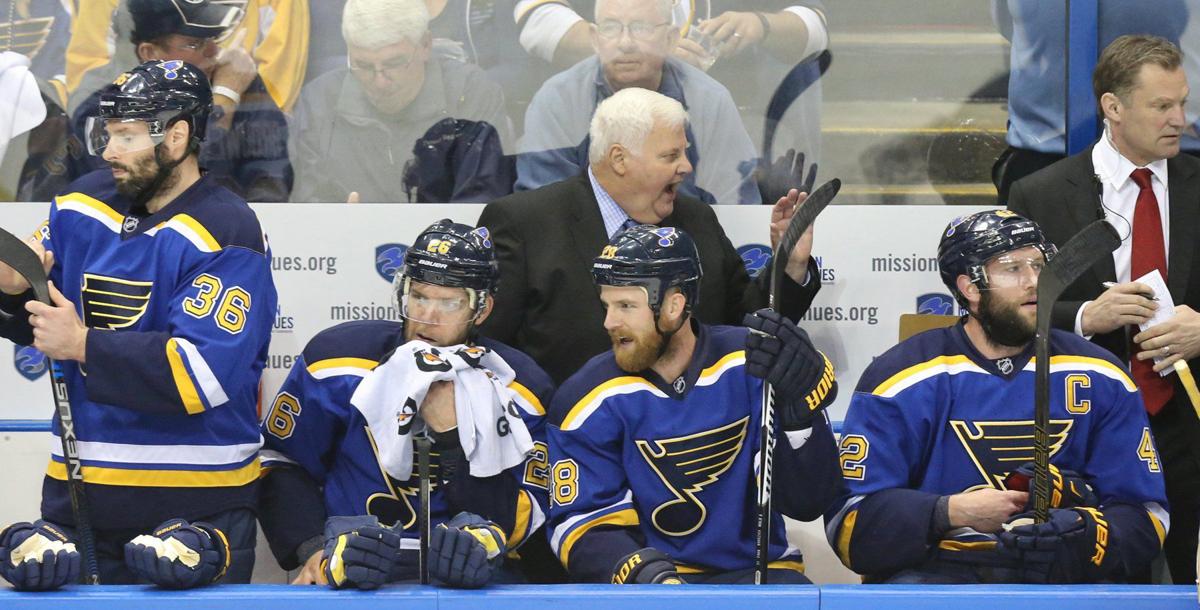 Assistant coach Kirk Muller informed the Blues that he is leaving the team after it offered him and the rest of the coaching staff one-year contracts following Tuesday's announcement that Ken Hitchcock would return for a final season as head coach.
Muller's departure means the Blues will be without their top two assistant coaches next season. Brad Shaw, who oversaw the defensemen and the penalty kill, had earlier decided to move on, and now Muller, who ran the forwards and the power play is gone, too.
Muller was a head coach with Carolina for three seasons, as well as an assistant in Montreal, before coming to St. Louis.
Blues general manager Doug Armstrong held court with reporters Tuesday for nearly one hour and addressed a long list of topics. Here are some highlights from that conversation:
• Armstrong on offseason priorities: "Like like year, the focus will be starting with Jaden Schwartz and seeing if we can get him signed to a longer-term extension. We're building in that area now. (Vladimir) Tarasenko is here, (Alex) Pietrangelo is here, Schwartz, I'd like to see if we can get something done on a longer term here. The difference, I think, in Jaden's situation now than it was a couple of years ago is there's a finite time to negotiate and then after a certain date, one of the two of us will select arbitration, so I know he's under contract. I know that this is going to go into September. So, we now have probably five weeks to work on a long-term deal and if not, he'll be back on a year-to-year basis after that. But he's not going to be unrestricted for a while. I would say that's priority No. 1 because it puts another piece of the puzzle in place in our salary cap. What I learned (Monday) from watching the Stanley Cup playoffs, assistant commissioner (Bill) Daly said that he believes the salary-cap will remain level, so we now have a projected number to work off of. I'm not looking for quantum leaps this year or moving forward, so we're going to negotiate with these guys thinking there will be smaller increases moving forward. We've committed to some large-level contracts here, we're trying to win. Now I have to make the math equation work. But if there was one player that I'm focusing in on talking to, it would be Schwartz, and if that doesn't work out on a long-term deal, it probably adds a little more money to next year's team."
• Armstrong on bringing back David Backes: "Yeah, he's our captain. I've met with some players already and told them their importance and David is at the top of that list as far as unrestricted free agents. He's been here 10 years, he's got a vested interest in the leadership group. But he's 32 years old and the market will bear what the market will bear, but ultimately our salary cap will bear what our salary cap will bear. There's things I can potentially do with roster players here to open up some space. But I think what you've seen around the league, too, is if you get too aggressive, those contracts are sometimes difficult to maneuver around ... I thought this year for sure, the NHL got faster. It just seemed like I came to the rink one day and it was fast, and it seemed to get quicker and quicker. So I think it's trending into a younger-leg game. I think David's got a lot of good years left in him, I'd love to keep him here, but it has to work out for David and his family first and foremost and then it has to work into our math equation. But he's a priority." 
• Armstrong on how the Blues view Kevin Shattenkirk and face the potential of trading him: "I view him as a top player, not only on our team, I view him as a top player in the game. But again, he falls into the jig-saw of the salary cap. Do I expect him back here in September? Sure. I like our defense. I think that's a good defense. I think we needed all those guys with injuries. But ultimately, it's not the love of the game you play for. He's a businessman and he's going to have to make a business decision and so will we. So, I'd like to bring (Troy) Brouwer back, I'd like to bring (David) Backes back, I'd like to bring a lot of these guys back, but they understand the reality of it. It's a business decision, and Shatty's going to have to make one and we're going to have to make one. But he's a helluva a hockey player and he's a big part of our team."
• Armstrong on the possibility of Vladimir Sobotka returning from the KHL after a two-year absence: "I talked to his agent maybe once every few weeks ... at least once a month for two years to find out what's going on. I think he's coming back. I haven't had anything come across my desk that he's out of his KHL contract. When I get that, he'll be back. I'm not trying to be flippant, I don't know. I thought he was going to come back a couple of times during the season. We had conversations, he was getting himself out of his KHL deal. They instructed me, 'Do we have room for him.' I said, 'We'd make room for him.' For whatever reason, it just didn't work out. Those are moving parts for everybody. He's a window to get out of his deal. I've never read his KHL contract, I've never seen it, I don't know what the window is. I'm going on reports that he has a window. If he exercises the window, he'll be a St. Louis Blue. I'd love to have him back."
The latest STL Blues hockey news, NHL headlines, scores, standings and rosters.