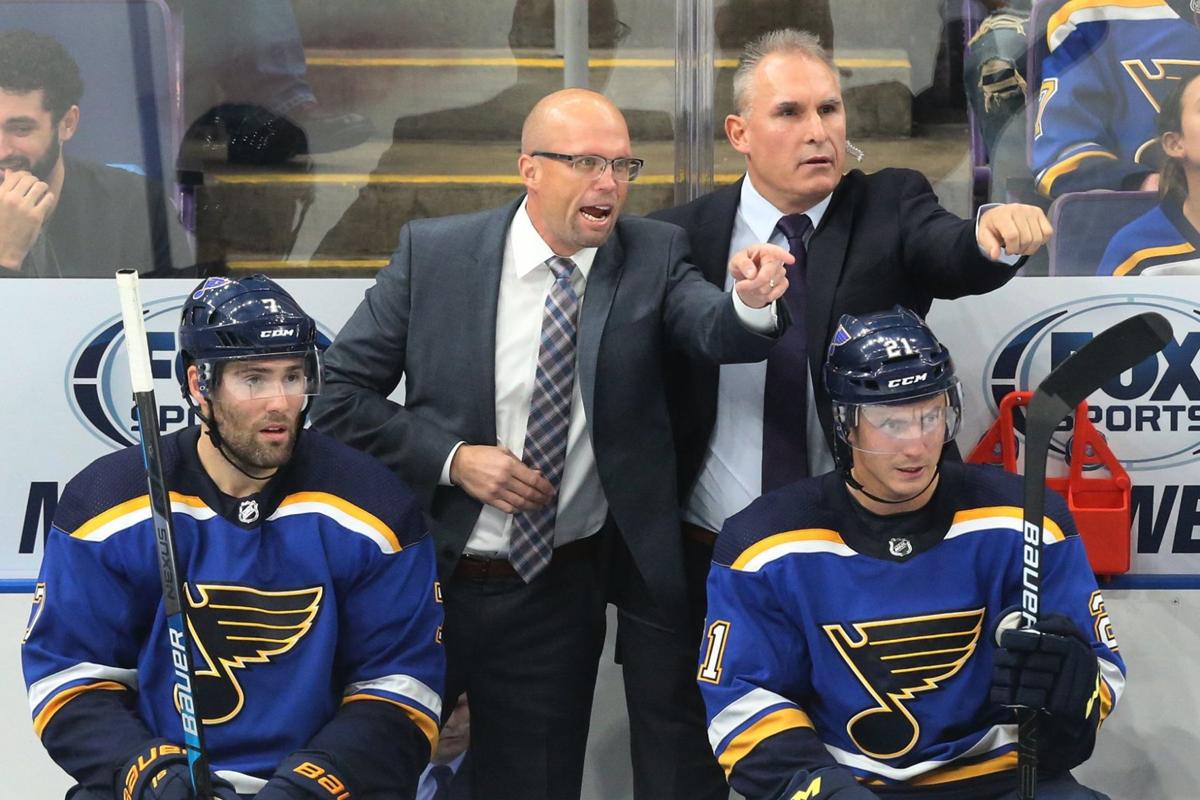 The Blues fired coach Mike Yeo after their 2-0 loss to Los Angeles on Monday night, naming associate coach Craig Berube as interim coach.
The Blues, considered a contender in the Central Division after a series of offseason moves, have a 7-9-3 record and the loss to the Kings was their second shutout in the past two games and third in the past four.
Yeo had one more season to go on his contract with the Blues after this one.
The announcement came about 90 minutes after the Blues had lost to the Kings, the team's second loss to one of the worst teams in the league in the past week. The Blues lost to Chicago 1-0 on Wednesday.
The Blues have 17 points; only the Kings, with 15, have fewer.
"Well yeah, it's frustrating, it's disappointing," Yeo had told reporters in his regular session after the game, prior to the announcement. "Losing this game at home. We wanted to bounce back after last game. Parity aside, you want to win every game. It sucks when you lose. That's for sure. It's disappointing not to get this one tonight."
Yeo had a 73-49-11 record in one full season and two partial seasons with the Blues. He replaced Ken Hitchcock on Feb. 1, 2017, starting with a 7-1 record. The team didn't make the playoffs after the 2017-18 season, missing by a point. Expectations were high for 2018-19 but the team has won consecutive games only once in the first 19 games of the season and many moves from Yeo have failed to generate any progress.
Yeo had coached Minnesota for five seasons before being let go. The Blues signed him as coach in waiting after Hitchcock said he would coach only one more season, but Hitchcock didn't finish that season, getting fired halfway through. That Blues team made the playoffs, which included a win over the Wild for Yeo.
Berube coached the Philadelphia Flyers for two seasons, with a 75-58-28 regular-season record from 2013-15. He was assistant coach of the Flyers for seven seasons and also coached the team's AHL farm team. He joined the Blues' organization as coach of their AHL team, the Chicago Wolves, in 2015-16 and then joined Yeo's first staff. He led the Wolves to a 44-19-13 record and a first-place finish in the Central Division.
Berube played in 17 NHL seasons, with Philadelphia, Toronto, Calgary, Washington and the New York Islanders. He had 61 goals, 98 assists and 3,149 penalty minutes in 1,054 regular-season games. He is one of only three NHL players to have 1,000 regular-season games and 3,000 penalty minutes.
Armstrong and Berube will hold a news conference on Tuesday morning before the team's practice and then their flight to Nashville to play the Predators on Wednesday.
The Blues had struggled defensively early in the season, and when they solved that problem and began to allow fewer goals, their offense has dried up. Yeo has moved players around trying to find effective line combinations but nothing seems to have worked.
Asked before the Vegas game, the lone high point for the team in the past week, if he needed to look at the big picture or the little picture now in trying to solve the team's problems, Yeo said: 
"I don't know what it is to be honest with you. If you want to look at the big picture, then I think, you look at where we are in the standings, it's disappointing. We've got games in hand on everybody, it's optically probably worse than what it is as far as our chances of really having a strong season and being where we want to be at the end of the season. Now, that said, in order to get there, we have to have a short focus and make sure we're concentrating on the one game tomorrow and after that you concentrate on the next one."
Speculation on a permanent replacement will no doubt center on former Chicago (and Blues coach) coach Joel Quenneville, though with Quenneville getting paid $6 million from the Blackhawks this season for doing nothing, there's no indication that he would be jumping at the job. 
BLUES SHUT OUT AGAIN
The Blues' offensive struggles continued, possibly hitting a critical level, as the team fell to Los Angeles, the team with the worst record in the league, 2-0 at Enterprise Center on Monday night.
And the offensive struggles mean struggles in general as the team has lost four of their past five games.
It was the second consecutive shutout for the Blues and their third in four games. That run also included a 1-0 shutout at Chicago, a team that was winless in eight games in a row at the time.
"I don't know. We just couldn't score," center Tyler Bozak said. "We knew it was going to be a tight-checking game. Whenever you play LA it's low scoring. They check hard. We had a few chances. I had a few myself. The goalie made some good saves, but we have to start burying those at the right times if we're going to want to win these close games."
"You can't win hockey games without scoring goals," captain Alex Pietrangelo said. "Those are the games you have to find a way to score goals. We had 29 shots on goal, we had chances. I think we have to simply. We'll get bounces if we go to the net."
"Chances come from hard work," said forward Vladimir Tarasenko. "It's not fancy chances or good plays. We need to find a way to put it in. It's hard to win when we don't score goals. ... I have now words. We're trying hard, maybe too hard."
After playing the worst team in the league, it only gets a lot harder for the Blues the rest of the week. They play at Nashville, the team with the best record in the Western Conference on Wednesday and Friday, and then Winnipeg on Saturday.
"If there's a time to win some games and string them together it's now because there's some pretty good opponents," Pietrangelo said. "We've got some pretty good opponents."
The Blues fell behind in the second period when Matt Luff got his first NHL goal, finishing off a two-on-one with Adrian Kempe. The goal came after some extended time in the Kings' zone for the Blues that didn't lead to a goal. The Kings then won a defensive faceoff, broke out, and took the lead.
The score stayed that way until Anze Kopitar scored into an empty net with 29.5 seconds to play.
The Blues were coming off a shutout loss in San Jose on Saturday and were also shutout two games before that in Chicago. They have now failed to score in seven consecutive periods and have scored in just two of the past 13 periods, the first and second periods when they were in Las Vegas.
"We've just got to find a way," coach Mike Yeo said. "That's what we've got to do. It's frustrating. It's maddening because we can't seem to put it all together at the same time right now. We do the odd game now and in the beginning of the year, we were scoring goals. The defensive game wasn't there and we've cleaned up the defensive game and now we're not scoring goals. Now we've got to put it all together.
"It's frustrating, it's disappointing, losing this game at home. We wanted to bounce back after last game. Parity aside, you want to win every game. It sucks when you lose. That's for sure. It's disappointing not to get this one tonight."
The Blues also failed to score on a first-period power play, running their streak there to six games without a power-play goal and 16 man-advantage chances overall. They also had a power play in the third period they couldn't score on.
FABBRI BUMPED UP TO O'REILLY LINE
In six of his eight games this season, Robby Fabbri has played on a line centered by rookie Robert Thomas. On the other two occasions, his centerman was Tyler Bozak.
But Monday night against the Los Angeles Kings, Fabbri will find himself on the Blues' top line, centered by Ryan O'Reilly, and with Vladimir Tarasenko on right wing.
"You're getting popped up there with O'Ry, Vladi _ that should bring a lot of excitement to you," coach Mike Yeo said after Monday's morning skate at Enterprise Center. "We have faith and confidence in what he can do. Now go out there and show it."
Fabbri has one goal and one assist in his eight games, and is plus-1. Since his first game Nov. 1 against Vegas, when he saw only 8 minutes 45 seconds of ice time, Fabbri has played at least 13 minutes each game and has shown no ill-effects from the two knee surgeries that derailed most of his past two seasons.
Against the Kings, he'll be part of a line with lots of skill.
"Vladi's been selfless, too selfless a lot of times," Yeo said. "He's got a lot of primary assists, especially to O'Ry. Those two guys have clicked really well. We need to find somebody to start making plays to Vladi as well.
"And Robby Fabbri has that ability. He is tenacious. I think that's one important quality of anybody that plays with skilled players and someone like Vladi.
"You need somebody who's tenacious. Somebody who's gonna help dig out pucks, create turnovers, get the puck on our stick. And just equally important, get the puck on his stick."
Fabbri-O'Reilly-Tarasenko
Sanford-Barbashev-Sundqvist
Carl Gunnarsson, Jaden Schwartz and Alexander Steen remain sidelined with upper-body injuries.
Pat Maroon (upper-body) and Robert Bortuzzo (lower-body) remain on injured reserve.
So for the immediate future, including the game against the Kings, the Blues are going with no spare forwards or defensemen.
Yeo described Steen as day-to-day.
Maroon skated Monday morning before the Blues' morning skate.
"He felt good out there, so he's coming along," Yeo said. "I'd say hopeful for the weekend but we'll see."
The prognosis isn't as optimistic for Schwartz and Gunnarsson.
"I would expect both guys to be out through the weekend and then we'll see how they're doing next (week)," Yeo said.
Bortuzzo, who has been on IR since Oct. 25, will miss his 12th consecutive game Monday, and his 13th contest in his last 14. Yeo said Bortuzzo has done some skating on his own lately and is progressing.
With Jonathan Quick sidelined with a knee injury, Calvin Petersen makes his third NHL start in goal Monday for Los Angeles. In three games this season, the 24-year-old Petersen is 1-1 with a 2.26 goals-against average and a .935 save percentage.
The Blues went 2-1 against the Kings last season, splitting two games in St. Louis and trouncing the Kings 7-2 on March 10 in LA _ which was the last time the teams met.
"I think that they're gonna be desperate," Yeo said. "That part's challenging. Again for us, regardless of who we're playing right now, we gotta just be more focused on ourselves. We don't have time to sit around and think about or worry about what they're gonna bring into this game.
"Because we don't know. I would expect them to come in and play very hard. That's a proud group with a lot of great hockey players on their team. So we should expect their best."
"We're coming back off a road trip that we could've had some better results," Yeo said. "Unfortunately, we come back with not necessarily the greatest feeling, but I do think that in the past couple weeks we've built confidence in our game.
"And now it's a matter of us doing it way more consistently and that's regardless of your opponent, regardless of where you're playing, and that's gotta be tonight."