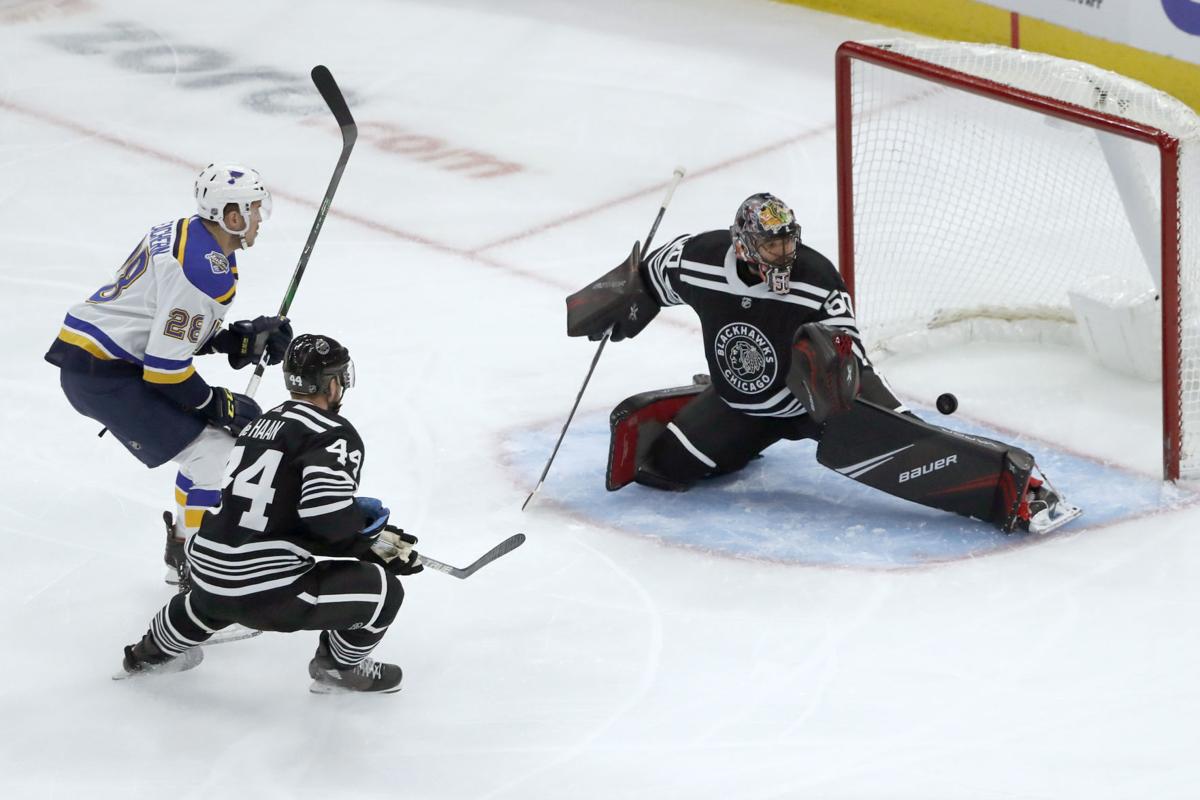 The road continues to feel quite comfortable for the Blues, who got a point in their 10th straight game out of town, with a 4-0 win over the Blackhawks on Monday night at United Center.
The Blues are one win away from matching the franchise record for longest road point streak, a 10-0-1 run in 1999-2000. The Blues, who will look to tie that mark on Wendesday in Pittsburgh, are 8-0-2 in their past 10 road games. Overall, the Blues have won four in a row and six of their past eight as they continue to be the top team in the Western Conference.
"We know how to face adversity," forward Mackenzie MacEachern said. "Playing in these hostile environments doesn't seem to faze anybody."
Jake Allen also continues to be at his best on the road as he posted his first shutout of the season. He's 5-0-2 away from Enterprise Center. He came into the game with a .923 save percentage and a 2.43 goals-against average on the road. The shutout tied him with Jaroslav Halak for second in franchise history with 20. Brian Elliott is first with 25. Allen stopped 38 shots from Chicago -- 17 in the third period -- and in his past three games has allowed just three goals. Since Nov. 30, 2018, Allen is 14-4-6 on the road, with a 2.05 GAA, a .932 save percentage and four shutouts.
"I probably said it a couple weeks ago," Allen said, "I'm trying to get better every single time for me right now. That was my goal the first couple games of the year. I sat down and I said, 'Let's try to get better every single time.'
"Our D is playing unbelievable. Probably the best I've played behind in my tenure as a Blue. That goes for the forwards too."
"He's in the zone, making huge saves, timely saves for us," Jaden Schwartz said. "We know how good of a goalie he is. Every player, every goalie has a rough few months or an off year in their career and he's a guy that just continues to work... you can tell he's confident right now."
MacEachern scored in his second straight game and Jaden Schwartz tipped in a shot by Alex Pietrangelo on a power play to start the scoring in the first period, which was also Schwartz's second straight game with a goal. Brayden Schenn gave them an insurance goal in the third, scoring off a pass from Nathan Walker, who was moved up to the top line with Schenn and Schwartz. Tyler Bozak finished off the scoring with a goal with 1:49 to play.
Down four key forwards, the Blues have scored 16 goals in their past four games. In the past three games, they've scored the first goal, which is key for the Blues, whose style is much more suited for being in the lead.
"In the first period to go out and get the lead is real important," coach Craig Berube said. "We're a good team when we've got the lead."
Injuries, sicknesses and the salary cap combined to make the Blackhawks suit up only 19 players instead of 20. Chicago doesn't have space under the salary cap to replace all its currently hurt or sick players, so Duncan Keith, Andrew Shaw, Dylan Strome and goalie Robin Lehner are all out. (Though the official stats, which apparently have to list 20 skaters, has Shaw in the lineup.) The Blackhawks have 11 forwards and six defensemen, with Patrick Kane, among others, drawing extra shifts. Kane played 24:30 and had his point streak snapped at 15.
The second period wasn't a great one for the Blues, who were outshot 11-9 and it was a lot worse earlier in the period, but held on to the lead they staked themselves to in the first period. The Blackhawks are 0-10 when trailing after two periods this season.
MacEachern started the scoring 2:34 in to the first when Vince Dunn hit a puck hard off the boards behind Corey Crawford in the Chicago goal. The puck came out to the slot where MacEachern got to it first and put it back in. MacEachern has four goals this season, surpassing his total of three last season in 29 games. This is his 22nd this season.
The Blues needed just 14 seconds of a power play with Kane off for tripping to make it 2-0. Pietrangelo took a shot that Schwartz, parked in front of Crawford, redirected down and into the net. It's the eighth goal for Schwartz and David Perron got an assist, giving him a point in eight straight games.
"Just getting prepared each day," Schwartz said, "getting around the net, trying to be around the net to score goals. Sometimes you just seem to get a few bounces here and there and other times you don't. Just trying to get better and continue and improve and get confidence in myself."
Schenn's goal came on a pass from Walker that was tipped by Chicago and slowly came to Schenn for his 14th goal of the season. Bozak scored off a turnover with 1:49 to go, his third goal of the season.
The latest STL Blues hockey news, NHL headlines, scores, standings and rosters.