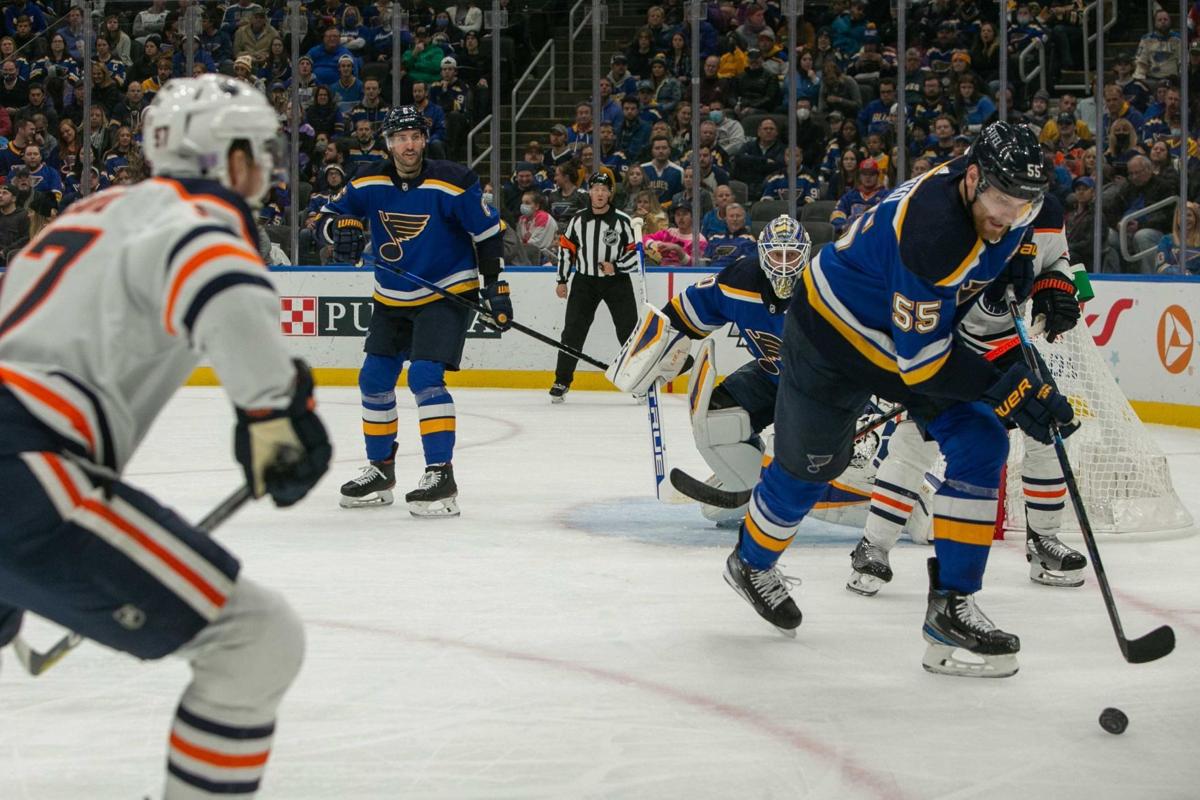 DALLAS – The Blues righted their ship against San Jose on Thursday, but one game isn't enough to convince defenseman Colton Parayko that the team is out of the woods after their four-game losing streak.
"I think it was good," Parayko said Saturday morning. "Obviously it's one game that we want to build off for sure. So I want to say we obviously got ourselves pointed in the right direction, but I don't think one game is enough. I think we're on the right track and we have a very good Dallas team here tonight in Dallas. They play tough. They're fast, especially on the rush, they make a lot of plays. They're a good complete team, so it's gonna be a really good challenge for us tonight. It'll be fun one, and we look forward to challenge."
The Stars are coming off a 7-2 loss to Minnesota on Thursday night in St. Paul, while the Blues are coming off a 4-1 win over San Jose.
"They've got some real good players obviously," Blues coach Craig Berube said, "like on the back end, their D corps with Klingberg and Heiskanen and Suter, all move the puck well and skate well, that's a good back end. I know there's they've used a few different goalies, but their forwards, Benn, Seguin, Hintz, those guys are staple guys that have been there for a while. I don't think their game has changed that much over time I think they are what they are, they're a good rush team, they play good defense. They've always been a very good defensive team and their goalies have played strong in net. You've got to work for things against them, we're gonna have to work to score goals and we've got to do a good job defending their rush attack.
Jake Oettinger will be in goal for Dallas. He's played in two games this season, with a 1-0 record, a 1.81 goals-against average and a .933 save percentage. It looks like it will be Jordan Binnington in goal for the Blues today. They held an optional practice, but he was the first goalie off the ice and Ville Husso was out there long after almost everyone else had left.
Berube said there would be no changes to the lineup, and based on Friday's practice, it looks like the lines and defensive pairings will stay the same:
Buchnevich-Thomas-Tarasenko
Kiviranta-Seguin-Glendening
Peterson-Faksa-Radulov Tufte
Riding it out
This will be the Blues' eighth game in 14 days, part of a longer run of 12 games in 21 days. So they're past the halfway mark in their busiest stretch of the season. Berube has taken steps to keep the team off the ice; only seven skaters and both goalies went out for an optional morning skate on Saturday and Sunday will be an off day for the team as the team tries to save its energy for games.
"I think (the energy) has been good," Berube said. "I haven't really noticed a real drop in energy. I think there was a couple of games coming from those road trips out west back home. That takes the energy out of you a little bit. So I noticed there's a couple of games where the energy wasn't great, but I thought we had great energy last game."
The Blues have a 2-4-1 record in the run, which includes good games played against Carolina and Edmonton that they lost and a bad game played against Arizona that they lost.