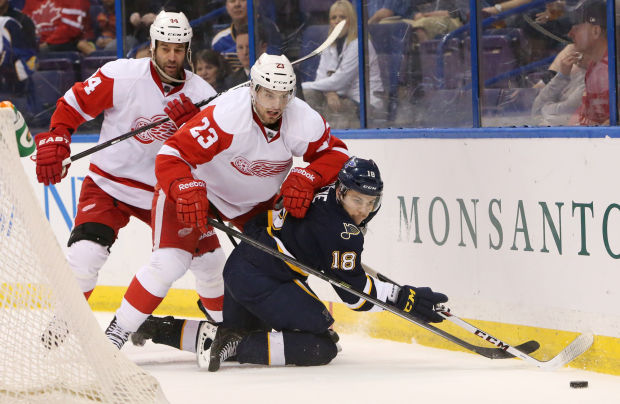 Many Blues fans have wondered about Ty Rattie's chances of making the team in 2014-15, or at least being called up at some point in the season.
Well, those fans can get a look at Rattie before training camp begins on Sept. 18. He has been added to the Blues' roster for the NHL Prospect Tournament, which starts Friday in Traverse City, Michigan.
True, you may not be traveling to Traverse City, but the team will be on the ice for a tune-up practice before they depart for the tourney. The on-ice workout will be held at noon at the Blues' practice facility inside the St. Louis Outlet Mall in Hazelwood, Mo.
After the practice, the group will head to Traverse City, where they will begin play in the eight-team, round-robin tournament at 6:30 p.m. Friday against Detroit's prospects. They are also scheduled to play Minnesota at 3 p.m. Saturday, followed by a game against Columbus at 2:30 p.m. Monday.
Other prospects participating include 2014 draft picks Robby Fabbri and Ivan Barbashev, 2013 draftee Thomas Vannelli and 2011 pick Jordan Binnington.
Here is the complete roster:
Ivan Barbashev (2nd round draft pick, 2014)
Greg Betzold (Amateur tryout)
Samuel Blais (6th round, 2014)
Chris Caissy (Amateur tryout)
Jaedon Descheneau (5th round, 2014)
Jacob Doty (Signed as free agent)
Robby Fabbri (1st round, 2014)
Justin Gutierrez (Amateur tryout)
Adam Helewka (Amateur tryout)
Zach Pochiro (4th round, 2013)
Evan Polei (Amateur tryout)
Ty Rattie (2nd round, 2011)
Ryan Tesink (6th round, 2011)
Yannick Veilleux (4th round, 2011)
C.J. Yakimowicz (6th round, 2014)
Jani Hakanpaa (4th round, 2010)
Kevin Hart (professional tryout)
Petteri Lindbohm (6th round, 2012)
Luke Mercer (Amateur tryout)
Santeri Saari (6th round, 2013)
Dmitrii Sergeev (Amateur tryout)
Thomas Vannelli (2nd round, 2013)
Jordan Binnington (3rd round, 2011)
Niklas Lundstrom (5th round, 2011)