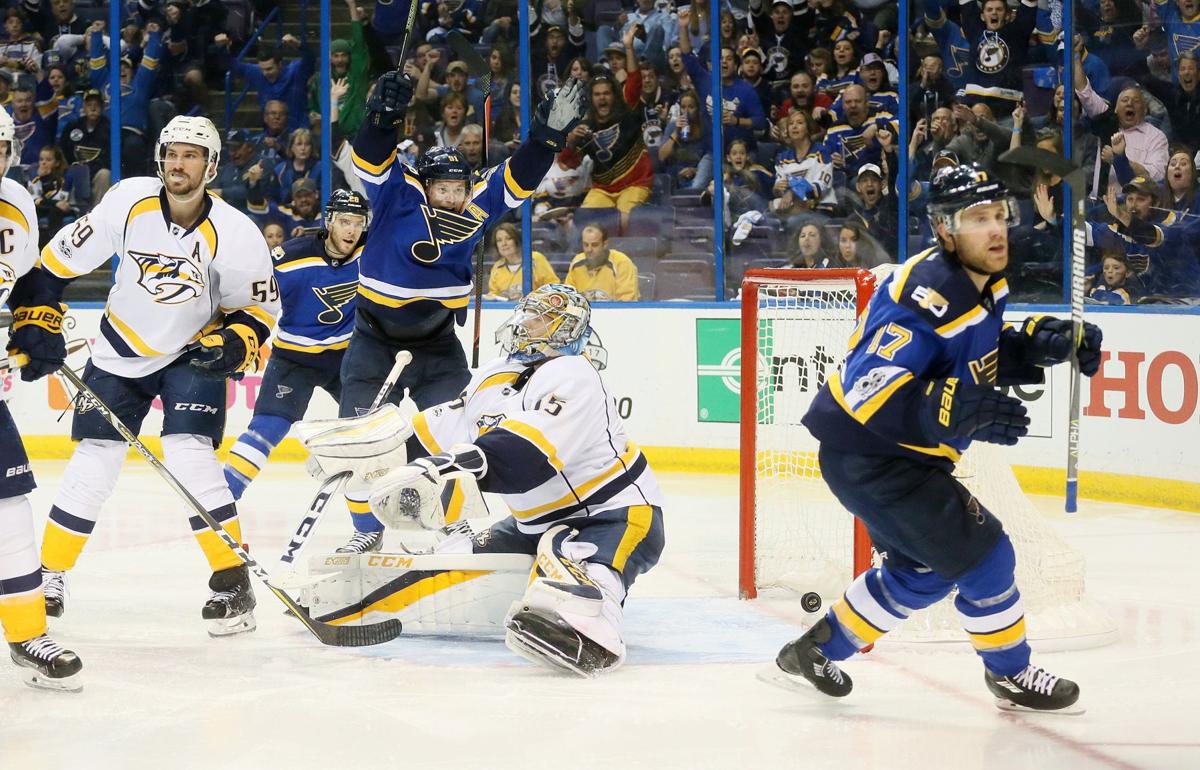 A day after a report surfaced in Russia that Vladimir Tarasenko needed surgery, Blues general manager Doug Armstrong said it was untrue.
Armstrong said Tuesday that he was surprised himself to read comments from Russian national coach Oleg Znarok, citing information from Tarasenko's European-based agent Alexei Dementiev, that the Blues' leading scorer played through an injury and would need a procedure.
"I'll tell you, I saw it yesterday too and I was wondering," Armstrong said. "I called (Tarasenko) and he just said, 'I've got issues, but nothing that's going to need surgery.' We're working on his issues. He's a big man that plays big minutes that goes against the other team's most physical top players. So I'm not shocked he's not feeling great."
The reason Znarok was speaking about Tarasenko on Monday was because, with the Blues' season over, he could join Russia at the World Championships in Germany. When asked if he would be added to the roster, Znarok ruled him out because of the injury.
"There's nothing to talk about," Tarasenko said Tuesday. "It's offseason starts right now, so everyone has injuries. We have a time to get healthy and be ready for next year. I don't feel good right now because we lost."
Armstrong said that he could only guess why it was reported that Tarasenko's condition required surgery. 
"There's a little bit lost in the transition from the Russian agent to the Russian coach to the Russian media how it came across," he said.
The club is dealing with several injuries, but outside of Alexander Steen's broken foot, nothing significant.  
"I got a long list yesterday," Armstrong said. "We have nothing that's really that serious. I think six weeks is going to cure a lot of what the guys have going on. Alex Steen was probably the one that was playing with the greatest discomfort with a broken bone in his foot. And then Murphy's Law, he also got a slap shot in the same foot in a different area. He battled through some stuff."
Steen's injury will not require surgery, and there are no others planned at this point, either.
"Guys are getting MRIs on some things, but it doesn't seem like there's going to be a lot that's going to prevent these guys from training quickly enough to be prepared for next season."
PARAYKO JOINING TEAM CANADA
Defenseman Colton Parayko's long season will continue. He started the year playing for Team North American, the under-23 team at the World Cup of Hockey, played 81 of 82 games in the regular season, 11 in the postseason and now is off to the world championships in France.
"I'm looking forward to it. I think it's a good opportunity to get over to Europe and keep playing hockey," he said. "It has been (a long year), but I feel good. I still have a lot of energy. I could have kept playing here, so why not go there and enjoy it and have some fun."
This is the first time Parayko has been called in for Canada's national team.
Parayko is a restricted free agent.
"He's a little different than most players coming out of entry-level because he can select salary arbitration and we can't," Armstrong said. "His contract will be done by the first part of August, one way or the other."
Armstrong said it was too soon to say if the team would try for a long-term deal or a shorter bridge deal.
"I want to sit down with him and his agent, see what's important to him also," Armstrong said. "I believe he's a cornerstone player we could go long term with if it works out economically term-wise for us. There's a lot of moving parts. When we look at our 1, 3, 5-year (scenarios), it's going to be a lot more openness as we move forward and with some of these players in their early 30s' contracts expiring, there's a bigger chunk of change that's going to be there. We'll be a cap team or very close to a cap team, and we've got to try to fit as many good pieces in there. He's here long term whether it's long term on shorter deals or long term on one deal. He's a cornerstone."
The Blues have one unrestricted free agent on the roster, fourth-line forward Scottie Upshall, who doesn't know what the future holds, though at $900,000, he's certainly cap friendly.
"I don't know," he said of his future. "It hasn't really been discussed. I was looking forward to having a conversation with Army and the coaching staff. I still feel like I can play. I look forward to the summer, another good summer of training, getting better, putting myself in a good spot for free agency."
Asked if he good with coming back for another year, Upshall said, "Maybe two."
Forward Nail Yakupov, who played in 40 games in the regular season and none in the postseason, had surgery on his left knee during the first round of the playoffs and would have been available only if the Blues had gotten to the Stanley Cup Finals. He said he hurt it on a hit in the Blues game at Colorado on March 31.
"I battled for a month and tested my leg three times and it didn't feel very good," he said. "Kind of a sad thing."
Yakupov is a restricted free agent, but the Blues would have to make him a qualifying offer at $2.5 million to retain his rights, which might be too much for the Blues to pay a player who was often a healthy scratch.
"I'd really like to stay here, but we'll see what happens," he said. "It's not me making the decision. We'll see what happens. I'd like to be here."
Defenseman Carl Gunnarsson found himself a healthy scratch for the first time in his NHL career and played in 56 games, missing time to injuries at four different points in the season. He was a regular in the lineup again after the Kevin Shattenkirk trade, partnering with Robert Bortuzzo on the third defensive pairing.
"I want to pack this one in a bag, throw it in the river," he said.
Teams were given two options for protecting players in the expansion draft. They could either protect seven forwards, three defensemen and a goalie or eight skaters and one goalie.