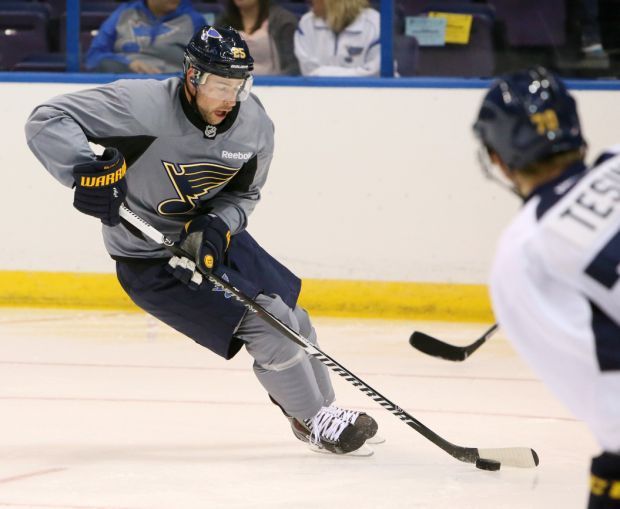 The Blues set their 23-man opening day roster on Tuesday, sending defensemen Chris Butler and Petteri Lindbohm and forward Dmitrij Jaskin to Chicago and sending forward Robby Fabbri to his junior team.
The Blues chose to keep injured defensenan Carl Gunnarsson on the roster rather than put him on injured reserve. He won't be able to play for at least the first week, and because he was injured before camp began -- he had hip surgery in April -- he's considred a non-roster player.
That means the Blues will have 22 available players for the first game. With a light October schedule, at least in terms of games, GM Doug Armstrong thinks they can work with that. It also means that Gunnarsson likely won't go to Chicago for a conditioning stint and his first game this season will be with the Blues.
The move saves the Blues space under the salary cap. If they had put Gunnarsson on injured reserved, they would still be responsible for his salary, plus whoever they brought up to take that spot, even if that person was likely a healthy scratch every night.
"Part of the reason, in the salary cap era, you want to preserve as much salary cap space as possible and the longer we can keep that roster at 23, that money grows as the season goes on and I want to be prudent with our dollars," Armstrong said. "We don't have any back-to-back games until next weekend, if we need a player we can get him up from Chicago very quickly. Right now I'm trying to preserve our cap space as much as possible."
Lindbohm had the choice, if not making the team, to return to Finland, but after the success he had here and being told by the Blues' staff that he was very close to being NHL ready, he chose to stay and play in the AHL.
"We think he's very close to being an NHL player," Armstrong said. "I think it's a great decision that really shows where his mindset is at. It shows how close we think he is to being an NHL player."
Jaskin played 18 games with the Blues last season and 42 with Chicago.
"He really can't do much more than he's done," Armstrong said. "I just talked to him and he's very upset and he should be and that's what I like about him. Right now, he's not in group of 12 and right now, he's better to play and play a lot than to sit here in practice. He controls how quickly he'll be back up here. What he needs is an opportunity and when he gets that opportunity, he has to make sure there's no question that he'll never go back down. It's a difficult day for the player and I think he's going to use the motivation correctly to go down there and play very well."
Fabbri will be going back to his junior team, Guelph in the Ontario Hockey League. He was hurt in the Blues' next-to-last preseason game and hasn't been on the ice since.
"What I said to Robby was that when we drafted you, I expected you'd be two years in junior hockey and a year in the minors and then we get a look at you," Armstrong said. "You've impressed us enough now that if you go down to the Canadian Hockey League, have a good World Junior, have a good season, we have to look at you as a potential player on our roster next year. Really that's a great month's work for him."
The injury made the decision easier for Armstrong. 
"He was making it more uncomfortable on the manager than the coach," Armstrong said. "Ken's job is to think in the here and now and (Fabbri) wasn't going away. He was pushing and he was prodding. As a manager, you want to make sure you're putting these young kids in a position to succeed, not fail. I don't think our organization is at a point now where an 18 year old is going to be the final piece of the puzzle to push us over the top. But he was making it very difficult. Now what it does, it is allows us a little more maturation next summer. One of Robby's big things is going to be maturing off the ice in a physical standpoint and a full season with Nelson, our strength coach, is going to do him a world of good. Also, you have to look at it from a business standpoint. Once he starts that seven years before free agency starts, selfishly I'd rather have these players at 26-27 than 18-19. But he might push the point next year that we have no choice but to put him on the team."
Forwards: Steve Ott, Joakim Lindstrom, Jori Lehtera, Jaden Schwartz, Alexander Steen, Patrik Berglund, Paul Stastny, Chris Porter, Maxim Lapierre, David Backes, Magnus Paajarvi, T.J. Oshie, Ryan Reaves, Vladimir Tarasenko.
Defensemen: Carl Gunnarssson, Barret Jackman, Jay Bouwmeester, Kevin Shattenkirk, Alex Pietrangelo, Ian Cole, Jordan Leopold.
Goalies: Brian Elliott, Jake Allen.
The Blues will keep the same C and As as last year. David Backes will wear the C, Barret Jackman, Alexander Steen, Alex Pietrangelo and T.J. Oshie will have A's.
For the second time in a week, Peter Mueller has been placed on waivers. But this time, it is to cut ties with the Blues.
Mueller, who signed a two-way contract with the club, was placed on unconditional waivers Tuesday with the intent to terminate his contract.
The news comes six days after Mueller was placed on regular waivers and cleared, paving the way for a potential assignment to the American Hockey League.
"He was assigned on the weekend to go to Chicago," Armstrong said. "He doesn't want to go to Chicago. If he clears, we'll talk one more time and make sure that he no longer has the desire to remain in North America and he'll released out of his contract and able to sign wherever he wants. That was a difficult one for the organization and for Peter. We thought he had a good camp. We view him as a top nine player. He just doesn't feel like he has the desire to go to the American Hockey League at this time and work his way back up. I have to respect that."
He remained with the Blues, playing in Saturday night's 5-4 overtime loss to Minnesota, but did not register any statistics in 13:32 of ice time.
After the game, Mueller spoke with Blues general manager Doug Armstrong and head coach Ken Hitchcock, who notified him that he would be designated to the Chicago Wolves. He was officially assigned Sunday, but did not report to the Blues' affiliate.
If Mueller clears waivers a second time, his contract will be terminated. He may have interest in returning to Europe, where he played last season on a team in Switzerland.