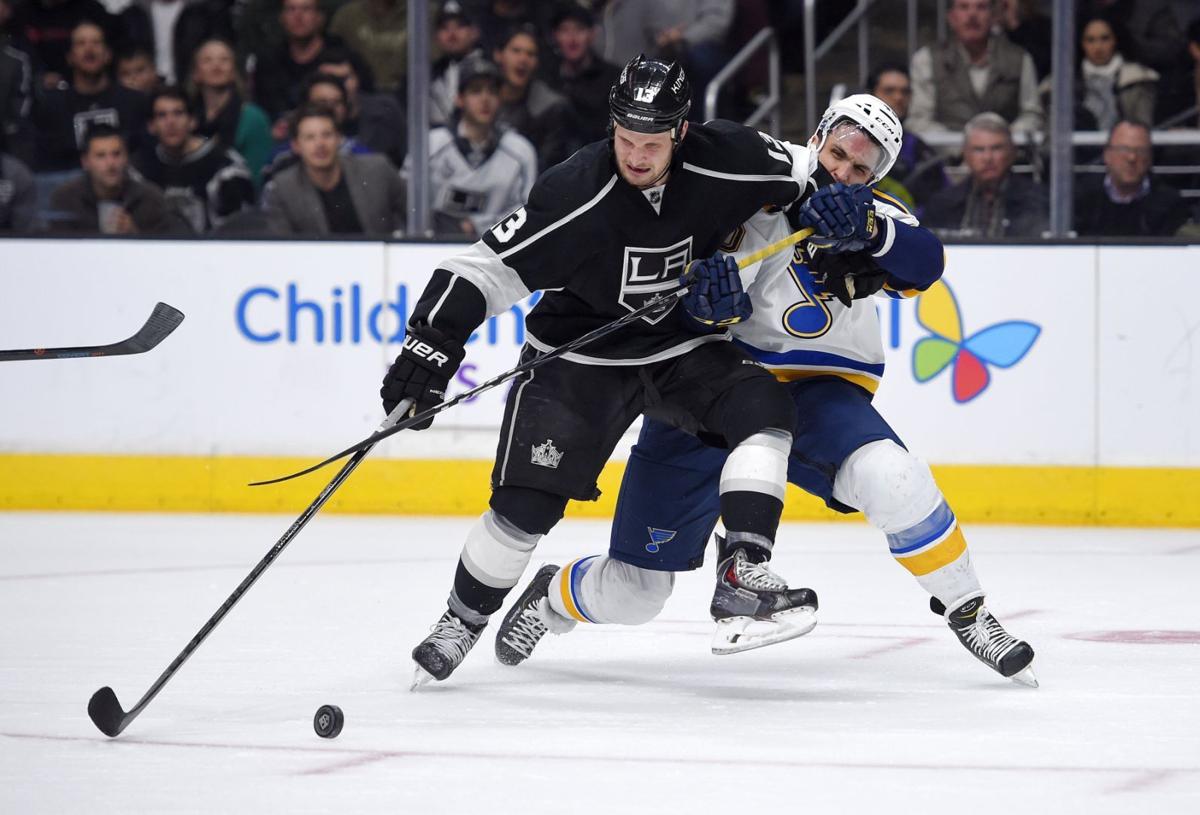 With some question marks on offense with the health of Vladimir Tarasenko and Alexander Steen at the start of the season, the Blues signed free agent forward Kyle Clifford to a two-year contract with an annual average value of $1 million.
Reflecting the tight market, that's a slight pay cut for Clifford, who made $1.6 million per year in his previous five-year contract.
Blues general manager Doug Armstrong had said on Friday that the team didn't look for a high-priced forward on the market because they didn't want to back up players like Jordan Kyrou and Klim Kostin, and they wanted to give forward Robert Thomas a chance for more significant ice time. Clifford shouldn't get in the way of that, since he'll likely be in the bottom six. With Steen apparently making slow progress recovering from the injury that kept him out of most of the postseason, Clifford could be stepping into his role.
"Their style of play, they're a hard-nosed team," Clifford said about what made the Blues a good fit for him. "They've got a lot of depth, they're always tough to play against, and I think I fit in really well. I'm looking forward to getting down there and contributing and the idea is to win another Stanley Cup."
"(He's a) strong competitor that brings a physical element to the game," Armstrong said. "His reputation as a top-flight team player that does the little things well will fit well into our group."
Clifford, 29, was in his 10th season with the Kings before being traded to Toronto in February. He finished the season with seven goals and 10 assists. In his career, he has 61 goals and 71 assists over 676 games, with 842 penalty minutes.
After signing defenseman Torey Krug on Friday to what is still the biggest contract signed so far on the free agent market until Alex Pietrangelo signs, Armstrong said that's probably it for the Blues in free agency, though, as he often says, you never say never.
The Blues and Clifford know each other. In a game in October 2019, Clifford knocked down Ivan Barbashev and then during the next stoppage, Binnington skated over toward Clifford and stared at him, which led to Clifford shoving him, which led to the Blues descending on him and a fight ensuing.
"I've been involved in so many scuffles I honestly don't even remember," Clifford said from his home in Muskoka, Ontario. "Binner's a great goalie and I think once I get down there we're going to have great fun together."
This was the first time Clifford had been an unrestricted free agent.
"I've been told (this year) is a different experience than other free agencies," he said. "With the times right now and the flat cap, it was a lot of ups and downs. I took my time to listen to what teams had to offer and where they were at in their journey to winning. What I liked was my phone calls with Doug, he laid it out and he was honest and I really appreciated that."
With Boston, he famously obliterated Thomas in the Stanley Cup Final; now, he's a key component of the team's defense.
The tiresome standoff between Alex Pietrangelo and Doug Armstrong ended with Torey Krug's arrival. We can now now move on with our lives.
The team couldn't come to a deal with their captain and longtime defensive stalwart, so they went after Krug
The latest STL Blues hockey news, NHL headlines, scores, standings and rosters.