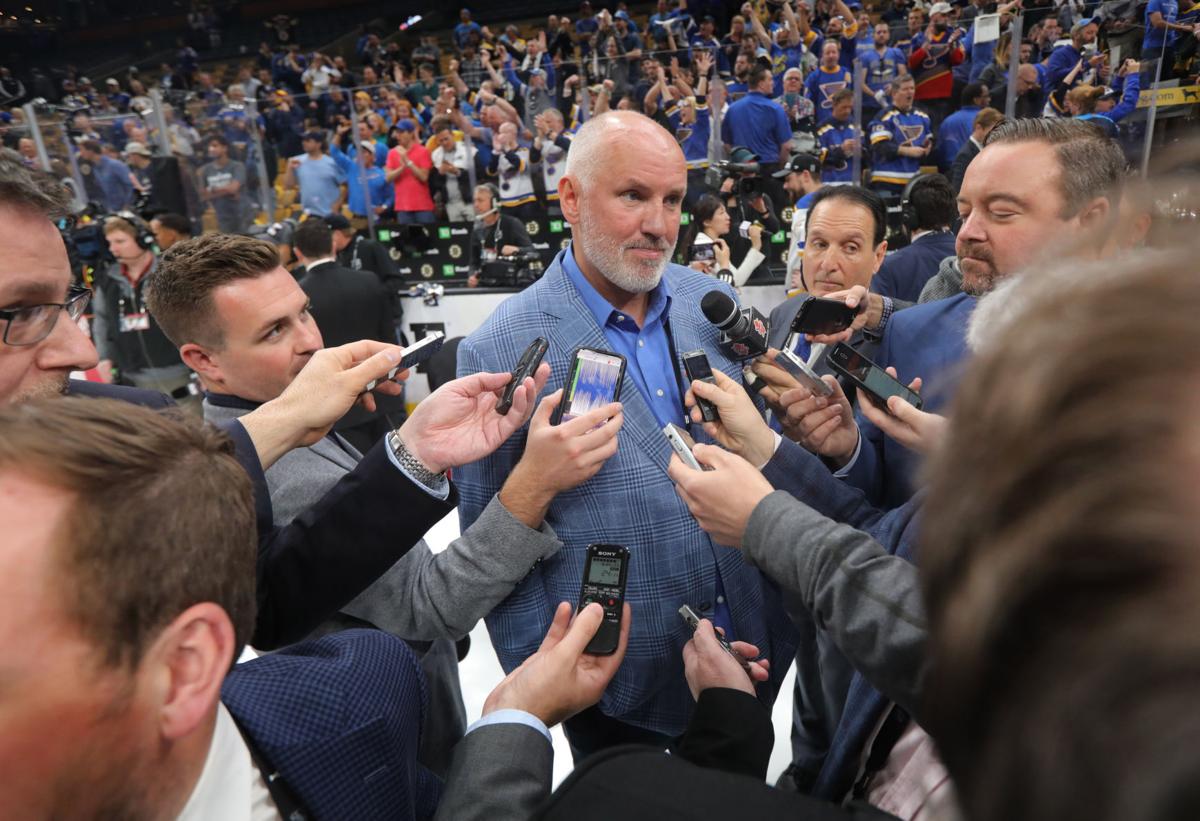 The Blues finished up their 2020 draft class on Wednesday on a marathon day of player selection, sticking mostly to North American players in juniors or college. They finished with three forwards, three defensemen and a goalie, all of whom, owing to the Blues slot in the draft order, won't be playing with the team for several seasons at best.
They started Day 2 of the NHL draft by taking Dylan Peterson, a center who had been in the U.S. national development program and will be playing at Boston University in the third round. That was the 86th pick, and the Blues' next pick was not long after, at 88, where they took Leo Loof, a defenseman from Sweden. 
In the fourth round, the Blues took Tanner Dickinson, a center from Ohio who is playing juniors with Sault Ste. Marie in the OHL. The Blues had two fifth-round picks and traded the first, No. 146, for picks 163 and 194. With the other fifth-round pick, No. 150, they took defenseman Matthew Kessel from the University of Massachusetts.
In the sixth round, the Blues chose goalie Will Cranley of the Ottawa 67's of the OHL. Among other famous goalies to come out of the 67's: Darren Pang. Cranley, however, is 6-4. The Blues had two picks in the seventh round but traded one to Detroit for a seventh-round pick next season. With the other, pick 194, they chose Noah Beck, a defenseman from Richmond Hill, Ontario, hometown of Jordan Binnington, who attends Clarkson University in New York.
Peterson was born in Northern California, moved to Taiwan, then to Calgary, then Colorado, and then to Ottawa before going into the U.S. national development program, where he has been the past two years. When he was in Taiwan, he was fluent in Mandarin, but he says he has since forgotten all of it.
Peterson was ranked 43rd among North American skaters by NHL Central Scouting. 
According to EliteProspects.com: "Peterson does a pretty good job of setting up shop at the net front, and he's a lot to handle from that position. Once he's established the offensive zone, he recognizes good outlets and finds teammates nicely. Like many players this size, Peterson is still coming to terms with the immense advantages afforded him by his massive frame."
Last season, he had eight goals and 17 assists in 45 games with the under-18 team and four goals and seven assists in 19 games with the development program junior team.
Lööf, with umlauts over both O's, was ranked 53rd among European skaters by Central Scouting. He's 6-1, 179, and has been playing in the Swedish junior league. His twin brother, Linus, is also awaiting draft news today.
Said EliteProspects.com: "He was among the best players for Farjestad when they reached the J18 Finals in 2019 and was selected as the league's best defenseman. Lööf is a technically refined stickhandler, with poise and a sound mechanical base. He's tough as nails along the boards and in front of his own net, dominating his opponents with strong reads and heavy hits."
Dickinson had nine goals and 31 assists last season in his rookie year in the OHL. Speed is his big attribute. He's listed as 5-11, 150 pounds, so he can put on a lot of weight.
Kessel, no relation to Phil Kessel but with two older brothers who played college hockey and one who played college football, scored seven goals in 2019-20, the most by a freshman defenseman in the NCAAs.
Cranley has yet to have a full season as a team's prime goalie, but he's started to earn more time. He had a 159 minute, 36 second scoreless streak with Ottawa, the second longest run in team history. He had a 2.81 goals-against average and a .894 save percentage.